Imagine waiting at the airport and you suddenly remember that you need to send a critical project issue to a colleague. Although your tablet is buried deep in your carry-on, your smartphone is handy. With Planio's e-mail drop box, it's not a problem: just compose a new e-mail, select the project e-mail address, and enter assignment, priority & description details in the e-mail body. Need to modify its status? Just touch "Reply," update the issue, and click "Send." It's that easy! Oh, and if you use e-mail encryption, Planio will happily send and receive all e-mails fully encrypted.
Creating an Issue the Easy Way
Task creation while traveling is extraordinarily straightforward with the Planio Drop Box — all you need is e-mail access (e.g., a smartphone) and an internet connection. Each project is assigned a unique e-mail address and you can create a new task by simply sending or forwarding an e-mail to your project. The e-mail's subject is your task name and the body can be used to specify all task fields, such as description, status, priority, etc.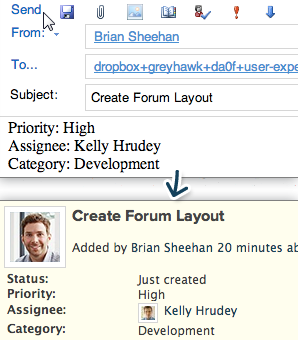 Updating Tasks from Anywhere
Receive an automatic e-mail issue notification from Planio and need to update the issue's status? No problem — just touch "Reply" on your smartphone's e-mail client, modify the status field in the body of your e-mail (e.g., Status: Complete), and touch "Send." That's it! In fact, you can modify any existing task field (e.g., different assignee, upgraded priority, etc.) and even update a custom field. Need to add a file to the task? Just select an e-mail attachment!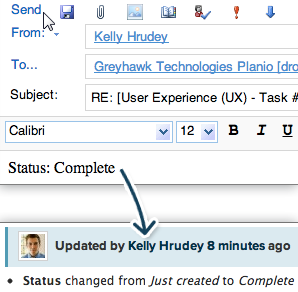 Drop Box and CRM Integration
Thanks to the integration of the E-mail Drop Box with Planio's CRM & Helpdesk feature, your customers can communicate directly with you within the Planio environment! In practice, this means that non-Planio users (e.g., potential customers) can effectively create and update project issues using the E-mail Drop Box infrastructure. The integration enables you to use automated replies and select structured message content when replying to your customers.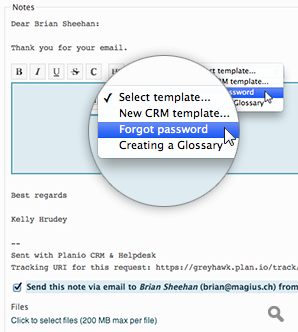 Mobile Task Management
Keep track of your project from any location with e-mail based issue management.
Add a project's e-mail to your mobile's contact list for fast issue creation.
Just touch/click "Reply" to any project notification e-mail to update a task.
Reach out to customers by enabling them to be a part of your project structure.
Add a file to a project task by simply selecting an e-mail attachment.