The Firefox toolbar enables you to easily launch Planio functionality from the comfort of your Firefox web browser. A simple drop-down menu lets you switch between projects. After a project is selected, you can view existing issues or even create a new issue; alternatively, you can browse to your project activity, blog, or repository with just a single click on the toolbar.
Accessibility while Browsing
With Planio's simple-to-install Firefox toolbar, you can access all of your critical project information from within the Firefox web browser interface. A drop-down list gives you the opportunity to switch from project to project with ease — and with just one click you can access your My Page, Overview, Activities, Issues, New Issue, Blog, Documents, Wiki (access Main Page and Edit Pages), Files, and Repository. Additionally, the Activities drop-down window enables you to easily check on specific activities.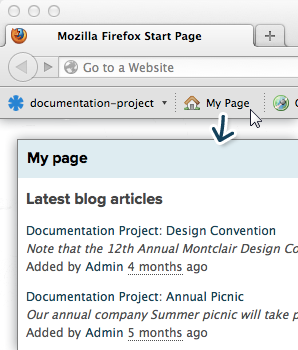 Straightforward Configuration
Adding projects to your Firefox toolbar is a straightforward process, requiring only knowledge of your project identifier and Planio URL (https://your-domain.plan.io). The project identifier is the text that Planio uses to understand your project name; simply browse to a project and take note of the text after the word "projects/" in your browser's address bar (https://your-domain.plan.io/projects/project-identifier). After specifying these two bits of content, just add your project, click OK, and you're good to go!