Historically, software customization has been a tedious, lengthy and costly process: an organization purchases a solution that most closely matches its needs and then tweaks & develops the application until it fulfills the need. Planio breaks this mold by giving you control over how data is organized, presented, and defined. With flexibility in mind, we implemented customizable functionality across all major application features so that you can use an app that is both relevant & applicable.
Custom Fields
Bring your Planio functionality to life by creating customizable fields. Custom fields enable you to personalize your experience across a wide variety of functional areas within Planio, such as Projects, Users, Groups, Companies, and Contacts. Operating in a PRINCE2 environment? Perhaps a "Business Case" field for new project creation would come in handy. Want to add a Skype ID field for new contacts? No problem. Each field can be tailored to your needs, including up to 7 field formats.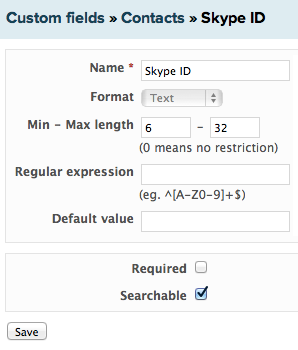 Issues Relevant to You!
From culture to operating procedure, every organization has a unique perspective on how to deal with information. Planio recognizes this by giving you control over how to best characterize your task/issue management process. Whether it's a new issue status option (prefer "Working on it" to "In progress"?) or a new set of industry-appropriate trackers (maybe "Task," "Support," and "Feedback" work for you), Planio empowers you to tailor issue management according to your requirements.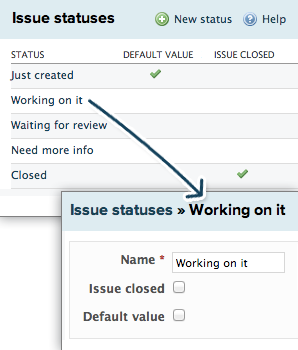 Benefits of Customization
Saves Money: No need to hire consultants. Flexibility out-of-the-box.
Pro-collaboration: Employees use an app that's relevant to them.
Structured Data: Functional areas organized according to your framework.
Pro-control: You're in charge of what data is presented and how it's presented.
Empowers Company Culture: Define options consistent with your methodology.