Cornerstone is an elegant SVN client designed specifically for the Mac. It is built on Subversion, a popular version control system well-known for its performance, flexibility, and scalability. Cornerstone excels in tracking & displaying changes to data; its comparison tools enable users to view differences in multi-language formats. Better yet, Planio is now integrated into the Cornerstone environment — so you can now easily sync a local folder with your Planio repositories using your Mac!
Planio and Cornerstone Integration
Getting Cornerstone to work with Planio is straight-forward:
Browse to the Repository tab within the desired Planio project.
Click on Help in order to display the repository help and info.
Copy the SVN URL that starts with https://your-domain.plan.io/…
In Cornerstone, click on Add Repository, your repo info should get filled in automatically.
Enter your Planio username and password, click Add — done!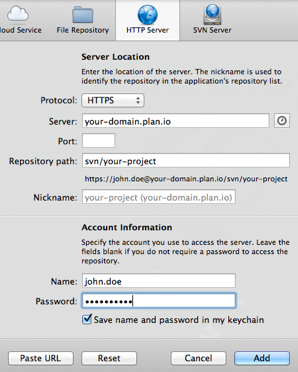 Version Control for your Mac
Cornerstone offers enterprise-level version control in a friendly, easy-to-use interface. It excels at keeping track of changes in ways that make sense (e.g., highlighted code based on language). Content can be compared side-by-side with changes highlighted and you can quickly branch & merge content together, or cherry pick data, as needed. Recent changes can be viewed using a log view while a longer-term history can be examined using a timeline view. Built on Subversion (open source), Cornerstone offers both flexibility and scalability for your enterprise.