Browser access to Planio is always encrypted using SSL and our hosted Git repositories require an SSH connection. But we think that's not enough. To ensure data security on all communication channels, Planio can also encrypt and sign email notifications and even receive and decrypt emails which you have sent encrypted to your Planio account.
For your eyes only
Simply copy and paste your own OpenPGP public key or fetch it from a key server with a single click.
Planio will then send you email notifications for updated tasks, wiki pages or other news in your projects only encrypted using OpenPGP.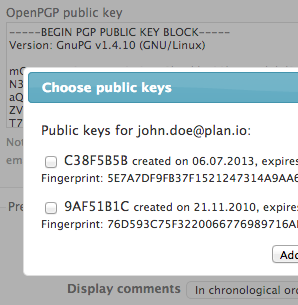 Standards compliant OpenPGP encryption according to RFC 4880
Encryption does not have to be complicated. Widely adopted standards and open source are the best ingredients for secure software. That's why Planio's email encryption is built upon GnuPG, the popular OpenPGP implementation.
To decrypt and read emails from Planio, use a free compatible plugin for your favorite email program. Microsoft Outlook, Apple Mail, Thunderbird and many more are supported.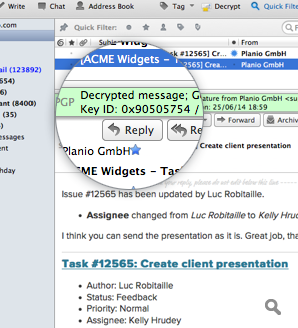 Receiving and decrypting encrypted emails
Not only can Planio send you encrypted emails. You can also send encrypted replies to emails received from Planio. Your email will be decrypted automatically and your updates will be applied as they normally would using Planio Inbox.
Simply download Planio's public key and use it for sending your emails.