The time tracking feature is an easy-to-use issue-based toggle that you can turn on & off. When turned off, you can log time spent or opt to simply continue the tracker. The logging process captures critical data sets (such as date and time spent) and enables you to define additional information (such as activity and comments). These metrics can then funnelled into the time tracker reporting feature, which enables you to create customized reports for both project management and cost analysis.
Easy Time Tracking
Planio's built-in time tracking feature simplifies issue management by giving you the tools you need to keep track of time spent. With just a click, Planio starts counting the minutes & seconds when work commences — to stop or pause the time-tracker, simply click "Stop tracking." The finalization process enables you to select a different project and issue (if necessary), select an activity, enter comments, and modify the date & time spent.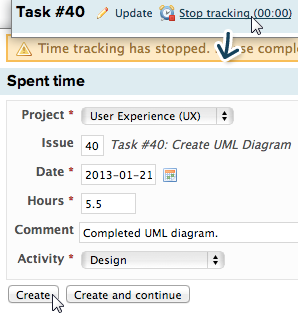 Making Sense of it All
Raw time data means little without the capability to present it in a meaningful manner. Planio addresses this via a comprehensive reporting feature that enables you to filter data at the date & detail level. After selecting a pre-configured date range or entering an exact date range, you can then build your report by selecting a time-based column (year, month, week or days) and an issue-based metric (contact, activity, member, project, tracker, milestone, issue, and/or status).
Keeping in the Know
With time tracking, you can easily keep up-to-date with your projects' current progress in terms of estimated and spent time. Planio's detailed issue interface lets you quickly compare estimated task completion time with actual time spent. And once you're ready to bill your clients, simply export timesheets and open them in your favorite spreadsheet or invoicing tool, like for example SalesKing.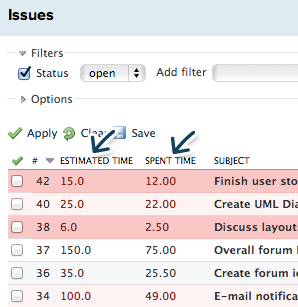 Benefits of Time Tracking
Simple & Accurate: Turn time tracking on & off in just a click.
Enter relevant comments, select an activity, and even use custom fields.
Presenting Data: Build robust reports that feature time and issue metrics.
Monitor progress while remaining aware of actual & estimated cost comparisons.