Agile projects with Scrum and Kanban or sequential planning using the Waterfall Model. It's entirely your choice. Or that of your team. Or your clients. But your software shouldn't dictate how you work. Planio adapts to your project management style — and not vice versa.
Already a Planio user? Learn how to get started with agile project management in less than 5 minutes.
Sprint planning made easy
Regular sprint planning is one important ingredient of agile project management. Like everything, Planio makes it easy and fun! Simply use drag and drop to move tasks from the backlog to your sprints and you're done. It's really that easy.
Of course you can also use this feature for milestone planning in sequential projects to assign tasks to milestones as deliverables instead of time and increment based sprints.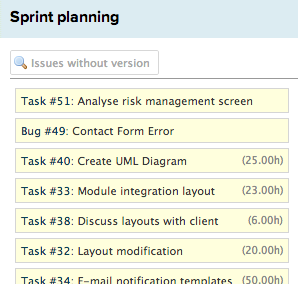 Flexible task boards
The task board in Planio gives the entire team a great overview of your current sprint. Whenever a task is completed, simply move it to the "Complete" column and pick a next task to work on.
Planio also has you covered should you require different columns or sub columns on your task board. Or would you like to introduce horizontal swim lanes for each team member? No problem at all! You can create as many task boards as you like and save them for later to use with your team.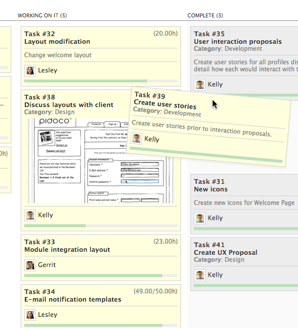 Charts. Charts. Charts.
No matter if Burndown or Burnup, Cumulative Flow, Lead Time or Velocity. Planio automatically generates charts for you and your team so you'll always be on top of your project's performance. Charts are also great for transparency and motivate your team.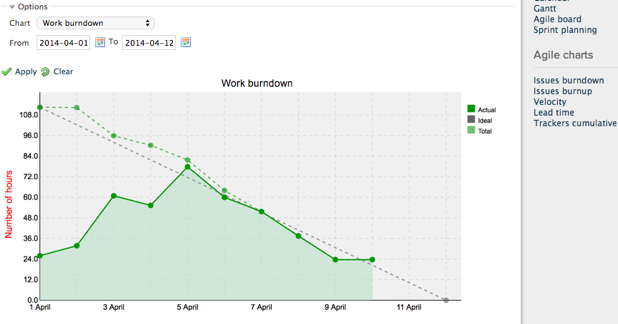 Your benefits
Flexible: Agile projects with Scrum and Kanban or traditional projects with Waterfall Model and Gantt charts
Easy to use: Plan your sprints on a single page
Interactive: Update the task board using drag and drop
On top: Monitor the performance of your entire team