Planio facilitates easy task management by empowering users to configure & customize their Planio experience. From our powerful role-based permissions system to Project Manager-friendly planning tools (workflows, roadmaps, and milestones), Planio's task management functionality is easy to use yet powerful enough to handle projects of any size.
Configurable Task Management
At the core of Planio are its task management capabilities, designed to empower project teams with the tools necessary to be more productive, no matter if you use a traditional or agile project management aproach. Planio tasks are highly-configurable — with definable properties such as status, priority, assignee, category, start & due dates, % done, spent time, subtasks, and customer-facing templates. Each task can be meticulously time-tracked, integrated with a workflow & roadmap, and managed from any mobile device.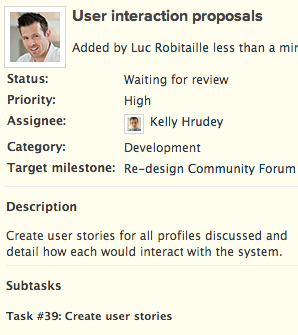 A Role-based System
Planio sports a robust role-based access model that gives you complete control over who works on tasks and how they work on them. Detailed permissions, such as managing subtasks, categories, and add/edit/delete tasks, can be assigned to customizable roles. This enables you to assign permissions to an individual user based on their function within the team. Of course, if you don't require such a level of customization, you can always opt for our awesome set of pre-included defaults!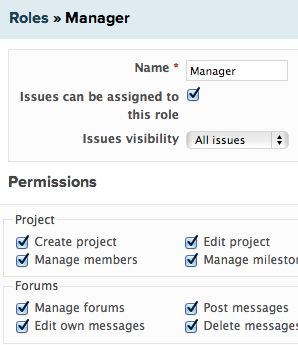 Workflow Management
After you assign a role to a user, and consequently associate him/her with a project, you can then define a workflow that is properly aligned with your process management strategy. Planio's workflow feature is designed so that every step in the issue management process can only be taken by a participant with the necessary permissions. In the event of recurring tasks, all project participants are guided by a predefined list of the next possible steps.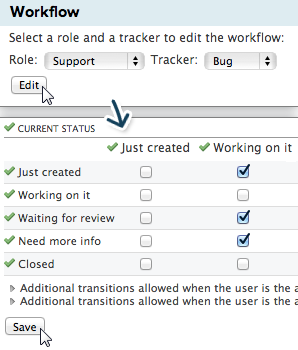 Task Management On the Go
Imagine being able to create and update project tasks without even being at your computer — with Planio Inbox, it's possible! Any member of your team can easily manage tasks by simply sending an e-mail to your project's dedicated e-mail address via smartphone. You can change assignee, priority, status, or any other definable field with ease. Even better, your customers can even create tasks and you can reply to them directly from the task detail interface!
Got a smartphone? Check out and install our iOS or Android apps.
A Comprehensive Task Management Approach
Configurable: Define status, priority, assignee, due dates, and more.
Role-based: Complete control over who works on tasks and how they work on them.
Workflows: Define available steps for project participants based on their role.
Planio Inbox & Mobile Apps: Create/edit tasks while traveling.