Control and flexibility are two major themes of the Planio project management platform. With Planio, you gain complete control over your project strategy through the use of roadmaps & milestones. Issues can be assigned to milestones and a summary of their progress can be viewed via a roadmap or an auto-generated Gantt chart. Planio uses a role-based permission structure to customize every step in the issue management process.
Building a Roadmap
In order to facilitate project planning, Planio uses roadmaps and milestones to convey critical status information at the click of a mouse. A milestone typically signifies the completion of a key deliverable — each task can be assigned to a milestone for progress-tracking purposes. The roadmap feature is designed to provide summary information via a dashboard interface — it contains a list of all milestones and conveys a percentile average of all issues in terms of completion rates.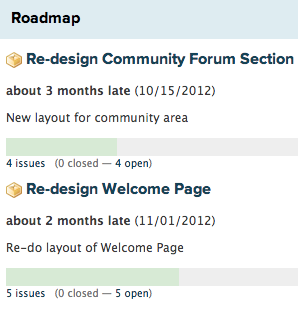 Milestones and the Gantt Chart
Making sense of tasks within the broader scope of a project is a snap, thanks to the auto-generated Gantt Chart. Each task associated with a date or milestone appears on the chart. The Gantt chart, coupled with Planio's roadmap, gives you the ability to see task progress at-a-glance. In addition, a sophisticated workflow permission structure enables you to specify exactly how project issues can progress in terms of their status.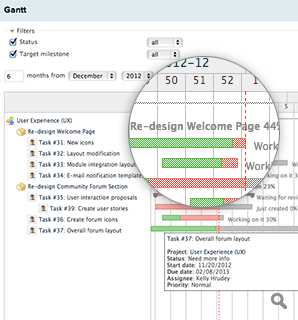 Flexibility via Roles
Planio is all about flexibility, whether that means using recommended defaults or starting from scratch with your own uniquely customized features. A great example of this is Planio's role-based access. By using 100% configurable roles, we enable you to implement a customized workflow based on the responsibilities of each team member. After defining roles and permissions, you can create meaningful issue statuses that describe the step-by-step process your users take when working on an issue.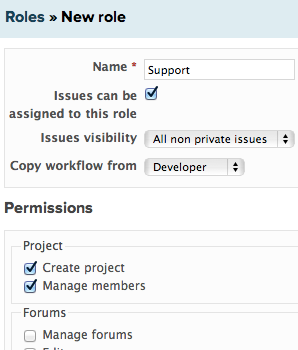 Managing Time
Every issue can be assigned a start & due date, % done, and estimated completion time. Activity can then be time-tracked by clicking "Track time" — a stopwatch runs in the background — and can be subsequently stopped by clicking "Stop tracking". Upon stoppage the user can enter details about time spent, such as a comment, activity selection, or even complete a custom field. All of this data is retrieved and compiled by the project's Gantt chart to auto-generate a visualization of dependencies.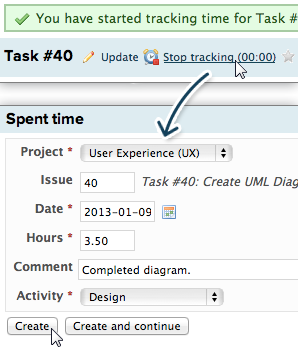 Benefits: Project and Workflow Management
Roadmaps: Provide summary project information via a dashboard interface.
Milestones: Assign issues to milestones for progress-tracking purposes.
Time Tracking: Track time and record details about time spent on issues.
Gantt Integration: Planio retrieves & compiles time data for auto chart generation.