Put the login process on high-speed with OpenID, a decentralized standard that enables you to easily login to Planio without the hassle of entering a username and password! With OpenID, you can enjoy the benefits of having a portable secure identity — your passwords are never shared with any websites and, if a compromise does occur, you can simply change the password for your OpenID. Logging on to Planio using OpenID is simple: just browse to the Planio logon page, enter your OpenID URL, and click Login. That's it!
A Password-free Logon
One of the greatest advantages of using OpenID technology is that it streamlines both the logon and sign up process. Instead of remembering username & password combinations all you need to do is remember your OpenID URL. OpenID is a decentralized standard: it is not controlled by one web site or service provider. In fact, because OpenID providers (such as Google, Yahoo, and AOL) focus on identity management, your online identity is not likely to be compromised.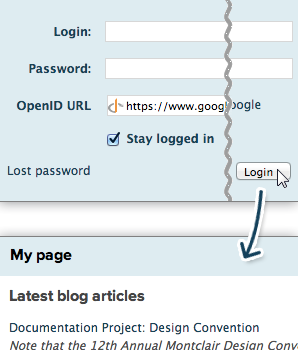 Setting up your OpenID
The first step in getting started with OpenID is to create one. This can be done using a service provider, such as MyOpenID.com, Google, Yahoo, or AOL. To activate your OpenID in Planio, just login, browse to My account and, in the OpenID URL field, enter your OpenID URL and click Save. For Administrators: To enable or disable OpenID globally in Planio, browse to Administration → Settings → Authentication and, in the Allow OpenID login and registration field, select or de-select the check box as needed.