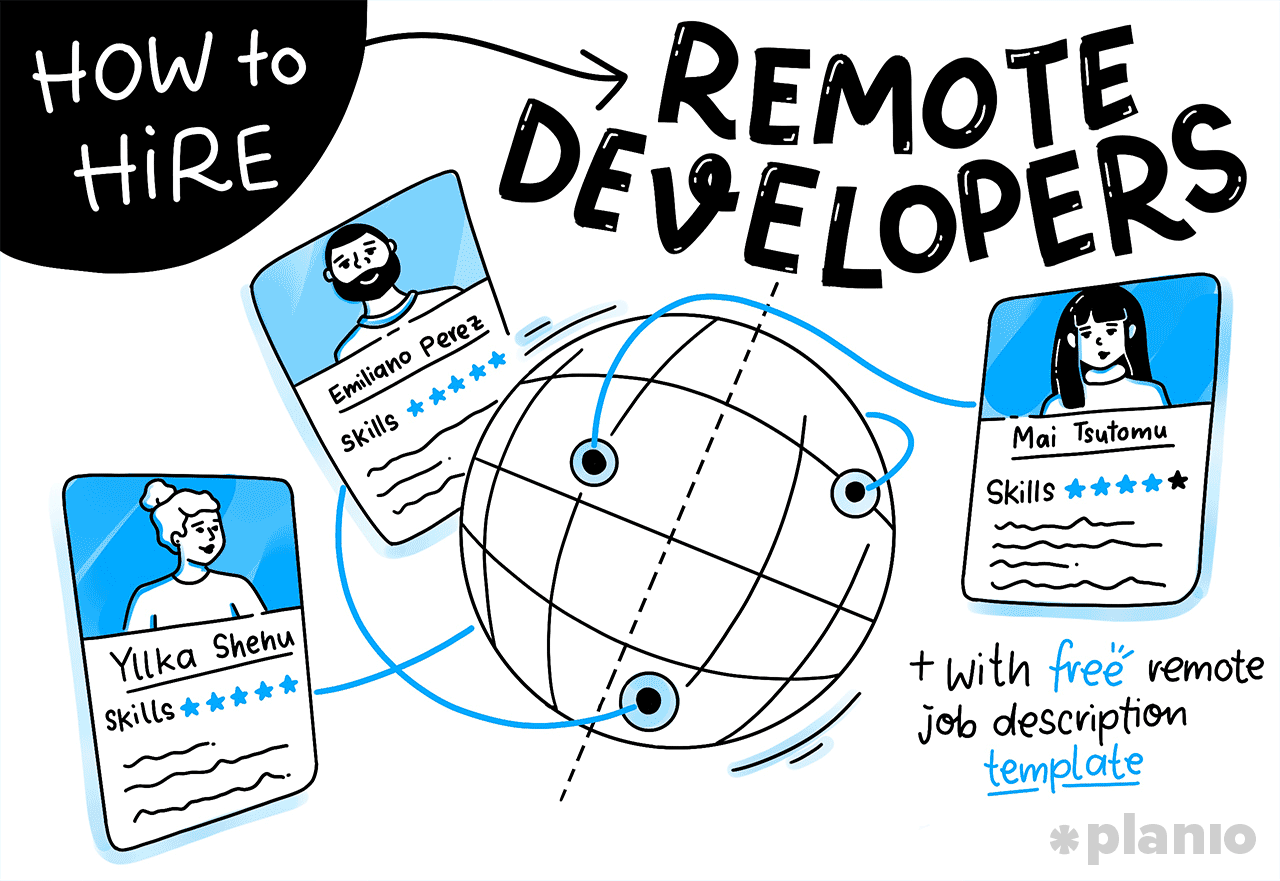 Every great company–from the billion-dollar tech behemoths to innovative and scrappy startups–has one thing in common: talented people motivated by a shared vision. But while finding talented people isn't hard–even when hiring remote employees–finding the right teammates for your company can be a battle. But it's one worth fighting.
As Steve Jobs famously put it, a small team of A+ players can run circles around a giant team of B and C players.
Jump to a section:
With the world shifting to working remotely, finding great talent has never been easier. But getting them to join your team is a skill on its own. That's why we spoke to managers and engineering leads at some of the world's top remote startups to understand how to bring in the best people for your team.
If you want to stand out in the crowded marketplace, hire talented remote developers and other people to your team, and set them up for success, this is the guide for you.
At Planio, we've helped thousands of companies communicate and collaborate while working remotely. Learn the secrets of running (and working for) a successful remote company in our latest eBook!
How to hire remote developers (and other teammates) in 10 steps
Whether you're a seasoned manager who's built teams at scale or a brand new founder looking to build up your first remote team, hiring can be a slog. Especially now that essentially every company is hiring remotely.
Humans are social creatures. And as much as technology and remote tools have helped us feel closer than ever, there's always an inherent risk and disconnect when you're talking to someone hundreds or thousands of miles away and possibly over different time zones.
But hiring remotely has its upsides as well.
As Phil Freo, head of product and engineering at Close.com–a fully remote startup–told us (and has written extensively about):
"When recruiting, it was hard to stand out in Silicon Valley among all the other tech startups hiring. But among remote positions, we were easily able to stand out as a very attractive option to candidates. It means we get to hire the best people from all over the world."
If you want to attract the best remote developers to your team, this is the best process to follow.
Step 1: Decide if it's the right time to hire remote developers
Hiring remote employees is expensive not just in salary, but in time.
No matter how well-prepared you are, hiring is often a long and slow process that can quickly become frustrating. That's why you need to make sure you're hiring at the right time for your company.
Hire too early and you run the risk of not being prepared and bringing on an expensive new teammate without the processes to make sure they're successful (or even enough to do!)
But leave hiring too late and you'll be desperate to fill the position. You won't always be able to, and hiring the wrong person can be an expensive mistake.
So how do you know it's the right time to hire new remote developers for your team?
You understand the requirements of the role. Simply put, you know exactly (or mostly) what this person will be doing–their title, responsibilities, potential KPIs, and long-term goals.
You're prepared to go through the hiring process. You're ready to commit 50% of your time to search for, screen, and interview people. This can sound like a big commitment, but you should think of hiring someone as 'firing' yourself from those tasks.
You have processes and systems in place to help new hires be successful. Whether it's a clear onboarding process or a 30-60-90-day plan, make sure you have everything in place to ensure their success. Don't know what you need? Grab our Free Remote Working Checklist and understand what your team needs to succeed.
Take your time, know who you're looking for, and hire when you know you can give them the resources they need to thrive at your company.
Only hire when you know you can give new employees the resources they need to thrive at your company.
Step 2: Write a "remote-first" job listing
Your job listing is the first touchpoint you have with a potential new hire. What you say (and how you say it) is probably the most important factor in attracting the right people.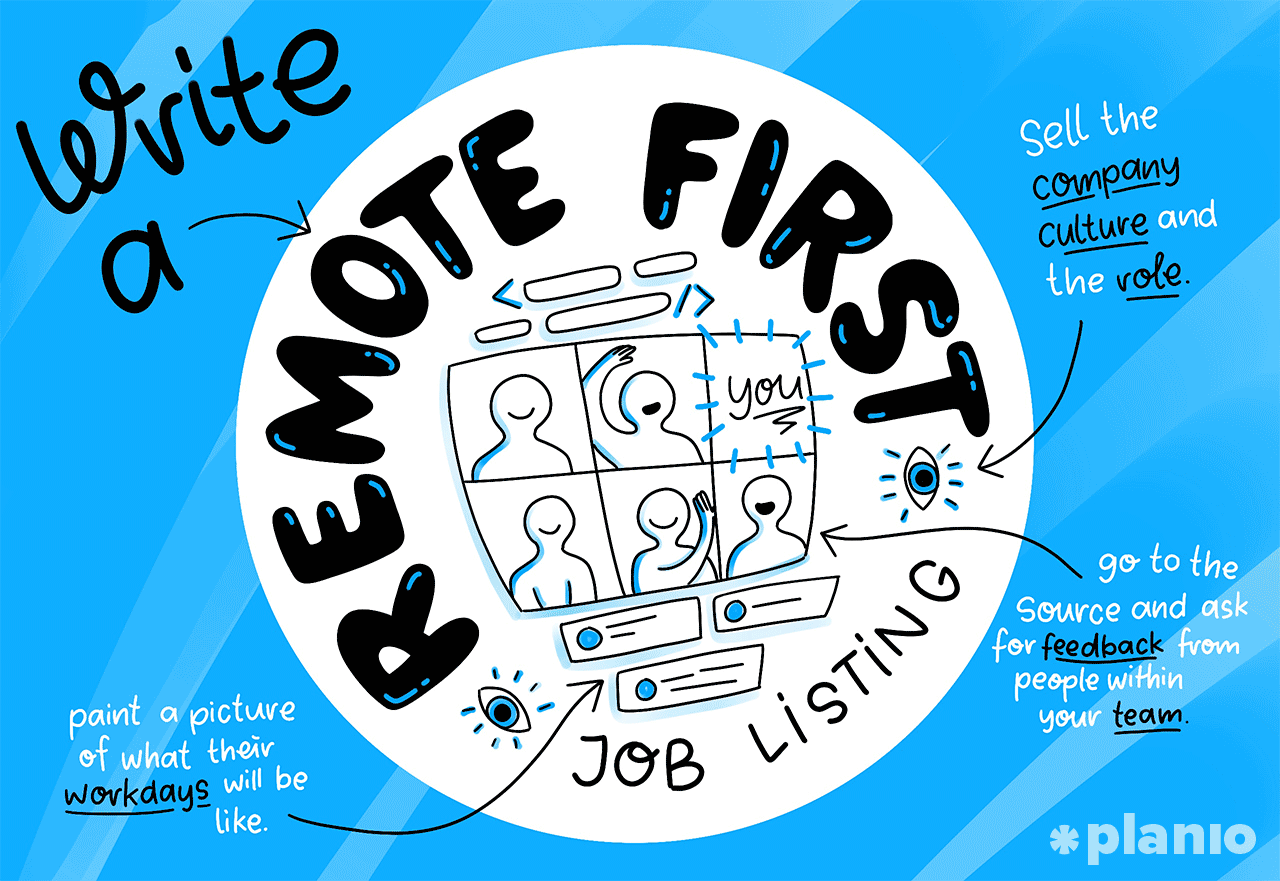 Remote developers want to work for companies they respect and feel will respect them in return. That means including more than just some technical requirements in a job description and calling it a day.
Here's what Close.com's Phil Freo suggests you should include in a job listing for a remote developer:
Sell your company culture and the role: To hire an all-star away from a deep-pocketed competitor you need to get them excited to work for you. Skip the business talk and cliches and be honest and transparent about what you do and why you do it. Sell your vision and you'll attract the right people.
Paint a picture of what their workdays will be like: Instead of vague technical requirements, show candidates what they'll actually be working on. Give some examples of projects or past releases. Let them know that you already know where they'll fit in the company.
Go to the source and ask for feedback from people within your team: Would they apply for this job? Why or why not? Ask people who are already in this position (or similar) what attracted them to your company and make sure that's clear in the job description.
If you're at a loss of what to include, you can search for similar roles at other companies for inspiration or use our free Remote Job Posting Template to get started.
Skip the business talk and cliches. Be honest and transparent about what you do and why you do it.
Step 3: Get organized and set up your hiring pipeline with the right tools
Hiring remotely means opening yourself up to a world of talent. Which sounds great… until you're suddenly flooded with applications.
There's a fine line between "Nice! People are applying for our job!" and "Oh my God, there are so many emails."
When applications start to pour in, you'll want to be in the best possible position to field them, sort them, and respond quickly.
An Applicant Tracking System like Homerun, Greenhouse, or Lever is a great tool for managing your hiring pipeline. Or, better yet, you can use a project management tool like Planio to track applicants, make notes, tag in teammates, and move them through the hiring process.
Planio's Agile boards are an easy way to visualize the entire hiring process and see what stage candidates are at. For example, you might set up columns (Planio statuses) for:
Internal Discussion
Pending 1st interview
Pending 2nd interview
Offer Sent
Rejected
This way, everything you need to know about a candidate is in one central place.
Step 4: Reach out to people in your network for referrals
While we'll cover some of the best places to hire remote developers and software engineers below, you should keep your hiring pool small to start.
You most likely already have a great network of people in your industry who know other great people that are dying to work for you. So before you start fielding cold leads for job sites, try these alternative methods for attracting the right talent:
Look in your own network: If you've hired good people, they probably know other good people. Ask internally first to see if anyone comes to mind.
Search your user base: Your users already understand the product and believe in your company. If you have someone helping to manage your community, ask them to reach out and see if people are interested in taking your relationship to the next level. Or, add a "we're hiring" link to your main homepage.
Use blog posts (about your company and around your values): If you can sell your company and the role beforehand, you'll end up with a higher quality of candidates. Buffer is especially good at doing this by writing about their company values and being transparent about everything from company hierarchy to pay.
Ask for referrals from investors or stakeholders: Investors (if you have them) usually have a great network of companies and people that they've worked with.
Turn to social media: Not everyone is actively looking for a job but might be excited if they know you're hiring. Your social media followers already know and actively follow you so they're a great place to start expanding your search.
Step 5: Post your remote job listing to the right job boards and communities
Online job listings have come a long way since the peak days of Craigslist. Today, there are thousands of different sites where you can list and search for remote jobs.
Again, you need to align where you post your remote job listing with the type of person you're looking for. You can start by expanding slowly from your inner circle to more niche sites. Or go all in and get in front of as many eyeballs as possible.
Here are a few different remote job sites and communities you should consider:
Generalist remote job boards: If you want to go broad, post your listing to a job board that lists all types of remote jobs like Flexjobs, We Work Remotely, AngelList, Jobspresso, or Dynamite Jobs.
Specialist remote job boards: There are now tons of remote job boards catering to specific jobs–from remote developers to designers, writers, project managers, and more. For remote developers specifically, try out SitePoint Jobs or Authentic Jobs.
Relevant newsletters: Newsletters are great places to post job listings as they already go out to people interested in specific topics. If you subscribe to industry newsletters, see if they do any sponsored sections where you can list your job.
Slack channels and other communities. Many niche Slack channels and other communities have a job listing channel. Again, this is a great place to get into the heart of a community and find talented people quickly.
Step 6: Decide on the essential criteria you need to see to move forward
Now that you've got some candidates coming in, how do you know which remote developer to move forward with?
Before you get sidetracked by their resume, look for any red flags. This could be poor communication skills, missing basic instructions, a lack of attention to detail, or not putting in the effort you expect into the application.
If there are no red flags, check to see if they meet the skill requirements for the job. Don't just go by what someone's written on their application. Instead, look at:
Past work: Do they have an online portfolio they've linked you to, or any public Github repositories you can check?
Open source projects: If they're contributed to open source projects check those out. However, not everyone has time to work on public projects and that shouldn't be held against them.
Contract work: It's usually a waste of time to give engineering candidates a code puzzle. Instead, Y Combinator's Sam Altman says whenever possible, you should have someone do a day or two of paid work with you before you hire them. This way, the interview process is much lighter as the proof is in the work delivered and paid for.
Finally, successful remote workers have a unique skill set that you might not be totally familiar with. As you look at applications, see if you can find examples of certain qualities:
Action-oriented: Remote workers need to be results-focused and able to proactively find tasks to do.
Ability to prioritize independently: They should be able to demonstrate situations where they've dealt with competing priorities or successfully delegated work.
Good at writing: Communication is key to remote work–especially asynchronous communication like emails or updates. Are they able to communicate clearly?
Trustworthy: This is all about feedback and staying connected. Do they talk at all about how they like to work and how they keep managers or stakeholders updated on projects?
Step 7: Reject unqualified applicants quickly (and politely)
You should know pretty quickly whether you want to move forward with a candidate or not. And if they miss the mark, you want to reach out quickly to tell them. This isn't rude. In fact, if someone put the time and effort to apply to your position, you should show them the same level of courtesy and let them go as soon as you know.
So how do you reject remote candidates quickly and as politely as possible?
Here's a great example rejection email from Zapier CEO Wade Foster:
Hi John,
Thanks for your email! Loved hearing about [insert something interesting they mentioned from the app]. That said, we're moving forward with other candidates at this point. Best of luck and hopefully you'll stay in touch. We post new positions periodically and would love to see your name again.
Wade
Why this works: The email is short, personal, and clear that you're moving on. Ideally, you should send this within a few days of getting their application, so try and set up email templates to make this easier.
As Close.com's Phil Freo explains, the goal is to make everyone who interacts with your company impressed by you and want to tell their friends, even if they're the wrong fit themselves.
Step 8: Set up calls to assess skills and culture fit
You've gone through the hard work of attracting some great remote developers and now you want to take it to the next level. Congrats!
It's now time to see if that excitement translates to talking in person.
Set up a phone or video "screener" call to get a feel for them as an individual. While this is an exciting step in hiring remote developers, there are a few things you need to be careful of.
First, don't spend the call explaining the role and talking nonstop. This is your first opportunity to get to know this person. Tell them what they need to know and then let them talk about their interests, background, and experience.
Second, keep it high-level. You might want to ask a few technical screener questions at this point just to make sure you're on the same page. But you don't want to turn this into a pop quiz. Discuss your technology stack and see what they're interested in and how familiar they are but leave it at that.
The goal of a screener interview is to quickly get to either a "Heck yes!" or "No way" with your candidate.
But you also don't want to base too much off it. If they're a "Heck yes!" from you, it's time to get input from other people on your team. Try to break out the interview process into a few chunks:
Interview 1: Get to know them and ask a few questions
Interview 2: Ask more in-depth, role-specific interview
Optional take-home test: Give them a short project to show off relevant skills (the best remote companies pay for this work–even if they don't end up hiring the person)
Interview 3: Drill in on missing technical areas, evaluate soft skills, and seniority
Throughout all of the interviews, keep looking out for those red flags of remote work. While you're listening to what they say, also listen to how they talk and act. Do they communicate clearly? Are they comfortable using the tools you use to communicate and collaborate?
Because the interview is already happening in a remote context, it's a good "soft test" to see if they can handle this style of working.
Step 9: Sync up with all interviewers and share your thoughts
Once a candidate has made it through your gauntlet of interviews, it's time to sit down with all of the interviewers and compare notes.
Does anyone have major objections or are you all on the same page?
There doesn't necessarily have to be total alignment in the decision. But if there are major concerns around the most popular candidate, it might be good to dive deep.
In the end, the process needs to move forward and whoever is leading the hiring process should have the final say.
Step 10: Do your due diligence before you make the offer
It's exhilarating when, after all that hard work, the clouds finally part and you know the person you want to join your team.
But as Close.com's Phil Freo reminds us, don't let that imminent relief cloud your judgment.
You need to do your due diligence before making an offer:
Always, always, always do a reference check: This seems obvious, but you'd be surprised how many startup founders pushed this point. When your company is on the line, the last thing you want is to bring on someone who isn't who they say they are.
Don't assume that an accepted offer = position filled: Lots can happen in between making an offer and the start date. Don't feel like just because the candidate has said they'll join that they actually will.
Make more offers than you think you'll need: You won't always hire the right person. And you should be wary of burning bridges with other candidates before you feel confident in your choice.
Keep selling the role up to the start date: Get the candidate excited about the job coming up to the start date. Send emails with blog posts, link them to reviews, or share fun and exciting "insider" info.
If you're not 100% sure start with a trial period: A trial period can be great for both parties to make sure it's a good fit. Take a month or two to make sure you're both happy and that expectations are being met. You want to hire someone who will be with you for years, and a few months of extra work are more than worth it.
If all goes well. Congrats! You just hired a new remote software engineer!
Onboarding your new remote employees and setting them up for success (according to top remote teams!)
Just because you hired a new remote developer doesn't mean your job is over. In fact, it's just starting.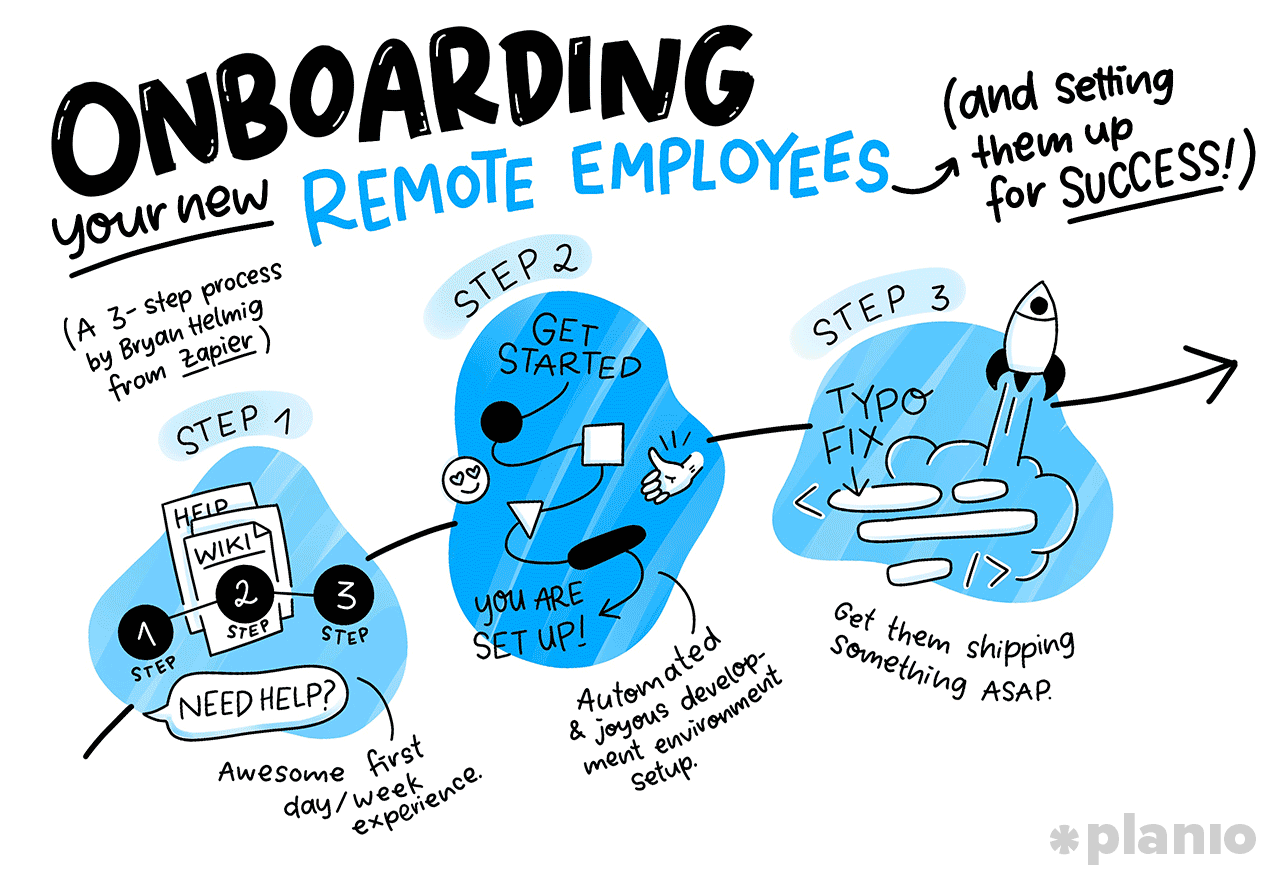 The first few weeks and months with a new teammate set the tone for your entire working relationship. The last thing you want to do is talk about how much you value company culture and communication and then drop someone in the deep end.
At Zapier, CTO and co-founder Bryan Helmig uses a 3-step process for onboarding new remote software engineers:
Ensure they have an awesome first day/first-week experience: "We've put in the work to build docs and guides for every new engineer and I always make sure I'm available to help them out."
Make sure their development environment setup is automated and joyous: "We have a 'welcome.sh' with emojis and step-by-step helpers to get them set up."
Get them shipping something ASAP: "Even a typo fix is perfect. You don't want them disambiguating true technical complexity vs. unfamiliarity. Make it an obvious fix and let them learn about process and deploys. Then introduce complexity."
At RescueTime, COO, Mark Wolgemuth says it's important to introduce new engineers to the team and have them work with their new teammates.
"I try to set up several pair programming or task solving sessions with other engineers right away. Sometimes narrow skillsets make this a little challenging, but I have no problem pairing a client engineer with an API engineer. Because in the end all of our staff is interacting and the problems are holistic for the most part."
Boost productivity and motivation for new employees by helping them understand why their work matters.
By pairing up new remote engineers with different people across your organization, you tackle this problem head-on.
First, they get a chance to see how things work on the inside and learn from people who understand your process. This makes it a comfortable environment to test and ask questions.
Next, they get to see the larger picture of how all the pieces work together and why their work matters.
Lastly, you'll want to make sure they're set up and comfortable with the right remote tools, including:
Communication tools: Your new teammates should feel like they can ask questions whenever they need to. A messaging tool like Slack or Planio Team Chat is a must-have for collaborating remotely.
Video calls and screen sharing: Being on a remote teammate can be lonely, especially during your first few days. Regular video calls and screen shares to run through processes and tasks are a great way to help onboard and make them feel like a part of the team.
Project management: As your new remote engineer gets into their actual work, they'll need somewhere to see what's expected of them and what's coming up. Use a project management tool like Planio that has integrated Git and Subversion repositories, as well as wikis and internal blogs to share information and processes quickly.
Above all, use the onboarding period as a time to make sure you're still excited about them (and they're still excited about you).
The first 90-days: 4 powerful strategies to help your new remote teammates excel
Finally, because you're not seeing each other every day, you want to make sure your new remote developer knows there are opportunities for growth, feedback, and experimentation.
In remote situations, it's easy for people to get disillusioned if things aren't going well or the company is going through a rough patch. And as the person who hired them and manages them, they'll look to you to show them that everything's ok.
Here are a few tips for ongoing development, especially in the first few months of them joining the team:
1. Book extra one-on-ones in the first few months
The first month for a new hire is crucial. But so are the second and the third. Make sure you have lots of opportunities for feedback not just on the work, but the culture, their relationships with other teammates, and how the company operates.
2. Organize "show and tells" for engineers to show off what they've been building
Seeing progress is one of the best ways to keep your team motivated. And when you're heads down on a new feature or bug fix, it's hard to really see the bigger picture. Even just a short show and tell session once a week (or month) can be a great way to keep new hires excited and committed.
3. Plan "mini meetups" to bring your remote team together virtually
Being a remote team is an amazing experience. But nothing really beats spending time hanging out and getting to know each other–even if it's virtual. Skip the massive planning sessions and instead try hosting a virtual happy hour where your team can hang out, talk, and connect on a personal level.
4. Use "culture buddies" to help your new hire get settled in for the long haul
It might seem like a little thing, but your energy and attitude go a long way in shaping how a new remote engineer feels about your company.
At Buffer, who have a fully distributed team of 27 engineers, director of marketing, Kevan Lee, explains that a big part of this comes from connecting new hires to veterans:
"When a new teammate comes on board, there are three veterans who come alongside them to support her or him in the new role. Each of these three people has a different focus; it's typically a lead (manager), a teammate to provide role support, and a teammate to provide culture support. In weekly calls during the first several weeks of onboarding, the culture 'buddy' allows for space to discuss and share about the company values."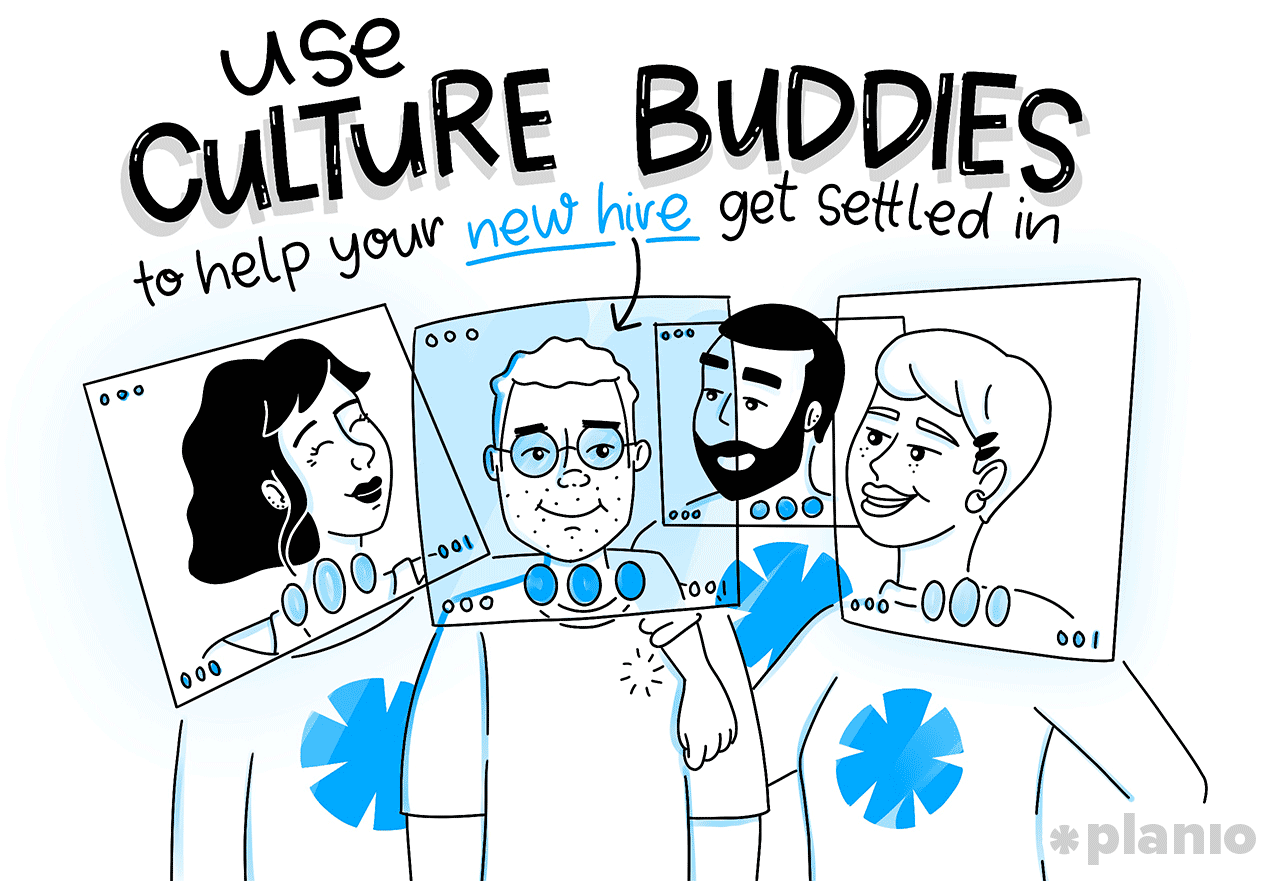 At InVision—the design and prototyping platform—senior engineering manager Jeremy Wight builds remote culture by facilitating a team-wide book club where they read and discuss books on personal development and growth:
"Everyone reads a chapter a week and we spend half an hour discussing it as a group. What's great is that the books allow you to think differently and bring up perspectives and opinions about the values that we hold as a company."
Additionally, Jeremy says it's incredibly important to find ways for new remote hires to connect not just with their own team, but with people from other teams.
Something as small as a team-building game to start off your meeting can help. Or, in the case of InVision, they create Slack channels based around interests like running or cryptocurrency, and also host a cross-team "remote happy hour":
"You need to find ways to create those social connections because that's what helps people work more effectively together. When you get to know somebody on another team and have to work together, you already have a relationship. Just by having that information connection, it breaks down the silos that naturally get built up in a remote culture."
The right hiring process is the ultimate "growth hack"
When you go through the process to hire remote developers you're doing more than adding to your headcount. You're changing the structure and makeup of your company.

Take the time to really get to know your candidate and get comfortable with the remote hiring process. There's no greater growth hack than hiring the right people.

Hiring the right remote developers is only part of the puzzle! Learn the secrets of running (and working for) a successful remote company our latest eBook!