How to move from Redmine to Planio in 3 steps (and why you should)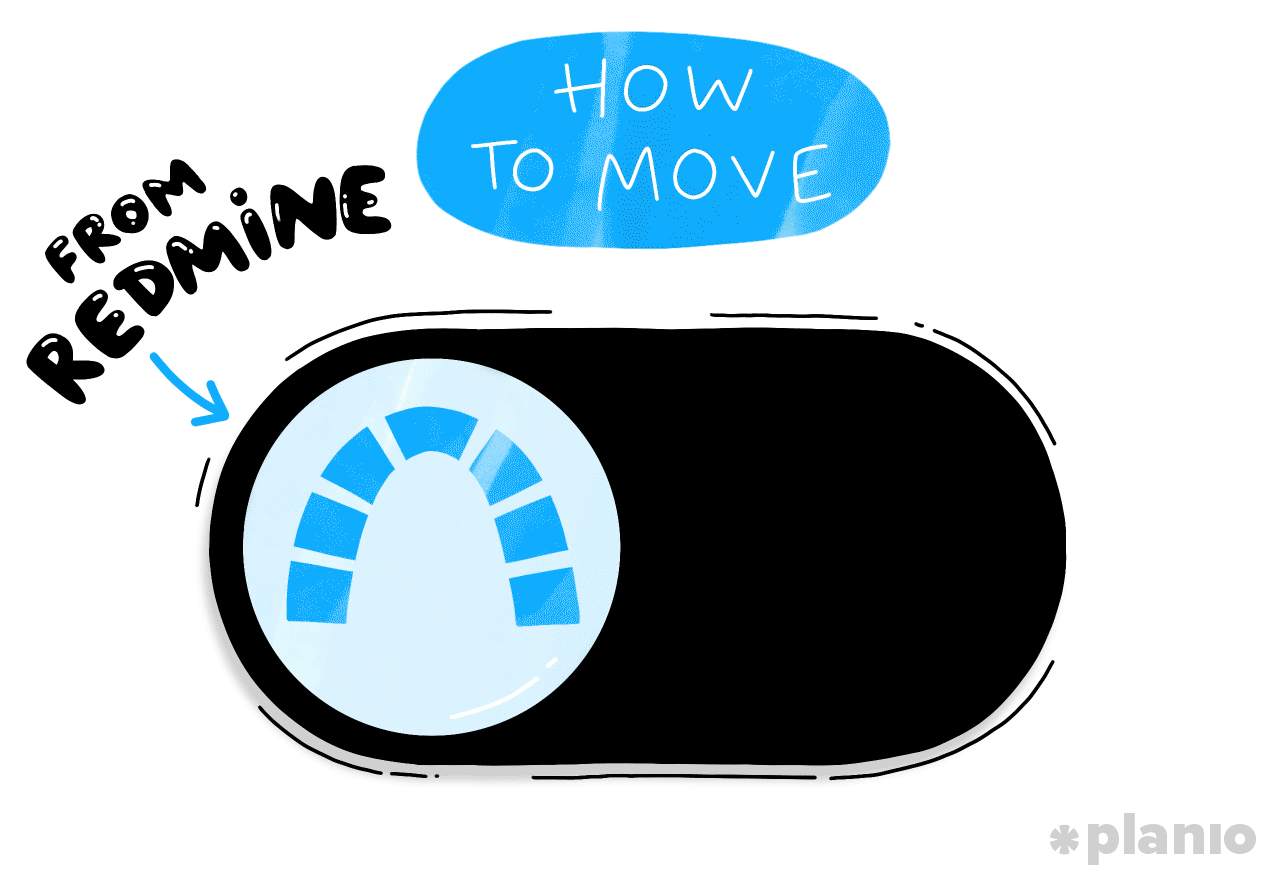 When you're responsible for the smooth operation of in-house development and ERP and IT requirements for an industry-leading, international organization, a proper project management tool is a must-have.
Yet after years of running and maintaining Redmine at Marbach Group, ERP manager Jan Niggemann was ready for a change.
But changing software is never easy - especially when it's the project management tool you use to keep your team organized and focused. New tools cost time and money. And there's always a fear that some critical piece of data (or workflow) will get lost during the switch.
Yet when Jan finally made the leap from Redmine to Planio – a hosted and upgraded version of the open-source project management tool - it not only saved them time and money but also made their teams more organized.
If you've been using Redmine for project management and are tired of spending more time keeping it updated than doing your actual job, here's how (and why) you should consider making the switch.
The problem with self-hosted Redmine: Missed updates and missed opportunities
When Jan was first looking for a project management tool in 2012, he knew that an open-source option like Redmine was the perfect choice for several reasons:
It's constantly improving. The open-source community is always looking to improve the core code.
Security is everyone's concern. A large community means security vulnerabilities and bugs can be found and dealt with quicker.
It's deeply customizable. As long as you can maintain your configuration, there are tons of plug-ins and additional features you can use.
However, as his workload expanded, Jan realized that all of these benefits require quite a lot of effort and time.
If you manage a Redmine setup, you need to test new versions to ensure they're stable and work with your setup and handle backups, routine maintenance, and security patches.
As a long-time participant in the open-source Redmine project, Jan was no stranger to these tasks.
However, even with his level of experience, he was frustrated with pulling double-duty as both team lead and Redmine administrator, updater, and trouble-shooter:
"I installed Redmine years ago, but we quickly fell behind on updates because we had no time, and I was the only one with the skills to maintain it. Then, when our new CIO came in and wanted to consolidate all of our IT departments to a single tool, I knew we needed to make a change."
If you're already running a Redmine setup, you probably know this feeling.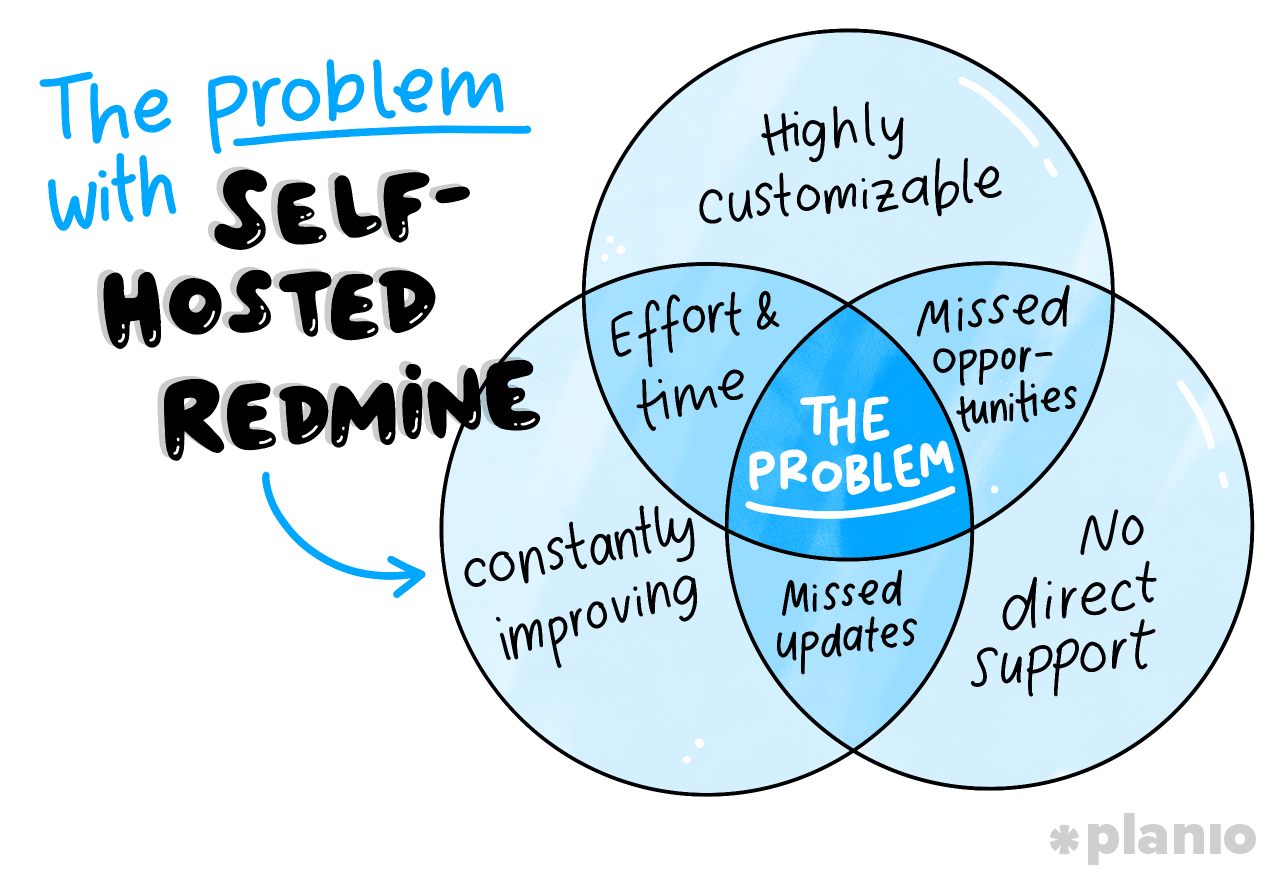 You might have the strength of the entire open-source community behind you. But when something needs to be fixed now, you're essentially on your own.
Not only are you solely responsible for updating and testing the latest versions of Redmine to make sure they work with your plugins and custom workflow, but when things do go wrong, there's no customer support to call.
For Jan's company, the burden of maintaining Redmine overshadowed its power and flexibility.
You don't have to pull double-duty as both team lead and Redmine administrator, updater, and trouble-shooter. Focus on the work that really matters to you and leave the rest to us.
After a very short period of trialing another in-house Redmine setup (which "didn't work and felt very clunky"), Jan called the team at Planio and got set up right away.
"In a very short time, we had a Planio instance running for us that was very fast and easy to use. There was no learning curve at all for me or the other people on my team."
The lack of a learning curve shouldn't come as a surprise as Planio is a hosted-Redmine solution.
What this means is that you get the power and functionality of Redmine, but with an updated user interface, more features (like Agile boards, dedicated Help Desks, Git & Subversion hosting, Team Chat, and more), and 24/7 access to customer support.
The Planio team rigorously tests each new Redmine release, waiting until it's stable and secure before updating your setup. You'll never have to worry about falling behind on updates or switching to an unstable new release.
| | Redmine | Planio |
| --- | --- | --- |
| Hosting and data | On-site. | In the cloud. Your data is encrypted and physically stored on servers in state-of-the-art German facilities (which are protected by some of the most strict data privacy laws in the world!) |
| Maintenance and updates | Your responsibility. | Handled for you. A hosted Redmine setup like Planio ensures you're always on the latest version of Redmine, aren't dealing with known bugs, and will never deal with broken plugins or missing features. |
| Support | None (other than forums run by other users and volunteers). | 24/7 support via email and phone. |
| Cost | Free to use. But you're responsible for hosting fees, setup and hardware costs, and updates. | Starts at $25/month including a better UI, integrated team chat, continuous updates, backups, maintenance, unlimited issues, Git and Subversion repositories, and support. |
Right from the start, Planio did what Jan wanted it to do and what his team expected.
Even some of the custom plug-ins that Jan and his team were maintaining themselves on Redmine just came as part of Planio, meaning less work and easier integrations.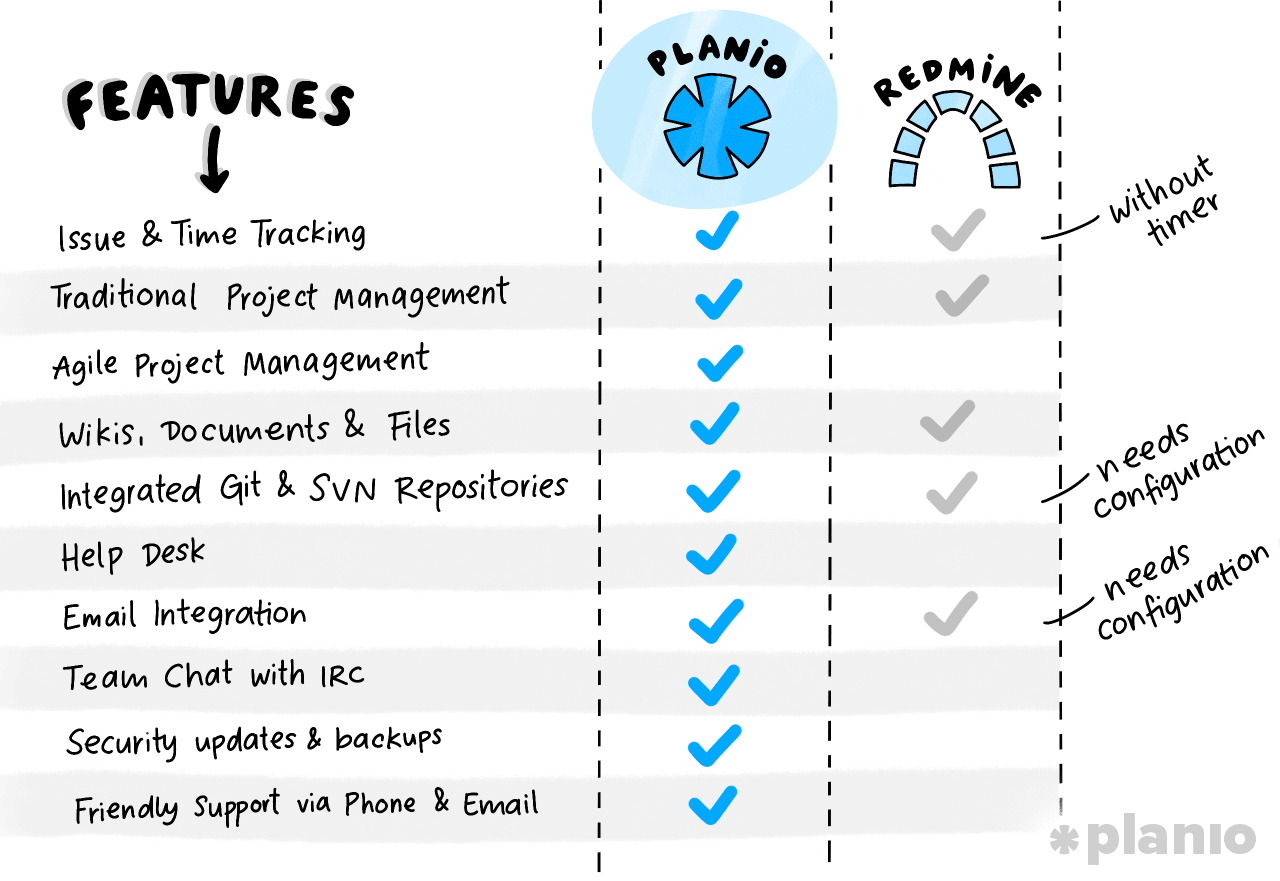 While the initial plan was to trial Planio on a smaller team, Jan quickly realized it was the perfect partner for their larger ERP projects being worked on by hundreds of people.
The 7 reasons why Jan switched from Redmine to Planio (and you should too)
Redmine is the world's most popular open-source project management tool with customers ranging from Fortune 500s to Oxford University.
Yet, despite its wide usage, there are some business-critical reasons why you would want to switch to a hosted Redmine solution like Planio.
1. Easy setup, lower costs, and no maintenance
By far, the most significant advantage of switching to Planio is the savings in time and cost.
While there's a monthly cost associated with Planio, it's often up to 90% cheaper than maintaining your own Redmine setup.
But how is that?
Redmine itself is free. But it takes time and money to set up, configure your database, and pay for in-house hosting. Plus, even the most straightforward Redmine setups need regular updates, routine maintenance, and someone who can offer technical support to your team.
At Planio, we maintain tens of thousands of Redmine installations, so you benefit from the economies of scale. We rigorously test every new release and only push updates when we know they'll work for you.
Redmine might have the strength of the entire open-source community behind it. But when something needs to be fixed now, you're essentially on your own.
2. Increased security, trusted data protection, and customer support (from real people)
Your project management tool houses your most important information–projects, tasks, code repositories, personal details, and files. The last thing you need to worry about is the security of that data.
Planio takes the best parts of Redmine's security – a community of driven people constantly improving and fixing the code – and pairs it with their own measures that include:
Certified storage facilities. Your data is stored in an ISO/IEC 27001:2013 certified facility in Germany.
Encrypted backups in a secondary facility. Backups are housed in a secondary facility (also in Germany but separate from our main data house).
99.99% uptime due to fully redundant hardware. You always have access to your data when you need it.
Jan felt a tinge of fear when moving his company's data to the cloud as an' old school' server guy. But the more he learned about Planio and our commitment to data security, the less of an issue that became.
"I'll admit that I still have a personal data center in my basement. However, as Planio is a German company, I'm not concerned with privacy and security at all. Germany is known all over the world for its strict regulations on data security and data protection privacy. That gave us a lot of comfort switching to the cloud."
The Planio team is even part of the official Redmine Security team, meaning they're among the first to know about potential vulnerabilities.
3. A more user-friendly UI
We don't want to say that Redmine is ugly. But it does have its limitations when it comes to its user interface.
Planio's user interface is much simpler to use (and nicer to look at if we can say so ourselves!)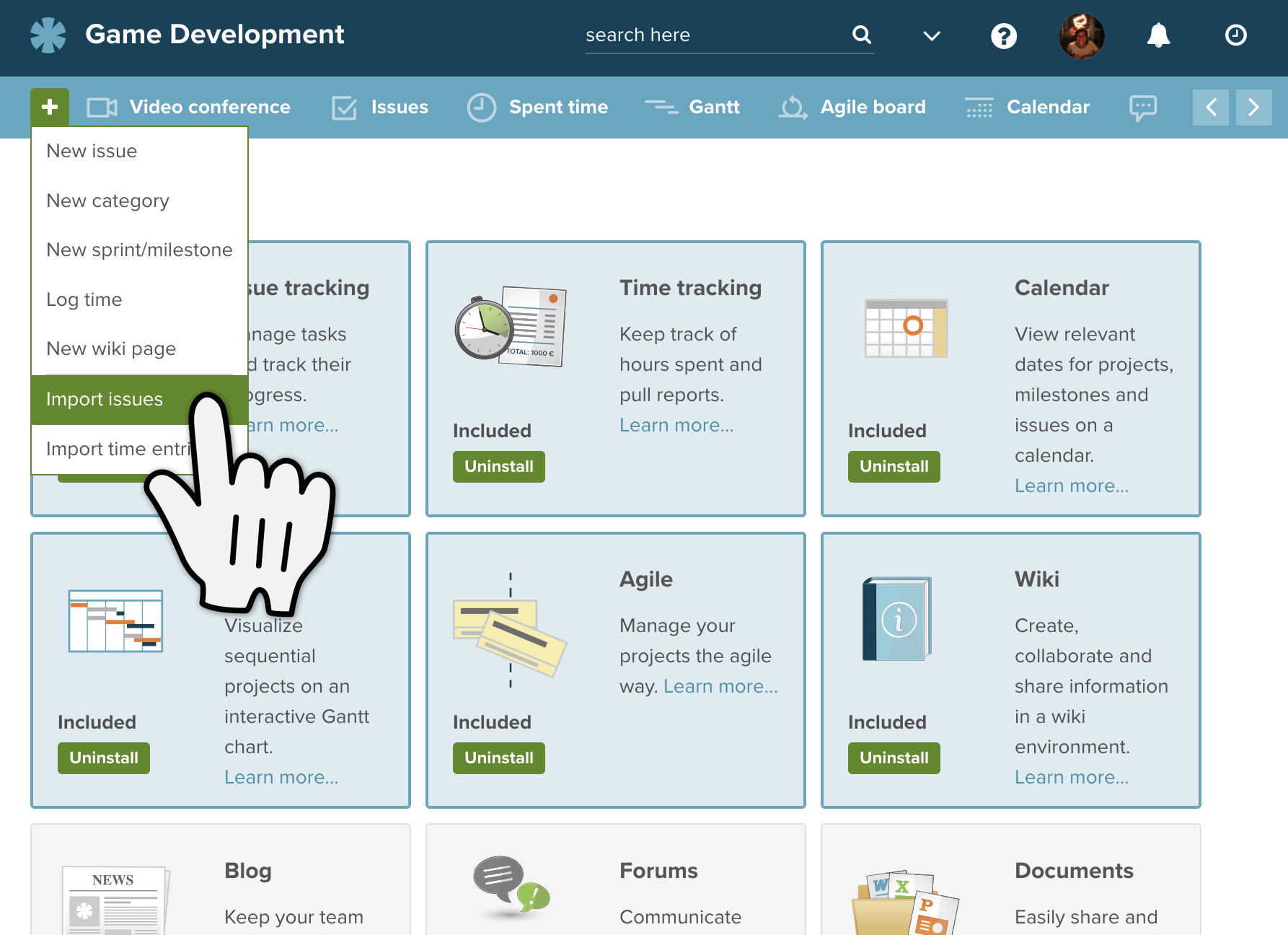 Navigation and search are front and center, making it easy to find what you're working on quickly. You can also switch views to see your projects as an Agile board (i.e., Kanban), list of issues, on a calendar, or a roadmap of sprints and milestones.
You can even have the appearance customized with themes that include your company's branding and colors.
4. No manual updates as you'll always be on the latest version
Switching to Planio means you no longer have to worry about updates (which are a constant concern as Redmine regularly rolls out updates).
Yet, it's not just enough to be up-to-date with the latest version of Redmine. Every company is unique in its project management needs, and there's always a chance that an update could break your current setup.
With Planio, our engineers test and validate every new release and only push it out when we know it's secure and will work with your setup. (We've been contributing to the Redmine project for over a decade).
As Jan explained:
"The Planio team have been long-time contributors to the Redmine open-source project. And I firmly believe that if they do this, then they must also run their business responsibly."
5. Integrates with Git and Subversion repositories
Great project managers build context. It's not enough to just throw a line or two on an issue and expect your team to know exactly what to do.
Planio allows you to integrate your tasks with an external Git repository like GitHub or Bitbucket and self-hosted Subversion repositories. This will enable you to reference code right from Planio issues. However, it can do more than that.
One of Jan's best outcomes after switching to Planio was this tight integration between issues and commit messages.
"I really like the possibility to refer to specific issues in commit messages. You can instantly see who implemented the code, when, and why."
6. Customizable setups and an API that 'just works' with your system
Every team and company has different needs. With Planio, you can create custom fields for issues, build out custom workflows for recurring tasks, and use our API to access and update your Planio data however you need to.
For Jan, one major requirement was to report how his team was spending their time. This was easy for working on user stories as they already created issues and used Planio's integrated time tracking.
However, when working on support requests, it was too much work for his team to create an issue for each, mark it done, and log their time. So, they created an app that would do the busywork for them:
"Because of Planio's API, it was easy for my developers to create a client that simplifies the process. My team now only has to write a line or two about the support request and select a few fields like software, location, and the requestor's department. Then, a ticket gets automatically created, time gets logged, and I get the data I need to show my managers."
When he needs to send a report to a stakeholder, he uses Power BI (connected to Planio) to gather and customize the data.
7. Free data migration with minimal downtime
Switching software is never easy. However, Planio and Redmine are 100% data compatible.
If you do decide to switch to Planio from Redmine, we offer a free data migration service. A personal data extraction engineer will work with you to get your data out of Redmine and organized securely in your new Planio setup.
Switching software is never easy. However, Planio and Redmine are 100% data compatible.
How to move from Redmine to Planio in 3 steps
If you've already been using Redmine for a while, switching to Planio will be simple, easy, and fast with our free migration service.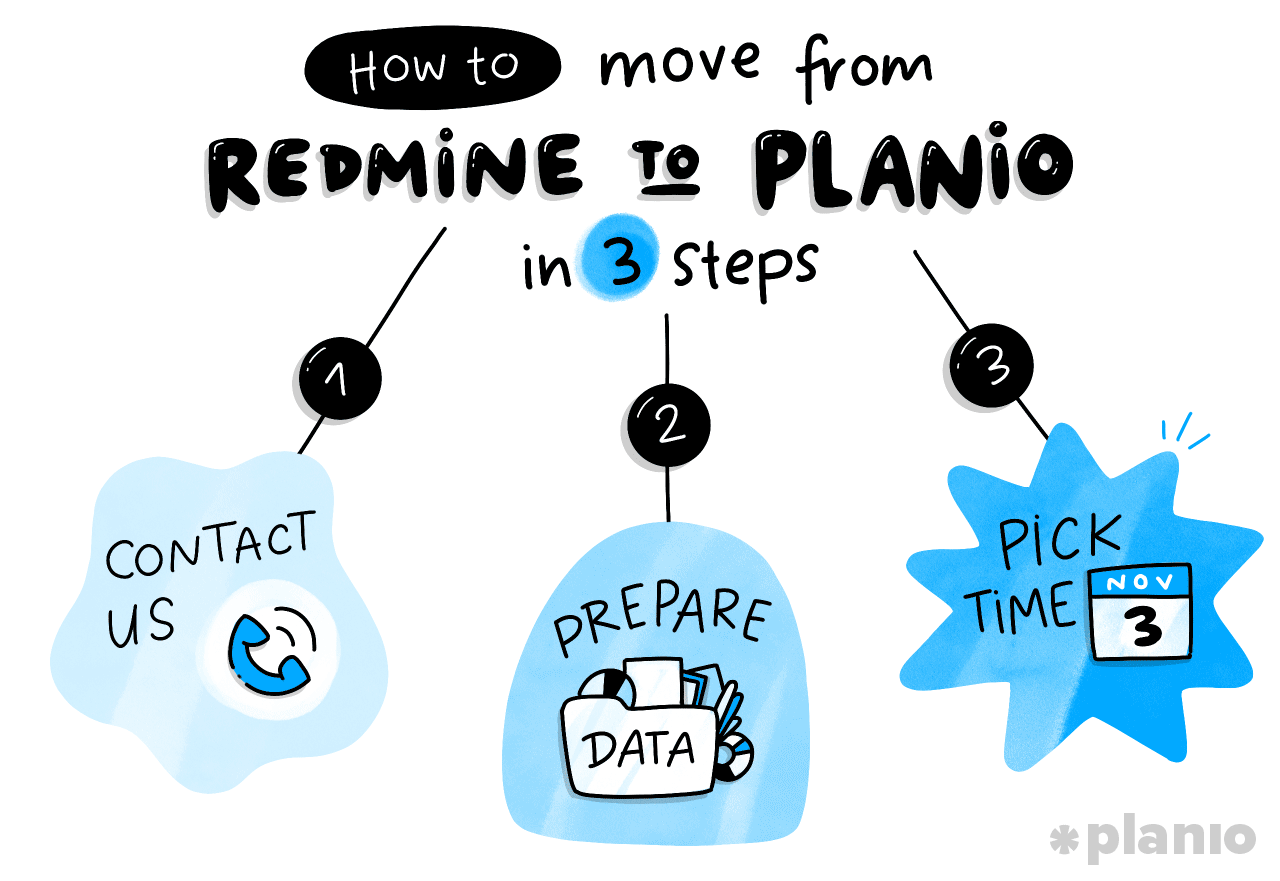 We'll talk through your setup and needs. A data extraction engineer will discuss how you're using Redmine, your current data structure, and the best ways to move your data across.
2. Prepare your data for the migration
Make sure you create backups and that you know what data you want to move over. A migration can often be an excellent time to clean up some old data and 'start fresh' in a new system.
3. Pick a time for the final switchover
We'll work with your schedule to find a switchover time that will cause the least amount of downtime (like overnight or on the weekend). Scheduled switchovers happen within an 8-hour migration window.
That's it! Once the switch is complete, your data, projects, and issues will now be in Planio and ready for you. And if you need a little help getting started with Planio, we put this guide together just for you.
It just works, which is the best thing you could ask for.
There are tons of logical reasons why Jan (or you) would want to switch from Redmine to Planio. However, the simplest reason is that Planio transforms Redmine from another headache to a tool that just works.
With Planio, there's no more time spent updating and testing releases. Instead, you get to focus on the work that really matters to you and leave the rest to us.