9 Best Project Management Tools Actually Used by Top Technical Teams (and How They Use Them)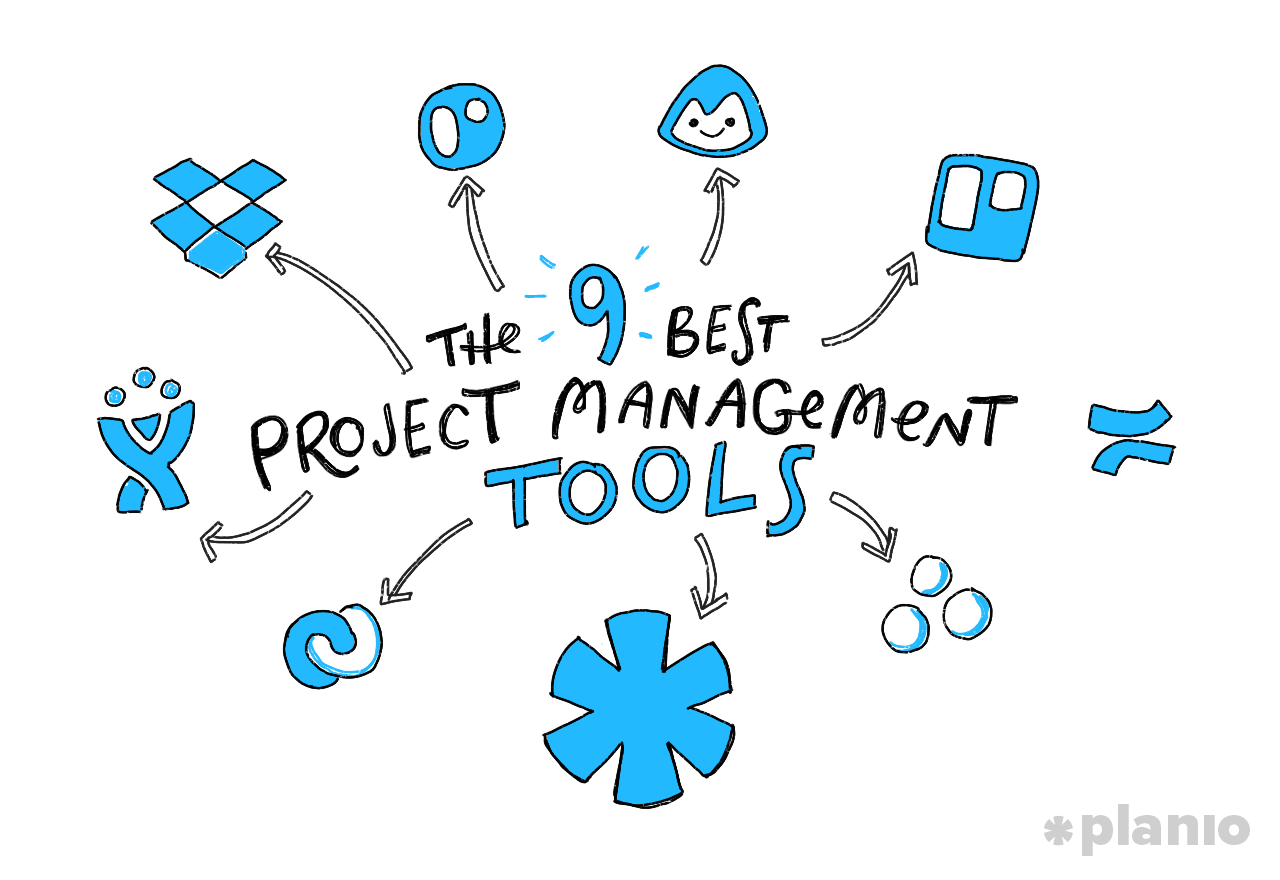 When working in your project management tools becomes more work than the actual project itself, you know you're in trouble.
Modern businesses live and die by their ability to zoom out to 30,000 ft to get the big picture and then come back down to solid ground and put in the work. Especially for technical teams, where one small misstep can bring the whole thing down, the ability to keep on track with your projects and know what to do next is essential.
Are you just here to see the big list of 9 best project management tools? Here we go:
(Any of the links above will lead to the company's whole story.)
As consultant and author Jim Rohn put it "Either you run the day, or the day runs you." And without the right tools in place, it feels like the day's running you over with a steamroller.
So, how do we give ourselves the seemingly superhuman ability to see all parts of a project at once and make the right calls at the right time? Enter, the almighty project management tool.
The right project management tool lets you organize your team to do their best work. It lets you plan sprints or tasks and track who's doing what to make sure you're working in the most efficient way possible. In short, it let's you keep your head above water no matter how high the waves are coming crashing in.
But it's not simply enough to just pick your tool and go off running. The right project management tool for your team is only right because it works for your team. Regardless of all the options out there, whatever you choose needs to have specific features that work for you.
Let's take a look at some of the most popular tools that are actually being used by top teams around the globe and then dive into the more important part: why they use them.
9 Top Tech Teams and the Project Management Tools They Use
To stand out in the modern business world, you need to be unique and exciting. But the way you run your business certainly doesn't need to be. That's not to say that we should all run out and copy what Apple, Facebook, or Amazon do—but rather that there's no shame in taking inspiration from how the greats plow through massive projects and stay on deadline and on budget.
"Businesses should follow and learn from others' successes and failures in order to better understand and predict their own," wrote Ben Mezrich in The Accidental Billionaires—the book of Facebook's origin that was later adapted into The Social Network.
So, let's start by looking at some of the biggest names out there today and what tools they're using to keep their teams on track.
How do you keep track of millions of drivers across the globe, build the best tools for them, and manage the day-to-day operations of a $69 billion company? For the technical team at Uber, that all comes down to Asana—a project management tool founded by Facebook co-founder Dustin Moskovitz.
With Asana, you get your basic project management needs done in a clean and clear way. The web-based tool lets each of your teams create its own individual workspaces and then fill them with ongoing projects and tasks. Each task is tracked and users are notified of updates and changes that affect them with the ultimate goal of making sure every task has a clear next step ready.
While Asana is a very capable all-around project management tool, it has particular emphasis on tracking everything from projects to hiring to bugs in the code, which is why you'll see it also being used by teams at fellow billion-dollar companies like AirBnB and Pinterest.
With over 200 million monthly readers across the globe, CNET is the highest-read technology new source on the web. Founded in 1994, CNET quickly grew from a handful of tech-themed TV shows into an online empire of review sites, blogs, videos, and podcasts and was acquired by CBS in the late-2000s for a multi-billion dollar deal.
Any major media network needs a serious project management tool to keep them running. And for CNET this is Planio—an extremely flexible project management tool built on top of the Redmine open source project and optimized for technical teams with integrated Git and SVN repositories, additional security, team chat, and help desk.
"I need to make sure our projects are moving forward, and Planio's roadmap view gives me an at-a-glance update," explains CNET Content Solution's Senior Solutions Consultant Luis Ferrao. "Everything our team does is now done in Planio. It's our main workflow tool. At this stage, we've created tens of thousands of issues."
The original online show-and-tell platform for the design community, Dribbble now hosts close to half a million design portfolios and has become one of the biggest sources of leads and contacts for freelance designers. To service a community as picky as designers, Dribbble uses Flow to keep their projects in order.
Flow is specifically designed to be simple and quick and describe their product as "a happy middle ground between what you're doing right now, and an expensive enterprise project management system." It's very UX and design-focused, making it a perfect partner for Dribbble.
"I wanted a tool that did product management well (for my use with our CEO), but more importantly, one that would make the day to day work for individual team members really straight forward," explains Dribbble's Director of Product, Sarah Kuehnle.
"Flow does the latter really well right now and are making the product management/roadmap side better every day. I also love that it looks great as I have my eyes on this thing all day long."
With over half a billion users, the technical team at Dropbox needs to do everything in their power to keep the service up and running. Their choice? Dropbox Paper.
Paper was (as the name implies) built as an in-house solution to help the company's project managers capture, organize, and prioritize issues, plan sprints, and get real-time reporting on the work being done. And while not the most flexible project management system, it allows them to work quickly and keep all their docs, files, and images in a central location.
"We needed a way to quickly convey our ideas with words, images, code, and references to other documents and software tools," explains Dropbox product manager, DJ Chung. "Paper allows us to do that natively. It also integrates with other tools we use everyday like Slack, InVision, and Trello, and also allows our teams to stay on top of project decisions and tasks through a built-in task management feature that allows you to assign people and due dates to important tasks."
From the projects being completed and launched on Kickstarter to the community of thousands of backers, the world's biggest crowdfunding platform puts an obvious emphasis on collaboration. To keep their own teams on track, however, multiple groups within Kickstarter use Trello—a Kanban-style project management tool that lets you create board and cards to track the progress of your projects and teams.
Unlike more robust project management options, Trello is more visually based and focuses on clarity, making it easy to quickly see who's working on what and understand where any part of the project is in the pipeline. Each project or team is assigned a 'board' in Trello, which you can then fill with vertical lists full of cards. As projects progress through their development, each card is moved to the next list.
So for example, if I were using Trello to track my progress on this blog post, I might have lists for "Ideas", "Researching," "Writing," and "Published" so that I know where I'm at and what needs to be worked on. Trello is great for visually keeping track of your projects and a favourite of Silicon Valley, with companies like Medium, Buffer, and ProductHunt also using it to run their projects.
Ghostery is on a mission to make browsing the web suck a little bit less. The company's free browser plug-in detects and blocks tracking technologies on the websites you visit to speed up page loads, eliminate clutter, and protect your data and privacy. To keep their product up-to-date with the ever-changing web, Ghostery primarily uses Roadmunk and Jira.
Roadmunk is a web app that makes it easy to create visual roadmaps and Gannt charts, while Jira is a feature-rich Agile project management tool built by Atlassian.
"We use Roadmunk to create our product roadmaps, which are essentially broad stroke product strategy plans that extend 6-12 months into the future," explains Jeremy Tillman, Ghostery's director of product management.
When it comes to their day-to-day project management, however, they turn to Jira.
"In particularly, we use Jira to create and manage our product tickets, which can be anything from a new feature, product improvement improvement, bug fix, or task," explains Tillman, who adds that, while they chose Jira for its comprehensive features, "it can be a heavy tool whose heft and somewhat steep learning curve might be a poor fit for smaller teams."
WeWork's massive $20 billion valuation hinges on their ability to bring progressive, data-focused insights into the classical (and, let's be honest, boring) world of rental office space. To do that, they need a project management tool that gives them a high-level overview of every project across their many different teams, to see how they all work together. Their choice? Jira.
Jira is a feature-rich Agile project management tool built by Atlassian. The focus is on clarity and collaboration, and while you can get granular into each task, the big benefit is a broader view of the progress of your project.
"We have a lot of needs from a project management tool—assigning tickets to team members, categorizing by type and tagging with priority, setting statuses, and on and on," explains WeWork software engineer Alex Choi. "After trying multiple options, we went with Jira. Not because we love it, but because it does everything we need."
Despite its slow decline over the past few years, Groupon—the daily deal site—was once one of the industry's fastest growing companies, hitting a $1 billion valuation in just 16 months from launch. Today, you can find thousands of discounted offers from local companies, manufacturers, and getaways on Groupon, with billions in sales being processed on the site every year.
For managing this level and volume of growth, Groupon uses a number of different project management tools to stay organized, including Basecamp. Basecamp was one of the first project management software solutions released and has been helping teams for over 10 years. While not necessarily optimized for technical teams, Basecamp does give you a quick view of what you're working on by splitting your communication and project tracking up into an HQ (main overview), Teams, and finally projects. Basecamp boasts thousands of users including companies like 9GAG and Harvest.
As one of the world's largest content platforms and producers, it's safe to say Netflix has more than a few projects on the go at once that they need to keep track of. From commissioning and producing billions of dollars worth of original content, to maintaining streaming services for close to 100 million users in pretty much every country in the world, the teams at Netflix have their hands full when it comes to project management.
For their technical teams, they chose Confluence—a project management and team collaboration tool built by software makers Atlassian. Confluence is aimed at Enterprise companies and built around adding transparency to your team. It allows you to create documents as a team, provide feedback in context and iterate until the work is finished.
How the top technical teams use their project management tools: 7 Must-Have Features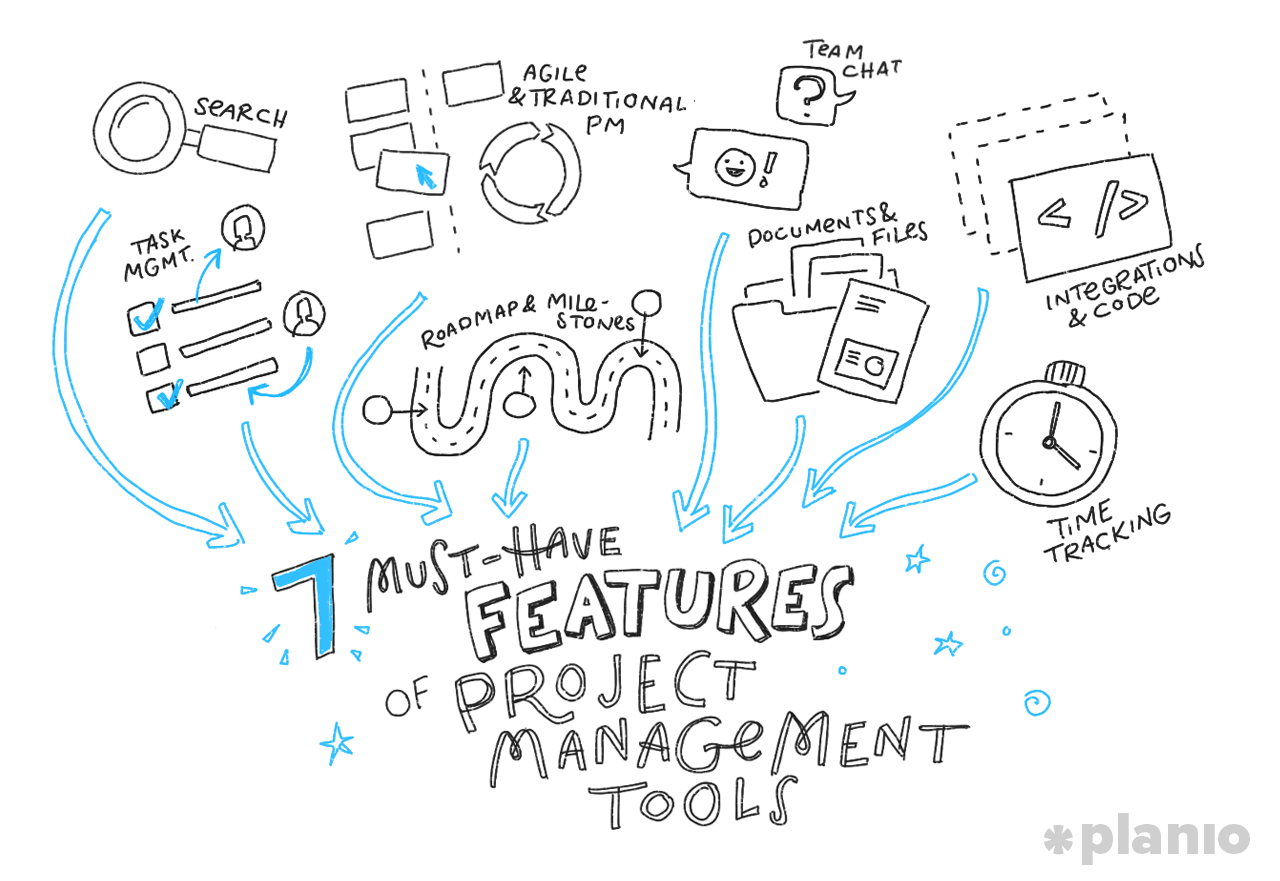 Well, there you have it.
Nine top tools from 9 of the best technical teams in the world. Reading through that list, however, you might have started to see a pattern.
Project management as a practice has been developed for years. And all these tools are a natural progression of the time-tested techniques of past managers. Talk to anyone who builds digital products and they'll tell you the same thing: Tools are just tools. It's what you do with them that matters.
That's why what project management tools the top teams use is only a small part of the equation. To truly benefit from a project management system you need to not only know what to use, but how to use it.
As Dribbble's Director of Product Sarah Kuehnle, explains "I care most about the impact of a tool on my team. I'm happy to use pretty much anything provided it keeps my team productive and happy."
So, let's take a look at the top project management tool features that all of these teams require, and how you can use them at your own company.
1. Scalable task management that works whether you're building an app, website, or product
Proper project management starts with knowing and being able to see what everyone's working on at once so you can fit the pieces together as your project progresses. To get that all-important bird's-eye view, you need a tool with task management that's organized, highly configurable, and can scale as your company and your projects expand.
Here's a few features you should look out for in any tool:
Flexibility in how you configure and assign tasks including setting deadlines, priority, and tagging teammates
Control over who can work on what tasks through role-based permissions
Clear workflows defined by roles and projects to make sure the right people know what to do and are able to do their work
2. Flexible planning for both Agile and Traditional project management
Your tool also shouldn't limit the way you manage projects. Whether you're doing Agile development with Scrum and Kanban, or sequential planning using a more traditional waterfall model and Gantt charts, your software shouldn't dictate how you work.
Look for a tool that gives you a quick way to design and track sprints (or tasks that you'll be completing in sequence), as well as a visual way to see the progress of your project, like a Kanban-style board.
3. Clear and transparent milestones to track progress
When famous management consultant Peter Drucker said "What gets measured, gets improved", he might as well have been talking about the future of project management software. To make sure you're improving and growing, you need to have a clear view of the project milestones you've hit and the ability to track issues so you can correct course before you've gone too far.
Look for tools that allow you to build out a larger 'roadmap' of your project and track key milestones. This way you can keep track of tasks within the larger context of your project and ensure that what you're working on now is contributing to the greater good.
4. Team chat and communication tools that keep the collaboration where the work is happening
Communication is at the core of collaboration and running a smooth project. But context switching and hopping back and forth between different apps can slow things down, or confuse the situation. While not every project management tool offers good communication options, the ones that do give you an added bonus of keeping all relevant conversations in the right place.
And don't look simply for real-time chat. Setting up knowledge forums or posting 'blog posts' to your team's project is a great way to update everyone without disrupting their workflow.
5. Everything where it should be with easy access to docs and files
"Where's the strategy doc again?"
"Can you send me the photo we're using on the landing page one more time?"
My desktop and Downloads folder is already a scary enough place as it is to have to go hunting for critical documents and files when I need them.
Instead, look for a tool that allows you to upload and store files where they're needed, whether that's attached to a task, project, issue, or blog post. And once they're up, make sure your tool syncs across all your teammates and devices to ensure you always have access to what you need, when you need it.
6. Developer-friendly integrations
You might have noticed in the above section that certain tools were more geared towards your technical team, while others are better for design, content, or product roadmaps.
While there's an argument to be made that these should be kept separate, when they are, it's easy for things to get missed or information to be misconstrued. To maintain transparency across all your teams, find a tool that caters to everyone, from developers to marketers, so everyone involved in the project can stay in the loop and know what's going on.
And to make your project management environment more developer friendly, look for tools with tight integrations with hosted Git and Subversion repositories, as well as role permissions to limit access to only those who know what they're working with.
7. Tight progress feedback loops and forecasting with time tracking
A big part of successful project management is reporting on what's been done. This means knowing what stage your project is at, how long tasks have taken, and whether you're on track to hit your milestones on time and on budget.
Look for tools that not only offer accurate time tracking, but let you make sense of that time by viewing it over specific periods and mapping it against your estimates. This is also an essential feature if you're going to be billing clients by the hour, or want to be able to show them how much work has been done.
BONUS: Powerful search to stay organized when projects get out of hand
With all these features and all your team working together in one place, things are bound to get lost or misplaced. That's why it's also absolutely essential that your project management tool offers some form of detailed search to track down those missing files or find that comment on the issue you're trying to fix.
The larger your projects get, the more advanced your search needs to be as well. Look for tools that give you options for limiting searches to projects, dates, location, etc…
The faster you can find what you need, the faster you can get back to building.
Final thoughts on the best project management tools
It's not just about which project management tool you use, but how you use it.
The tool that's right for you has the features that work with your workflow, integrates with the rest of your stack, and gives feedback on the progress of your project so you can steer the ship in the right direction.
While we can all learn from what the greats use, choosing a powerful project management tool eventually just comes down to the specific features that work for your company. If you're considering a switch or looking for something new, have a look at the features listed above and make sure whatever tool you choose can tick all the boxes.
If you're looking for a project management tool that ticks all the boxes, check out Planio. You can even get started for free for 30 days to see if Planio is right for your team.