New Feature: CC Additional Contacts in the Help Desk
A new set of mini-features have been added to Planio and we're excited to tell you about them! The focus of these new features is the recognition of additional contacts; essentially, Planio now supports the specification of secondary contacts (and CC e-mail recipients) in the Help Desk feature.
By the way, if you want to get up-to-speed on all the cool things our Help Desk can do, be sure to check out these articles from the Using the Help Desk series:
So, let's kick off today's blog post with a discussion of our new mini-features:

Auto-Addition of CC Recipients as Additional Contacts
One of the great features of Planio is its capability to use the Issue Management function as a customer communication tool. As many of you already know, when an e-mail is sent to a project's inbox address, an issue is automatically created; Planio then examines the e-mail address from the sender and creates new company and customer records (or associates the issue with an existing company and customer, if appropriate).
We've expanded on this feature to include CC recipients. When a CC recipient is specified in a Planio inbox-bound e-mail, the name will also be added as a new customer record and associated with a company if one exists.
Check out the graphic below to see it in action: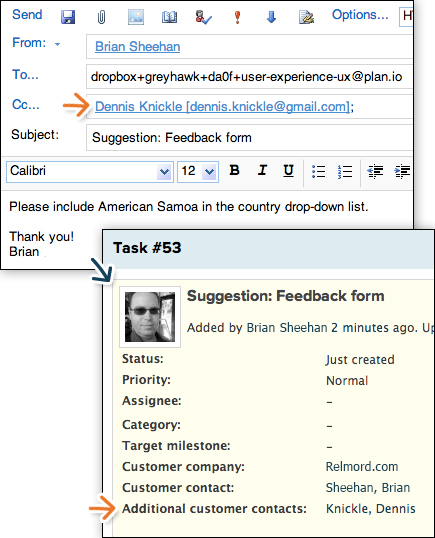 Specifying Additional Contacts
Additional contacts works the other way as well: when you are creating or updating an issue, you can specify additional customer contacts — these will be included in outgoing Help Desk e-mails as copied (CC) recipients. Note that only customers within an indicated company will be available for selection.
Here's a quick walkthrough:
Navigate to a project.
Click New Issue; or,
Navigate to an existing issue and click Update.
Ensure that a company is selected.
In the Additional customer contacts field, click Add contact.
A text-entry field appears. Enter the first three letters of a contact name — a list of all contacts that match the text will appear.
Click on the appropriate contact name to specify him/her as an additional contact.
If necessary, click Add contact to select an additional customer contact.
Additional contacts will be copied (CC'd) on all outgoing Help Desk e-mails.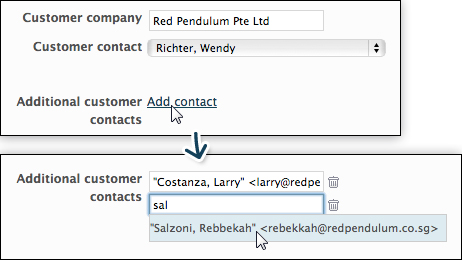 No More Company Drop-Down List!
Lastly, we've brought some user-friendliness to the customer company selection field. You no longer need to navigate through a long drop-down list when selecting a company within an issue. Now it's as simple as typing the first few letters and selecting an appropriate match from a results list, as seen in the graphic below: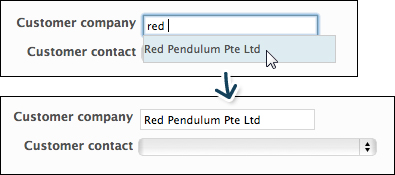 Tell us what you think about these improvements to Planio! Also feel free to share a Like/Tweet if you enjoyed this update.
When not writing about Planio, Brian enjoys gardening, although his thumb is definitely (so far) not green.