Team File Sharing 101: The 7 Best Business Tools for Keeping your Files (and Projects) in Sync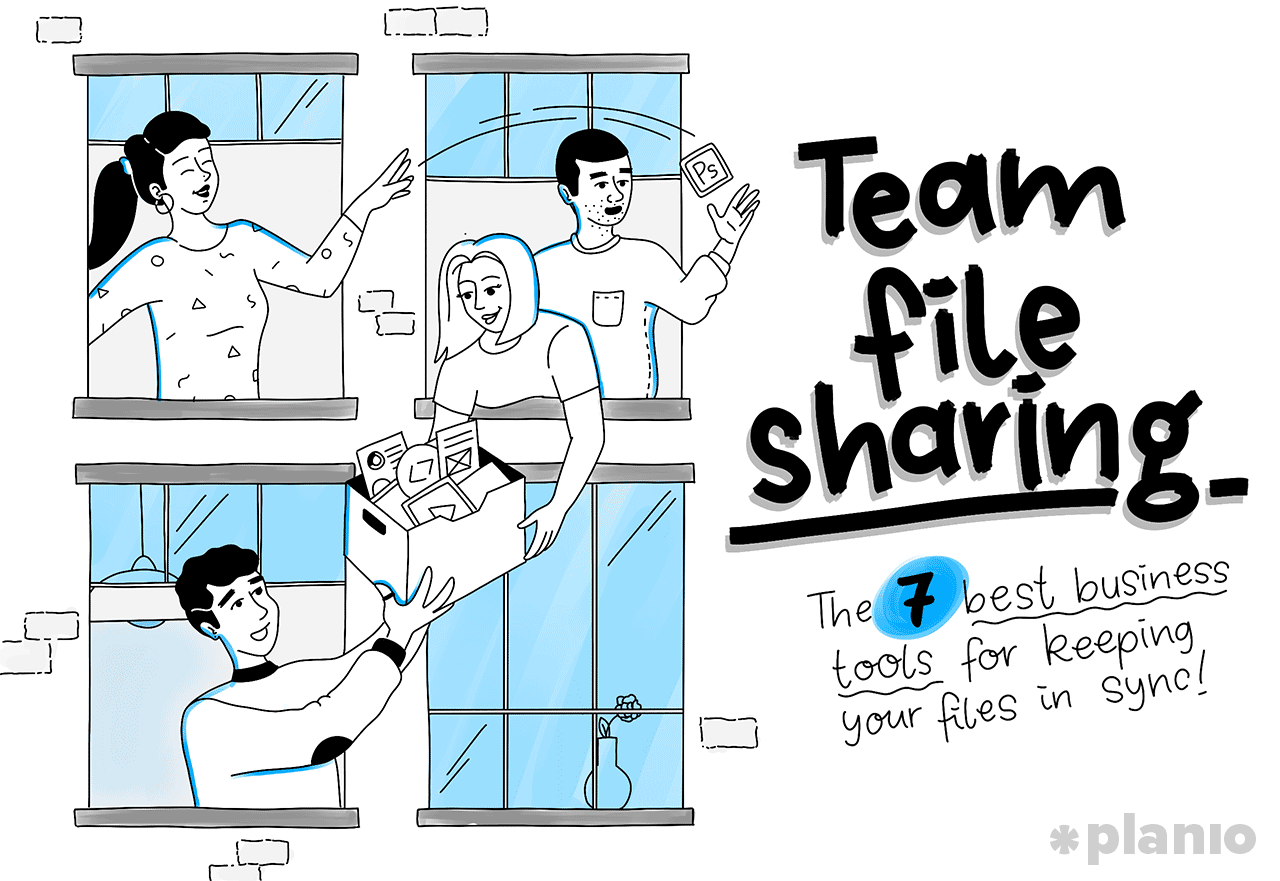 It's safe to say that most teams live and die by their ability to work together. As The Economist writes: "In modern business, collaboration is next to godliness."
Whether you're collaborating on a website redesign, working on a video presentation to share with a project stakeholder, or updating your go-to-market strategy, your team needs the right tools to do their best work.
File sharing for teams is one of the most important collaborative tools you have. Without a reliable way to sync and share up-to-date files you run the risk of working on the wrong files, sharing an outdated project file with a client, or wasting time re-doing work that's already been done (but saved somewhere else).
If you wanted to share files a decade ago, you would either spend hours uploading them to a handful of services or transfer it to a USB drive and walk across the office. Today, file sharing tools are fast, affordable, and powerful. But which one is right for your team's needs?
In this guide, we'll evaluate some of the best team file sharing tools as well as how to use them in the most effective and efficient way possible.
The best file sharing tools don't just give you an easy way to send files. They become an indispensable part of how your team works. While many file sharing services are simply one-off ways to send big files, we're more interested in the cloud storage tools that keep your team in-sync and your files safe and secure.
So before we get into the actual tools you want to use, let's look at how we evaluated them.
What makes the best file sharing and cloud storage tools stand out?
Speed, storage space, and cost are obviously considerations when it comes to picking a file sharing solution. But with nearly every company out there—old and new—offering some sort of file sharing and cloud storage solution, you need to look beyond the basics.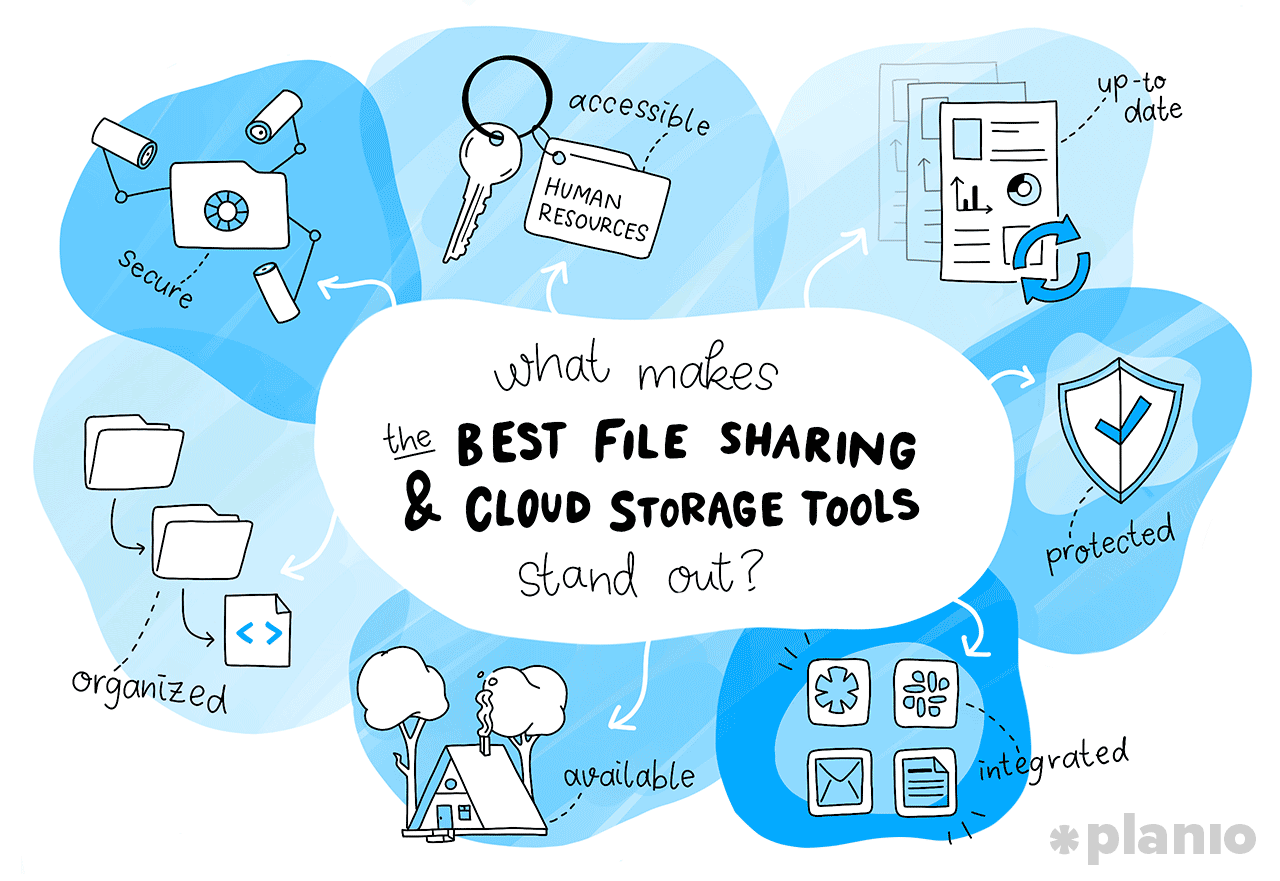 Instead, the best team file sharing tool needs to address how your team works and the specific needs of a modern company. When evaluating our list of file sharing services, we wanted to make sure they hit the mark in a few key areas.
1. Secure: Are your files safe?
Let's start with the big one. When you're sharing sensitive files or key parts of a project, you need to know those files are safe and secure. It feels like almost every other day we hear about a massive data breach from seemingly "secure" companies. And the last thing you want is for your team to be added to that list.
The file sharing services that we looked at take security to heart. They host locally, use their own servers, and follow best practices for cloud security. For example, Planio's new cloud storage solution exclusively uses on-premise, private cloud servers based in Europe to ensure the highest level of security.
While private file sharing tools like this are more expensive, it's worth it to have your peace of mind.
2. Accessible: Do only the right people have access to files?
While security was our #1 concern, file sharing is all about "sharing", right? This means that you need to have complete control over who has access to your files, be able to share files with people outside your company, and also access them on all your devices.
In many scenarios, you'll want to keep certain files private while others are open and accessible to everyone. This means choosing a cloud storage solution with robust roles and permissions that allow you to choose who can view and edit each file.
Accessibility also includes people outside of your company as well. With Planio Storage, you can share files and folders with a link to anyone inside or outside your company by clicking on the "Generate sharing link" in the side bar, which you can then copy to your clipboard.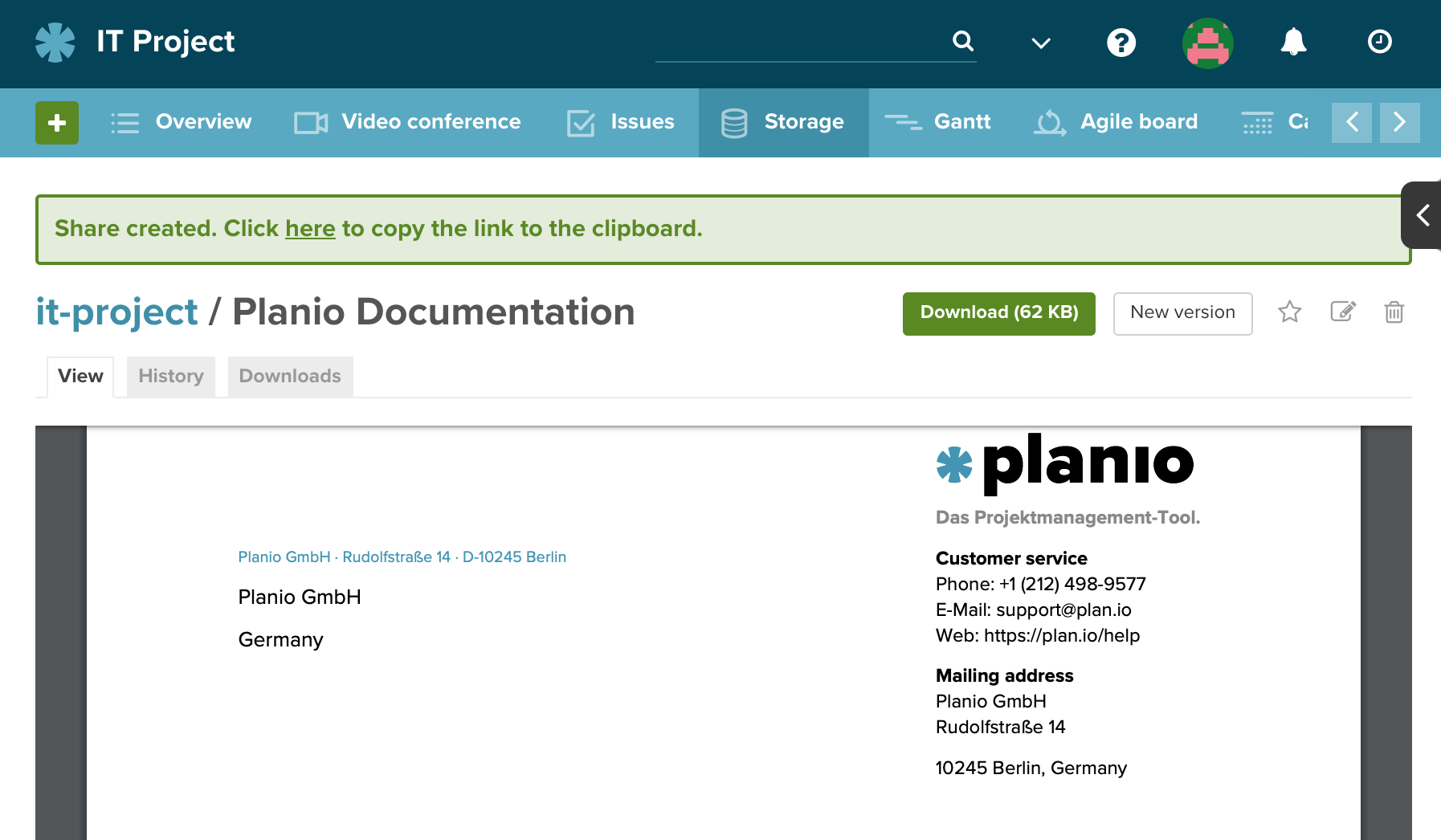 3. Up-to-date: Are files properly synced so everyone's on the same page?
File sharing is useless if you don't know for certain that you're sharing the right files. Any file sharing tool worth its weight will synchronize files in real-time to make sure that no matter who's working on a file, they have the right one.
However, you also ideally want to be able to access older versions of files and know when things have changed (and by whom).
Did someone update the copy on the client presentation? Do you want to check the old design to see if it's actually better? Are there elements from an old version of your product you want to prioritize for a new release?
Planio's file history keeps track of all changes to your shared files and lets you restore older versions if needed. This way, even if someone else has changed an important file, you can always revert back to an older version if needed.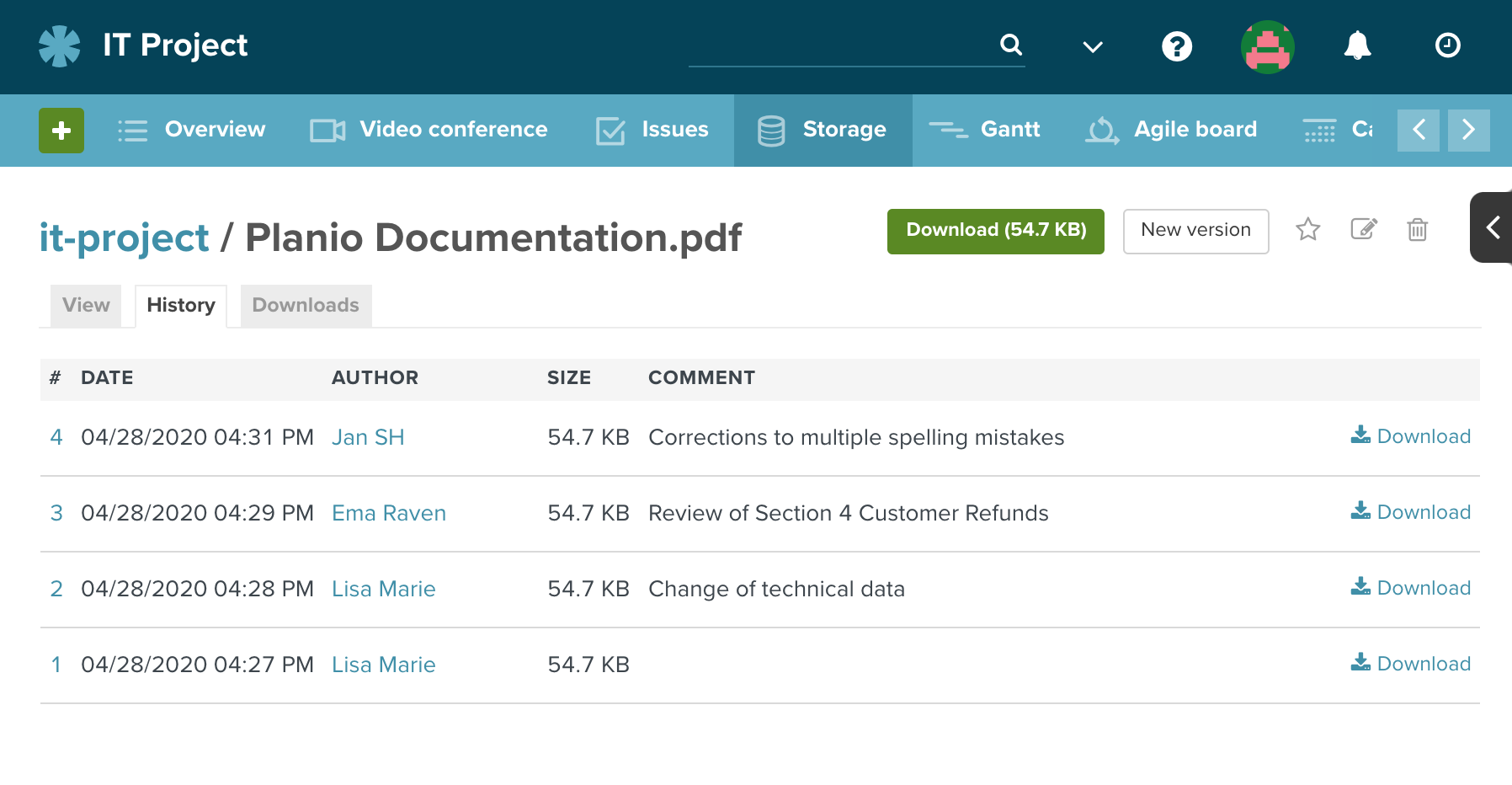 4. Organized: Can your shared files be found quickly and easily?
If collaboration is next to godliness for modern companies, then organization is just below it. With the sheer number of files, docs, and projects being handled at any one moment, it's important that your team stays organized.
The file sharing services we looked at all provide easy and quick ways to organize, search, and preview files. Instead of spending hours searching for the right file, you can find what you need and start working on it right away.
For example, in Planio, you can browse file folders as trees or photo albums as thumbnails as well as preview every file online before downloading with just a click.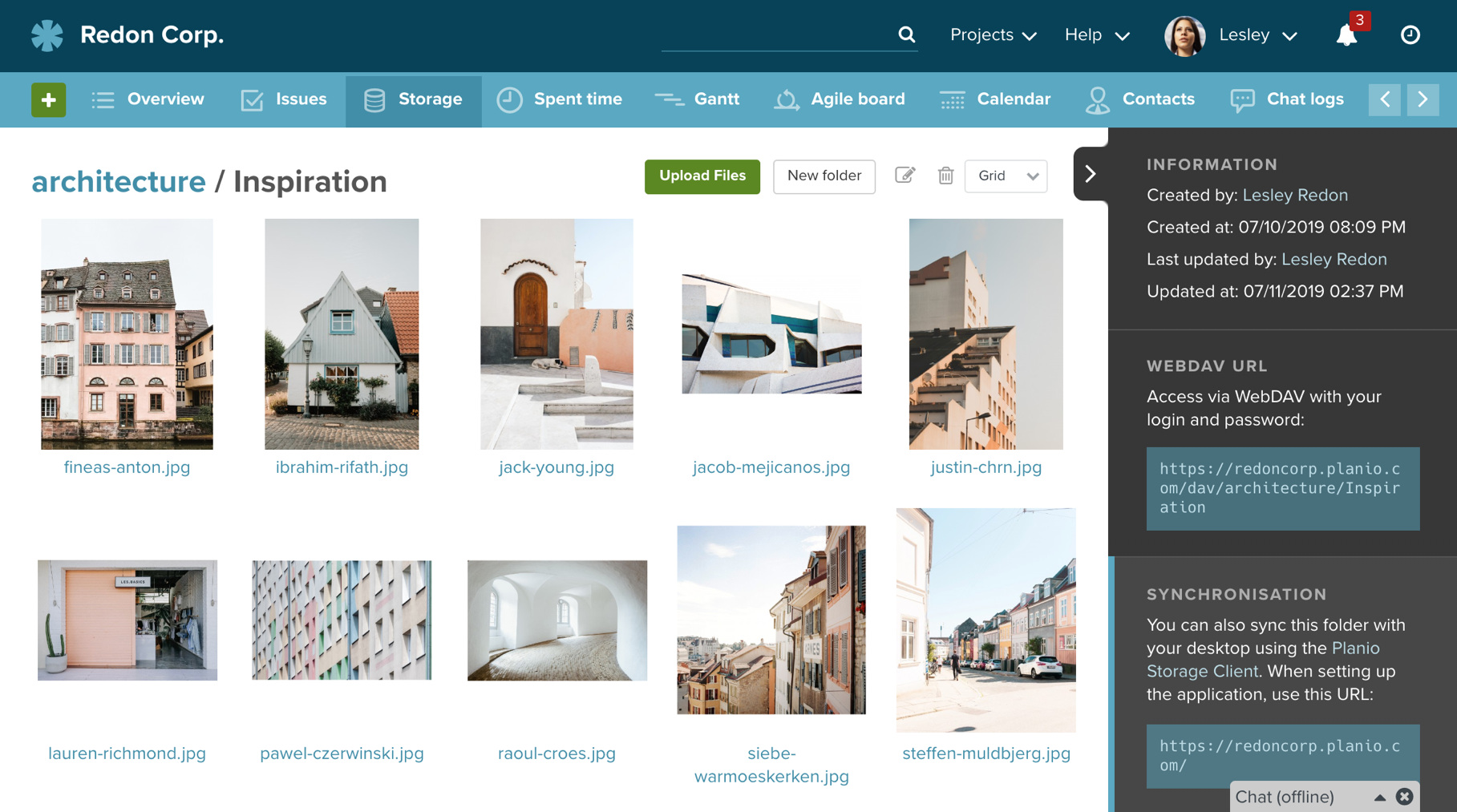 5. Available: Are files available mobile and offline?
You'll never know when you need access to a file, and being hindered by a file sharing tool that needs to be online can be a serious hassle. The tools that we looked at all address this issue by offering mobile versions as well as offline access (and instant update and sync once you come back online).
6. Integrated: Does your file sharing tool work with your other tools?
One of the most common ways that teams waste time is by jumping back and forth between multiple tools. In fact, research shows that even just juggling two tasks at once (like working on a project and then switching to download files from a separate tool) causes us to lose 20% of our productive time.
So why keep your file storage and sharing separate from where you're doing your actual work?
The best file sharing tools are deeply integrated with the rest of your work environment so you can stay productive and focused. Planio isn't just for file sharing. It's also a powerful project management tool used by some of the world's largest companies.
By using Planio to manage your project and your files, everything is where you need it to be and easily accessible, whether you're working on Windows, Mac, or Linux.
7. Redundant: How will your file sharing service handle technical issues?
Finally, you can't go into life thinking that things won't go wrong. But when it comes to cloud storage and sharing files, you need to know that your service has thought through every possible doomsday scenario.
While 99.99% uptime is optimal, errors can still happen and data can still be corrupted or accidentally deleted. For added security, your file sharing tool should mirror critical data off-site to ensure nothing gets lost, even in a worst case scenario.
File sharing tools don't just give you an easy way to send files. They become an indispensable part of your team.
The 7 best file sharing options for team collaboration
Now that we know the criteria of the best file sharing tools, it's time to look at the available options. Each one of the following file sharing tools meets most (if not all) of the key requirements for a modern team. But that doesn't mean they're all equal.
Some tools work better for larger teams or on different operating systems. And finding the perfect match ensures you're not going to face some serious headaches down the road. So which one is right for your team?
In no particular order, let's look at each one and break down why you would want to choose it.
1. Planio Storage
We've already mentioned Planio Storage a few times in this post (and it's not just because it's our latest product and we're excited to talk about it!)
When we started to develop a file sharing and cloud storage tool for teams, we knew we were already facing serious competition. So instead of making a tool for every single team, we remembered a key piece of advice: if you build something for everyone, it works for no one.
Instead, we decided to focus in on the key elements that we care about: speed, security, transparency, and collaboration.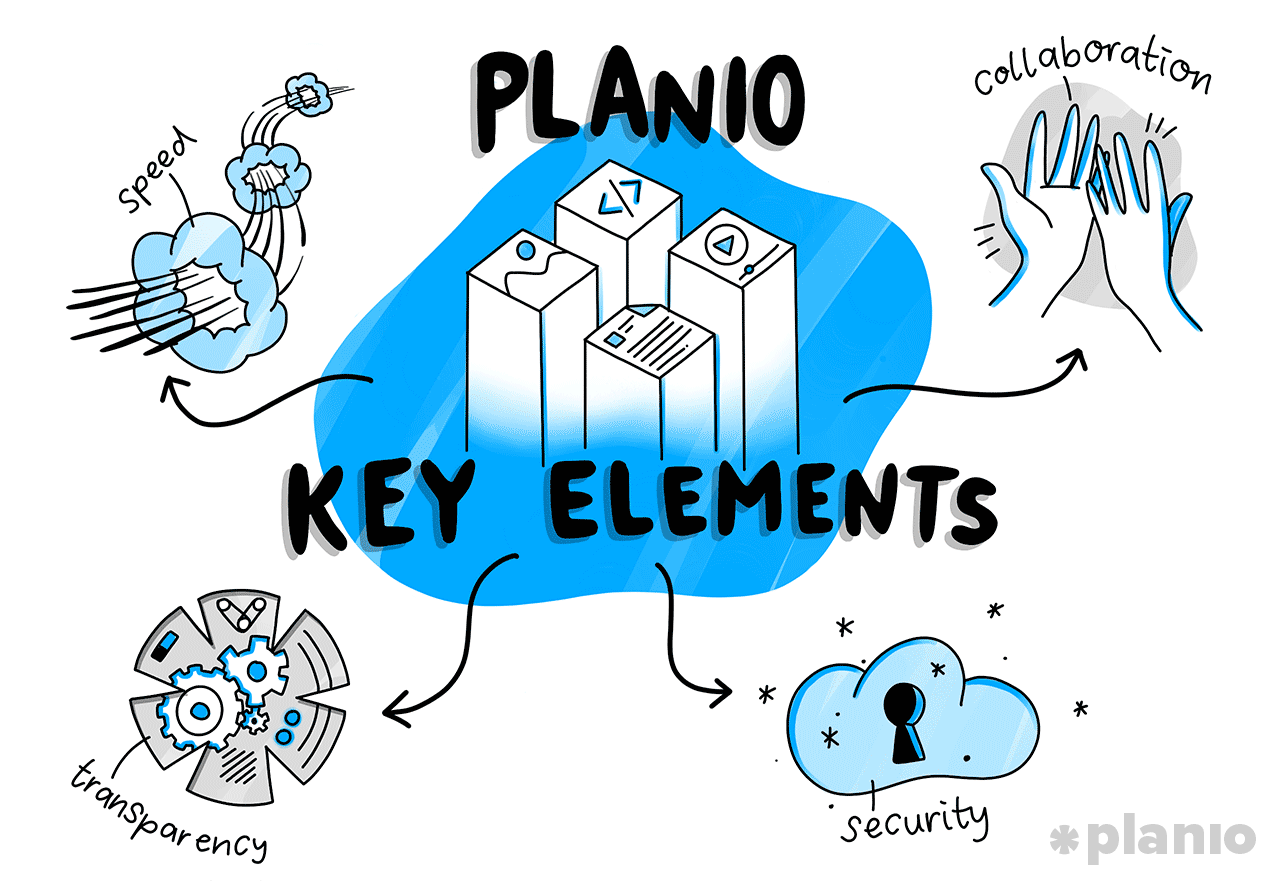 When you use Planio as your project management tool you get access to powerful features that keep your team productive, such as agile task boards, backlogs, sprint planning, issue tracking, Git and Subversion hosting, and even a customer support help desk. Planio Storage integrates with each of these to give you quick and easy access to every file your team needs, whatever they're working on.
Next, security and transparency are core elements of Planio. For file storage and sharing, we chose to self-host on European servers (for low latency and legal certainty). As well, we mirror all backups off-site to ensure full redundancy and protection.
Lastly, Planio Storage is designed for collaboration by providing full insight into file history and any changes made, simple ways to distribute files internally and externally, and roles and permissions to protect and control who has access to your files.
For teams who want peace of mind and integrated access to their files from their project management tool, we believe Planio Storage is the best available option.
Want to try Planio out for yourself? Start your free 30-day trial and see what a difference Planio makes for you and your team.
2. Dropbox Business
It's impossible to talk about file sharing and not mention Dropbox. As one of the first major players in the free file sharing space, Dropbox is synonymous with sharing files and photos with your friends and family. But how does it work for teams?
Dropbox differentiated itself by its sheer simplicity for sharing files and its business tool is very similar. The Standard plan offers 3TB of storage (and "unlimited" for Advanced or Enterprise clients) and offers many of the key features we listed above, including file history, smart sync for up-to-date files, and admin and IT tools to keep your files safe and secure.
However, as a separate tool, Dropbox will always add a level of friction between managing your files and the tools you use to get your work done. This makes organization especially important as poor file management can quickly make your Dropbox folder a mess.
3. WeTransfer
If all you're looking to do is send big files to your coworkers and nothing else, than a file sharing service like WeTransfer might be right for you. WeTransfer has been around since 2009 and has expanded from a simple way to send files to include a suite of other collaborative tools such as Paste (presentations), Paper (sketching and collage), and Collect (moodboards).
Plus, with integrations to Slack, Chrome, Sketch, and other creative apps, WeTransfer integrates with some of your company's workflows. But not all.
While a powerful tool for individuals and small teams, WeTransfer isn't a cloud storage device and therefore won't sync your files and keep them organized and accessible. For this reason, it's best to use for one-off transfers rather than as a team collaboration tool.
4. Google Drive for Work
If your team already uses Google's suite of apps and tools, Drive is a great option as it integrates smoothly with them all (as well as plugins for Microsoft Office and Outlook). Google offers both Business and Enterprise versions of Drive. The latter—Drive Enterprise—is a standalone file sharing service and includes features like Priority—machine learning-enabled search that claims to surface your most relevant files and content for you.
Plus, coming from a massive company like Google, you can be sure that security and redundancy are key considerations in Drive.
However, while Drive offers easy access to files, offline sync, and integration with their tools, in practice it can be somewhat limiting. If you aren't using Google's other tools, Drive can be awkward to use and add friction and burden to your team.
5. Box (for Business)
Question: If you don't have the word "box" in your name, are you really a file sharing and storage company?
While Dropbox and Box may share a syllable they take different approaches to file sharing. Box started out geared toward providing cloud storage for businesses and enterprise. As such, it focuses on team collaboration features such as sync, file locking, version history, user tracking, and external collaboration, as well as secure data storage and compliance for whatever data regulations your company requires.
However, while their security features may work for your company, for others it can unnecessarily impose sharing limitations.
6. Microsoft OneDrive for Business
If your team is more tied to the Microsoft ecosystem than the Google one, then you'll probably be more inclined to opt for OneDrive for Business. Like its Google counterpart, OneDrive seamlessly connects with other online Microsoft services like Excel, PowerPoint, and Word to make your files easily accessible and usable. But that's about it.
With few outside integrations, offline access limited to just the desktop app, and slightly lower levels of compliance, OneDrive isn't as much of a team collaboration tool as some of the others listed here. Unless you're a regular Microsoft user, this might not be the best choice for you.
7. Hightail
Unlike many of the other file sharing options that are built for any type of business, Hightail focuses in on creative companies like design and advertising agencies. By pairing file sharing with some simple project management features, Hightail is designed to help agencies and other teams get assets like designs, photos, and video productions approved quickly.
When you upload a digital asset to Hightail it can be previewed and streamed as well as directly commented on or approved. While these are great features if you're an agency or design shop looking to send files to a customer, they're not as ideal if you're sharing and collaborating on files within your team.
Successful file sharing and organization isn't just about the tools you use. It's about how you use them.
7 team file sharing best practices: How to make sure your team is always in sync
Successful team collaboration isn't just about the tools you use. It's about how you use them. And any of the options above can become burdensome if you don't follow some simple team file sharing best practices.
Here's a few to consider as you start to use a file sharing tool:
Create a simple structure to follow: Collaboration can't happen without organization. Rather than let your file sharing and cloud storage become a mess of randomly named files and folders, agree on a structure and process that is simple to use and makes it clear to everyone on your team how they'll find and use files.
Agree on naming conventions: Speaking of naming, you also need to ensure your file names follow a familiar pattern. (I.e. not "Website design", "Website design - final", and "Website design - final final"). Names should be meaningful and clear and naming conventions should all follow the same pattern to be clear what you're working with.
Train your team on file sharing workflows: The only way a file sharing or cloud storage tool works is if everyone knows how to use it. Make sure all your teams understand how these tools will work into their workflows. This is why it's great to use a tool like Planio Storage that connects directly to your project management tool so you can use the workflows you're already familiar with.

A fool with a (file sharing) tool is still a fool.

Keep up-to-date with security best practices: Security and safety should be top of mind when you're sharing files. The right file sharing tool should make you confident that your files are stored safely and in compliance with any regulations you might need to follow.
Make sure you have backups and archives: This one is simple. The last thing you want is a single point of failure for your most important files.
Limit access to files appropriately: Use roles and permissions to make sure that only the right people have access to your files.
Keep as much as possible online: To collaborate successfully, everyone needs to be working on the same tasks. Start by changing your default behavior to always hosting files on your cloud storage solution.
The right team file sharing tool keeps everyone on the same page
Whether you like it or not, collaboration has become a key part of every modern business. And few things make it harder to work together than not having the right files.
While file sharing has become big business for a lot of companies, what you use to send your vacation photos to your friends probably doesn't have the features, flexibility, and security your team needs to do its best work.
Instead, check out the list above and see what works best for you. The more you give your team the right tools, the more productive they'll be.