There's nothing easy about starting a new job–especially when you're expected to manage, lead, and inspire a technical team. To hit the ground running, gather the troops, and all the other cliches about starting a new job, you need a 30, 60, 90-day plan.
A 30, 60, 90-day plan is a simple way to set realistic goals for yourself and strategize your first 3 months on the job. Not only does it help you maximize your own output, but it also gives your team confidence in your leadership during the transition.
But planning is never easy.
At best, you're making some pretty broad guesses about the needs of your team. So how do you create a goal-driven 30, 60, 90-day plan that still leaves space for the unique challenges each team and company faces?
Jump to a section
Whether you're the first project manager at a growing startup or you're joining an established company, you need to know the best practices to help you fit in, get up to speed, and start providing value and insight from day one.
In this post we're going to teach you how to think through the first 3 months on a new job, engage and learn from your team, and use some example goals you can set for yourself. Ready?
What is a 30, 60, 90-day plan for project managers (and why do you need one?)
Let's start with a simple definition.
A 30, 60, 90-day plan is a strategic document used to outline and clarify your goals during the first 3 months at a new job or position. It can be created in collaboration with your hiring manager or HR team. Or, it can be something you put together yourself. Either way, you can think of it as your personal definition of success.
Pretty much everyone can benefit from creating a document like this. But it's easy to put it off when you're dealing with the excitement and uncertainty of a new job. Plus, it's hard to think about the future when you're just trying to get through each day.
But no matter your job title or role, the benefits of creating a 30, 60, 90-day plan are huge. Here are just a few:
Better focus: A 30, 60, 90-day plan helps you cut through the noise of a new job and focus on quickly providing value. Instead of getting overwhelmed with new information, tools, and processes, you have a clear focus for each day.
Clearer goals: As a project manager, you know the importance of setting goals and using milestones to keep your team on track. A 90-day plan does the same thing for your career by forcing you to think through what needs to be done to make your first few months a success.
More alignment with company goals: The best way to prove your value to a new team is to make a meaningful impact quickly. Done in the right way, a 30, 60, 90-day plan connects with your team's bigger goals and shows them you understand what they need and are able to deliver. Better yet, you'll be able to measure your success.
Forces proper time management: The first 90 days of anything can feel like a blur. But a clear plan forces you to slow down and be purposeful with your time management each day.
Building trust and team cohesion: A 30, 60, 90-day plan builds on itself and makes sure you learn the nuances of your team before you start implementing huge changes. While it's tempting to jump into a new role or project and look for things to change, your team likely won't react with the same level of excitement. Your plan helps you learn before you lead.
As a project manager, you can use a 30, 60, 90-day plan at different moments in your career. Obviously, it's a huge benefit to have a clear plan when starting a new job, but it can be equally as impactful when starting a major project or even when trying to get a promotion.
Simply put: the more you can show you have a clear plan to hit personal and professional success, the better you'll do.
The building blocks of a successful 30, 60, 90-day plan: Focus, metrics, and SMART goals
If you try to do everything, you'll end up doing nothing. So what should be included in a successful 30, 60, 90-day plan?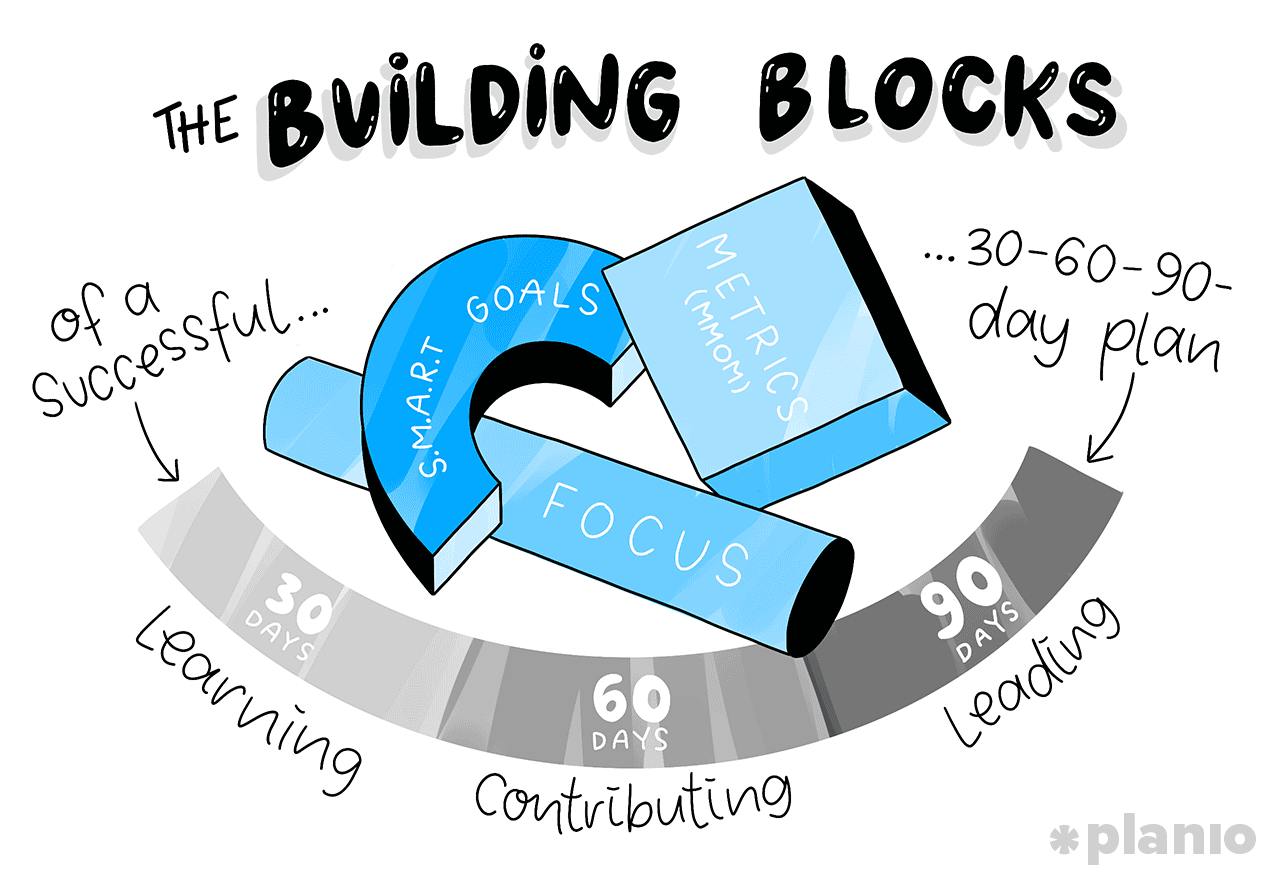 This is a strategic document, which means it needs to include:
Context: What are you doing and why?
Meaningful goals: What's the single most important thing for you to do each month?
Metrics to measure success: How will you show that you've been successful (Even if it's just to yourself?)
These are the building blocks of a proper 30, 60, 90-day plan. But like every great strategic document, it's the details that make all the difference. Let's look at each one of these "building blocks" and show how to make them work best for you.
Context: The 3 key things you should focus on in your 30, 60, 90-day plan
Each phase of your plan (i.e. each month) needs a unique focus. And while what you actually spend your time doing will depend on the team you're joining and their expectations, there's a tried-and-tested flow that your plan should follow:
Month 1: Learning
Month 2: Contribution
Month 3: Leading
What's great about this setup is that it builds off itself. Each phase is necessary before you can move on.
How can you be expected to contribute if you don't understand your team's needs, the tools and processes they use, and the personal relationships that bring it all together?
How can you be expected to lead and be respected, if you don't show that you're willing to put in the work?
Of course, every job, company, and team is different. So within each phase, you'll want to dig a little deeper and outline your high-level priorities. This is a great place to speak with a stakeholder, team lead, mentor, or someone else who might have insight into what matters most to this team.
However, here are a few ideas to get you started if you're coming in as a project manager at a larger company:
Month 1: Learning
Month 2: Contribution

Priority: Improve your team's efficiency by updating and introducing new processes.

Month 3: Leading

Priority: Unblock a member of your team and create a process and structure for getting feedback on what needs improvement.
If you're still unsure of what you should be focusing on, ask these questions: What are my team/company's goals? What are my priorities? How will I measure my success?
Meaningful goals: Use the SMART system to define exactly what you want to achieve
Your focus and priority give you a target to shoot for. But you still need a clear plan on how to get there and what exactly you'll be doing. That's where SMART goals come into play.

If you try to do everything, you'll end up doing nothing.
Your 30, 60, 90-day plan should have a set of clear goals for each month. Goal-setting is a skill and an art that few have mastered. And while there are plenty of different ways to set goals, one of the most effective ones is SMART goals.
Most commonly attributed to management guru Peter Drucker, SMART goals are:
Specific: You know exactly what needs to be done. There's no ambiguity or vagueness in your goal.
Measurable: You know how to track progress and have metrics you can use to measure results.
Achievable: Your goals can be realistically completed within the month.
Relevant: Each goal is connected to your focus and priority and contributes to your long-term goals (this should be simple within the 30, 60, 90-day framework we're going to work through below!)
Time-bound: You know exactly when each goal will be started and should be completed by.
Here's a SMART Goal example for your first month:
"Within my first 30 days, I will meet with each team member for 30 minutes to learn about their strengths and weaknesses and document their ideas in our project management tool."
But starting a new job isn't just about mastering the nuts-and-bolts of the position. As a project manager, your job is as much about people and personal growth as it is about making sure projects get done.
As you map out your goals for each phase of the 30, 60, 90-day plan, try to include different types of goals:
Learning goals: How will you learn about your team and company? What processes, tools, and workflows do you want to master within the first 90 days?
Professional goals: What will you do to make a meaningful impact?
Personal goals: How will you connect with your team, absorb their culture, and become a part of them?
Metrics: Every SMART goal needs an associated metric to know if you've been successful
Last up, you need specific metrics to let you know your plan has been successful and measure the impact of your work.
Tracking your progress is the easiest way to measure your performance and is a powerful motivational tool as well. Your plan is asking a lot in just 3 months. And the clearer you are on your goals and how you'll measure their success, the more likely you'll be to actually get them done.
In most cases, we like to think about metrics using the MMOM system:
Meaningful: Does the metric contribute or relate to your true objective?
Measurable: Can you put a number on it or track progress some other way? This might be difficult with personal goals, but it just takes a bit of creative thinking to find a way to measure your goals.
Operational: How quickly can you see the effects of your work? The 30, 60, 90-day plan is highly timebound, so you'll want to make sure you're doing things you can track in the short-term.
Motivational: Do you care about moving this metric? If not, why is it on your plan?
You only need 90 days to go from total newbie to your team's new favorite project manager
The 30, 60, 90-day plan framework: How to succeed as a new project manager
Alright, it's time to put all of this together. We know the rough framework of what our 30, 60, 90-day plan should include. But what are the specifics for a new project manager or when you're joining a new team?
Let's break down each month into an actionable plan.
The first 30 days: Get comfortable with your team, tools, and goals
Your first 30 days on a new job, position, or project is the learning phase.
Yes, you want to dive in and start making suggestions and switching things up. But you first need to immerse yourself in your team's processes, vision, and quirks. If you don't know the purpose or motivation behind why your team does things a certain way, you'll always be solving the wrong problem.
So think of yourself as a sponge. Take time to talk and listen. Look for your own gaps in knowledge and understanding rather than just imposing your own ideas.
During these first few weeks, you'll want to identify any knowledge or learning-based goals that will set you up for success in the long run.
This mostly comes down to three factors: People, processes, and tools.
People: The "listening tour"
The best way to learn about your team is to let them explain it to you in their own words. The "listening tour" is a great way to connect with everyone on your team, learn their strengths and weaknesses, and get a holistic view of how they work together.
Prepare a few simple questions like what they feel good/bad about, how they'd like things to change, and how they'd like their career to progress. But keep it relaxed. The goal is to hear things in their words, not to start making massive changes.
Processes: How are things currently done?
You might have big ideas about how you can make your team more efficient or shake things up, but driving up to your first day in a bulldozer won't make you many friends. Instead, dig through the knowledge base and technical documents, talk to stakeholders, and review the current goals and OKRs to understand how things are done.
Tools: What does your team use?
Maybe the most important thing you can do at the start of any major shift is to learn the tools your team uses. Project management tools are one of the most powerful ways to get to know your team.
You can track projects and milestones, read comments, and start to really understand how they work. For example, if your team uses a tool like Planio you can quickly see what everyone is working on, track specific issues, and even see how long tasks take with built-in time tracking.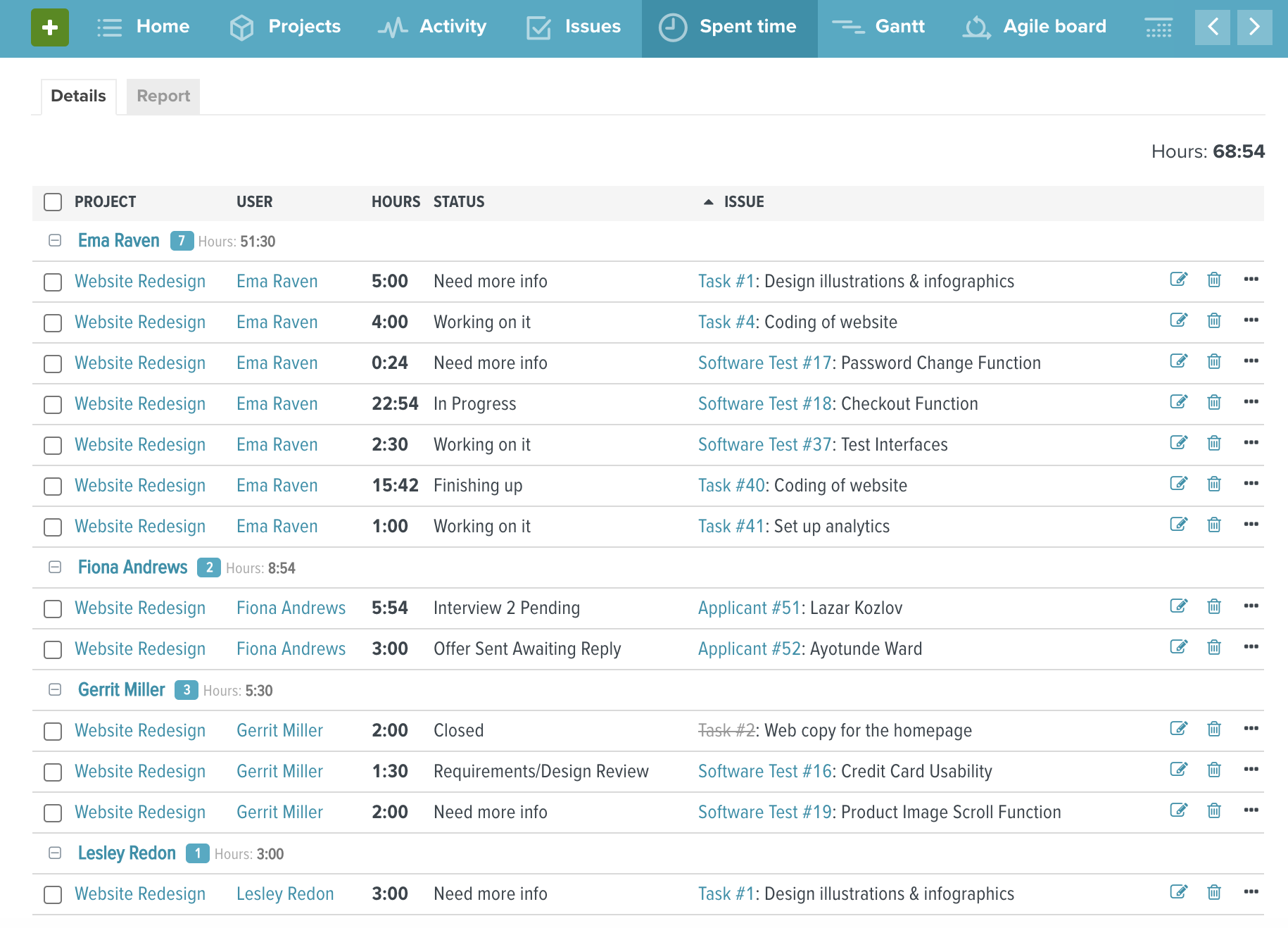 Each issue in a tool like Planio is a window into how your team works.
At the same time, if your team is currently using a tool that is hard-to-use, overly complex, or just downright ugly and awkward, this can be a good place for you to make changes.
Days 30–60: Shift to actively contributing to current projects
Month two is where you shift from watching and learning to contributing to projects in a more meaningful way.
Building on what you learned in your first few weeks, your 60-day goals should focus on highlighting, investigating, and actively updating processes or workflows. Think high-level. You understand what your team is currently doing and can bring in your knowledge of how they could be working more efficiently.
It's important that you try to do this early on when you still have a fresh perspective on the company and the team.
This could be helping unblock someone on your team, advocating for changes, or setting up meetings to discuss changing how you work. Don't be afraid to speak up and express your beliefs. But at the same time, keep one foot in the learning phase and be open to pushback or negative feedback.
Think about some of the more impactful things you can do like grooming the product backlog, rewriting user stories, helping with sprint planning, or creating better documentation like project plans or SOWs.
Days 60–90: Become a true team leader
In your final month, it's all about establishing yourself as a leader.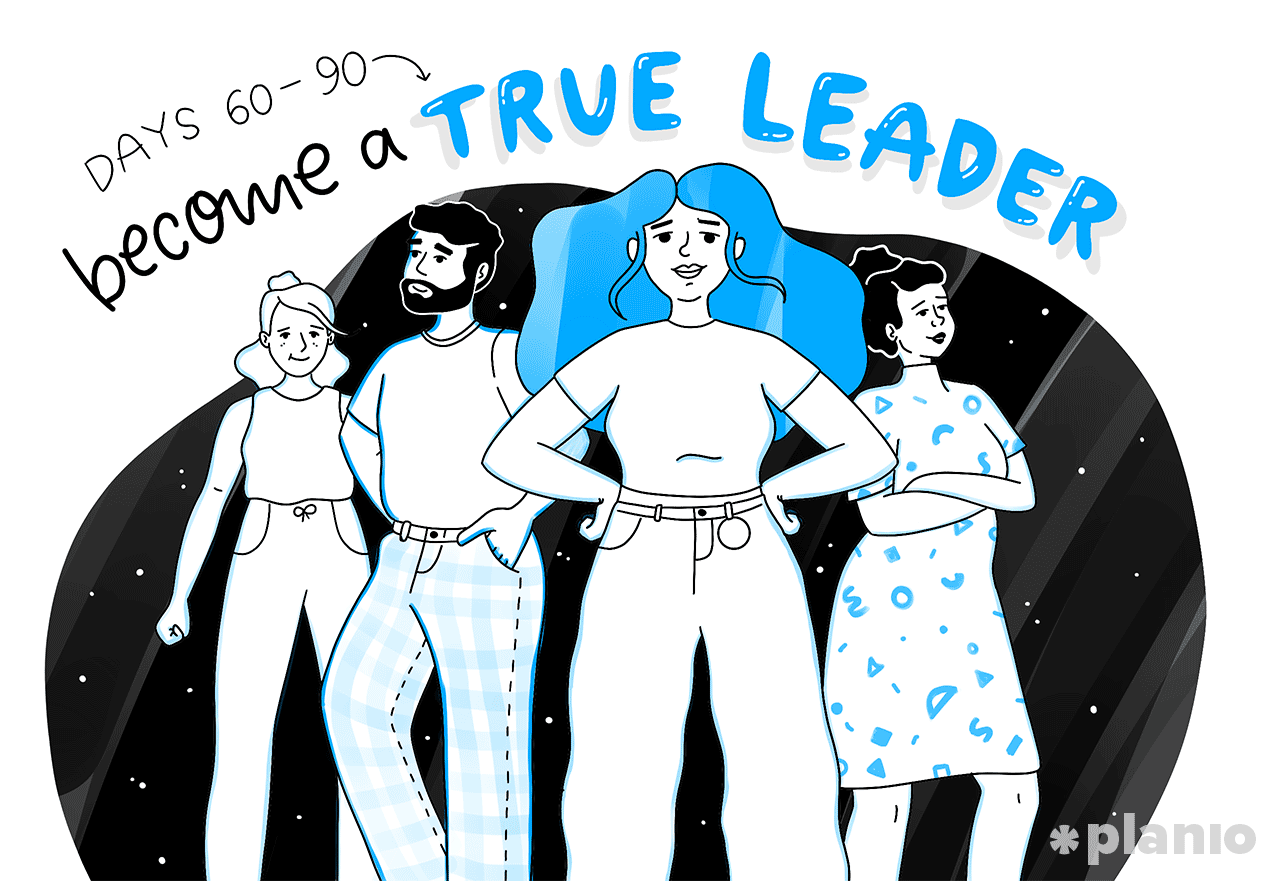 It's finally time to really make your mark. You have a firm grasp of your role and responsibilities, know how your team works best (and where they can improve), and have proven that you have fresh ideas.
At this point, you should be confident in suggesting changes and start to move into your more permanent role as manager, guide, and mentor.
Think about some of the more high-value changes you can make like collaborating with other teams or creating a communication buffer between your team and project stakeholders.
Even though we've covered a lot already, it's important to remember that a 30, 60, 90-day plan shouldn't feel overwhelming. That's why we put together this free 30, 60, 90-day plan template for you to download and use.
Best practices and tips for mastering the 30, 60, 90-day plan
The best-laid plans often go awry. And one of the biggest mistakes you can make with your 30, 60, 90-day plan is to not tailor it to the team you're joining. As we've said a few times already, every team, company, and project is different.
So if you're looking to truly get the most out of your first 90 days on a new job, you need to follow a few best practices:
1. Think short-term but keep looking long-term
Ninety days isn't a long time. And while the main focus of your 30, 60, 90-day plan is to quickly get up-to-speed and contributing, you don't want to get stuck in short-term thinking.
Make sure you always keep your own long-term goals front and center. What's most important to you? Use that as a compass to keep you on track even when your days are overwhelming.
2. Ask better questions
Questions are a superpower for project managers (and everyone else). Especially at the beginning of your new job when you're working through your plan, you'll want to ask the best questions possible to help guide your experience.
Ask things that allow room for explanation, such as:
"How do you typically deal with X?"
"What's the average Y?"
And don't forget the follow-up. When someone gives you an answer don't just leave it at that. Dig deeper. Ask them why they do things that way or if there's a history behind the choice. Try to discover the nuance early and often.
3. Meet with key project stakeholders as soon as possible
You want to quickly establish relationships with the people who will influence your work and your team. Try to talk to key stakeholders like managers, team leads, executives, partners, and cross-functional teams within the first 30 days.
Keep the conversation light but ask questions about company culture, processes, reporting structures, challenges, and anything else you think might help you understand the company more.
And as an extra tip, try not to start too many sentences with "At my last company, we did it this way."
This is the same as going on a date and spending the whole time talking about your ex. There will always be time to bring up your past experiences later on. But focus on being a good listener to begin.
4. Be ultra-clear with your goals
We already talked about the importance of SMART goals, but they deserve another mention. The clearer your goals, the more chance you'll have of actually hitting them.
The clearer your goals, the more chance you'll have of actually hitting them.
5. Embrace flexibility (because stuff happens!)
A plan is just a guess. Don't worry if you can't follow it exactly or if something drastically changes your approach early on.
It's a good idea to bake in time to analyze your plan based on what you've learned in the first month. This doesn't mean you shouldn't plan for the full 90-days. But rather that you need to accept that you might not have gotten it right the first time around. Be flexible and open to change.
You only need 90 days to go from total newbie to your team's new favorite PM
While 90 days sounds like a long time, it's amazing how quickly that time can fly by when you're at a new job. The 30, 60, 90-day plan we've outlined here is your guide to ensure that time is as valuable as possible and that you're starting off on the best foot possible.
Download our free template, fill it out, and use this post as your secret weapon for going from zero to hero in just 90 days.