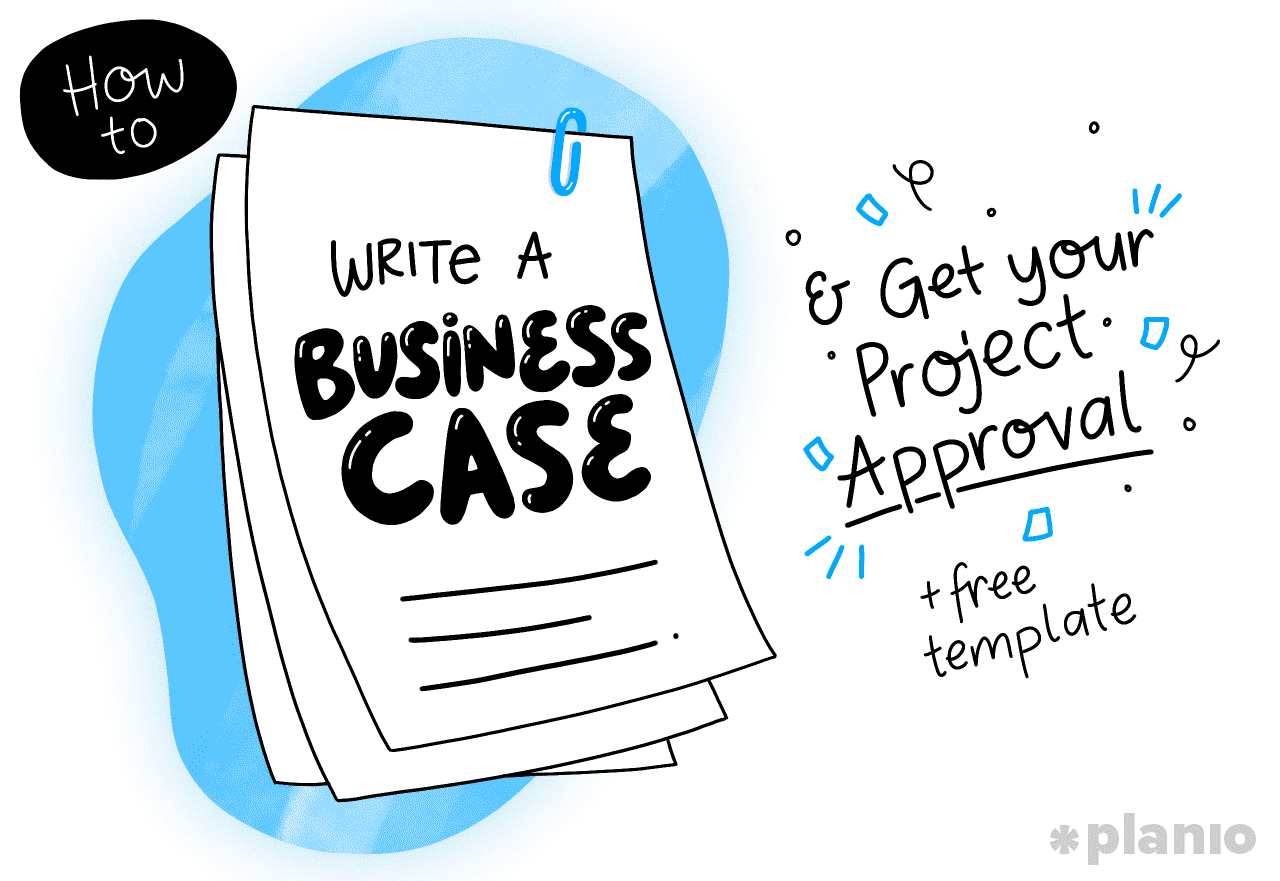 According to CB Insights, more than ⅓ of all businesses fail for the same reason: there's no market need for their products.
While it may sound like common sense to make sure people actually want what you're building, project and product teams often think they know better than their customers.
A solid business case can solve this problem. Along with other inputs, such as customer research, a business case helps organizations assess the actual need for their projects, creating a firm foundation for effective product strategy and decision-making.
Jump to a section:
In this guide, we'll explain what a business case is, why you need one, and provide a step-by-step guide (and free template) to help you create one.
What is a business case?
A business case is a document that provides justification, value analysis, and benefits planning for significant business investments.
A well-rounded business case will outline several factors, including the investment required, the planned work to achieve the outcome, and the forecasted business benefits.
Stakeholders use a business case to decide whether to proceed with the proposal, assessing it in line with the organization's goals and objectives.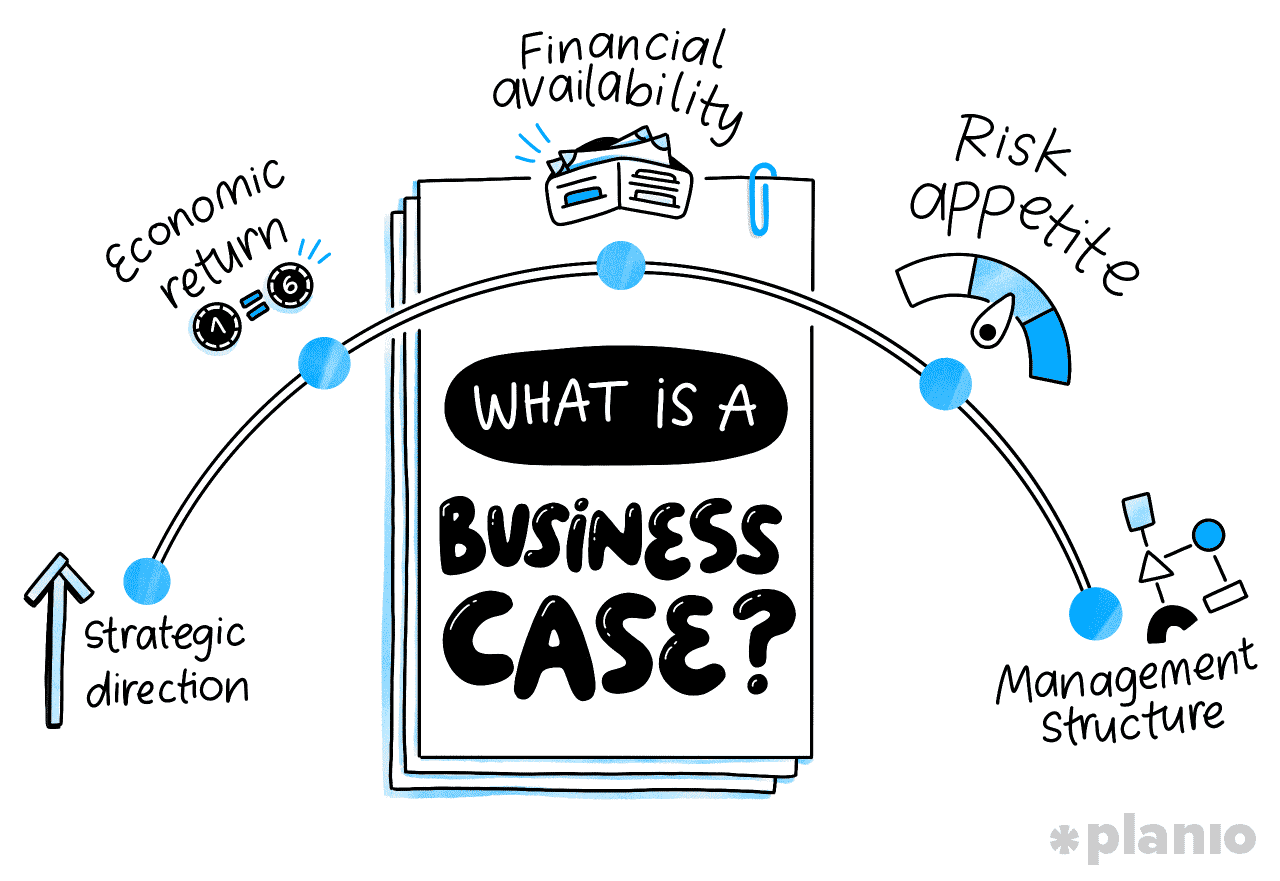 However, every project comes with several different stakeholders — each with their own needs and concerns.
To cover all of their priorities, a compelling business case must address:
Strategic direction: Does the initiative align with the company's strategic goals, objectives, and north star metrics? Not only does the project need to be a good idea, but it needs to be a good idea right now. For example, if your company's main goal is to improve user retention, a new feature that increases the risk of customers leaving is unlikely to get approved.
Economic return: Can the initiative deliver a return on investment? While this return will be financial in most cases, some benefits are non-financial, such as customer satisfaction or regulatory compliance. For example, if a new project costs $500,000, but is projected to make $1,000,000 in additional revenue per year, that is a good economic return.
Financial availability: Does the business case make financial sense? Specifically, can you afford to do this? The strategic direction and economic return might be right, but if the money isn't available to invest, the initiative is a non-starter.
Risk appetite: Is the risk associated with a new initiative manageable? This will vary depending on your organization's risk appetite. For example, an e-commerce company may want to migrate to a new hosting provider, but completing this over Christmas (their busiest trading period) might create too much risk for the Sales Director.
Management structure: Lastly, will the initiative be managed correctly? Whether that's the team who will work on the project, the structure you'll use to deliver it, or the project schedule, everyone needs confidence that you can deliver what you're proposing.
If you consider all of these aspects when creating your business case, you'll create a well-rounded proposition that's more likely to be approved.
Why do you need a business case for your project?
Not every initiative requires an in-depth business case that answers all of these questions. However, the benefits of thinking through each angle of a compelling business case can far outweigh the time investment.
More than ⅓ of all businesses fail for the same reason: there's no market need for their products.
Through writing a business case, you will:
Complete a rounded assessment of your initiative and consider each key aspect — from its financial viability to how it aligns with larger goals and strategies.
Create a clear 'why' statement for your initiative that validates the need for it right now.
Get stakeholder buy-in for your initiative, which is incredibly important later on — especially if you run into problems and need support making decisions.
Create a solid project baseline to work with, including your proposed costs, timelines, and benefits.
Ultimately, the size of the project needs to justify the time and effort you put into a business case. If you're a small business dealing in $5-$10k initiatives, your business case will likely be simpler than an organization planning to spend $100m.
How is a business case different from a project plan?
A common mistake that project and product managers make is assuming that a business case and a project plan are the same thing. While they're both documents that you'll create at the beginning of your initiative, they serve entirely different purposes.
Here are some key differences:
| Business Case | Project Plan |
| --- | --- |
| Provides a justification of why this project should be prioritized right now. | Provides a high-level outline of what is going to be made and how it will be made. |
| Business cases focus on outcomes and objectives. | Project plans focus on outputs and deliverables. |
| A business case is a strategic document used to consider an initiative in the context of the wider organization. | A project plan is a more tactical document used to show how a specific initiative will be delivered. |
| The audience for a business case is outside of the project/product/initiative team. | A project plan is for the team inside the project/product/initiative. |
| Once approved, business cases should rarely change unless they go for another round of approval. | Project plans continuously change as the project or initiative evolves. |
While a business case and project plan go hand-in-hand, one should never be used to replace the other. A good team should always be referring to both documents through the life of the initiative: the business case to realign on the 'why', and the project plan to ensure you're still on track to deliver.
Free business case template: Use this to kickstart your next project
If you're ready to write your next (or first) business case, the good news is that there are key elements and templates you can use to make the process easier.
Executive summary: The high-level summary of the rest of the business case, including the options you're proposing. This comes first, so busy people can read it quickly, but you should write it last as it's a summary of all the other sections.
Project definition, background and options: Define what the initiative is you're proposing and 'why' it's important. Clearly state the opportunity you're trying to exploit or the problem you're looking to solve and the options you're proposing. (Note: every good business case should include more than one option, one of which should always be to 'do nothing'.)
Market or opportunity assessment: Provide evidence that this initiative should be done now. Use analysis techniques, including SWOT, market analysis, or product idea validation.
Project goals and objectives: Include a sub-set of goals and objectives that will help your project succeed. This brings the business case to life and proves that your vision is achievable.
Project scope: This is where you define 'what' you're going to be doing, including tasks, milestones, and outputs. Include anything you're specifically not doing as 'out of scope'.
Project budget and financial appraisal: Show how the initiative pays for itself. A standard budget isn't good enough. Instead, you need to complete a financial appraisal to show how the benefits outweigh the investment over time. Techniques such as payback period and accounting rate of return (ARR will help you here.
Project schedule and action plan: Show how you'll take the initiative forward, including when you predict key events or milestones will be achieved. The detail will come later in your project plan, so keep this section high-level.
Project risk analysis: Call out the risks associated with both doing and not doing your initiative. This is important to include so that everyone knows what could go wrong regardless of the decision.
As you're writing your business case, don't focus on completing each section in order. As you complete more research, you'll develop your thinking in each area until you're ready to write your executive summary and submit it for approval.
How to create a business case: The 7-step guide
Now that you know what a business case is, how to use one and what it should contain, it's time to build one. Here's our 7-step guide to creating a business case for your next project, product, or initiative.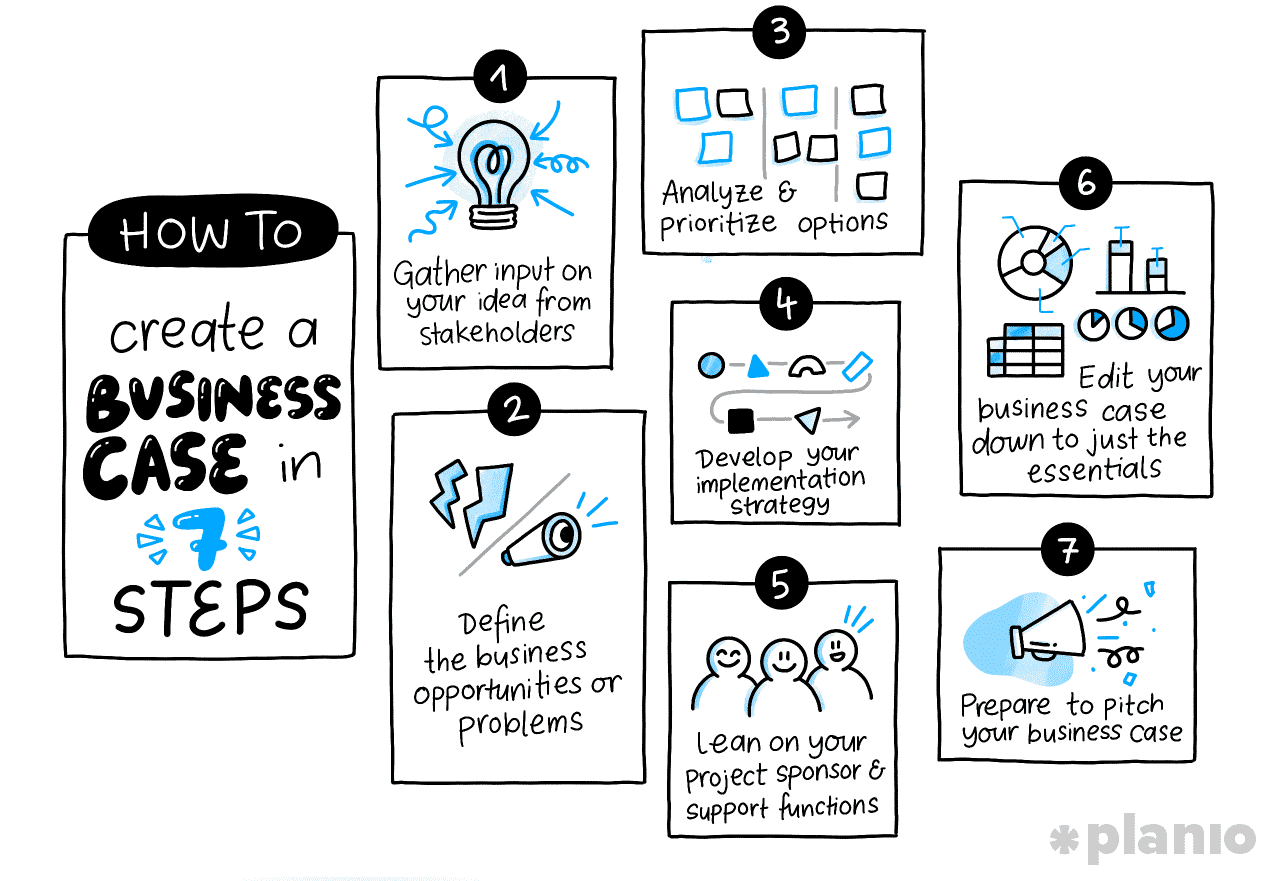 Step 1: Gather input on your idea from stakeholders
As you begin scoping out your new initiative, lean on those around you for input. What may seem like a good idea to you may not resonate with others. Take the time to bounce your idea around.
What to do:
Start with a short stakeholder analysis of who might have an interest in your initiative.
Reach out to stakeholders to build relationships and discuss your initiative at a high level.
Meet with them individually or as a group to brainstorm ideas. Get their thoughts on whether the initiative is viable, how to achieve it, and what resources might be required to bring it to life.
Business case outputs: Project Definition & Background.
See it in action:
Rob works as the Sales Manager for ComputeX, a European retailer of Windows computers. Rob wants to expand the range to also include ChromeOS devices, as he knows they're becoming more popular in his region. He meets with other Sales Managers through video calls and face-to-face in the office to get their thoughts on the idea.
Make it work for you: Project management tools such as Planio can make this process much easier. Whether planning your interviews or conversations using Tasks, creating a central Wiki of thoughts and information, or using Team Chat to collaborate, Planio can support you through the entire business case (and project management) process.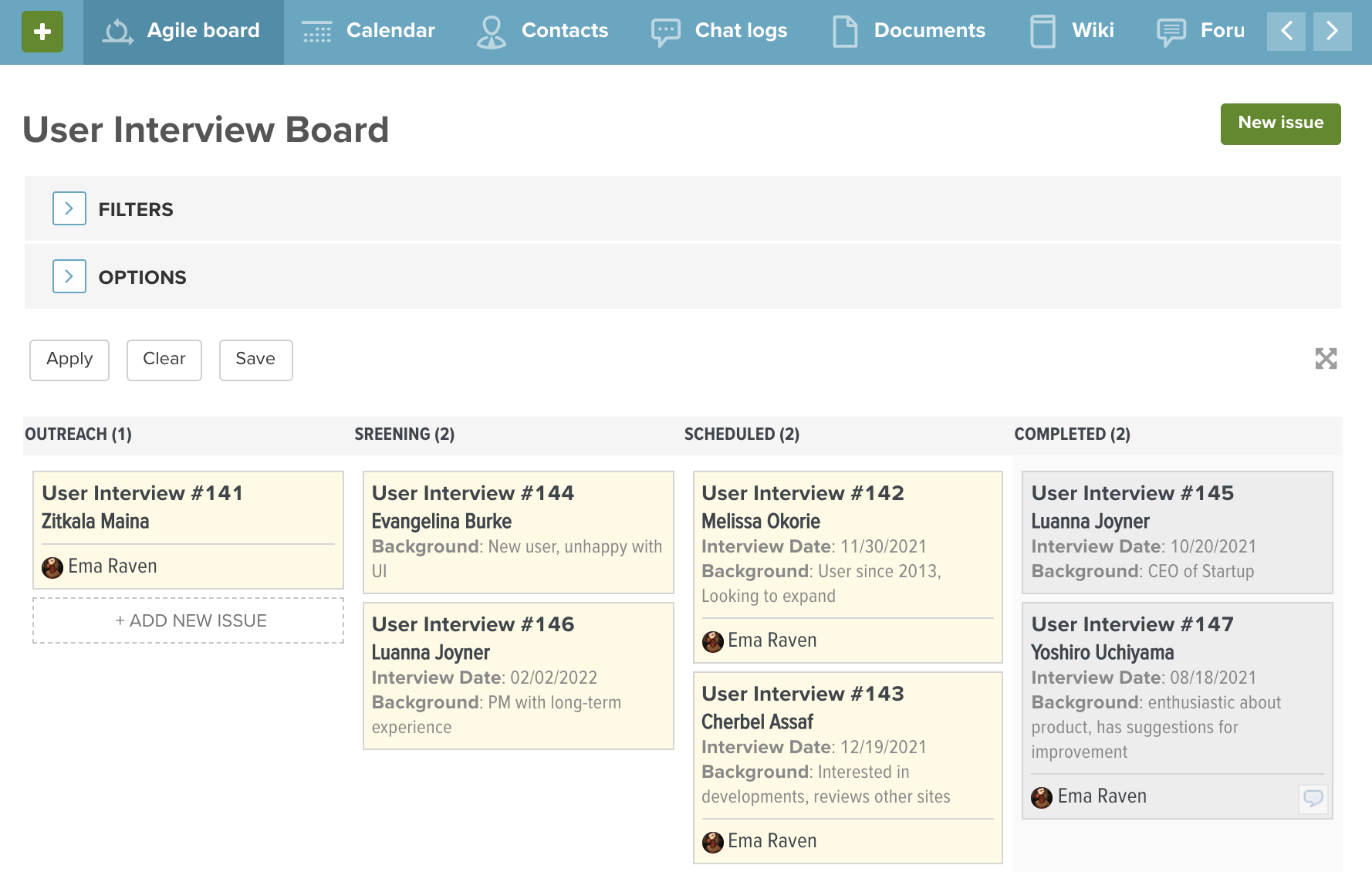 Step 2: Define the business opportunities or problems
Once you've validated your high-level idea, you need to step back and truly understand the opportunity or problem you're addressing. To do this, you may use analysis techniques, including SWOT, market analysis, or product idea validation.
What to do:
Begin by understanding if you have an opportunity or a problem. In some instances, it can actually be both.
Get to know your market by completing some market analysis and determining your market strategy.
Business case outputs: Market/Opportunity Assessment.
See it in action:
Rob has known for some time that ComputeX's sales were decreasing. The sales team is finding it increasingly difficult to sell Windows devices as ChromeOS becomes more popular. Rob also notices that his country offers a government-led scheme to subsidize the costs of ChromeOS devices for students. Rob believes the dwindling sales (problem) and government scheme (opportunity) provide the basis for his business case.
Step 3: Analyze and prioritize options
As you work through creating your business case, you'll undoubtedly come up with many different options to achieve your goal. A good business case should consider a few options, including the option to do nothing and pass on the opportunity.
What to do:
Gather all of your ideas in one place and start quantifying how they exploit the opportunity or fix the problem of your business case.
Then, prioritize the options. You can prioritize them on several factors, including time (fastest vs. slowest), cost (cheapest vs. most expensive), or quality (best vs. worst).
Business case outputs: Options, Goals, and Objectives.
See it in action:
Rob considers how ComputeX could begin to exploit the ChromeOS market. He knows a local pre-owned supplier would be quick and cheap to exploit, but the product quality would be lower. On the other hand, ComputeX could explore a relationship with a ChromeOS distributor, but that would take longer and be more expensive. Of course, he also considers the cost of not selling ChromeOS and staying as they are.
A good business case should consider a few options, including the option to do nothing and pass on the opportunity.
Step 4: Develop your implementation strategy
Now that you know what your initiative is and why it's important, it's time to think about how you'll do it. During this stage, you'll need input from others who have been through the same process.
What to do:
Begin high-level planning of how you'll implement your new initiative. Consider it from both angles, using forward and backward planning techniques.
Reach out to colleagues and team members who have completed a similar initiative before. Ask them what lessons they learned and gain some advice on how you could move forward.
Business case outputs: Scope, Schedule & Action Plan.
See it in action:
For each of his options, Rob maps out the key steps ComputeX would need to go through. At a high level, this includes securing a supplier, updating the website, training sales and support staff on ChromeOS, and establishing a marketing and distribution channel.
Step 5: Lean on your project sponsor and support functions
As you get to the latter stages of your business case preparation, it's time to engage the experts and people who matter. You'll want the right people to start testing your assumptions to ensure they stand up under pressure. For your sponsor, you'll want to pre-align on the business case to ensure you have a supporter when it comes time to present.
What to do:
Put yourself in your sponsor's shoes to understand what will make them support your initiative. Think about their strategy and goals and how your initiative could help.
Set up sessions with support functions, such as finance, risks, or HR, to get their input on your proposal and what it might mean for the wider business.
Business case outputs: Project Budget/Financial Appraisal & Risk Analysis.
See it in action:
Rob begins by aligning the idea with his sponsor, the Sales Director. The Sales Director is keen to improve sales performance and fully supports the proposal. Rob gets help from a finance team member to help him complete a full financial assessment. Next, he also meets with a Risk Analyst who suggests risks the initiative could present the business, such as a negative reputation with Microsoft fans.
Step 6: Edit your business case down to just the essentials
While there's a lot to get through, a business case isn't designed to be War and Peace. Once you have all of your sections complete, go back through and refine them to the essential points. Remember, other project documents (such as a Project Plan) can hold all the details later on.
What to do:
First, be brutal with your business case and refine it as much as possible. Depending on the format, use graphs, tables, and images to show information in an easily digestible way.
Finish by writing your Executive Summary. Ideally, this should be no more than 5-8 sentences explaining your initiative's context, rationale, financials, and recommendation.
Business Case Outputs: Executive summary.
See it in action:
Rob refines his business case, ensuring each section is no longer than five sentences and includes no more than one image if required. He includes details in an appendix if stakeholders want to read it.
He writes an Executive Summary detailing the current sales environment, the rationale for expanding to ChromeOS, a high-level view of the costs and sales forecasts over the next three years, and his recommendation to deliver the new product through a Chrome-approved supplier.
Step 7: Prepare to pitch your business case
With your business case complete, you need to prepare your pitch. In most organizations, you'll need to present your business case to a senior executive or committee that approves investment decisions.
What to do:
Understand how your company approves business cases. Whether it's a board presentation, document submission, or one-to-one meeting, plan for the time you have, understand the audience's motivations, and keep your message clear and confident.
See it in action:
Rob books a timeslot to present his business case at the next Sales Strategy Meeting. He knows the Sales Director will be there as his sponsor, alongside the Finance, Marketing, and Technical Support Directors. Rob has converted his business case document into a 5-slide presentation to present his idea in a visual and engaging way.
Get the support you need with an actionable business case
So many businesses go wrong by not taking the time to consider the true need of their initiatives. A business case helps you prevent this by taking a structured, considerate approach to kicking off a new initiative.
To help you stay organized and easily transfer your business case into tasks, milestones, and everything else you need to successfully run a project, try Planio free for 30 days!