What is a Help Desk? 7 Ways a Help Desk Can Improve Customer Retention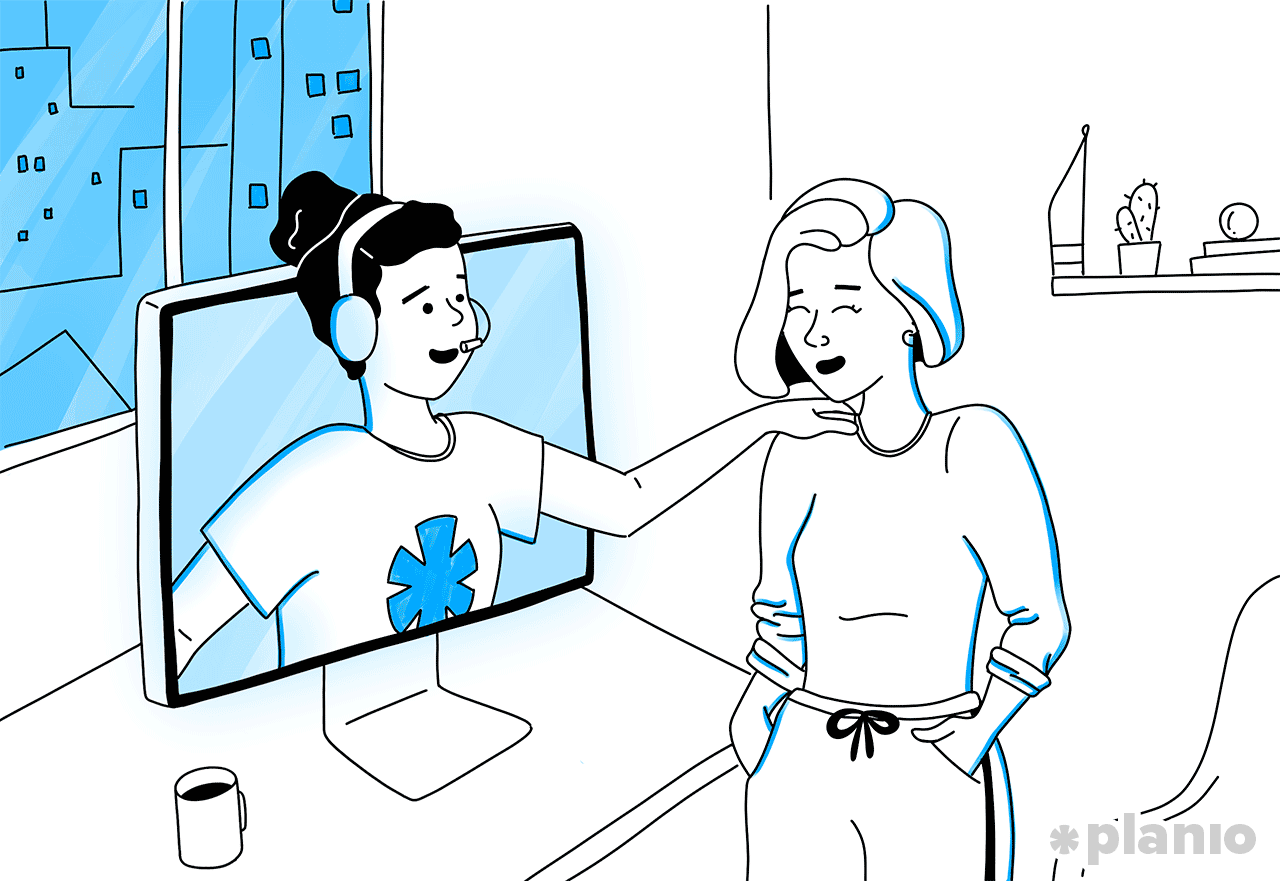 No matter how amazing your software or product is, someone's going to have problems with it. That's undeniable. And whether they've found a bug, need help getting their account set up, or messed something up themselves doesn't really matter. What does matter is that their problem gets solved.
Not a lot of technical teams think about customer support. Yet, it's one of the few things that can turn a happy customer into an angry, vocal detractor of your company overnight. In fact, the truth is that it costs five to 25 times as much to attract a new customer as to keep an existing one.
Good customer support is the backbone of your company. It keeps your customers happy, your revenue high, and can even provide incredible insights into new features, markets, and customers. But it's not always easy.
Your customers expect to be treated with respect and transparency. But it can be overwhelming to try and deal with the ten, hundreds, or even thousands of support tickets that come in every day. That's where having a help desk becomes so important.
Don't have a help desk (or have one you hate?) Don't worry. In this guide, we're going to cover everything you need to know about using help desk software, break down how your team should be structured around it, and then give some best practices to turn you into support superstars.
What is a help desk? And why does your company need one?
Let's start with the basics: What is a help desk? A help desk is a tool that provides the first point of contact for tracking, prioritizing, and acting on any issues your customers and end users have.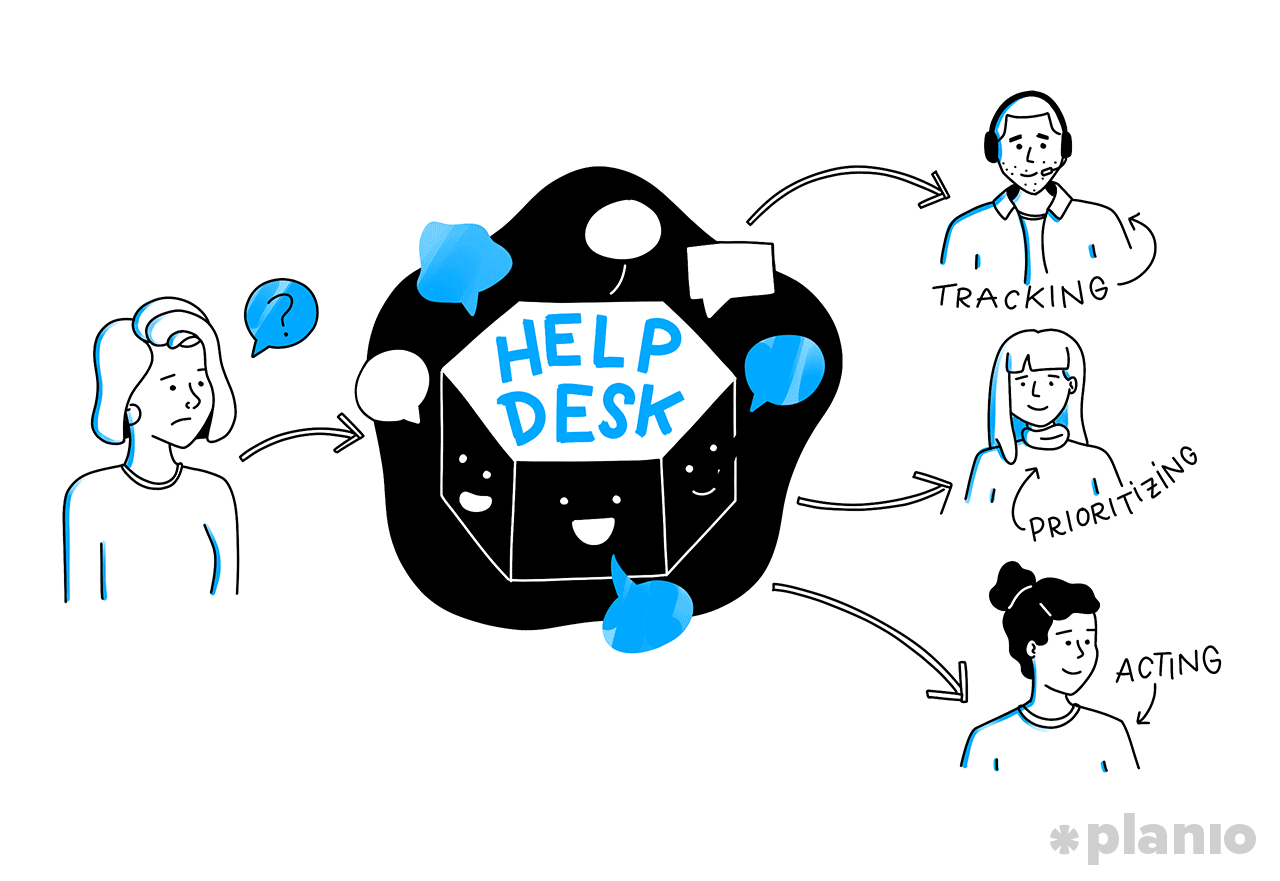 Can't figure out how to integrate a new payment processor? Contact the help desk.
Having issues with your mobile checkout? Contact the help desk.
Need to dispute a payment? You guessed it, head to the help desk!
That's a lot for one tool to do. And as you can probably guess, the "catchall" nature of the questions that come into your help desk mean it can get overwhelming. Luckily, help desk software has been designed to keep you organized and productive in a number of ways, such as:
Be a single point of contact: When things don't work, your customers need to know where to go right away. Having a help desk means everything is coming in from one direction.
Quickly and intuitively answer questions: Help desks should provide answers quickly either through a live agent, chatbot, or self-service.
Support your support team: A good help desk also makes it clear what your support team needs to do. It provides workflows and resources that help them do their job to the best of their abilities.
Help you measure how you're doing: Lastly, your help desk should give you opportunities to measure your support efforts and find out where you hit (or missed) the mark for customers.
On the surface, these all seem like good things for any company to have—a central place to answer questions and keep track of customer issues. But when you dig in, it becomes apparent that the impact of not having them quickly pushes having a help desk from a "nice to have" to "something you needed yesterday."
According to one study, American companies alone lose $62 billion a year from poor customer service. While ⅓ of customers say they'll switch companies after just a single poor experience.
Even worse, there's a compounding effect of poor customer service. According to a study by American Express, customers tell an average of 15 people about their poor experiences (versus just 11 for good ones).
And if the business case wasn't enough for you, let me just ask you one last thing: Do you really want people directly sending you emails when things go wrong?
IT help desk? Self-serve support? What types of help desks are there and who on your team uses them?
Providing support to your customers is clearly important for your business (and your sanity). But what's the best way to do it?
There are a few different options when it comes to choosing a help desk and how your structure your support and IT teams to use them.
Let's start with a basic rundown of the different types of help desks:
Customer help desk: This is what most people think of when they talk about a help desk. Your customer-facing help desk is a public set of resources and a point of contact for customers who have issues or questions. It can comprise of different tools like a contact form, FAQ, videos, or even live chat.
IT support help desk: Your customers aren't the only people who need help. Depending on the size of your company, you might have an internal IT support help desk to help your team with technical issues (like password resets, network issues, or even new equipment requests).
Business help desks: Outside of support and IT, other teams at your company can benefit from their own help desk. HR might want a place to publish resources and processes for common questions. While legal could want an easy way to keep track of contract review requests or questions.
While these are all different tools with specific audiences, the approach is the same: Streamline the support process and (hopefully) provide enough self-service answers to keep your support agents from getting burnt out.
And who are those people? That's up to you and how you structure your team. At larger organizations, you might have a help desk manager who oversees individual agents and team leads. While smaller companies might just have a few people who do everything or follow the current trend of "all hands support".
How to pick the right help desk for your company
For the sake of brevity, we're only going to focus on customer support help desks. But this is for good reason:
We care about customer retention (and so should you!): Happy customers make happy, healthy businesses. We believe that every great technical team needs a solid support system to keep things moving smoothly.
Nailing external support makes internal support even easier: Your teammates might give you a pass when you forget or don't answer their questions, but your customers won't. The lessons you learn about support from dealing with external customers will help you create processes and workflows for doing the same for your coworkers.
With this in mind, let's ask the question: What makes a good help desk?
There are tons of different options out there from the basic to the advanced. And again, the right tool is always whatever works best for you. As a small team with a handful of customers, you might just use a dedicated inbox for support. But as you scale up, that will quickly get overwhelmed.
Let's start with common features you should be looking for:
Email support: Storing, organizing, and prioritizing emails sent to your generic support@ address and converting them into tickets for your support reps to work through.

Knowledge bases (FAQs): A resource filled with answers to common questions and best practices that free up time for your agents to deal with more complex issues.

Community Forums: Some companies create forums where users and agents can answer questions and create easily accessible content around specific issues (Apple is a good example of this).

Live chat: Many new help desk companies are focused on giving "instant" support through on-page chat boxes. Obviously, the downside of offering instant support is that you need someone manning it 24/7 (or close to it).
For example, in Planio, you can use Planio Help Desk to handle customer questions and emails in the same simple way you manage your projects, with the added benefit of quickly and easily creating FAQs and templated responses for common questions.
That probably doesn't narrow your choices down too much. So, as you go through your help desk options, ask these questions:
Where do your customers normally ask for support? Is it over email? Social? Self-service?
What's their expectation for response time? An hour? A day?
What is your ideal support workflow? How will users submit requests? Do they have to go to a website? Or is it all over email? Do you want them to be able to get in contact with you through other mediums?
How does your support team work? What's their support workflow and how will a tool change or enhance this?
How many support agents will use the help desk? Do you need a solution that will scale and grow with you?
Are there any legal issues you need to be aware of? For example, GDPR and how and where you store personal data.
A good way to work through these questions is to outline your own support workflow and see what features you'll need to maintain and streamline it. As we wrote in our guide on How to Create Winning Workflows, a workflow is a clearly defined, sequential process of the optimal way to get things done.
Think through the different kind of support requests you'll get: bugs, questions, technical problems, feature requests, partnership requests, etc… For each scenario map out the process of dealing with them, including:
What exact job is being done? Are there any dependencies you need to consider?
Who is responsible for each step?
How long will each task take?
In the end, you'll have a picture of what your support system looks like and be able to map that to the tool that works best for it.
7 Help desk best practices to turn your team into support superheroes
Like most tools you use to run your business, it's not about features, but about how you use them. When properly set up and used, your support help desk can do more than just react to incoming issues. It can be a source of all sorts of things like new feature ideas, marketing campaigns, and growth strategies.
Now that you have the right tool in mind, here are some best practices on how to get the most out of it:
1. Set up your Help Desk to keep customer requests organized, prioritized, and tracked
Organization is key to the success of your support efforts. Your help desk should help you keep all those tens or hundreds of support requests in order, prioritized, and tracked.
In Planio, customer support requests are dealt with the same way as issues in your project. Customers can email directly to you and their requests are transferred into project issues (or "tickets" in support language!) Their information is collected and a new contact is created so you can always see your history with this user.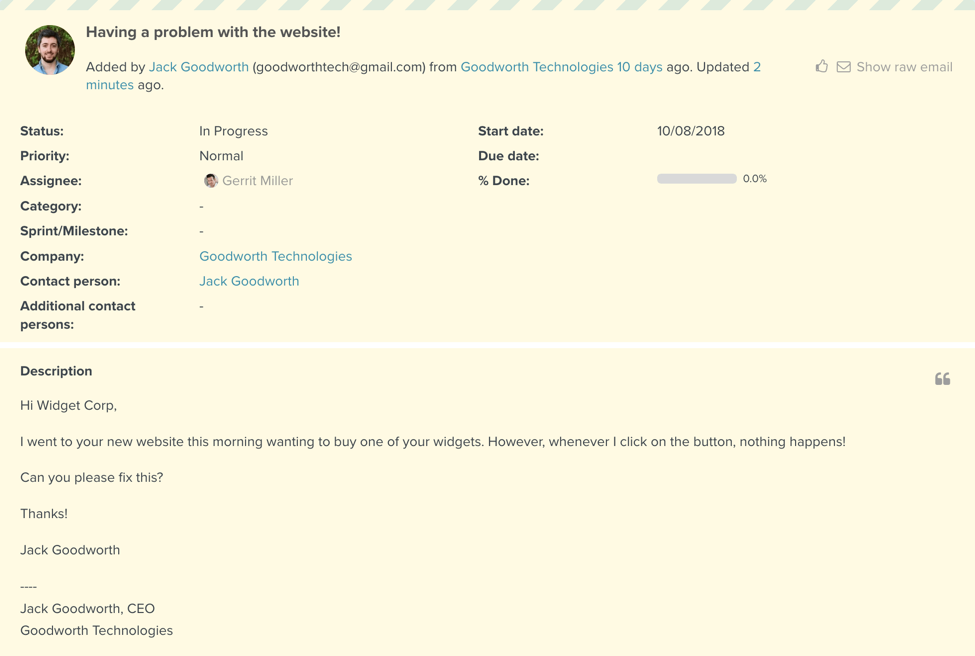 There are a few great things about organizing your support tickets in this way.
For one, you get the same powerful organization and prioritization features as you use for your own product.
Assign support agents to individual tickets and prioritize them by importance or timeliness. Set deadlines and reminders to make sure nothing falls through the cracks. Attach additional information or connect the issue to other relevant ones. See everything in one place and organize your tasks so you always know what needs to be done next.

Even better, although you're handling support requests in Planio, your customer gets all your responses in their inbox. Meaning they get the experience they want, and so do you.
2. Use the power of self-service, FAQs, and scalable support
You can't deal with every customer request individually. And you wouldn't want to, either.
FAQs, knowledge bases, and other forms of "scalable support" free up your agents to deal with more complex issues and make sure you're giving the same information to people with the same questions.
The even better news is that your customers actively want these resources. According to studies, 70% of customers expect to see a self-service option on a company's website. While 81% of customers will try to help themselves before trying to contact a human support agent.
So how do you give your customers what they want?
The most common solution is with a knowledge base—a list of organized content that teaches customers how to use your product and answers common questions. You might also know this as a FAQ.
In Planio, you can create simple FAQs as you'd like. But even better, you can turn responses to customer questions directly into new FAQ listings.
Here's how that works: Let's say you find yourself answering the same question a 4th or 5th time. This is obviously something a few customers have questions about. Instead of typing responses to each of them, use the FAQ Question field to enter the question your email is answering and they'll be added to your FAQ.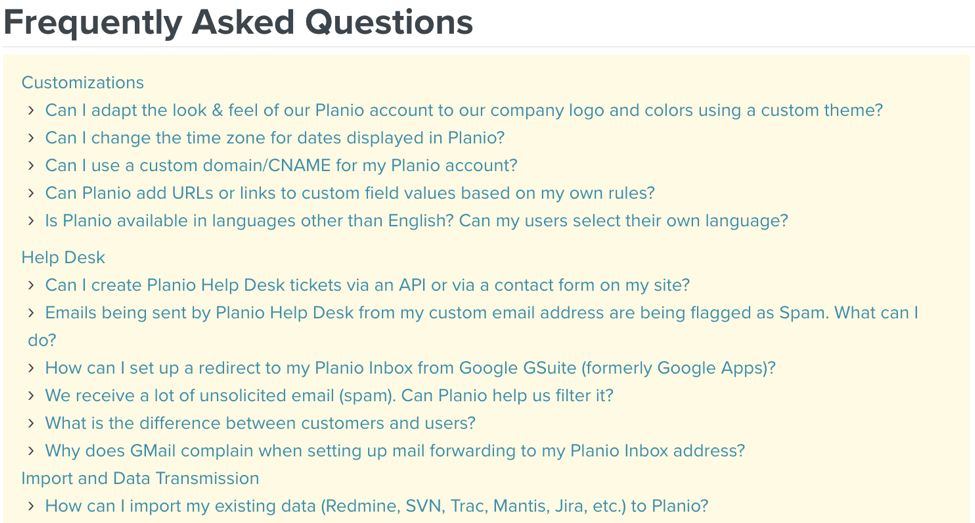 Of course, not every question should be in a FAQ. In some cases, you might have a common response you give to questions that you don't necessarily want public. In this situation, you can still be consistent and quick by using Planio's templated responses—these are saved answers or sections of emails that you can add with one click.
3. Make support everyone's responsibility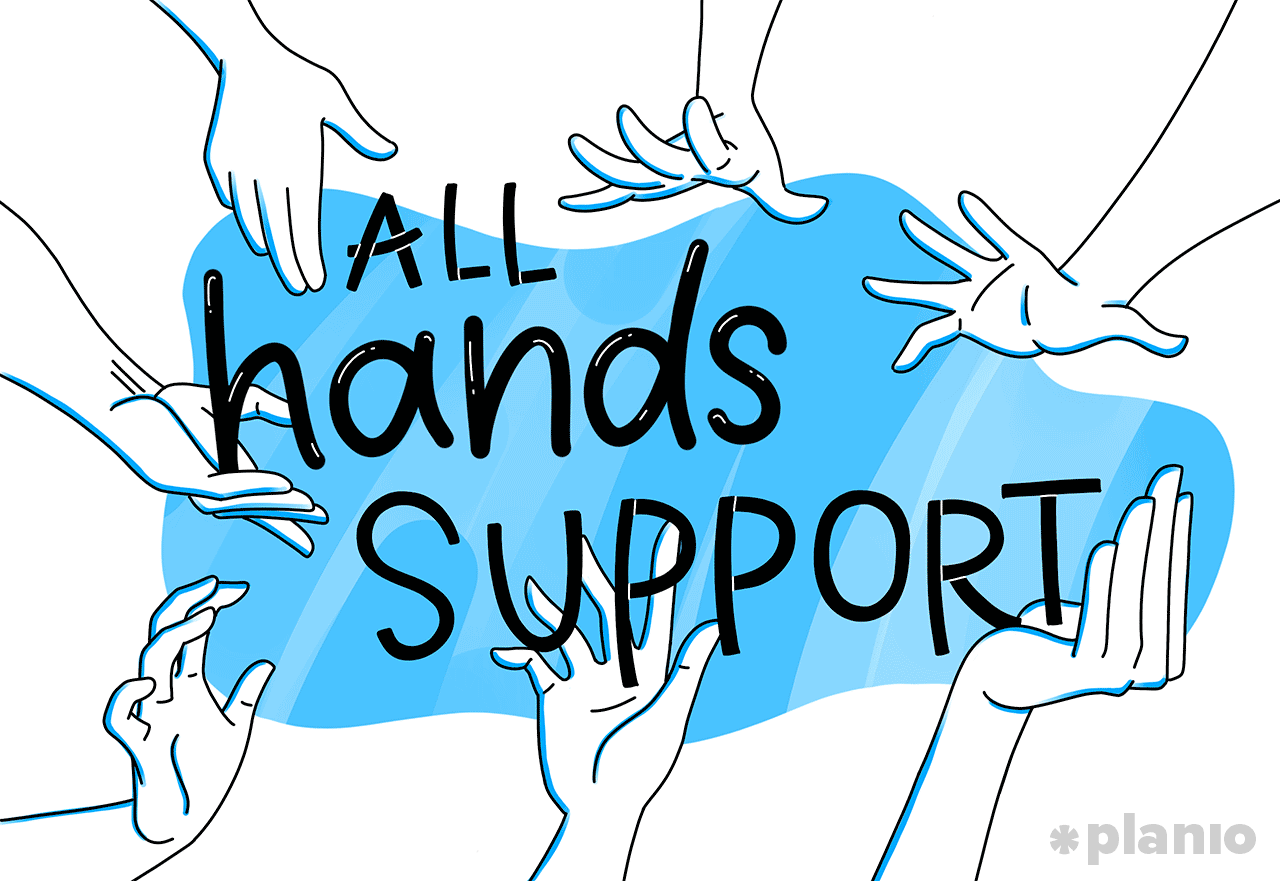 Support touches every part of your company. And so it's no surprise that many great companies embrace the idea of "all hands support" where every person on their team spends at least a bit of time each day, week, or month handling support requests.
Take Zapier—the web automation company. Even with over a million customers, Wade Foster, their CEO still takes time to answer support questions. According to him, there are some huge benefits to taking this approach:
Customers get better service as they get to talk to people who either built the product they're having issues with or have a deep understanding of the company.
Your team learns from customers about what's working, what they care about, and what they'd like to see being done differently.
Support becomes faster and less expensive as it's a part of everyone's day instead of just a single group of people.
Your team gets a better understanding of the product by answering questions about features or workflows they weren't familiar with before.
Of course, there are some downsides to this approach. Not everyone wants to work at a company where their job description includes taking on support requests (even if it's only an hour a month). Also, not everyone is suited to taking on support (not everyone's a "people person").
However, if you can make it work, the insights that come from directly talking to your customers are huge.
4. Understand the power of personalization
We've all had those terrible support experiences where we reached out hoping for a quick fix and instead got a dry, generic, robotic response. That's not good enough anymore.
Customers today expect a personal response. In fact, according to a recent McKinsey report:
Today's consumers do not buy just products or services — more and more, their purchase decisions revolve around buying into an idea and an experience.
Luckily, creating that personalized experience is easy in your help desk.
For example, Planio lets you create customized header, footer, and response templates in your response messages, meaning everyone gets a response tailored to them.
Here's what that looks like when creating a custom footer:
You can add all sorts of personal touches, from the person's first or last name to their issue subject, status, estimated time, a link to your FAQ (or a specific section), and so on. You can also do the same for your header, for automated replies, and for individual answer snippets.
Also, because the contact information for each person who reaches out to your support is saved in your help desk, you can always see their past questions—giving you the context you need to answer in a personal and respectful way.
5. Use tags and categories to dig into the data of where support requests come from
There are all sorts of data points you can pull from your support requests. And not just for helping your support team.
Support tickets can help you fix bugs, prioritize feature requests, understand your users' needs and translate them into marketing efforts, and help your product team become more efficient in giving your users what they want… But this only happens if you keep things organized and can actually find those insights.
Reporting on customer requests isn't always easy. You're not necessarily thinking about the long-term implications of helping someone get their account setup. But tagging relevant conversations and taking the time to go through them can uncover some gems.
In Planio, the easiest way to do this is by assigning a category to support requests. For example, you might use categories like:
Bugs - Thinks that need fixing.
Feature requests - Things that need making.
Churn responses - Things you did that customers didn't like.
Onboarding - Things that will help users get set up.
User education - Things that will help users get the most from your product.
Power users - Things your best users do (and you want others to do as well).
Not only will this help you identify trends in how your customers use your product, but you'll be able to see what real customers are saying about each of these issues.
6. Bring support and marketing together
Taking our last point a step further, a better connection between support and marketing is a powerful way to help with new user acquisition and retention.
The information you get from talking to customers is marketing gold, but not always obvious to see. Here are a few ways to bring these two teams together and get the most out of it:
Use customer conversations to help build marketing personas: The best marketing feels like it's talking to just one person. And to do that, many marketers create what are called personas—fictional customers who embody the common characteristics you want to appeal to. While marketing can take their best guess about who these people are, support can tell them for certain. Connecting support and marketing means you have more opportunities to define who your audience is and tailor your marketing to them.
Create new content from your most-read support docs or most-asked questions: If you're using SEO or inbound marketing as a growth strategy then you're always on the lookout for content you know will resonate with your audience. Support can tell you that. Look at your most commonly read docs. What topics do they cover? Can you address those in content? What about the questions people ask? How can you create content around them or rank for relevant keywords? This is a two-way street, as the content you create can then be used by support.
Get a heads up when new competition comes into your market: Support is usually the first to know when something changes in your industry. Either a new competitor pops up and customers start requesting features they have. Or you see an increase in people leaving you for someone else. Catching this early on helps your product team know what to focus on and helps marketing craft their message and approach to keep customers around and happy.
Pre-empt negative PR by communicating about issues and reaching out to individual customers: When things go wrong, you can't just issue a generic response and hope for the best. By working with marketing, support can craft their language and identify high-value or affected customers to engage with personally. This way, you're not just sending out a blanket email, but telling people directly that you care and are going to fix whatever happened.
7. Use reminders and feedback loops to keep customers happy
The worst thing you can do with your help desk and support team is to make promises you can't keep. When a request or issue comes in, you need to be able to respond quickly and update users regularly until it is dealt with.
With the Planio Help Desk, there are a few ways you can do this.
First, you can create a customized auto-responder to let users know you received their request and set expectations around the timeline and process.
This is your first touchpoint with potentially upset users and so it's especially important to think about the context and how you should respond (i.e. a customer whose service just stopped working probably doesn't want a "We're busy and will get back to you when we can!" response).
Next, you can set deadlines and reminders for following up with issues. Each ticket has a start and end date you can use to not just track deadlines but also see how long issues are taking to be solved.
Finally, the Planio Help Desk also gives customers a unique link to track their issue. In each email your users receive, they get a link to a one-page site that shows all the various updates to this issue, meaning that even if you don't have anything to share right away, they always know they can check in.
Support isn't simple. But with the right help desk, it doesn't have to be a headache.
A help desk is one of those tools that everyone needs but not too many people outside of support think about. But they're not just for answering basic questions or fielding feature requests. Your help desk is a great tool for user retention, research, and acquisition. It's a direct line to your customers and a fantastic opportunity for everyone in your company to learn from them.