10 ways to stay calm under pressure (at work and in life)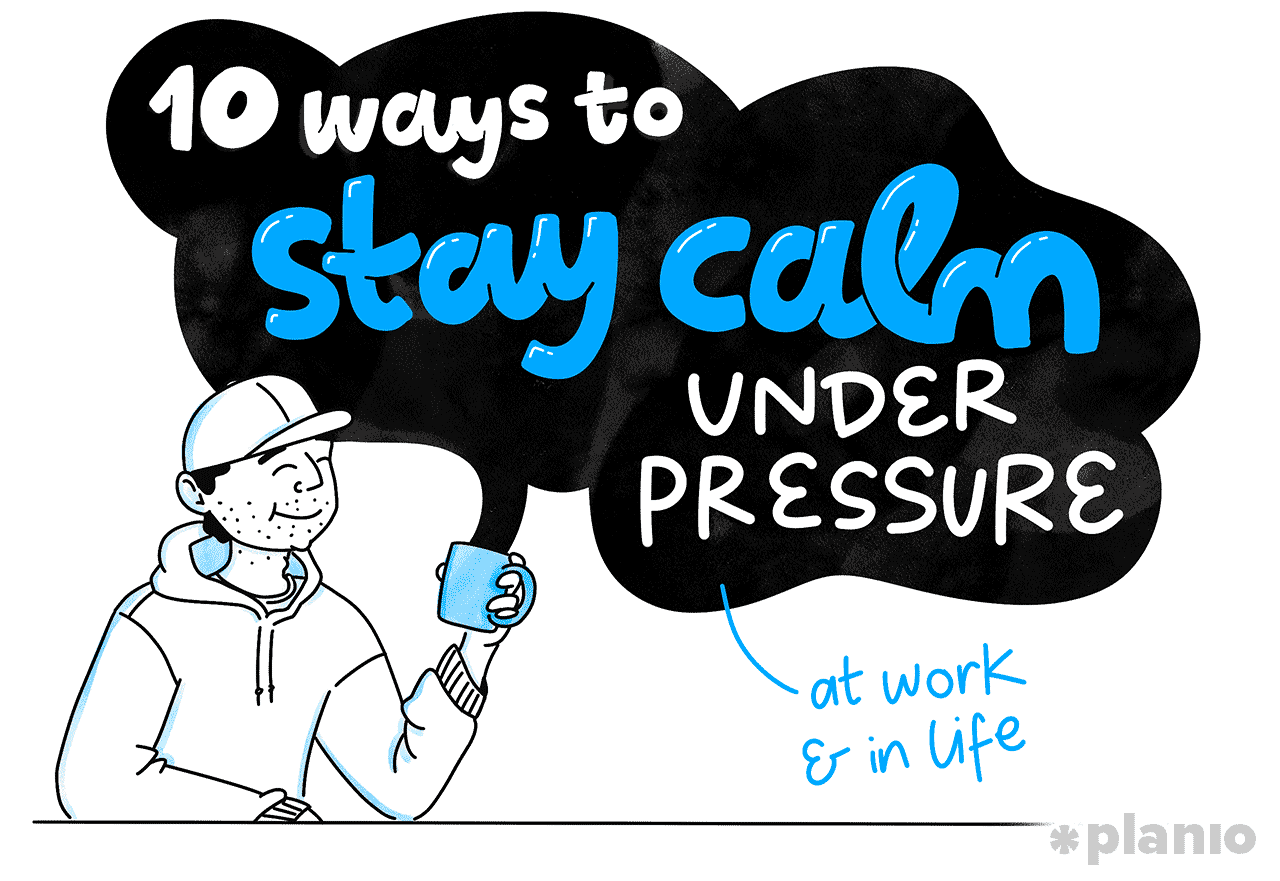 We live in a world of increasing pressure — to perform, to provide, and to be available. With remote working blurring the line between our work and personal lives, 26% of people say they expect to feel even more stressed in the future.
Of course, pressure and stress go hand-in-hand. Over time, if you can't find ways to relieve the pressure, your stress levels will become unmanageable, leading to psychological consequences such as burnout and panic attacks.
Jump to a section:
If you're a high performer looking to calm your racing mind, control your emotions, and stay calm under pressure, this guide is for you. After we've covered the causes of pressure and how it manifests into stress and anxiety, we'll walk through 10 tips to help you stay calm in your work and personal life.
Why do you feel anxious, stressed, and nervous when under pressure?
There's a difference between day-to-day pressure and the kind that brings on stress and anxiety.
A pending work deadline, a tricky meeting, or being stuck in traffic are daily run-of-the-mill pressures. Sure, they're inconvenient, but they come and go fairly quickly. And most of the time, we're well-equipped to deal with them.
But, if you're exposed to high-pressure situations all the time, that's when you're at risk of anxiety and stress.
Working in an under-resourced team, receiving little support from your manager, and caring for a sick relative are long-term pressures that can come with consequences.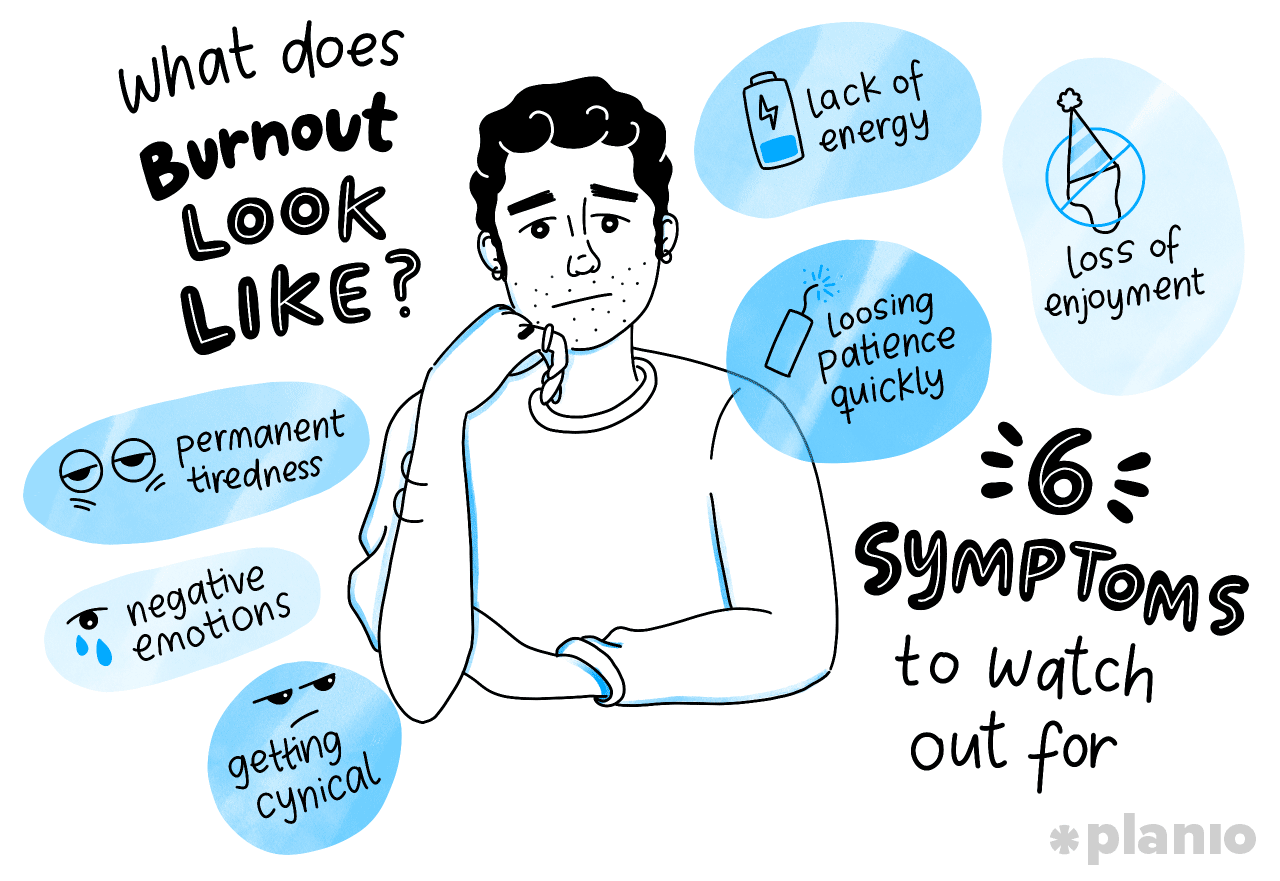 But why does this pressure lead to stress and anxiety? What's the science behind it?
The human body is a marvelous thing. When a dangerous situation pressures us, our body knows what to do and turns on its natural fight-or-flight reaction.
To do that, first, our bodies prepare us physically with sweaty palms, an increased heart rate, tense muscles, and clenched teeth. Then, the mental readiness kicks in with heightened reactions, sharper focus, and quick thinking.
This is a fantastic in-the-moment reaction — but it's precisely that, in the moment. Fight or flight reactions require a lot of energy and aren't sustainable over time.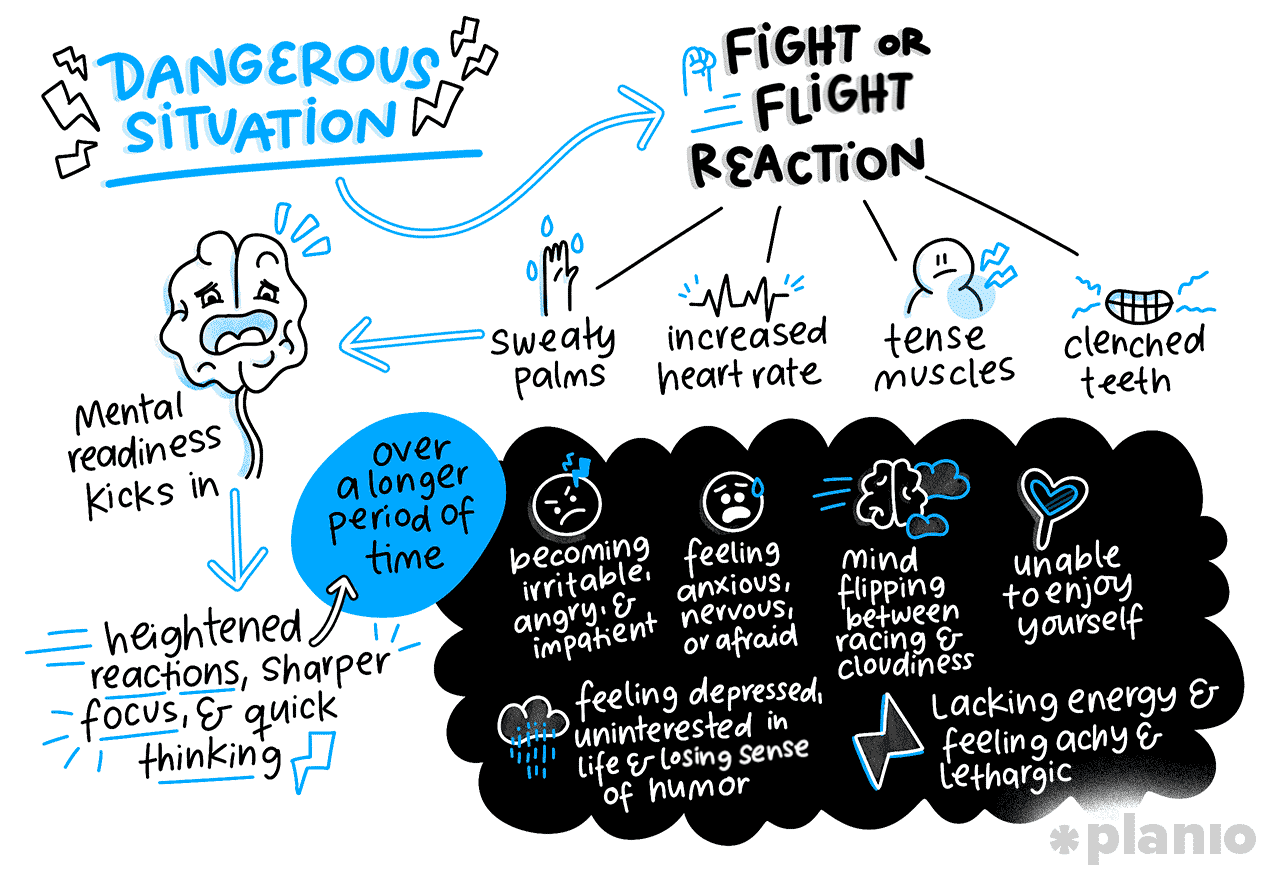 Over time, our bodies simply can't maintain that level of physical and mental readiness. Instead, they become tired and weak, and stress shows through symptoms such as:
Becoming irritable, angry, and impatient
Feeling anxious, nervous, or afraid
Your mind flipping between racing and cloudiness
Being unable to enjoy yourself
Feeling depressed, uninterested in life, and losing your sense of humor
Lacking energy and feeling achy and lethargic.
If you're experiencing any of these symptoms, there's a good chance the pressure in your life is too high, and you need to make a change to regain some balance!
The benefits of staying calm under pressure
Given the stresses of day-to-day life are unavoidable, the key to success is learning to reframe stress and anxiety and put measures in place to control yourself.
If you can regain that balance and remain calm under pressure, you can harness the following key benefits.
Greater focus at work. During the typical workday, there'll be periods where you need to focus on solving problems and challenges under tight time pressures. Staying calm will help you maximize your focus, helping you be more productive, creative, and efficient in your work.
Stronger interpersonal skills. Most of us are at our best socially when we're calm and relaxed. Staying calm powers up essential soft skills like active listening, communication, and empathy, helping you to build strong interpersonal relationships, manage your team, and lead by example.
Healthy optimism and enthusiasm. When pressure strikes, you're more likely to be optimistic, enthusiastic, and positive if you remain calm. A positive outlook will also increase your chances of success and inspire those around you.
Being more present with friends and family. The ability to remain calm allows your mind to focus on other, more important, things. This helps you be more present in any given moment, especially during quality time with friends and family outside of work.
More energy for hobbies. An ability to remain calm and fend off stress gives you more energy to do the things you enjoy. Whether it's sports, reading, or going to the cinema, it's essential to actively participate in activities during your downtime without the overwhelming stress and pressures of everyday life.
Better all-around health. Stress and anxiety have a knock-on effect on your mood, immune system, and cardiovascular health. Remaining calm in pressure situations helps reduce your risk of stress and burnout and, in turn, keeps the rest of your body in tip-top condition.
The best thing you can do to stay calm? Be prepared
Like many things in life (including project and product management), the best way to overcome pressure-filled situations is to be prepared.
In an article by Erik Barker, the Navy Explosive Ordnance Disposal (EOD) team leader shared his three secrets for staying calm under pressure:
Avoid "The Rabbit Hole". Ignore the "what if?" questions when pressure strikes, as they can take you down the wrong path. Instead, do a threat assessment of the challenges ahead by looking objectively at the problem and how to solve it.
Control what you can control. If you worry about everything that's going on around you, you'll soon become overwhelmed. The trick to staying calm is focusing on the things you can actually control and keeping a positive mindset.
Focus on the next step. You don't need to have all the answers right now. When pressure strikes, keep calm by breaking the problem down and focusing on the next step. When small steps add up, they make giant strides.
It's not just diffusing bombs where being prepared reaps rewards. In fact, tools like Planio are specifically designed to help project teams stay organized, continuously collaborate, and remain calm under pressure.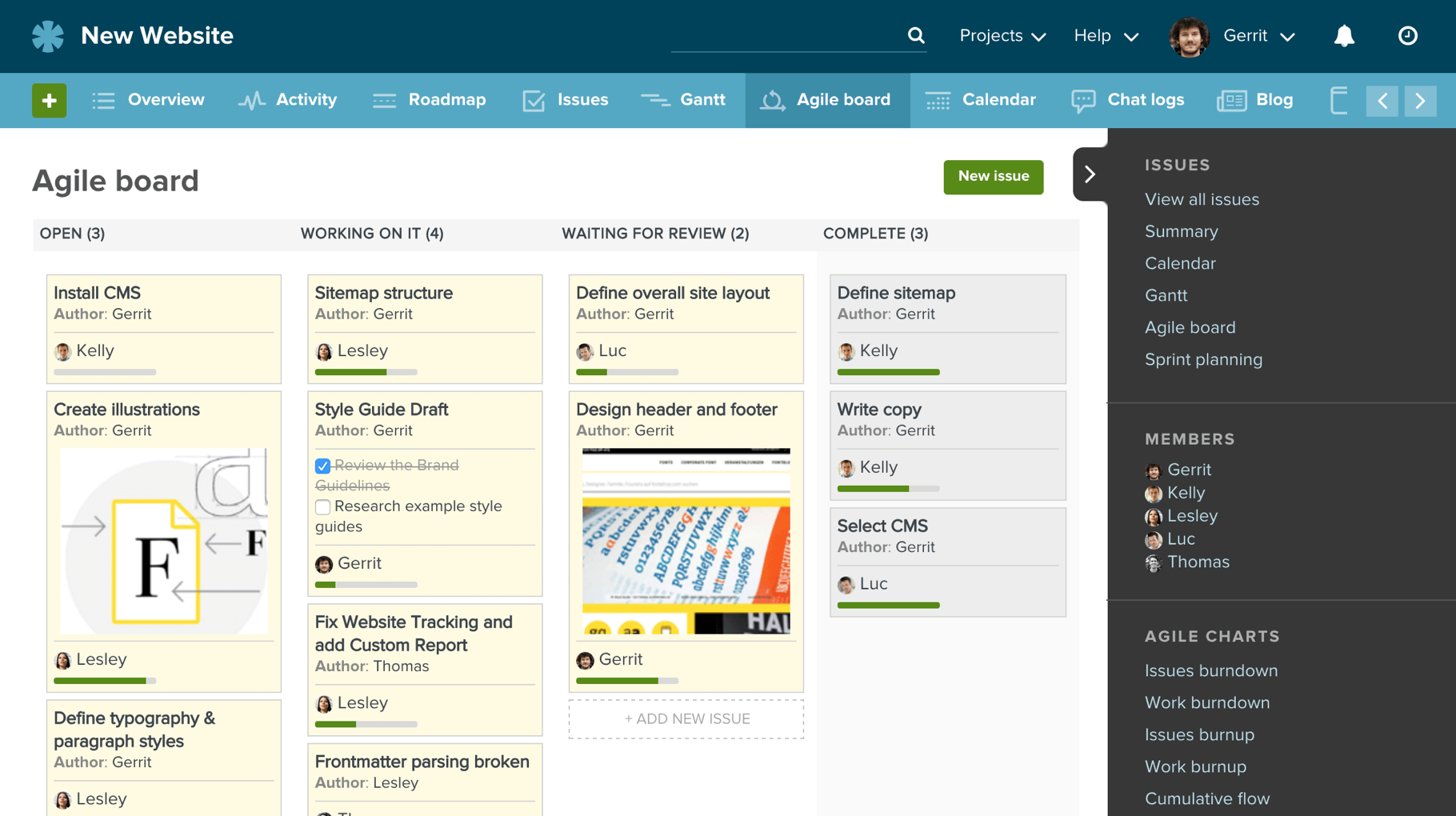 Planio combines all of your team's critical tools into one place, including everything from task management and agile planning to team chat and time tracking. By having all of that together in one place, Planio becomes the team leader of your project, helping you stay focused on the next steps while remaining in complete control.
How to stay calm under pressure: 10 powerful tips
There's more to staying calm than just being organized. To slow your racing heart, curb your anxiety, and reduce your stress, you need to arm yourself with pressure-busting techniques.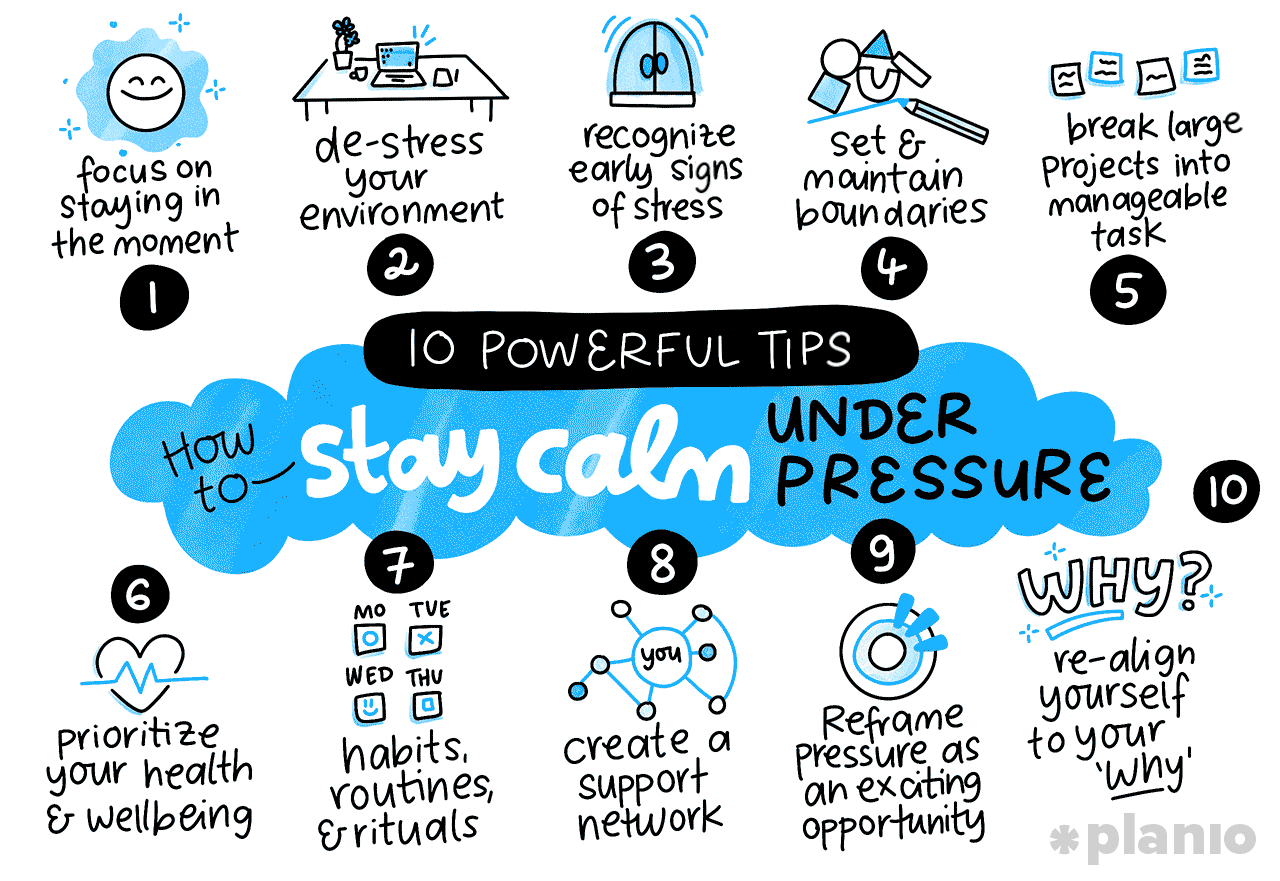 Let's look at 10 ways to help you stay calm under pressure, no matter the situation.
1. Focus on staying in the moment
While planning ahead and staying organized is important, if you spend too much time considering the pressure of the future, there's a good chance you'll overthink and create anxiety. Instead, focus on staying in the moment and using your energy on what's in front of you.
You can do this by:
Removing distractions such as phones, computers, and emails that might tempt you to think about things that simply aren't important.
When you feel your mind wander onto future topics, take a moment to breathe, reset, and refocus your thoughts and energies on the task or activity at hand.
2. De-stress your environment
Few people realize just how much their external environment greatly impacts stress levels. A controlled and ordered environment will go a long way to help you stay calm, both at work and at home.
To help, take some time to get your environment into shape.
When you're at work, keep your work environment clean and organized with a clear desk and minimal accessories such as stationery and electronics.
If you're working from home, try to create a dedicated working area rather than working from your lounge, dining room, or bedroom.
3. Learn to recognize the early signs of stress and pressure
With your mindset and environment in shape, it's now on you to keep a lookout for signs of stress and overload. If you know your own stress signals, you'll catch when things are becoming too much and when it's time to take action.

Pressure and stress go hand-in-hand. Over time, if you can't find ways to relieve the pressure, your stress will become unmanageable, leading to burnout and panic attacks.
Get to know your stress signals by:

Speaking to those around you to get feedback on how your behavior changes when you're stressed. This could be changes in your mood, different eating patterns, or trouble sleeping.
Especially in a work environment, don't be scared to share your stress signals with those around you. If a close colleague or manager is aware, they can politely point out when they see behavior indicating it's time for a break.
4. Set and maintain boundaries
Since the pandemic, setting clear boundaries between work and personal life has never been more important. When you're working from home, this can be even harder, but having clear boundaries on your time helps ensure you have time to depressurize and relax.
To set effective boundaries, try:
Implementing a consistent routine that clearly defines when work ends, and your personal life starts. As part of this routine, prioritize regular breaks, exercise, and daily finish times.
To stop work from eating into your personal life, ensure you don't install email or instant messaging applications on your phone. If that's not an option, turn notifications off to ensure you only interact with that world when you actively choose to.
5. Break large goals or projects down into manageable tasks
When things feel impossible, that's when pressure builds, and stress develops. Whether it's a big project to deliver at work or a long-term fitness goal at home, a great way to manage pressure is by breaking daunting objectives down into small tasks.
This helps you stay organized, remain present in each moment, and provides regular milestones to celebrate success. You can break big objectives down by:
Using techniques such as Work Breakdown Structure, the Critical Path Method, and general task management to give large deliveries some order and structure.
Using project management tools, such as Planio, map out key milestones and roadmaps and prioritize tasks that need to be done now, can be done by others, or can wait for a rainy day.
6. Prioritize your health & wellbeing
If your body is healthy, well-rested, and adequately fueled, you will be match-ready to deal with whatever life throws at you. This also helps you execute that fight or flight response, allowing you to stay focused and fight off stress.
Health and wellbeing has many aspects, so focus on the following to stay in shape.
Regular exercise and a good diet help balance the body, mind, and soul. But, they are among the first things to fall by the wayside when things get stressful, so make sure to stay disciplined.
Meditation and mindfulness are great techniques to practice when you're beginning to feel the pressure, helping you keep pressure and anxiety at bay.
7. Habits, routines, and rituals
Humans are creatures of habit, so finding ways to keep structure and order will help you cope when pressure peaks. Habits and routines help us stay prepared, while rituals help provide confidence and perspective when things get tough.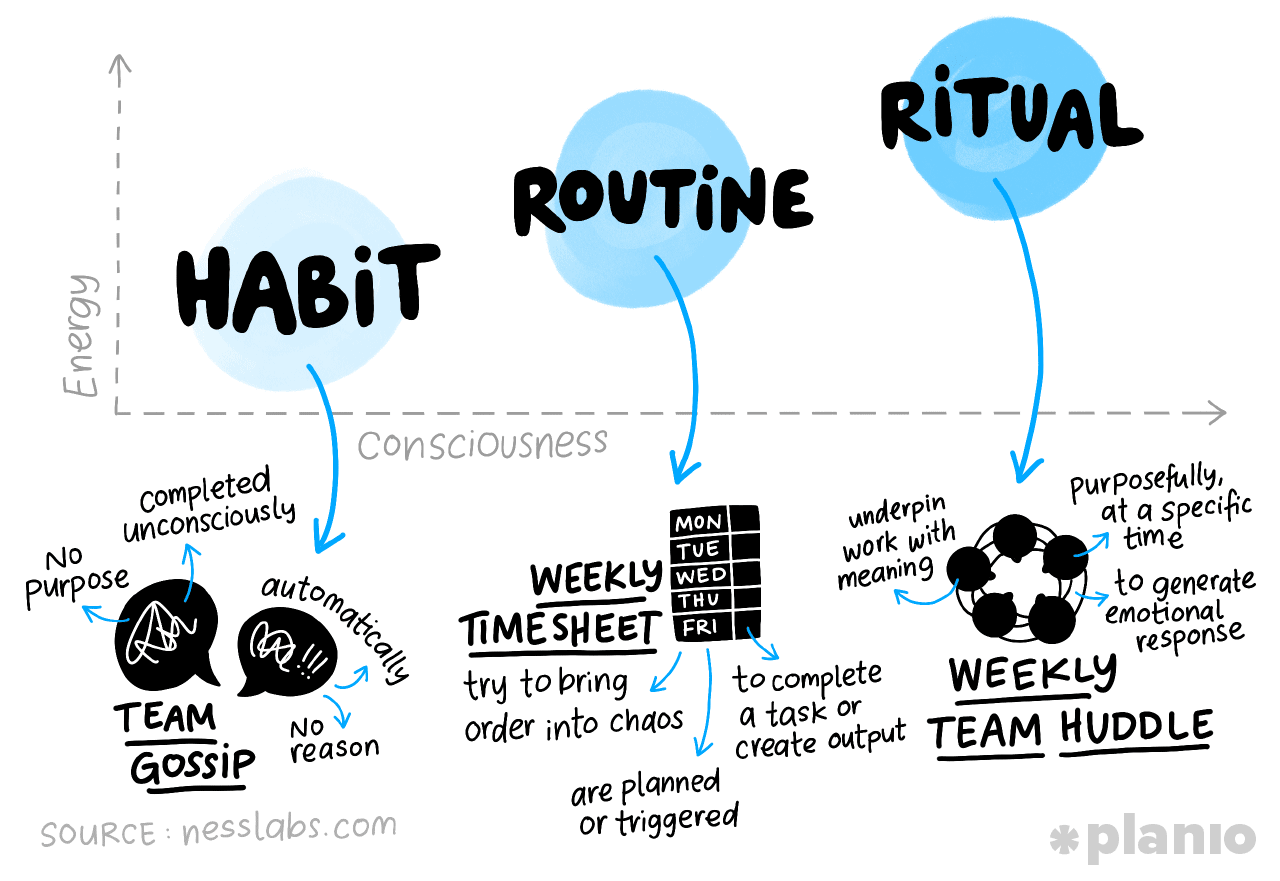 If you're new to habits, routines, and rituals, try the following:
While habits are often unconscious, if you take time to reflect, you'll notice both good and bad ones in your life. Try to reduce bad habits, such as gossiping and binge eating, and replace them with positive ones, such as drinking water and practicing gratitude.
Especially in a work environment, managing pressures and stress is a team game, so try putting into place team rituals to keep everyone aligned and focused as a unit.
8. Create a support network
No one can take on life alone. When times get tough, pressure builds, and stress begins to take over, the people around us provide the support and guidance to get through it. That's why building a support network is so important, to ensure you have people to lean on when you need it most.
Support networks run through our professional and personal lives, try these tips to build out yours:
At work, a mentor provides support, guidance, and advice, often from a position of greater experience. If you don't already, we'd recommend seeking a mentor to help you solve complex problems.
In your personal life, support networks come in all shapes and sizes, from family and friends to dedicated support groups. We'd recommend building a varied personal network to offer support in any situation.
Stress and pressure are on the rise in modern life, so to stay ahead of your game, you need to channel your inner bomb diffuser by staying calm and composed.
9. Reframe pressure as an exciting opportunity
Don't take away from this article that pressure can only be bad. In many instances, we need some pressure to help us focus, up our game, and stretch our boundaries.
To help you make the most of pressure situations, think about these two things:
Re-frame pressure situations as positives, whether that's opportunities to take on new challenges, experience new things, or just a chance to foster a growth mindset.
Understand the level of pressure you need to move from your comfort zone to your stretch zone; you'll do most of your learning and growth in this stretch zone. But be careful, too much pressure will move you into the stress zone, riddled with dangerous consequences.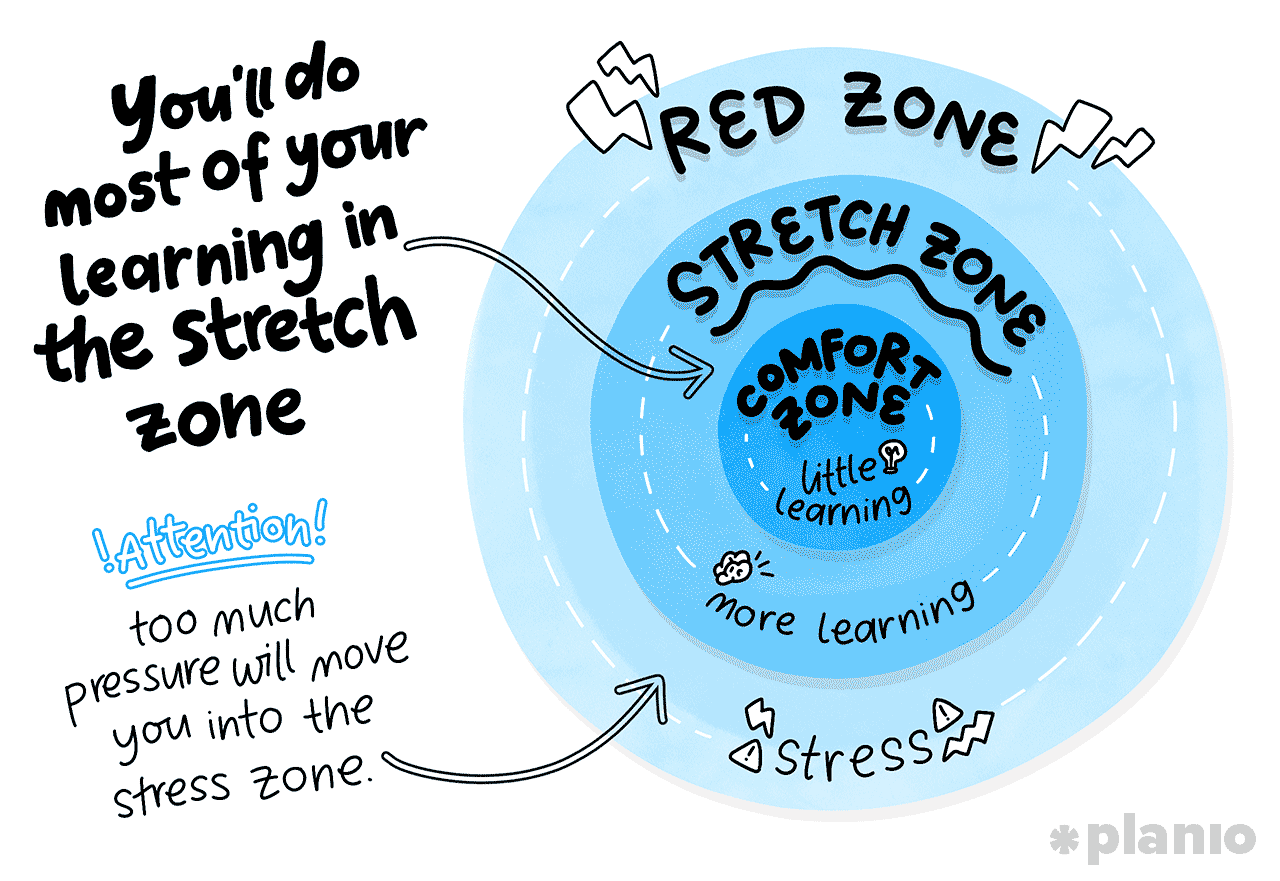 10. Continually re-align yourself to your 'why'
In all walks of life, we have to remember that pressure is inevitable. Whether it's hard deadlines at work or personal conflicts, we will constantly be tested. But staying calm is much easier when we step back, get perspective, and re-align to our 'why'.
To stay grounded, try aligning yourself with these tips:
In business, north star metrics and mission statements help teams and employees remember what they're working toward when times get tough.
We put ourselves into difficult work and life situations because there's something rewarding at the end of it. Reminding yourself of this regularly will help breed extra resilience and motivation and increase your satisfaction once your goals are achieved.
Stay calm to beat stress and achieve your goals
Stress and pressure are on the rise in modern life, so to stay ahead of your game, you need to channel your inner bomb diffuser by staying calm and composed. If you do, there are benefits to be had in both your work and personal life, from greater focus and happiness to all-around health.
Luckily, there are many techniques, coping strategies, and rituals you can put in place to help you keep calm, organized, and in control. But in project management, tools such as Planio are your best bet thanks to handy features for task management, agile planning, team chat, and time tracking.
Check out the Planio website to learn how we can help you stay cool as a cucumber no matter what your project throws at you!