Integrate Planio with Slack, HipChat and more using Sameroom.io
Have you ever struggled with team members updating you on a project on Slack, while others are using Planio Team Chat, and yet another team member is using HipChat?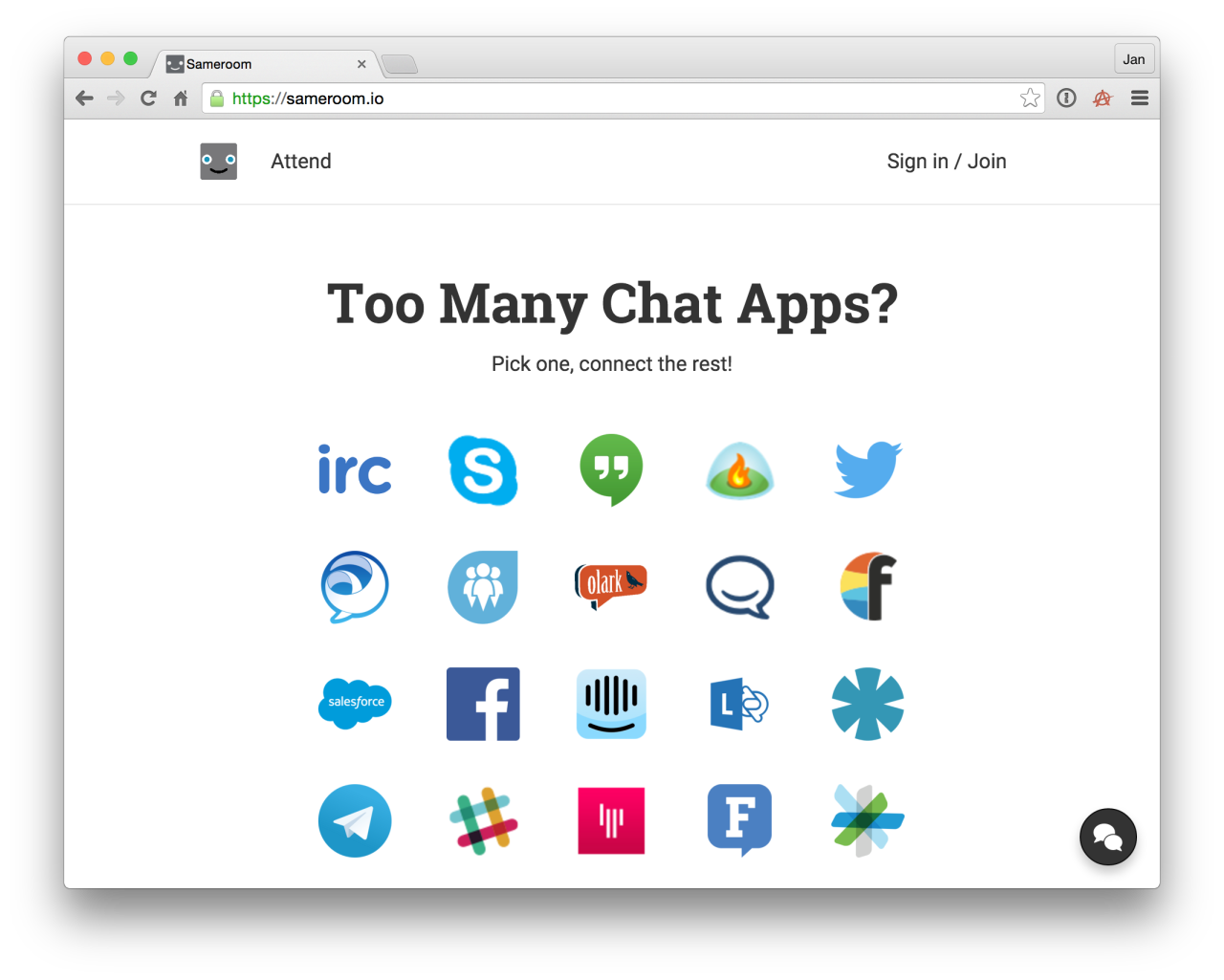 You end up with project information spread out in different chat apps. You can't pull together the information when you need it.
When you use Planio Team Chat, you don't have this problem, because Planio keeps a searchable chat log of all chat messages for you. If you mention an issue number in Planio Team Chat, your message is automatically associated with that issue.
But, if your team uses different chat apps, you won't get the benefit of keeping information in one place.
We recently included Team Chat as well as CRM & Helpdesk in all new Planio plans, because we felt that they significantly improve your Planio experience.
Now, you'll have another option for keeping Planio and your team chat together in one place:

Enter Sameroom
Sameroom.io solves the problem of teams using more than one chat app. You can link rooms in one chat service with a room in another service using Sameroom's tubes.  When you type something into Planio Team Chat, it will show up in Slack, HipChat or Skype. And messages from your teammates in those services will show up in Planio team chat.
Everyone can continue using the service they prefer using, and you're still able to get work done together.
The great news is that it's now even easier for Planio users to start using Sameroom.
Here's how to set up Planio with any of the 18 different services supported via Sameroom:
1. Set up team chat in your Planio project
Go to the Apps tab in your favorite Planio project and make sure Team Chat is activated. Then, go to the Chat logs section, and make note of your chat credentials in the sidebar on the right side.
2. Connect The Chat Services via Sameroom
Sign in on Sameroom.io. For Side A, select Planio. For Side B, select whatever chat service you want to use.
You're done! You should now see updates in both chat services.

Sameroom Portals
Secondly, if your team is using Planio chat, but they need to bridge with someone at another company who doesn't have a chat account, you can create a portal via Sameroom, which is just a URL, and send it to the other company. The URL can be used to create a tube and connect.
And there's more! Roomcoin for Planio Accounts
All paying Planio accounts get one free Roomcoin, which gives you one unlimited Tube between Planio team chat and any other service you use.
You'll find your unique Roomcoin code via this link or by logging into your Planio account, clicking your name in the top right-hand corner and then click Customer Account and then Special Offers. 
Let us know what you think!