The Mission Critical View
The Planio issue screen is like a superhero — it can perform amazing technical feats that will astound your friends and evoke fear & trepidation in your foes! It's also really good at filtering, customizing and grouping. We touched on this briefly in the Trackers: Viewing and Grouping post when we created a group by tracker custom query.
Our goal today is to create a Mission Critical Issue View that displays core information as it relates to audience (i.e., based on configurable roles), time sentivity (i.e., due date filter), and content characterization (i.e., grouping and column customization).
The end result is an issue list customization with the following features:
Shows an assignee with a specific role (in the example below, we're filtering by a role with Manager-level permissions).
Shows all issues due within the next week (7 days).
Groups all results by priority.
Has columns configured to convey critical issue data: tracker, status, subject, due date, % done, assignee, updated and estimated time.
Here's what it looks like...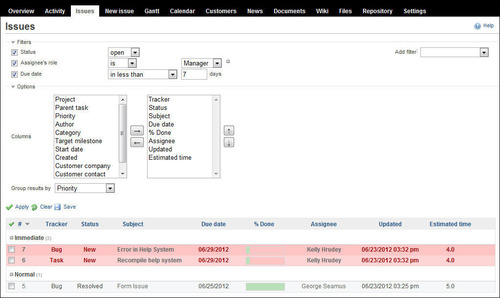 A closer look...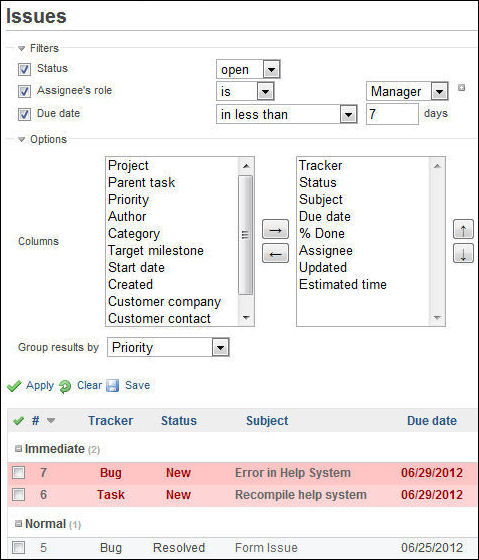 As you can see, from this viewpoint, we have all critical issue data for the next week at our fingertips. Although this example is designed from a Sr. Management perspective (viewing Manager-level users), the Assignee filter could be adjusted accordingly to view any desired role.
Time-sensitive items (e.g., higher-level priorities, such as High, Urgent and Immediate) are at the top of the list and are highlighted/bolded in varying degrees of red to signify their criticality. Likewise, the columns have been modified so that the most important parameters appear from left-to-right; the adjacent Due date and % Done column headers, in particular, convey a snapshot of employee progress given time remaining.
If this layout floats your boat, be sure to save your configuration using the custom query functionality (check out the Trackers: Viewing and Grouping post for instructions).
Is your issue list a superhero? Tell us about your unique configuration via a Comment!
Your dedicated Planio blogger, Brian, is currently studying German, reading "Benjamin Franklin" (by Walter Isaacson), and drinking a piña colada.