Trackers: Viewing and Grouping
Now that you've mastered selecting and editing trackers, let's check out how to view trackers and group by tracker.
Viewing and Grouping
Since every issue is married to a tracker, you can view tracker information by simply clicking Issues in the Top Menu Toolbar — by default, the issue list includes a "Tracker" column header (Hint: Did you know that the column headers are 100% configurable? Click Options and play around with the Columns function!).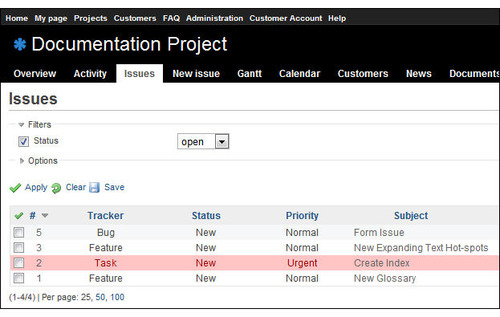 As many Project Managers can attest, once organization and planning is out of the way, most of your energy will be devoted to issue tracking and risk management. Given this, you may find it easier to manage issues by using Planio's "Group by tracker" function:
From the Issues screen, click Options.
In the Group results by field, select Tracker.
Click Apply.
All trackers will be grouped together within the issue list.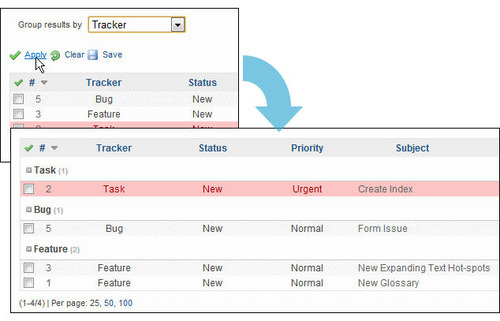 You may notice that when you log off and re-log back on, your issue list settings will return to the default view. You can address this by creating a custom query that enables you to apply all of your own settings with a single-click. Let's set up a custom query for grouping by tracker:
After you apply the grouping method above, click Save.
The New Query interface appears.
In the Name field, enter a meaningful name — in the example graphic below, we're using "Group by Tracker."
In the Group results by field, ensure that Tracker is selected; because you went to this screen after applying your grouping by tracker, it will be automatically selected.
Feel free to play around with the other settings to create your own unique view of the issues list (remembering to modify the Name field to reflect your customization).
Click Save.
Your custom query is now ready for use. If you log off and log back on in the future, just click your query name under the My custom queries header on the right of the Issues screen — your personalized view will appear!
Do you use custom queries to personalize your issues list? Share your hints and tips with us via a Comment!
When not grouping issues and writing User Manuals, Brian likes to fish, read fantasy novels, and eat cheeseburgers.