Life After Email and Excel for Project Management: A Step-by-Step Guide to Replace Your Inbox and Spreadsheets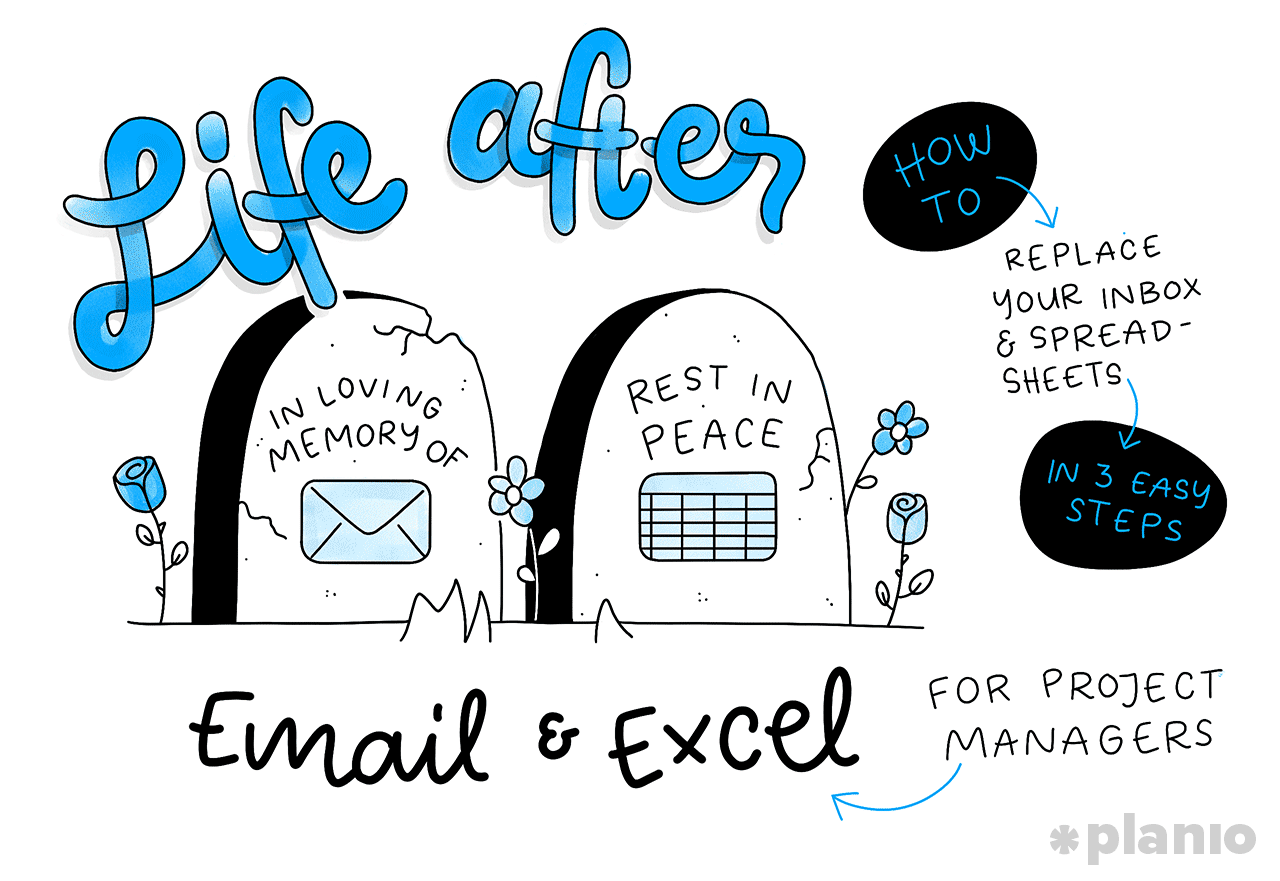 There's no denying that you can run a project using your inbox for communication and Excel for planning, organizing, and tracking progress. However, if you're reading this, you've more-than-likely hit a wall using email and excel for managing projects.
Let's see if any of these sound familiar:
Excel worked when you had a few issues but is a mess when handling more complex projects.
It's impossible to get quick progress updates when you have to comb through email chains and unorganized spreadsheets.
No one keeps your project spreadsheets consistently updated and you're never sure if you're ahead, behind, or (somehow) right on track.
Email chains crowd your inbox, confuse tasks with other communication, and take up too much time and mental energy.
You're sick and tired of spending half your week creating reports from unintuitive spreadsheets and email chains.
A dedicated project management tool solves all these problems and more.
Jump to a section:
Despite this, it's way too common for teams and companies of all sizes to use email and Excel to run projects. Today, we're going to show you why it's time to make the switch and how you can do it without much pain, cost, or downtime.
This guide is for you if:
Want to skip the article and dive right into one of the best Excel and email alternatives out there? We think you'll love Planio. Start your 30-day free trial today (no credit card required!)
How you got here: Why your team is still using Excel (and email) for project management
Excel is a Swiss Army knife that can be used for everything from a makeshift CRM for sales teams to invoicing and billing for accounting to tracking project issues, tasks, and bugs.
And while billions of dollars have been pumped into companies trying to unseat Excel, it's still the de facto choice for thousands of teams. (The exact same can be said about email!)
The EE stack (email and Excel) is the most commonly used set of tools across startups, agencies, and enterprises. Everyone knows how to use them. They're free or relatively cheap. And they're flexible enough to meet your needs.
When you first start building products, it's easy to make a simple project tracking spreadsheet, collect user data or even create Gantt Charts in Excel. But that simplicity doesn't scale with your projects and product.
It's easy to make a simple project tracking spreadsheet but that simplicity doesn't scale with your projects and product.
So why are significant companies still tracking projects in Excel and email?
There are three main reasons:
Change is hard for any team. Don't discount the power of people wanting to 'stick with business as usual'. Even if that means using inefficient tools and processes.
The cost of switching is too much. There's both the monetary cost of adding a new tool as well as the time it takes to research, test, implement, and learn it.
The people paying for your tools aren't always the ones using them. Stakeholders and IT departments who control what tools get used don't know the pain you deal with shoehorning projects into Excel.
Those three reasons are enough to keep email and Excel around like a rare family artifact no one has the heart to throw out. However, the initial discomfort of switching to a proper project management tool will pay off in spades. You just need to know how to pitch it to the people in charge.
The challenge: 7 reasons why email and Excel don't work for project management in 2021 (and beyond)
You need a compelling argument to get most executives to look beyond budget constraints, lack of empathy for project teams, and sticking with 'business as usual' when it comes to paying for new tools.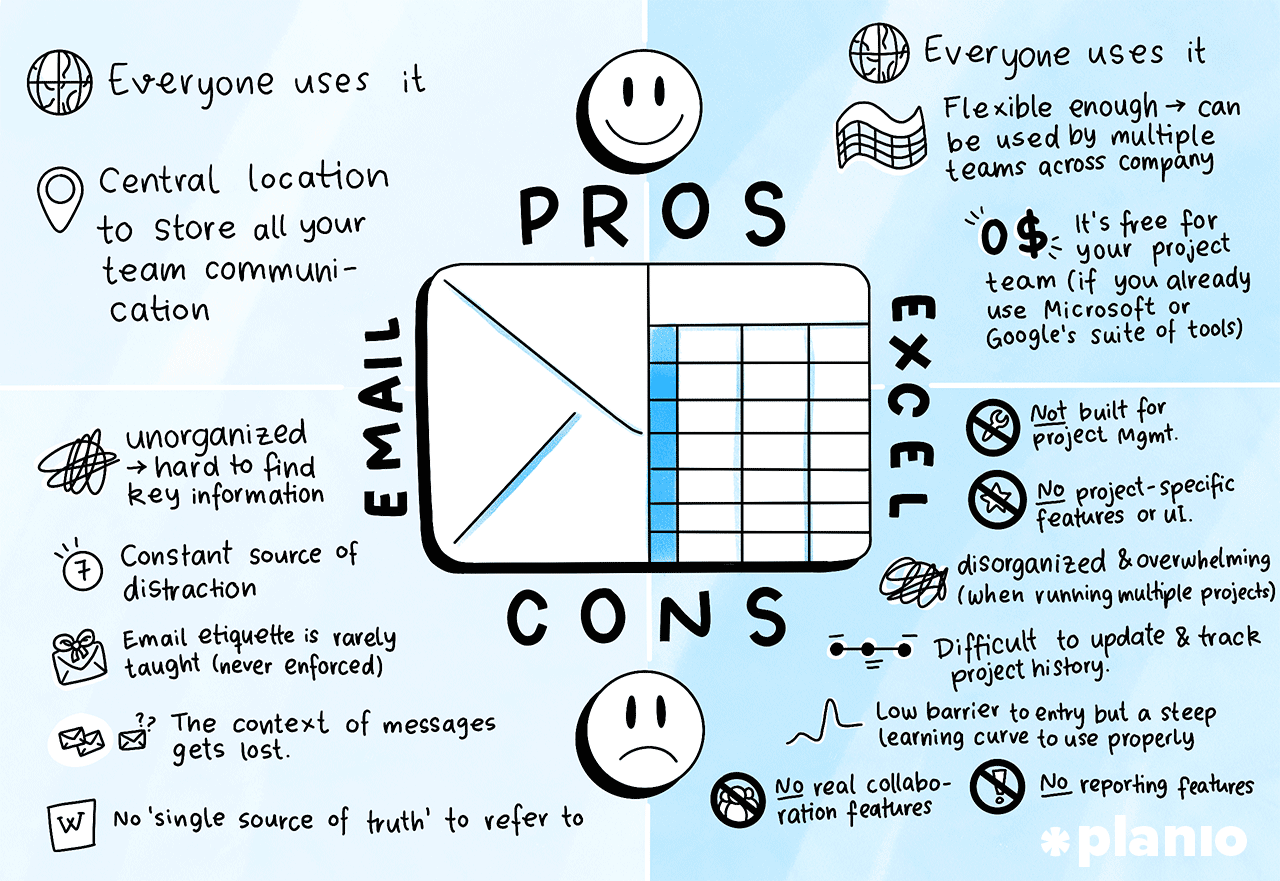 So let's start with the most significant factor: Cost.
Every new tool adds additional monthly costs to your team. However, what costs you save by not using a dedicated project management tool are lost (and then some) in a lack of productivity and efficiency.
According to one team's experiences, just switching from Excel to a dedicated project management tool increased their productivity and billable hours by 30%!
It's hard to justify saving a few hundred dollars a month if it means your team is working at ⅔ their capacity.
Yet beyond the real gains in productivity you get from using project management software, there are several reasons why email and excel are holding you back:
Excel and email offer limited insights and details. Without the details found in task management software, it's easier to get confused about priorities, miss tasks or comments, or accidentally double-up on issues.
There's no 'single source of truth' for all project files, notes, comments, and code. Excel and email offer no easy way to share files, comments, or code, which means your team could end up working on wrong versions or adding more confusion to the project.
No high-level summaries (for stakeholders and team leads). PM tools like Planio offer multiple views for projects, from calendars for deadlines to Agile boards for progress. Specific views make it quick and easy for stakeholders to get the information they need instead of scanning a mess of columns and rows or tracking down info in emails.
Reporting is manual. Again, information isn't easily accessible or easily filtered in Excel or email, so you need to make any and all reports from scratch.
Email sucks for keeping context, being easily searchable, and reaching the right people. Email is great for some communication, but it doesn't connect comments to specific tasks, which means context gets lost. Plus, there's nothing worse than searching for an important email you tucked away 'somewhere'.
There's a steep learning curve. Unless you're already an Excel wizard, managing projects in a spreadsheet takes years of experience. Excel is a relative dinosaur for project management compared to a dedicated tool with project-specific UI and features.
Not flexible enough to deal with modern project management. There's no easy way to update issues or tasks in Excel. In contrast, a tool like Planio lets you one-click create new issues and drag-and-drop them on an Agile board.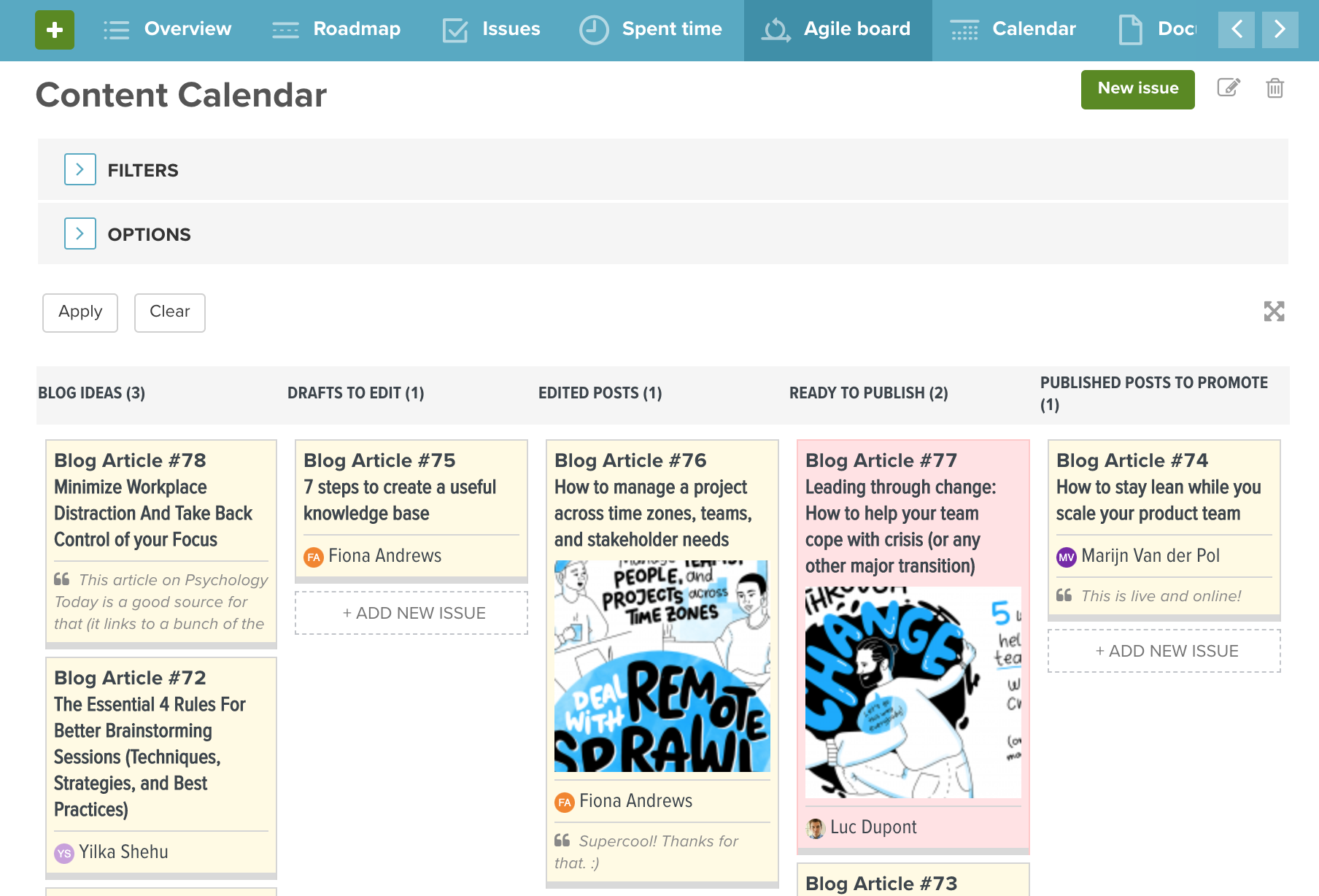 When you step back and look at the big picture of using Excel for project management, you start to understand why it's such a bad option.
The solution: A step-by-step guide to transferring your projects from email and Excel to a dedicated tool
Unfortunately, despite a clear argument against Excel and email, most teams won't see a way forward. Switching all your tasks and projects to a new tool feels like it will take too much time away from development and shipping.
However, moving your project management from email and Excel (or Google Sheets) to a dedicated tool doesn't take that much effort. Many of the features or workflows you're used to in Excel map directly to tools like Planio.
While switching from email to task comments, wikis, and knowledge base articles ensures you have proper collaboration, and the information you share helps everyone on your team.
All this means the resulting setup will grow and scale with your company rather than holding you back.
You deserve better than wading through overwhelming spreadsheets and incoherent email threads for managing your projects.
How to move projects, tasks, and issues from Excel to a dedicated project management tool like Planio
Let's start with the basics of moving your current projects over to a dedicated tool like Planio without losing information or progress.
1. Set up your projects
In Planio, setting up a new project takes seconds.
Head to Projects → New Project and you'll be able to quickly add details like the project name, description, and identifier (a standardized version of your name to help quickly find your project when you have multiple ones).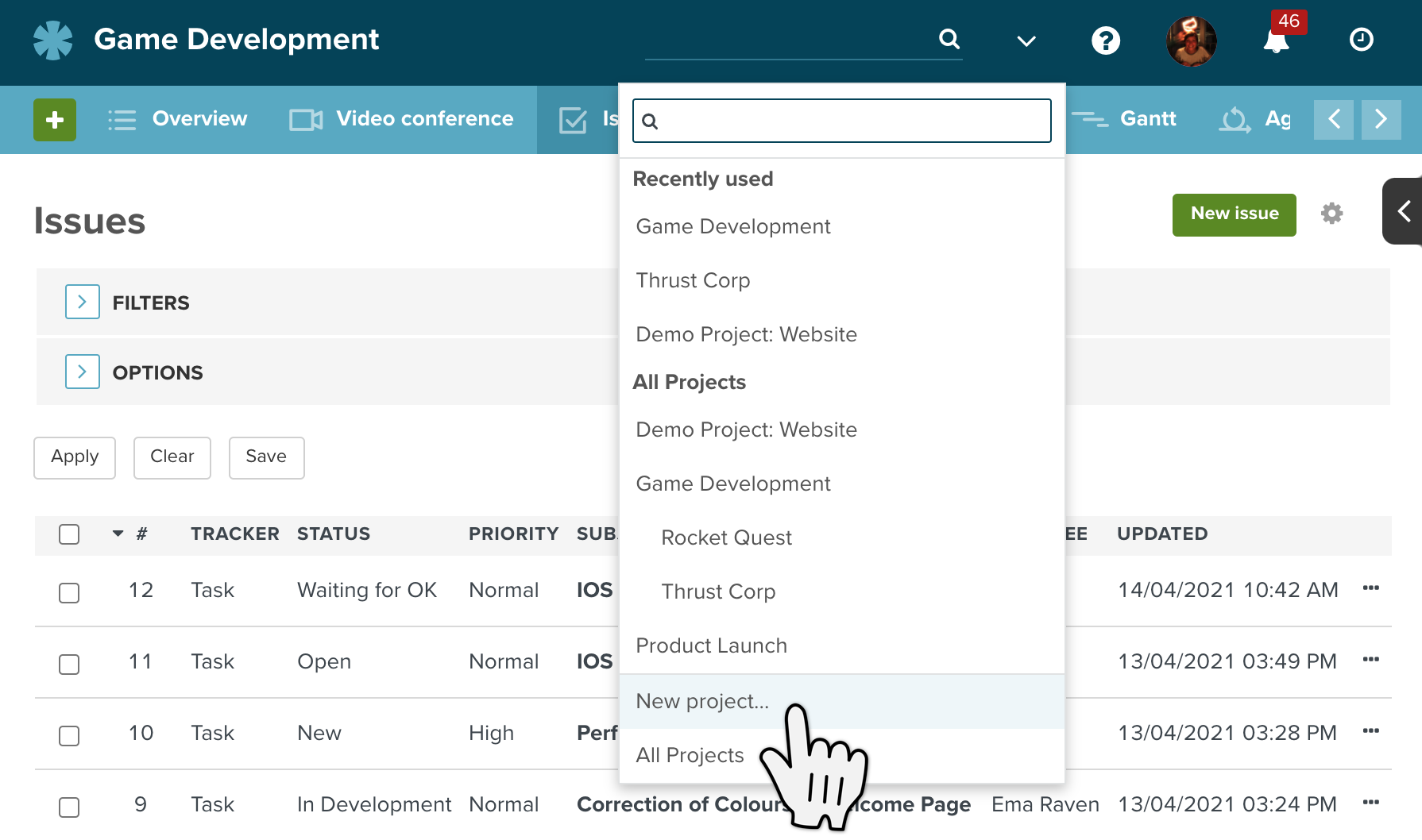 You can then choose what project management-specific apps your project will include, like time tracking, calendar, Gantt charts, cloud storage, wikis, code repositories, and more.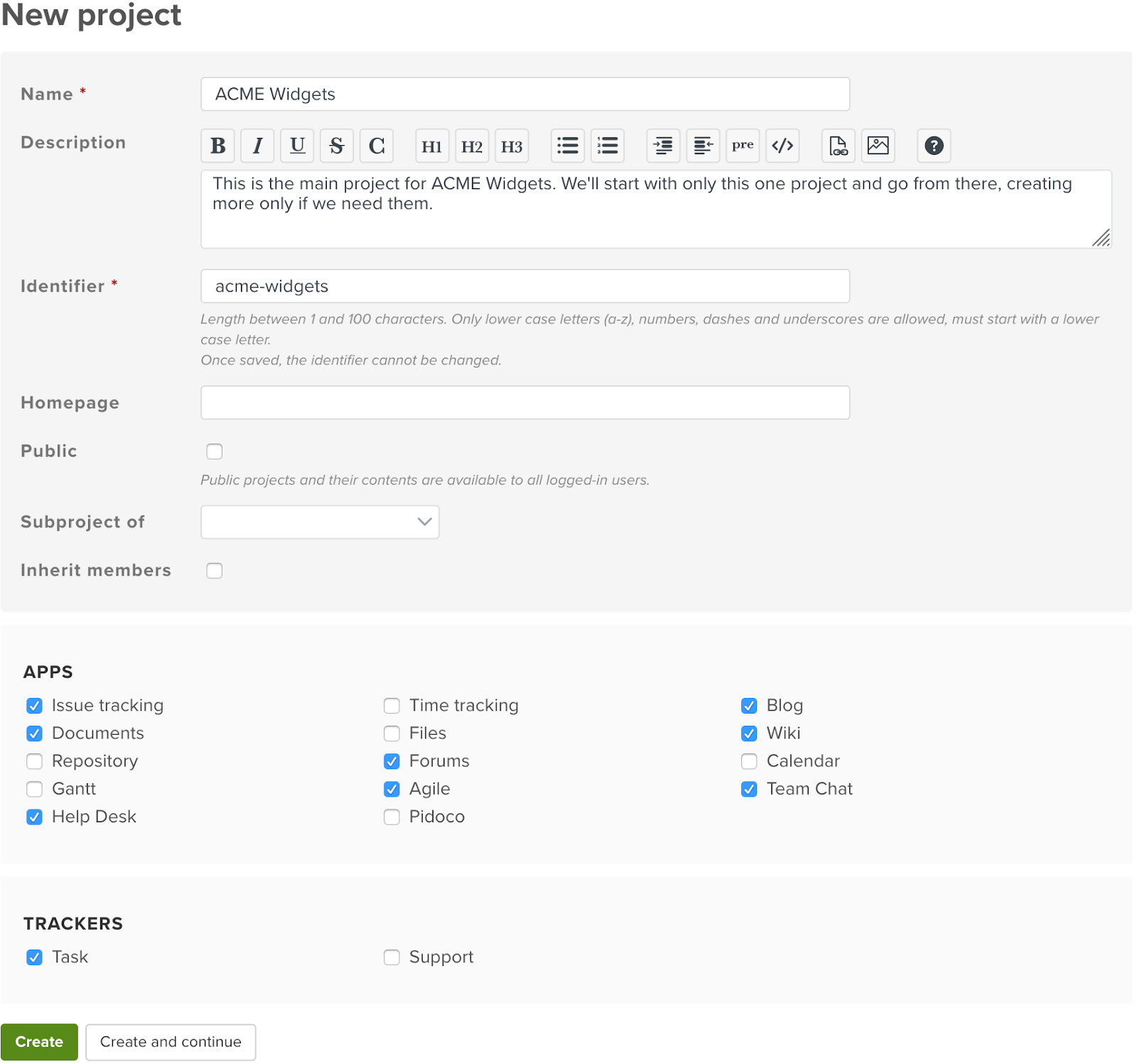 You can create more projects later but to mirror the experience of using Excel for project management, it's a good idea to start with just one.
2. Automatically move tasks, issues, tickets, and stories over with our import function
Now, what about all the rows and rows of data you have already in Excel to track your project?
Planio offers a simple way to easily import your Excel project tasks and transfer them to your new project. Here's how it works:
Step 1. Prepare a CSV file using specific column headers
To export your issues, tasks, stories, or tickets from Excel, go to File → Save as… and then select CSV as your file format.
However, before you do that, you need to make sure your document is set up properly for Planio to 'read' it. This means adding headers for each column that will match the data fields in Planio.
Your CSV table should look a lot like this:
| Subject: | Status | Priority | Assignee | Start Date |
| --- | --- | --- | --- | --- |
| Update Customer Logos | Open | Normal | Luc Dupont | 15.5.2021 |
To make it even easier, we've put together a sample CSV you can use here, which you can just edit with your own data.
Step 2. Import the file into Planio and auto-populate your project
Next, all you have to do is open Planio and go to Issues → Import.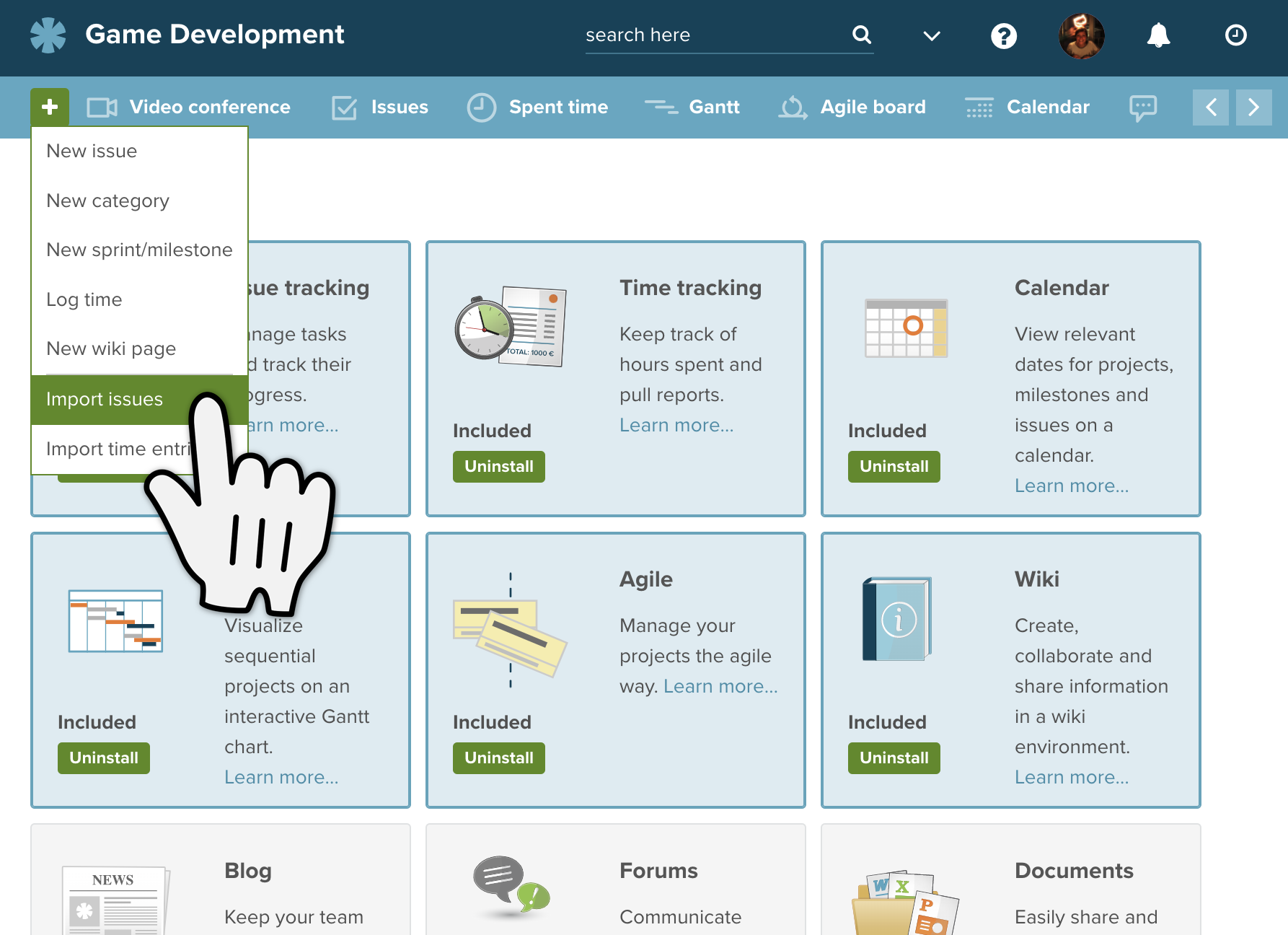 Next, Planio will ask to choose import options based on how your CSV is set up (like date format) and then map your file's values to the new Planio issues. Each row in your CSV file will be a separate Planio issue.
Use the drop down menu for each field to match your CSV column headers to the correct Planio field titles. This way, Planio knows what data goes where. If your project is set up as standard (no custom fields for example), this will be straightforward. If you do have custom columns in your CSV, these fields have to already exist as custom fields in Planio to be able to import them.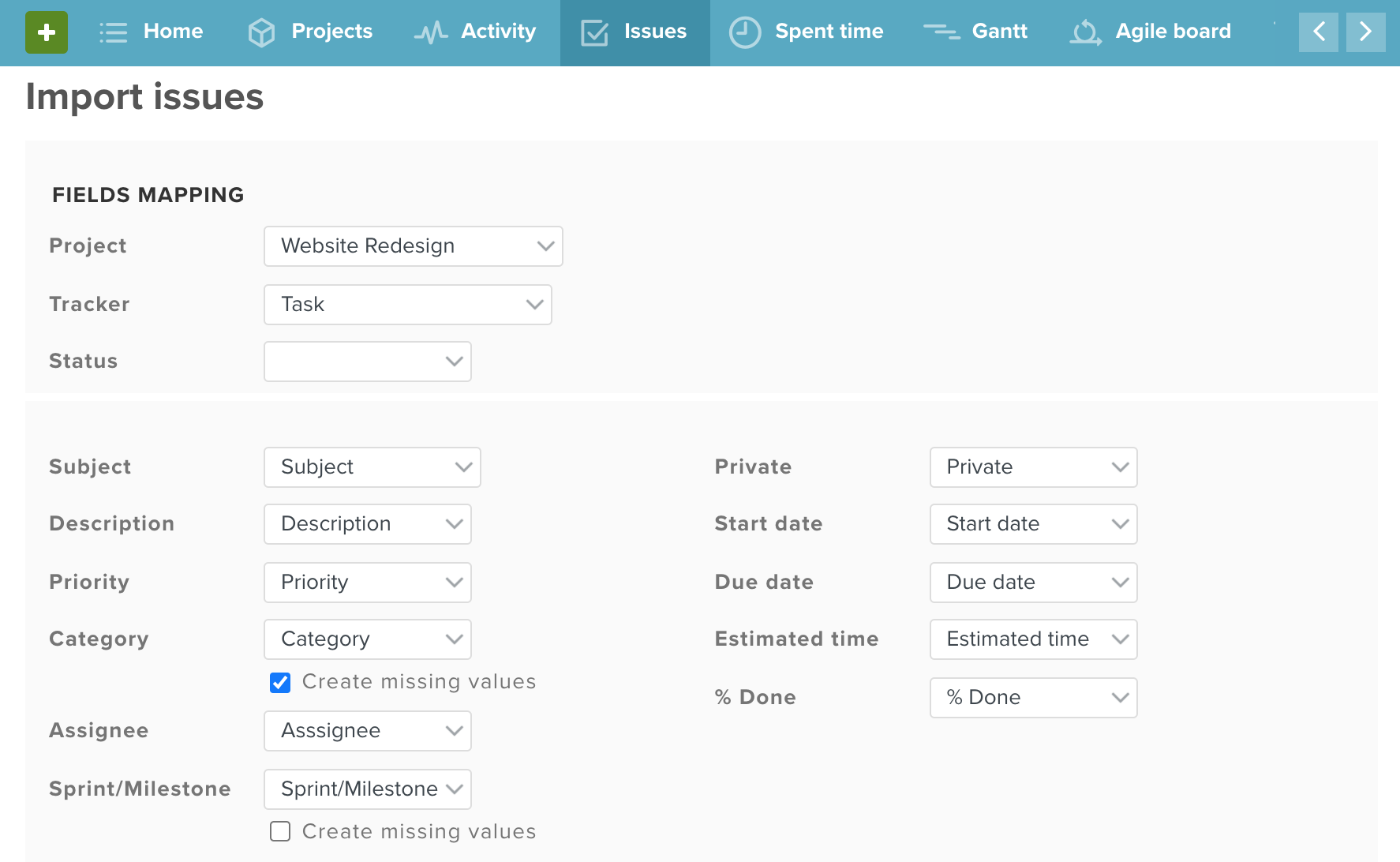 If something can't be imported (for example if the column "start date" has only text in it) then Planio will let you know what is wrong so that you can edit your CSV and then try again with no problems.
You can use this same process for moving projects to Planio from everything from Microsoft Project to Trello.
3. Plan sprints, set up workflows, and get to work!
At this point, you essentially have everything you need to get started.
You've got a new project with the tools and functionality you need. As well as all your issues, tasks, and data imported in a much easier way.
The next step is to move beyond your Excel and email workflows and start taking full advantage of a tool like Planio. Here are a few suggestions:
Use different views to track progress, deadlines, and keep projects organized. You can use Kanban boards for your Agile team, check in on your roadmap, track your launch strategy on the Calendar, and stay up-to-date on the latest work being done with the Overview.
Create roles and permissions for your team members. Planio includes a powerful system for assigning roles to your teammates that either grants or restricts access to features and issues. Team members can have different or even multiple roles in each project. This way, only the right people can update or look at your company's data.
Set up different 'trackers' for workflows and projects. Trackers are easy ways to categorize different issues and create rules and custom workflows for them. You might have a tracker for tasks, bugs, features, or even support tickets. This adds a ton of flexibility to your projects and lets you use Planio for everything from project planning to customer support. You can even decide which workflows should be used by which role and tracker combination.
Add custom fields, checklists, and issue templates to save time. All Planio issues are highly customizable. You can add custom data fields, templated checklists, or required information that matches your team's methodology.
Define milestones and set up sprints to quickly build software. Your issues, tasks, and bugs can now be stored in a searchable backlog and then attached to relevant sprints and milestones.
Track your time spent working on specific tasks against estimates. Use built-in time tracking to help see how long issues take to complete and judge them against your estimates. This will help you get smarter with every sprint and learn your team's strengths and weaknesses.
Integrate your GIT and SVN repos and set up cloud storage to keep everything in one place. This means no more bouncing between tools and losing context. Everything from files to code is in one place.
Use blogs and wikis for knowledge management and as your 'single source of truth'.
Get familiar with reporting features that help you quickly get buy-in and approval from stakeholders. You can get access to Gantt charts, velocity, burndown/burnup, lead time, cumulative flow, and more reports in one click.
How to kill email project management with the right project management tool
Getting your tasks, issues, and milestones into a dedicated project management tool is only half the battle. What's much harder to change is your team's communication habits.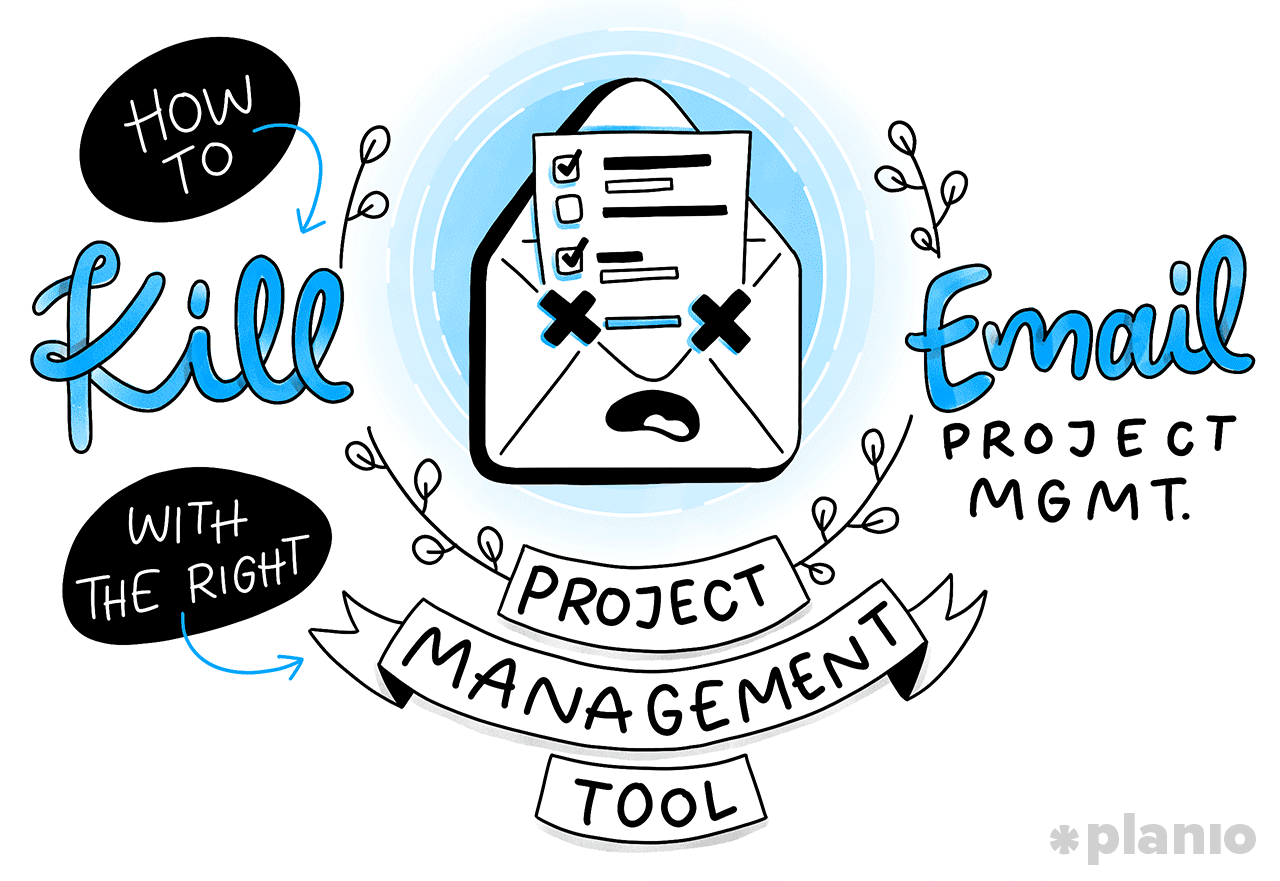 Email in project management can be used for everything from updates and asking questions to sharing files, communicating with users, and tracking progress. However, email is unorganized and chaotic at the best of times. Plus, keeping communication separate from tasks and data means it's easy to lose context and work on the wrong things.
As you switch your team away from Excel and email, pay special attention to some ongoing email habits:
Stop before you send that CC or 'Reply All' and ask if it should be an issue instead.
If you're answering the same question twice, turn it into a knowledge base article, wiki, or blog post.
Keep all task-related communication restricted to issues–no emailing back and forth about a task.
Use cloud storage to share files and attach them to their relevant issues.
Create workflows for use cases that often end up in email, like vacation requests or sharing lessons learned.
If your team is still stuck on using email, you can easily integrate your inbox with Planio in a number of ways.
First, you can use Planio Inbox to create, edit, or update Planio issues from your inbox. Each project in Planio gets a unique email address.
Planio automatically takes every incoming project email and turns the subject line into the task name and the body text into details like description, status, priority, and more: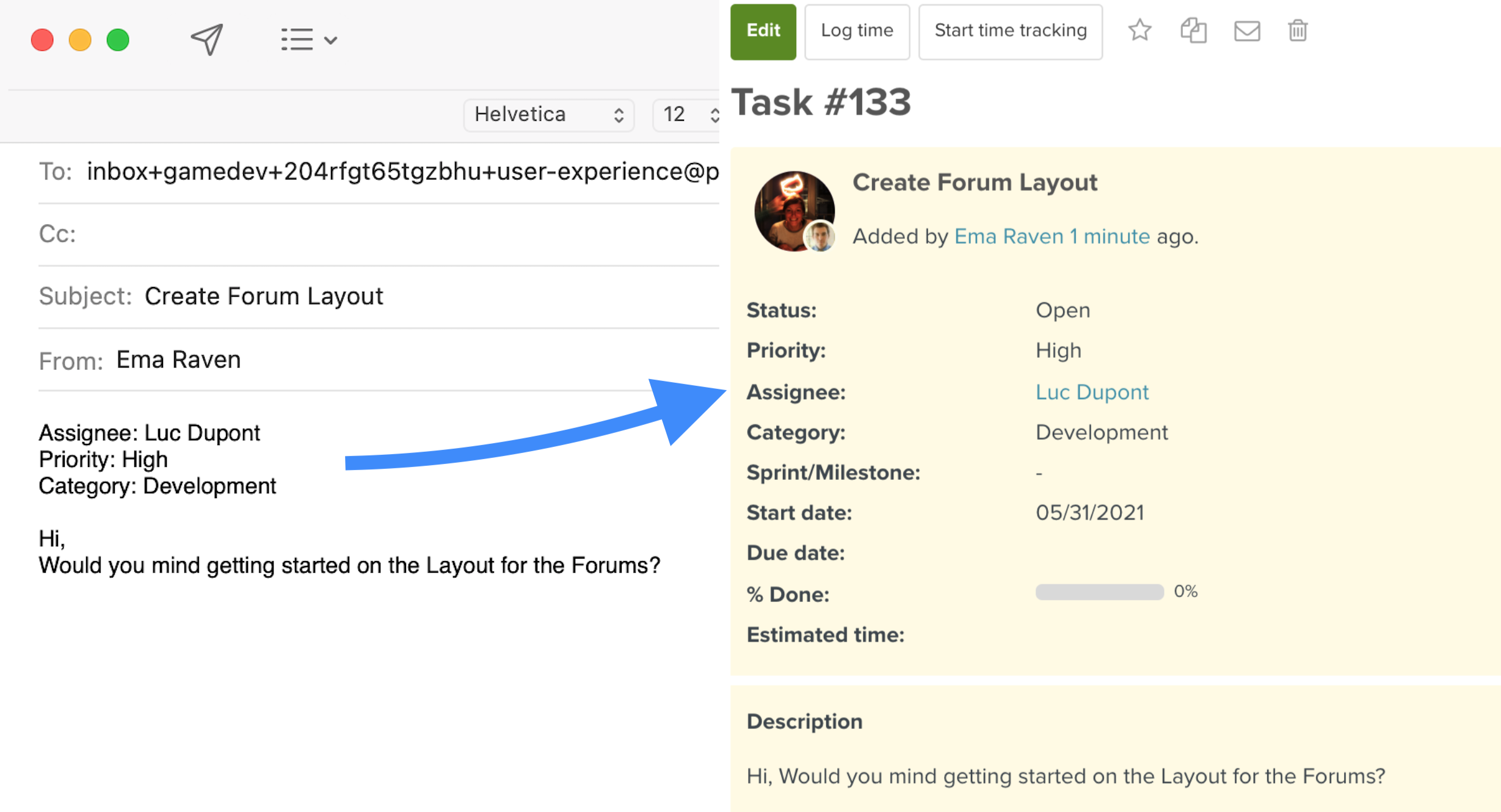 This is particularly handy if you are receiving a Planio notification on-the-go and want to quickly give feedback from your smartphone by replying to the email.
Next, you can organize incoming support emails, bugs and feature requests directly into Planio using the Help Desk feature. Emails from customers are automatically turned into issues including relevant data like their name and company. You can view them and work through them just as you would with other issues or tasks.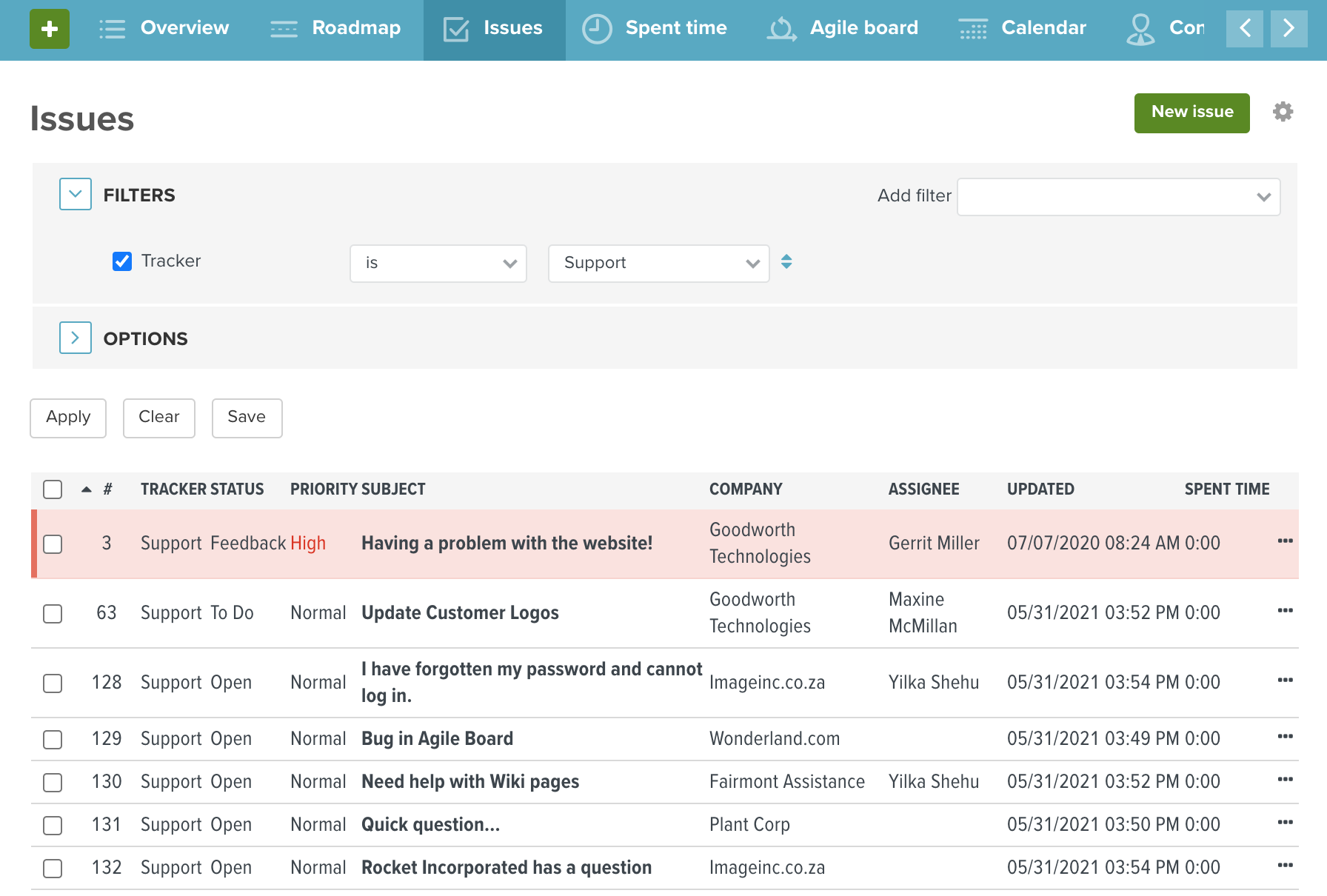 With Planio Help Desk you can then set up auto-replies for the customer and continue to communicate with users without leaving your project management tool.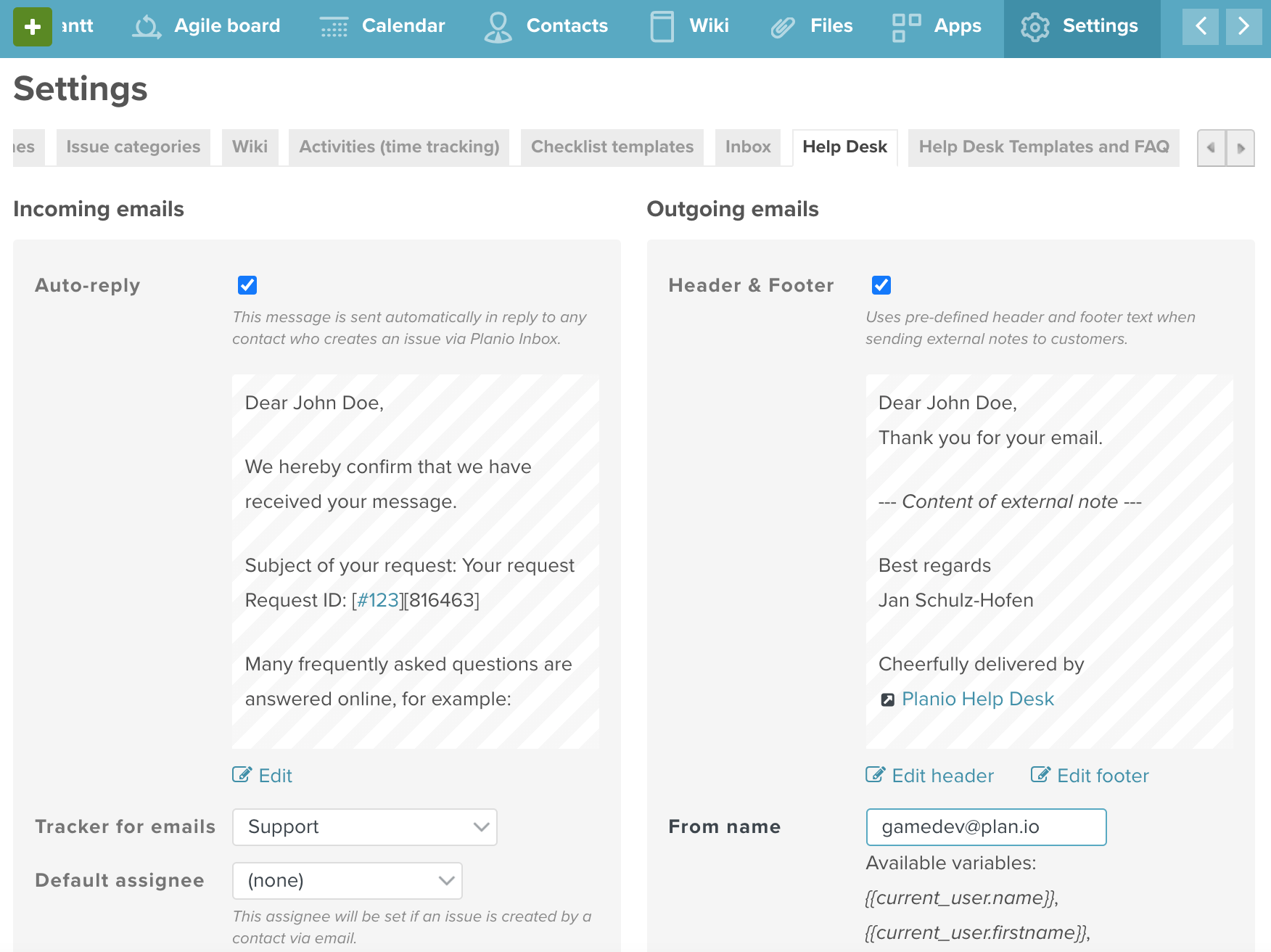 Once you have finished internally discussing the task, you can send an answer to the customer externally by simply clicking a box! To make this even easier you can set up templates or FAQ answers that you can just add to your answer before sending.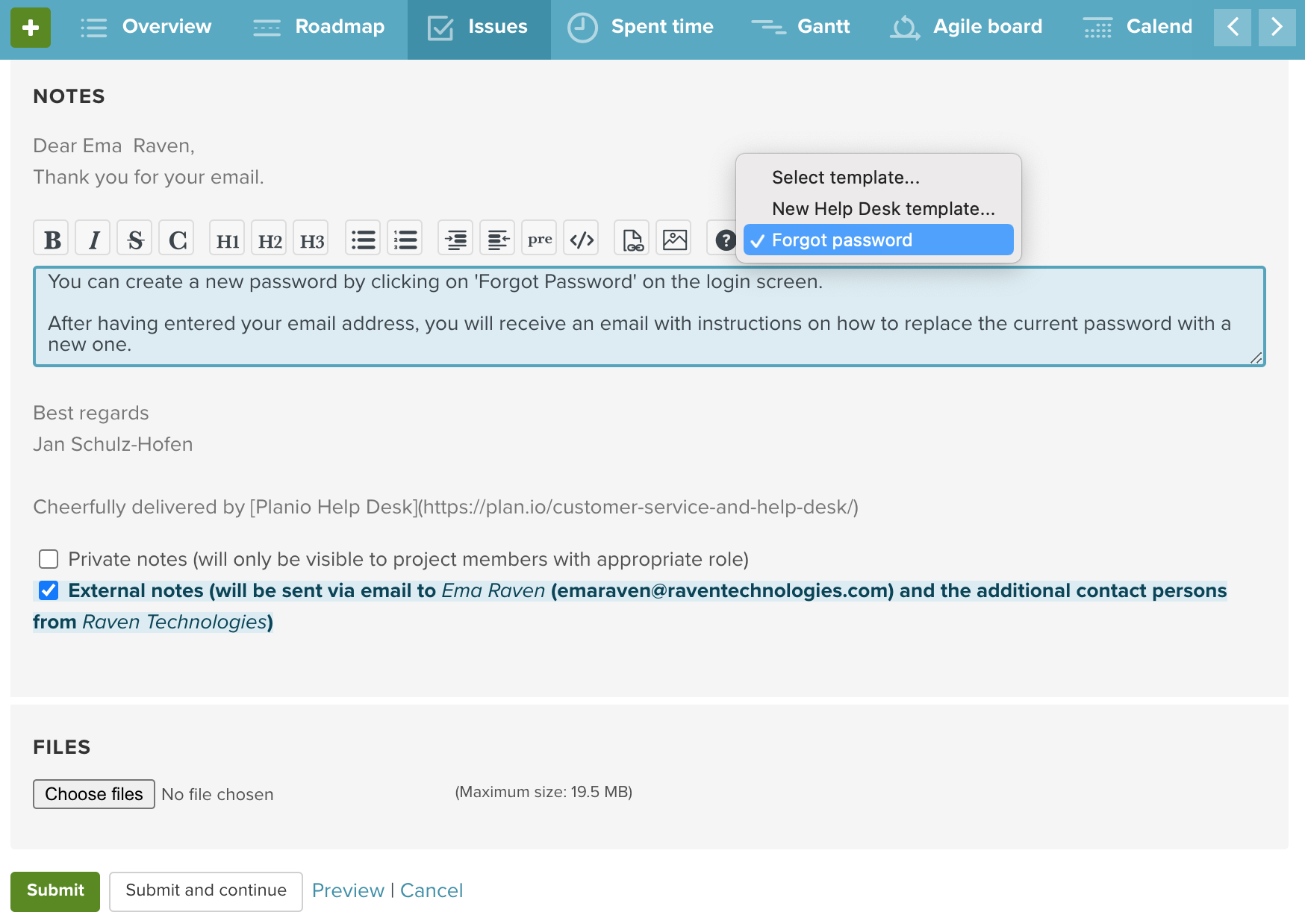 You deserve better than email and Excel for project management
If you spend your days wading through overwhelming spreadsheets and incoherent email threads, you need to hear this: You and your team deserve better than email and excel for project management.
The good news is that it's easier than ever to switch from Excel for project management to a more powerful, flexible, and user-friendly tool like Planio. Want to give it a shot for yourself? Start your 30-day free trial of Planio today.