Ultimate Guide to Cross-Functional Teams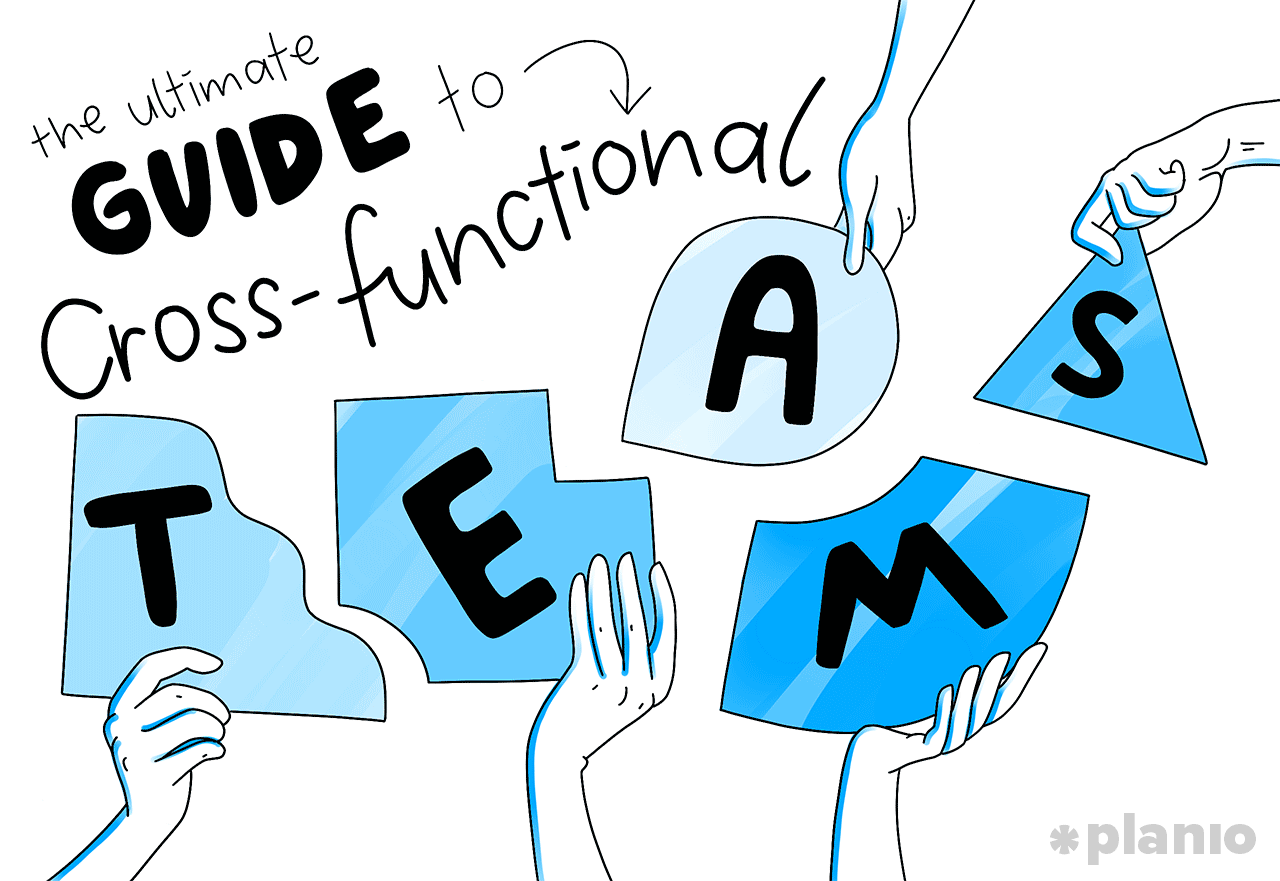 In a study conducted by Stanford University Professor Behnam Tabrizi, it was found that almost 75 percent of cross-functional teams are dysfunctional. Dysfunctional was categorised as unable to meet 3 of the 5 criteria they tested:
keeping on schedule
keeping to a budget
adhering to specifications
aligning with the businesses' corporate goals, and
meeting customer expectations
To help ensure that your cross-functional teams avoid these problems we've put together a thorough guide for setting up your team.
Jump to a Section:
What Is a Cross-Functional Team?
Before building a cross-functional team, it's important to understand what it is. Code Camp defines a cross-functional team as: "A group of people with different functional expertise working toward a common goal. Typically, it includes employees from all levels of an organization. Members may also come from outside an organization (in particular, from suppliers, key customers, or consultants). Cross-functional teams often function as self-directed teams assigned to a specific task which calls for the input and expertise of numerous departments."
Essentially, a cross-functional team brings together a group of people with different skill sets to work together on a common goal. This group of people can include people from all aspects of a business and bring together various functional expertise. For example, it may include people from HR, finance, marketing or sales. Typically, it will also include employees from all levels of the organisation from senior executives to junior staff.
Pros & Cons of Cross-Functional Teams
Cross-functional teams are becoming increasingly common. Corporations and SMEs are needing to combine talent from different areas of the business to help achieve corporate goals. Cross-functional teams can be a great way to do this and often have many benefits. However, there are some downsides to think about too: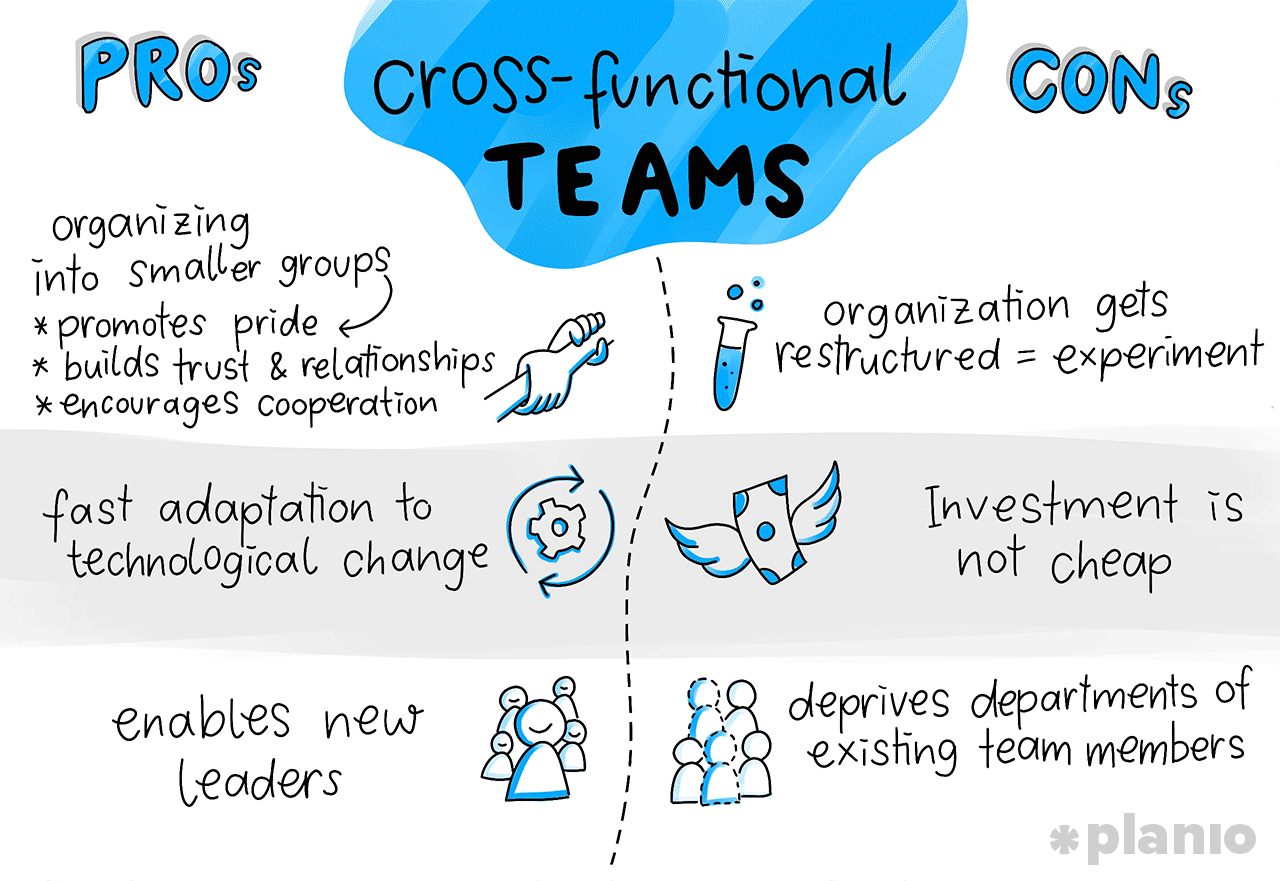 There are advantages and disadvantages to cross-functional teams. Before deciding to restructure your organization, it is important to consider all outcomes and whether it is the right choice for you. Cross-functional teams should be used when your organisation is taking on innovative and agile challenges. You should reflect on whether you have the appropriate staff available, with the necessary skills (and able to take time away from their regular role) to complete the team. Cross-functional teams can be highly successful but need to be implemented with a well thought out plan. A study from Harvard University found that the start-up and development cost of a cross-functional team that is unsuccessful can reach $100 million. This kind of sum could be catastrophic to your business.
How to Build a Cross-Functional Team in Your Company (Step by Step)
You know you don't want to create a team that costs your business millions. But how do you create a successful cross-functional team? By following the steps listed below your team has a greater chance of becoming a success, helping you grow and reach your business goals.
1. Set a Budget
Set a realistic budget. And keep to it. Whether or not you are able to stay in budget is a good measure of how well your team is working. Meet with your team to discuss budget allocation. Think about every area where you will need resources and make sure you account for everything so you have a clear idea of how much the project should cost.
75% of cross-functional teams are unsuccessful. Make sure you have the right staff, skills and implementation plan to make yours a success.
2. Identify Necessary Skills
Determine the purpose of the project you are undertaking and all the necessary skills you need to achieve your outcome. Let's say you want to run a marketing campaign that includes setting up a landing page and ads to promote this landing page. Examples of skills you would need could be: copywriting, landing page development, design and PPC. Create a Google or Word Document (or use the Planio Wiki) that expresses your team's goals. From here list out the skills needed to complete the goal and then it's time to move on to picking your team.
3. Choose the Right Team Members
Cross-functional teams have a distinct dynamic. You need to choose team members who will collaborate well together as well as bringing the necessary skills to the table. They will also all need to be strong communicators, without strong communication between all members of the team a project can quickly grind to a halt. It is also highly beneficial to have a diverse range of people to help stimulate ideas. Once you start picking your team members return to the doc you made in step one and start assigning members to each of your desired skills.
4. Choose Your Leader(s)
Choose an individual for leadership who has strong communication skills and will be able to overcome the unique problems that cross-functional teams can face such as keeping the workflow organized. Your leadership should also convene with the team to set out process methods.
Visualizing your processes and sharing them with your team can help improve efficiency and help everyone stay on the same page.
5. Establish Purpose
Each team member will need a clearly defined purpose. Ensuring everyone knows what they are working towards and what part of the project is accountable to them helps to keep the team motivated and ensure work continues without deadlock. Create projects in project management software like Planio and assign tasks and responsibilities so everyone stays organized and accountable.
6. Build Relationships
Teams need to learn to work cohesively. Build trust and relationships as well as improve employee engagement within your team through team building activities such as:
Team TED Talks: Divide your team up into groups and ask them to perform a presentation about something they are comfortable with. This allows for the sharing of ideas, spending time together and improving collaboration.

Two Truths and a Lie: This is a great game for building trust and helping new teams get to know each other.
Team building activities like these - or going on a company trip together, enjoying happy hours, etc. can be a great hit when a team first comes together. It's important to build these bonds so that each team member can trust the other to follow through on their commitments. In times like these, where most teams work remotely, using Planio Meet can be a great replacement for actual physical meetings.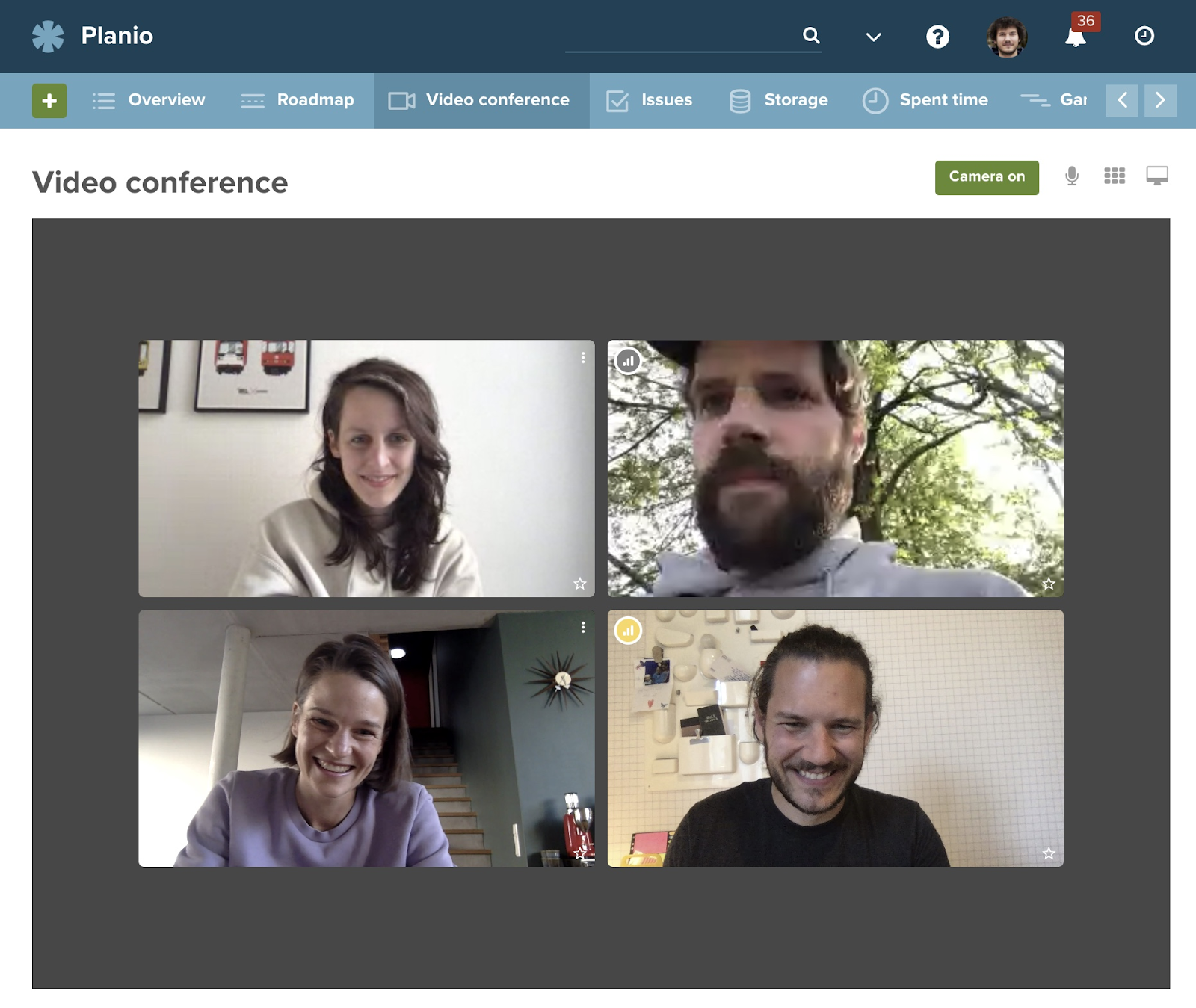 7. Create a Timeline
Create schedules for not only the finished project but for each subtask. This way if things start to get off schedule you will be aware quickly and can find ways to make up time before it gets out of control. Using the Gantt Chart and Roadmaps in Planio you can have a great overview of when things are on track or starting to derail.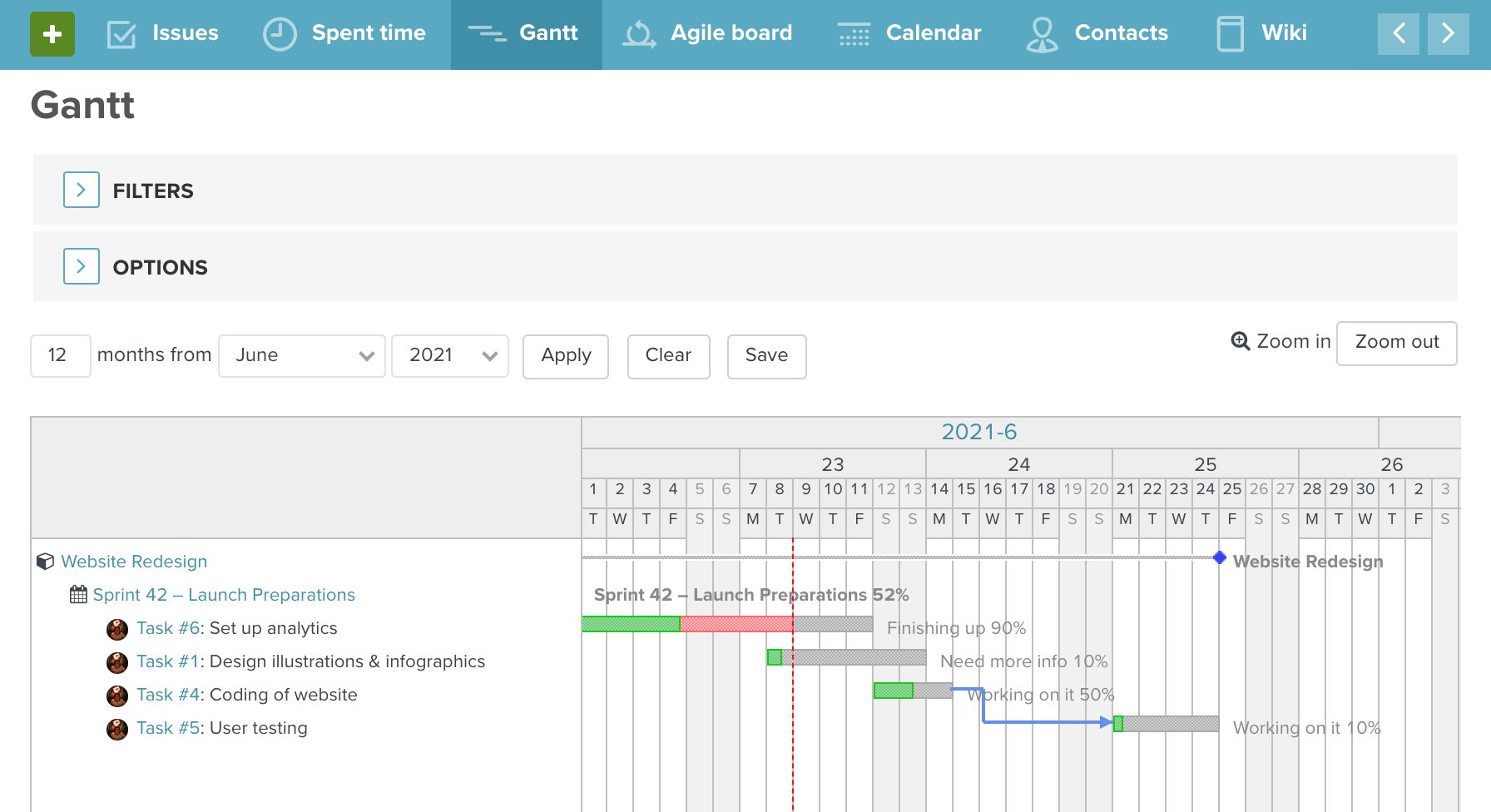 8. Establish Communication Methods
From the very beginning, your methods of communication will define how well your team collaborates together. Set up a communication strategy and proper communication plan for your project. You may use apps such as Planio Team Chat, Slack, Google Hangouts, and Zoom to help with communication. There should also be a clear chain of communication and defined communication channels for your particular tasks and projects. It makes sense to write everything down in a guide and share it with the team. (You can simply use the Planio Wiki or a Google Doc again.)
9. Performance Analysis
Analyze what worked well in your cross-functional team. Use long-term reporting to help you establish the successful areas of your team and double down on these, as well as notice where your gaps are to improve teams in the future. You can easily track performance in project management tools such as Planio. Getting feedback from employees can also help you gain invaluable insights into improving your cross-functional teams. There are some great tools out there such as TeamBuzz or Officevibe that can help you efficiently collect team feedback.
Actionable Best Practices When Managing a Cross-Functional Team
Cross-functional teams are a core part of building innovative solutions at a fast pace. However, if managed incorrectly, they can simply become a mess of miscommunication, missed deadlines and ever-expanding budgets.
Cross-functional teams are a core part of building innovative solutions at a fast pace.
To help you navigate managing a cross-functional team, we have put together 6 actionable tips:
1. Set Clear Goals
Unclear goals and priorities can cause a deadlock in even the best and most expert teams. Assign an area of the project to each team member. Make sure everyone knows where their responsibilities are and what they are accountable for. When you set up your team ask questions like "What are we working toward together?" rather than what our independent goals are, and then ensure that everyone is assigned tasks around the goal that are fit for their individual skills.
You can also set a risk management plan in place to help avoid steering away from your goals. We have created a risk management plan template for you to try out:
Having a risk manager in the team will minimise the changes of the project going off track and having a plan will reduce the impact of risk when they are encountered.
2. Use Collaborative Tools
Using collaborative software enhances collaboration (duh!) and will boost your team's productivity. You can use everything from shared task boards and team chat apps to collaborative design tools. Beyond collaborative tools, there is a bunch of great project management software out there. Incorporating one into your project can help with oversight and keep things running smoothly.
While meetings are helpful for keeping projects on track, too many can interrupt team members from their work. If you want to be more flexible with your meetings or you have a team that is not all in one location, it can be beneficial to use Planio Meet to conduct team meetings.
Alternative meeting structure you can try out include:
GoalFest: An idea from Joel Califa at DigitalOcean that involves the team all jumping into a shared Google spreadsheet. Here, all team members set and share goals for the following week and rank their performance on last week's goals.

Daily Standups: A more traditional meeting structure that involves all team members standing to discuss goals for the day. Due to the discomfort of standing for long periods these meetings tend to be kept short.
3. Keep Up Morale
A successful team needs to stay motivated. Find the right management style for your employees. It is often important not to lash out over every mistake as this can be demoralizing. Instead, give advice and guide your team so future mistakes don't happen. To help you engage your cross-functional team, you can even download the Savvy Guide to Employee Engagement in 8 Easy Steps free ebook.
Top Takeaways
Engaged and enabled employees are 50% more likely to outperform expectations.
Employees consistently rank understanding the company's mission and strategic goals as critical drivers of engagement, so share your company and team vision with them
Empower employees to act on their ideas by helping to remove unnecessary processes or obstacles and making the necessary resources available.
Conclusion
A Druid study proved that operating cross-functional teams has a positive effect on innovation performance and openness. You don't have to be one of the unsuccessful 75%. Follow the above steps and tips, and use the open communication and diverse skills of your cross-functional teams to help you reach your business goals.