As alluded to in our How to Create a Custom Field article, one of the most beneficial aspects of Planio is its flexibility. With a robust set of features that are easily configurable, you can essentially transform Planio into a solution that is highly relevant to your organization. The flexibility doesn't stop at custom fields — you can also define statuses, issue categories, trackers, time tracking activities, document categories, and issue priorities.
From an Administrator's perspective, the flexibility extends to your users and what they can do in the Planio environment. User accessibility is defined using the Roles and permissions feature — in today's post we'll do a walkthrough of how to create a Knowledge Manager role. What's required? We need a role that has access to both project management functionality and content/knowledge management, such as forums, documents, and the wiki system.
Let's check out this walkthrough to see how it's done...
Click Administration, then Roles and permissions.
Click New role.
The New role interface appears.
In the Name field (required), enter a name for your new role. In this example, we'll enter "Knowledge Manager."
In the Issues can be assigned to this role field, select the check box to indicate that issues can be assigned to users who are associated with this role. We will go ahead and select the check box for the new KM role.
In the Issues visibility field, select the type of issues that users assigned to this role will see. In the example below, we'll select "All issues."
In the Copy workflow from field you could select a pre-existing role to copy all defined permissions from. This is very useful for quickly creating a new role that is similar to an existing one. To start from scratch, leave this field blank (as done in the example).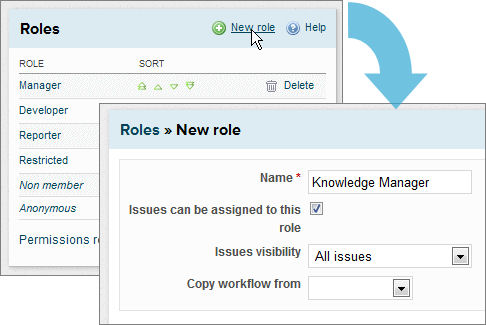 In the Permissions panel, select the appropriate check boxes to reflect the functionality access you'd like to assign to the role. For our Knowledge Manager role, we need the KM to be able to use Planio's project management functionality — this means selecting all fields within the Project, Gantt, and Issue tracking panels.
In addition to having access to project management features, this role should focus on content and communication functionality, such as:
Forum management

Document management

File management

News management

...and Wiki management. When all permissions are selected, click Create.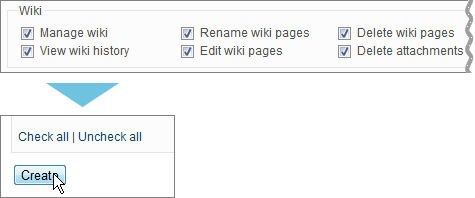 The new role is now created. Roles are assigned to users on a project basis; to assign/edit/remove a role from a user: <click project name> → Settings → Members → Edit existing project members or add a new project member while specifying his/her role.
If you want to perform a batch edit of all existing roles and permissions, simply click Permissions report to modify multiple roles and permissions at the same time.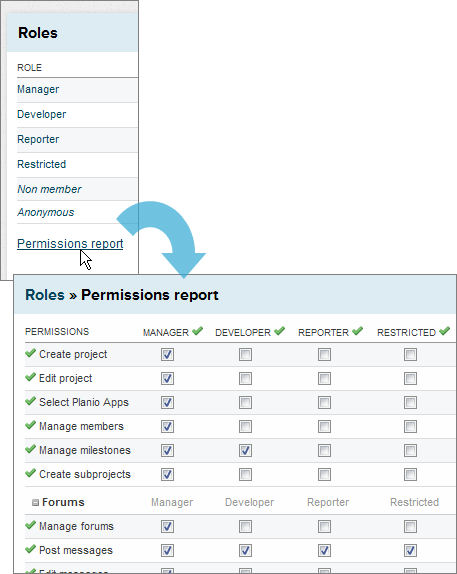 Does your organization create function-specific roles in Planio? Or do you use broadly defined roles? Tell us about it in the comments below. Enjoyed this week's post? Let us know via a Like/Tweet!
When not writing about project management and Planio, Brian enjoys helping his daughter do coloring, drawing, and making every attempt to avoid growing-up.