Strategy vs. tactics: How to use both to build better products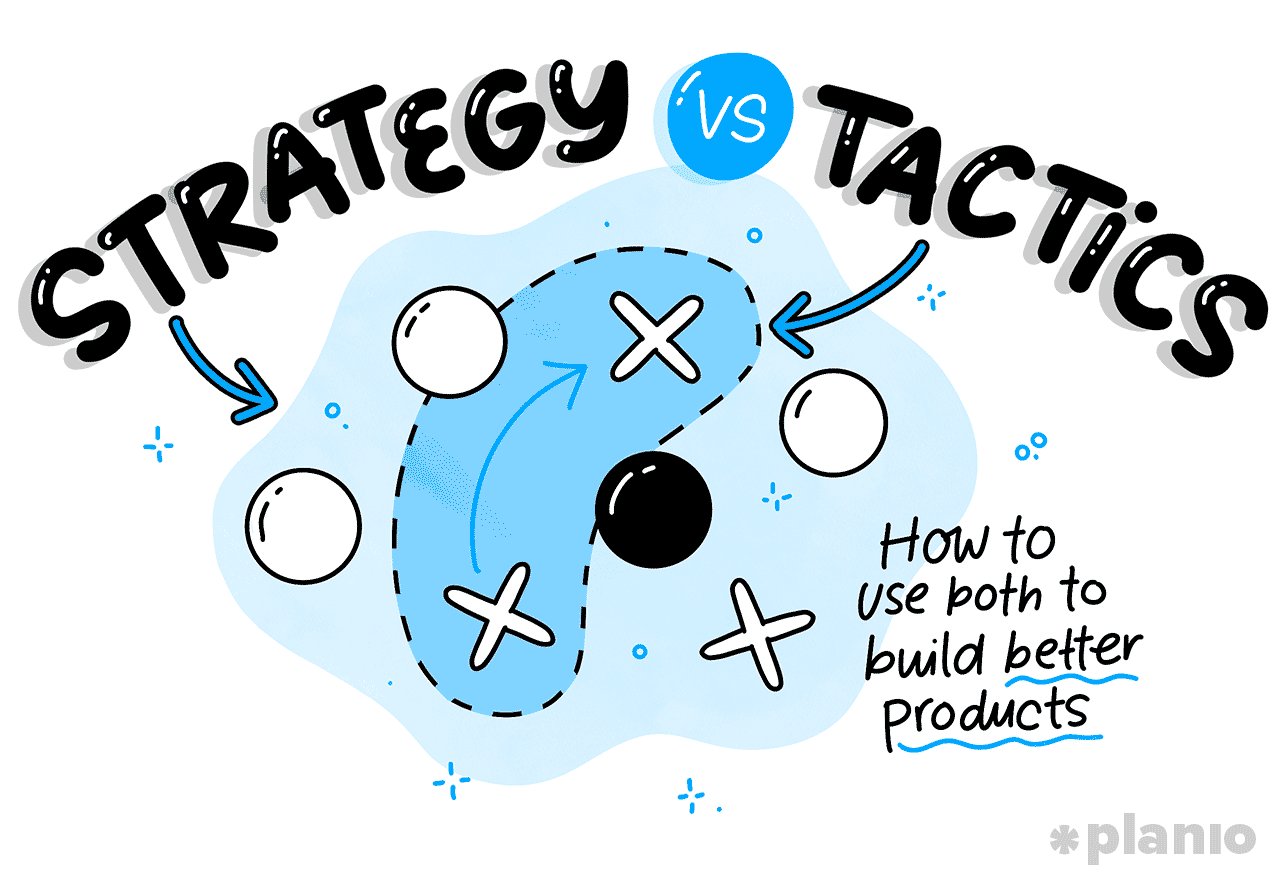 If you asked your team to explain your company's overall strategy, how many of them would get it right?
According to a study from the Project Management Institute (PMI), for most companies, the answer would be somewhere around one in three.
Having a product strategy often isn't the issue. Instead, many teams struggle with communicating that strategy to their team and embedding it in the tactics they use on a daily basis.
But strategy without tactics will get you nowhere fast. While tactics without an overlying strategy can quickly take you in the wrong direction.
Jump to a section:
In this guide, we'll explain how strategy and tactics work together, and how you can use both to lead your team, measure your progress, and find success.
Strategy vs. tactics: Definitions and differences
Strategies and tactics are separate yet connected tools in your product management toolbox. But to use them correctly, it's important to understand their differences and similarities.
A business strategy is a long-term plan of action designed to help you achieve a significant goal or objective. A good strategy helps you deliver value to your customers, employees, or shareholders (or a mixture of all three).
Tactics are the sets of actions or initiatives your teams put in place to help you achieve your strategy. Tactics are smaller in scale and are often opportunistic because they are implemented as the business environment changes.
Strategy without tactics will get you nowhere fast.
Strategy and tactics work hand-in-hand. Without strategy, your work will be directionless and misaligned with customer needs. Without tactics, your work will be disconnected, and you won't progress toward your strategic goals.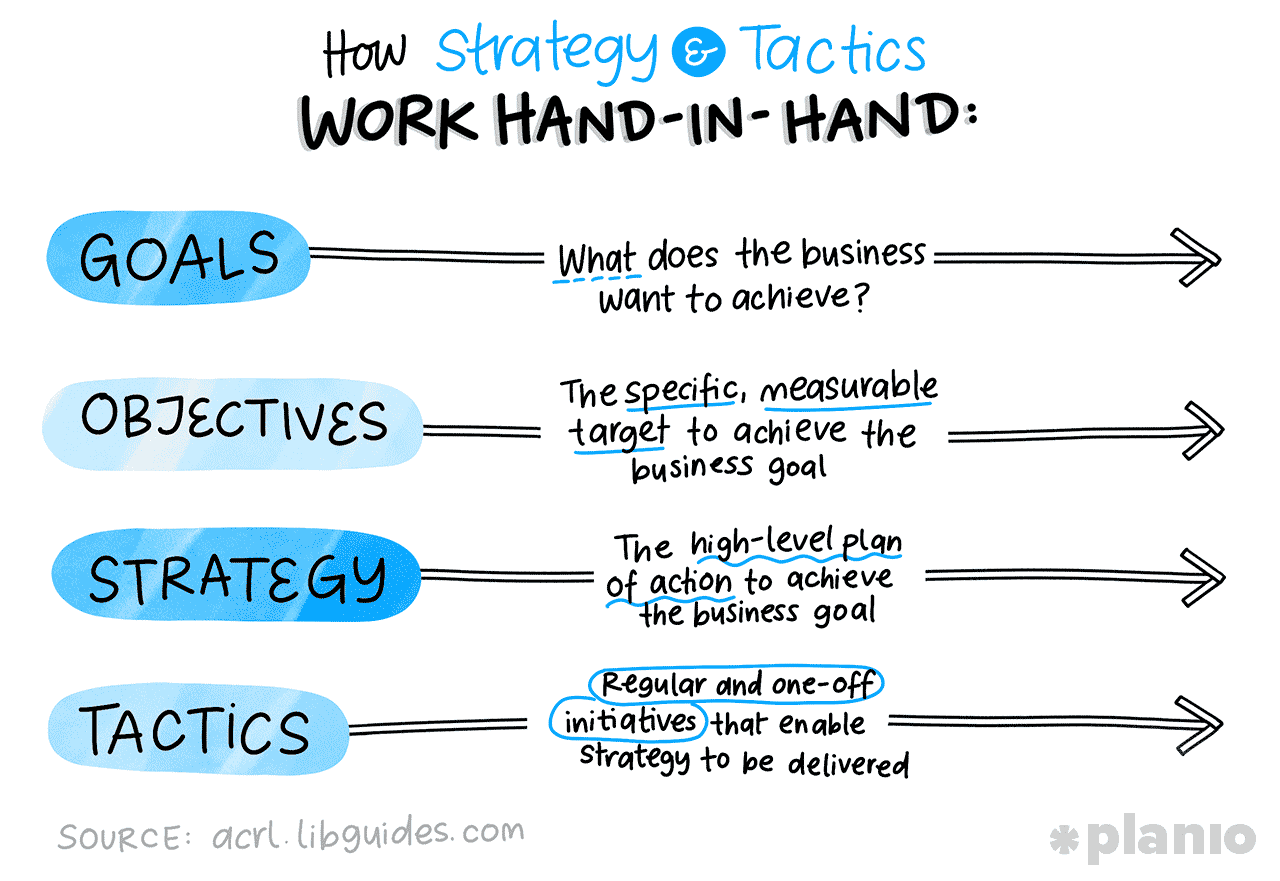 Here's an example of how strategy and tactics can work together in real life:
BankZ has a long-term strategy to increase its customer confidence through an increase in trust score from 60% to 75% over the next 18 months.
A competitor bank experiences a breach in its security systems, exposing its customer data. To capitalize, BankZ launches a marketing campaign tactic, reassuring them of the measures they have in place to protect their customers.
This fictional bank defined a high-level strategy to increase customer trust. At that point, they could use any number of tactics to help them achieve that goal — from marketing campaigns to social proof on their homepage.
To finish, let's put different characteristics of strategy and tactics side-by-side to see how they compare:
| | Strategy | Tactics |
| --- | --- | --- |
| Purpose | To set a vision and roadmap (e.g., a product roadmap) that helps you achieve your business goals and objectives. | Regular and one-off initiatives that help you deliver your strategy. |
| When to use | To help you create a plan of action to achieve your business goals. | To align day-to-day and one-off activities to the bigger picture. |
| Benefits | Good strategy aligns team members and helps everyone connect to the same 'why'. | Ensures day-to-day tasks have a purpose and helps you prioritize your task management plan. |
| Risks | If the strategy is wrong or misunderstood, it can cause a high risk to the business as goals won't be achieved. | If individual tactics are misaligned, the risk to the overall strategy is small but not insignificant. |
| Costs | A well implemented strategy takes a lot of time, effort, and resources. | Smaller tactics are less costly and can often take a 'trial and error' approach. |
What makes a successful strategy? 5 essential elements
Even though many leaders are clear on what strategy is, creating and implementing a good one is notoriously hard.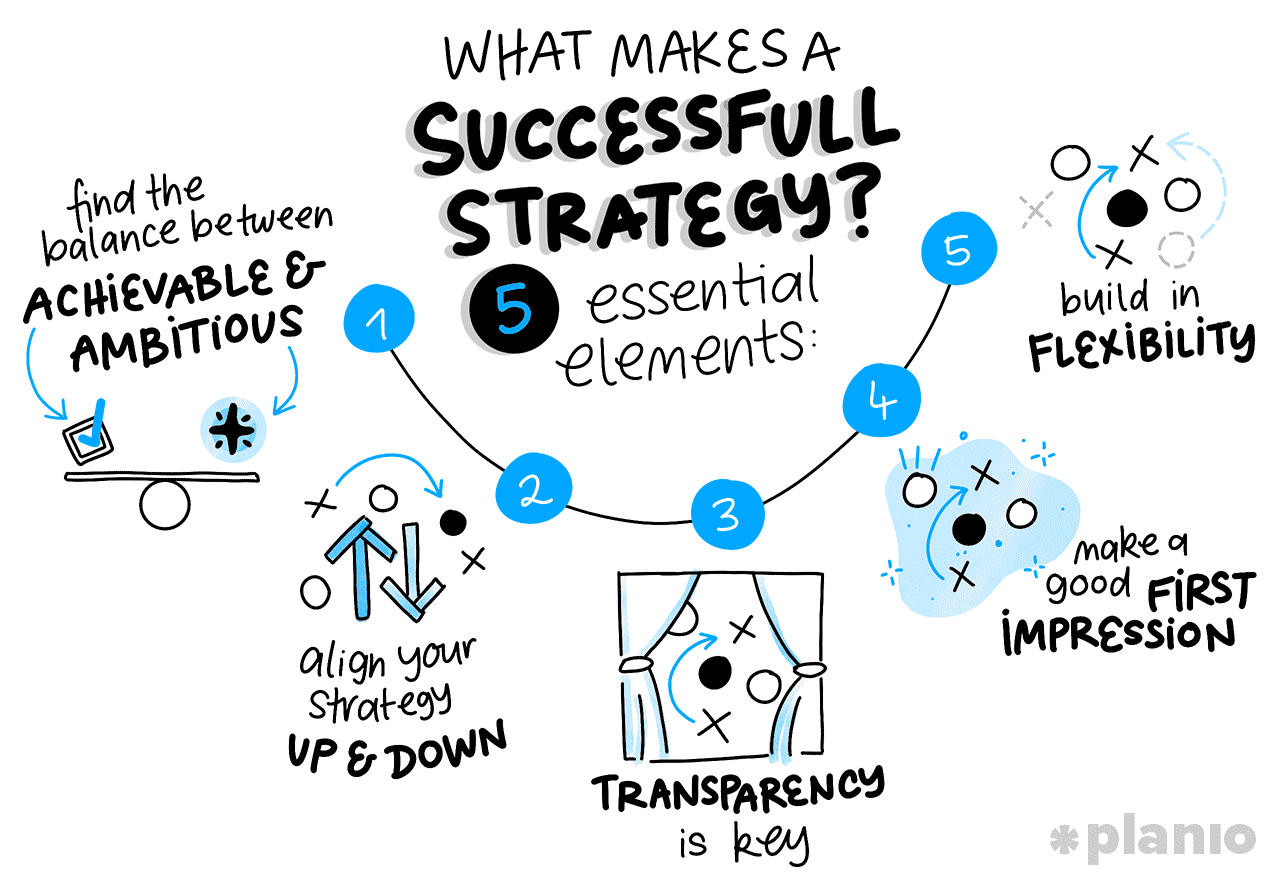 In fact, studies in 2019 found that only 68% of leaders believe their organization is good at developing strategy — down from 80% in 2012.
A successful strategy isn't a set-and-forget exercise. Formulating one that fits your business goals, objectives, and culture takes time, effort, and analysis. Once formulated, the hard work begins as you connect it to employees across the organization.
Here are five essential elements of a successful strategy.
Push the boundaries just far enough. A successful strategy has to find the line between inspiration and delusion. Make your strategy too ambitious, and employees will give up before they've even started. Make your strategy too easy, and you'll underwhelm and disengage staff. The best strategies are ambitious but achievable, so ensure you find the balance.
Align strategy up and down. Your strategy must be easy to understand and allow everyone to connect the dots between their daily work. To maximize your chances of success, make your strategy simple to understand and align it upwards and downwards with the rest of the organization.
Transparency is key. For everyone to get on board with a strategy, it needs to be entirely out in the open. This means you need to go beyond the two-line mission statement and communicate why this is the strategy and how it was designed. Transparency builds trust and connection for everyone in the business.


Download our free product strategy template to help communicate your strategy to your team.



Make a good first impression. A successful strategy has to be engaging from the start. When launching and communicating it for the first time, it must be done with passion and enthusiasm, especially from senior leaders. Disengagement breeds a loss of productivity.
Build in flexibility. The world is constantly changing, so make sure your strategy has some flexibility. This means not making it too detailed or specific but giving it enough depth that it's not wishy-washy. This is especially important in your product strategy, where things can change overnight with new technologies, competitors, and legislation.
A successful strategy isn't a set-and-forget exercise.
What makes a meaningful tactic? 6 rules to follow
As you learn more and more about tactics, you may also see them referred to as micro-strategies. This term can help you align your thinking when planning meaningful tactics, helping you ensure everything you do is pulling in the same direction.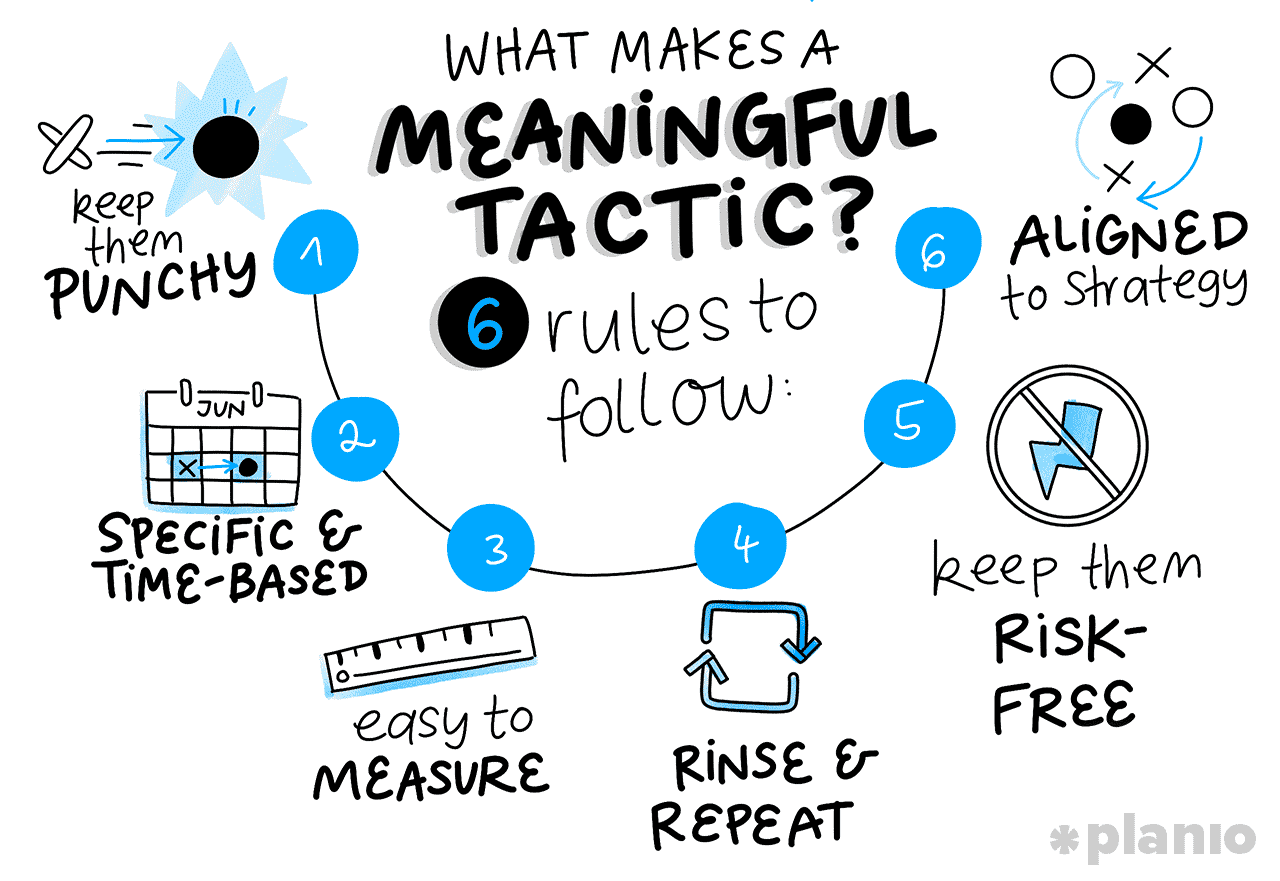 Now, let's look at 6 rules to follow when formulating impactful tactics.
Keep them punchy. By their very nature, tactics are designed to be fast, short-term actions that deliver valuable impact. Generally, the best tactics should take days or weeks to create and implement, never months. If they take any longer, they risk morphing into unwanted strategies that detract from the bigger plan.
Specific and time-based. In keeping them punchy, tactics should also be very specific and have a clear start and end date. This ensures you get instant value from them, and they don't end up becoming a larger piece of work that doesn't directly contribute to the strategy.
Easy to measure. When planning a tactic, ensure you understand how you'll measure its impact on your business, your employees, or your customers.
The ability to rinse and repeat. If a tactic performs well, why not use it again? Create your tactics as tasks that can be reused when you need to generate a bit more strategic momentum. For example, a quarterly flash sale for loyal members is an easy, repeatable tactic for boosting sales in any business.



Keep them risk-free. Individual tactics shouldn't expose your business to high levels of risk. If a tactic needs layers of approval, multiple contingency plans, or regulator approval, it's likely to be venturing into the strategic territory.
Permanently aligned to strategy. Finally, every single one of your tactics should directly contribute to one of your strategic goals. Before deploying a tactic, make sure you can clearly and easily articulate how it contributes. If the link is tenuous, it's probably not worth the effort, resources, or risk.
How to bring strategy and tactics together: 5 examples for different teams
Strategy and tactics are intrinsically linked. If you try and implement one without the other, you'll quickly find yourself going off course, upsetting your customers, employees, and shareholders in the process.
Now that you know what strategy and tactics are, let's look at five real-life examples of linking the two together for optimal effectiveness.
1. Product development teams
The Scenario:
StockX is a digital trading app allowing users to trade in stocks and forex. After some initial success, the organization has a goal to grow its customer base by 80% over the next 3 years.
The Strategy:
StockX product development team plans their strategy for the next three years. Their vision is to offer the most diverse offering on the market, making them the 'one-stop shop' for any type of financial investment.
The Tactics:
Working in an Agile project management approach, the product team schedules their work to launch a new product every month as part of a 'first day of the month treat' for customers. In the first three months, they plan to launch Bitcoin, Ripple, and Ethereum crypto products.
2. Digital marketing teams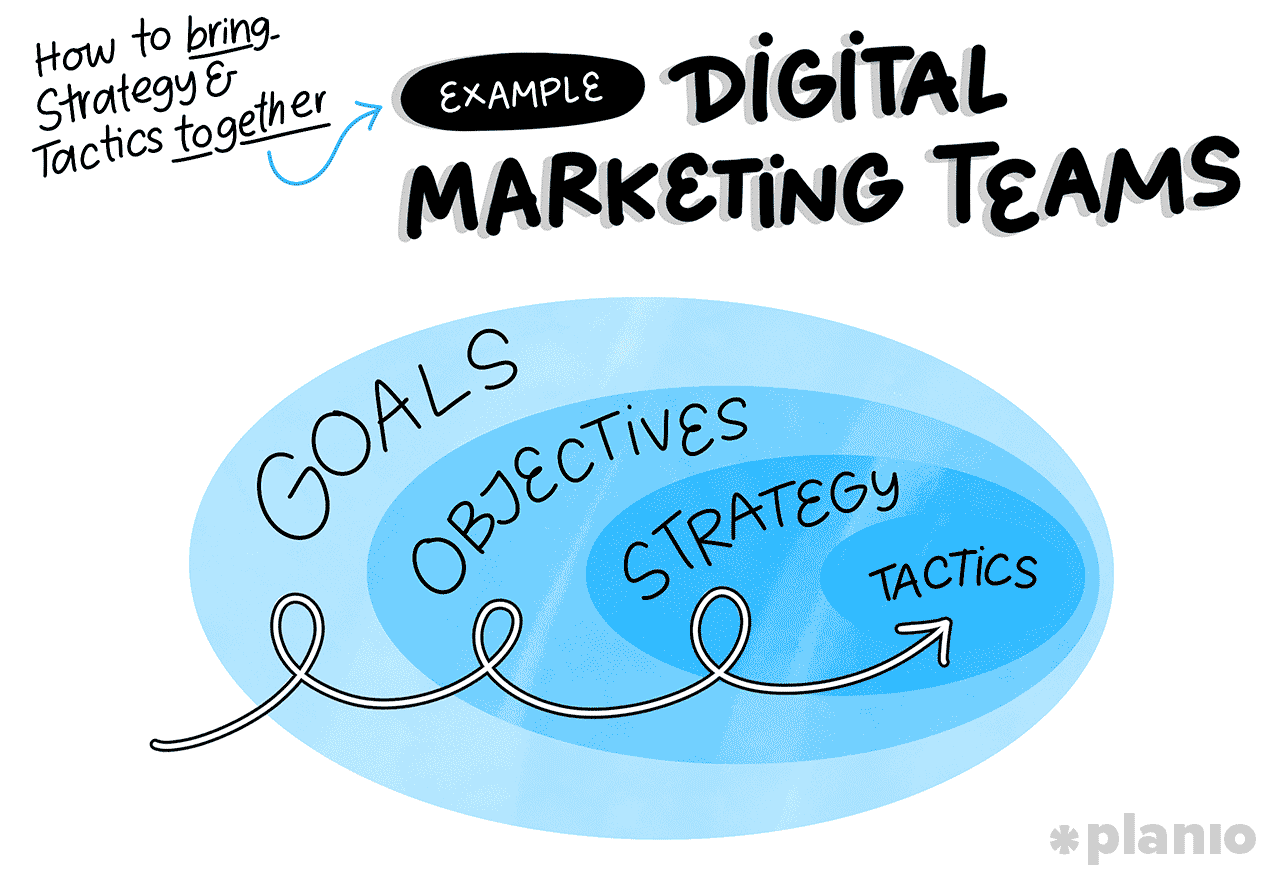 The Scenario:
EcoGrow is a not-for-profit with a mission to grow trees across the globe. As a relatively new start-up, they want to grow their brand awareness with a strategic goal to be the most recognized environmental charity in Europe over the next three years.
The Strategy:
EcoGrow's digital marketing team creates a strategy designed to increase their visibility and brand awareness. They set a strategy to grow their social media community by 1 million new followers within the next 12 months.
The Tactics:
The team comes up with several strategies to help them drive social media growth. They implement tactics such as targeted social media advertising campaigns, run monthly 'like and share' competitions, and partner with influencers to promote their work to similar audiences.
3. Sales teams
The Scenario:
SolarVision is an energy company specializing in solar-powered technology. With the introduction of a new government grant, they set an ambitious strategic goal to double their annual revenue in the next 24 months to $200m per year.
The Strategy:
SolarVision's sales team must sell more products to meet the strategic revenue goal. They devise a strategy based on driving more sales volume, with a target to sell 1 million solar panels annually.
The Tactics:
The sales team implements a range of tactics to drive more sales volume, including discounts for customers who refer a friend, monthly flash sales, and free installation services for high-value orders.
4. Customer service teams
The Scenario:
InsureMyWheels are an insurance company specializing in digital-only car insurance. Because of their digital-only offering, they're keen to prove their customer service meets expectations. They aim to increase their NPS rating from 62% to 85% over the next 5 years.
The Strategy:
The customer service team set their strategy to be the fastest insurer on the market by committing to resolving all customer queries within 15 minutes.
The Tactics:
To help customers get the information they need quickly, they implement tactical chatbots to support staff during peak times. They also trial an AI-based system that matches customers to experts in their specific queries to provide the best advice possible.
5. IT Infrastructure teams
The Scenario:
NewsBeat is a dedicated music news app. The app's audience continues to grow, but users have only rated the app's performance as 3 stars on the app store. As such, NewsBeat set a strategic goal to become a 4.2-star rated app in the next 12 months.
The Strategy:
Reacting to the feedback, the IT infrastructure team pivot their strategy to focus on loading speed, with a target for all news stories to load within 0.8 seconds.
The Tactics:
To achieve this, they implement several tactics, including upgrading their server specification, increasing their bandwidth allowances, and compressing images on the app to make them smaller in size.
As you can see in our examples, the key to success is to align your goals, strategy, and tactics so that everything you do pulls in the same direction!
How to measure progress on your strategy and tactics
A common thread of both strategy and tactics is that they both require careful planning, delivery, and review to make them a success.
Like all products and projects, to ensure you're moving forward, you need to measure the outputs into your project plan, allowing you to course correct if needed.
Here are some ways you can measure the progress of your strategy and tactics:
Define success criteria early. When formulating your strategy and tactics, consider what success would look like at the end of it. For tactics, this is likely a tangible output, whereas a strategy is more of a high-level outcome. In the product world, defining a clear and simple definition of done will help here too.
Map out KPIs and milestones. The best way to measure real-time progress is to track your effort against key performance indicators, north star metrics, and milestones. This will give you a quantifiable way to see your performance and allow you to make changes if needed.
Formalize your reporting. Strategy is important business, so ensure you have a solid set of reports to maintain and access. Data and management information will be key to helping you review the effectiveness of your strategy.
Good governance for decision-making. While many people think governance is boring, when assessing progress and making key decisions, it's crucial to have the right people, at the right forums, at the right times. Without it, you'll make changes too slowly, compounding any problems that may already exist.
Pro tip: Use project management software to stay organized.
With long-term strategies, there will be loads of tactics to juggle. To help you and the team keep track of everything, we'd recommend using project management software, such as Planio.
Planio helps you organize and manage all of your team's tasks so it's clear how they connect to your larger milestones and goals.
You can also measure your team's progress with Gantt charts or agile metrics, such as burndown charts and velocity charts.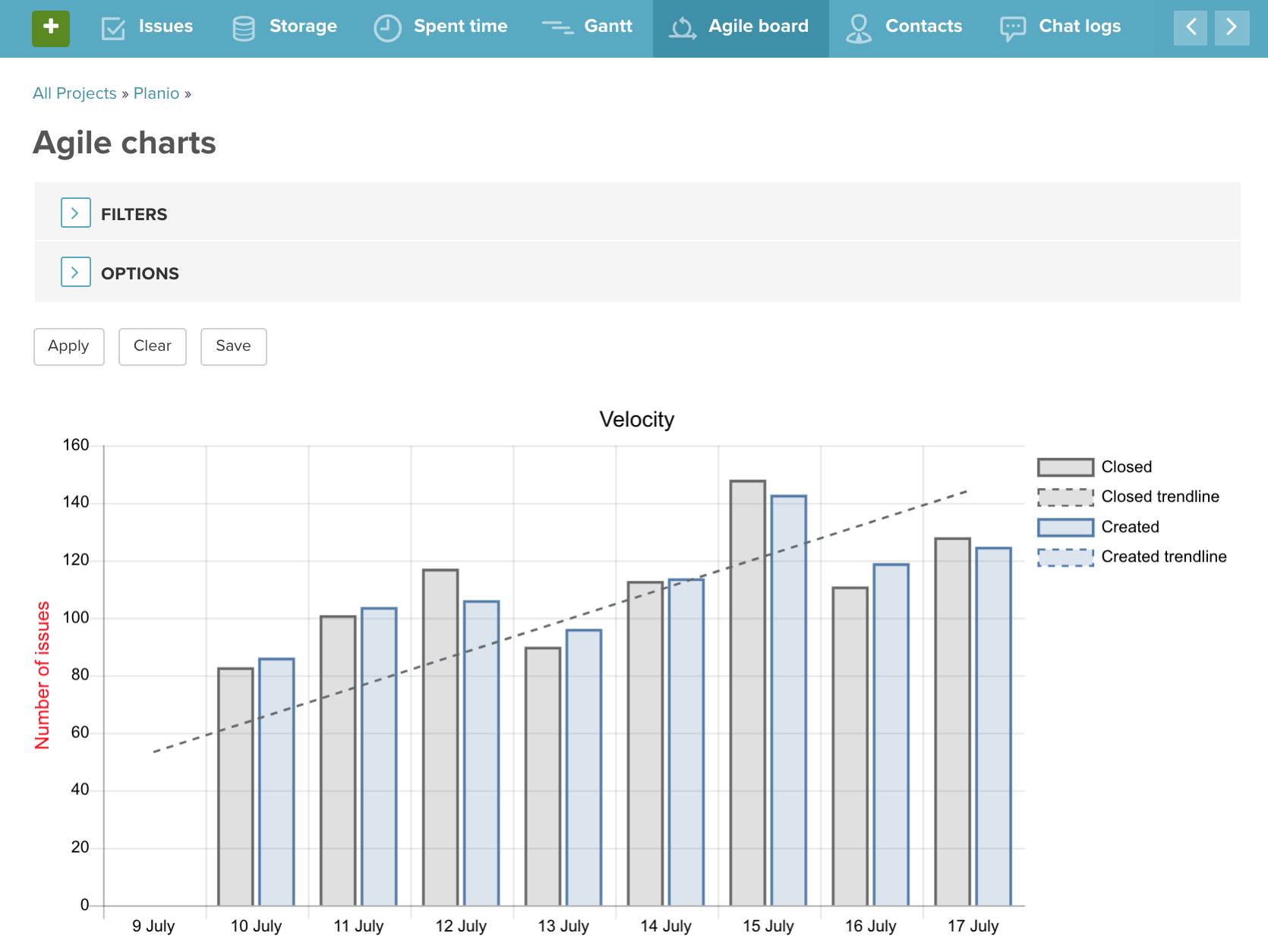 Planio also brings everything you need to manage your team into one place — including cloud file storage and code repositories, team communication (chat and video), reporting, and more. You can try Planio for free for 30 days to see if it's right for your team.
Combine strategy & tactics to maximize success
Strategy delivery is tricky business, with many organizations failing to get it right and leaving themselves in a mess they can't recover from.
But the best way to maximize your success is to align your goals, strategy, and tactics together. That way, everything you do is pulling in the same direction, meaning your entire effort is put into achieving real value for your customers, employees, and shareholders.
If you keep your strategies ambitious, transparent, and relevant while coupling them with sharp, specific, and measurable tactics, nothing will stop you from reaching your business goals!