Marketing project management: Everything you need to know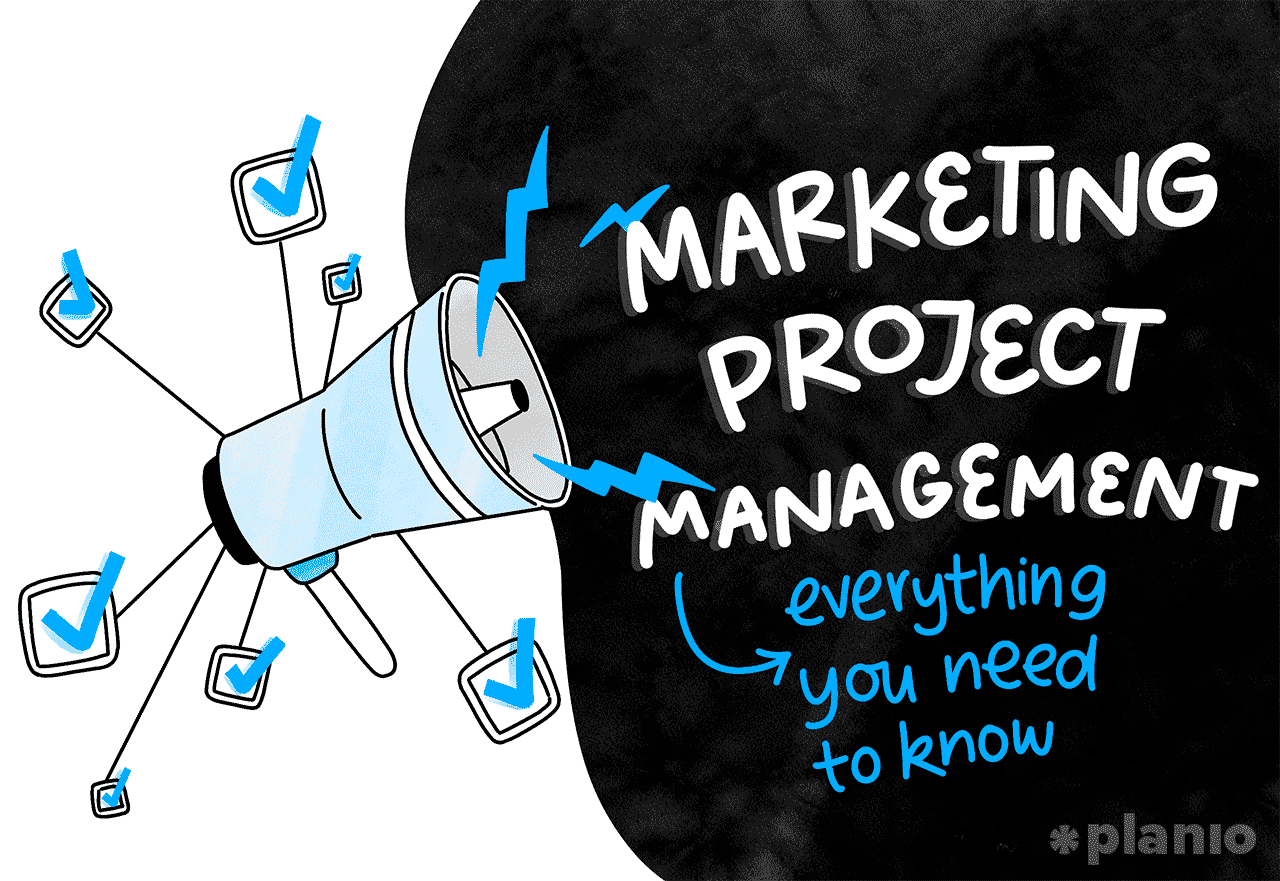 As much as product and marketing teams don't always see eye-to-eye, the two departments ultimately have a symbiotic relationship. Without a good product, even the best marketing campaigns will fall flat. And without good marketing, even great products will eventually disappear into obscurity.
But there's a problem. According to a 2022 study, 40–60% of marketing budgets were wasted due to inefficiency, poor communication, and misaligned productivity tools.
Adopting a marketing project management process can help you stay organized, improve team collaboration, and turbocharge your delivery. That means less marketing waste, higher-quality campaigns, and more engaged team members (and happier product teams!)
Jump to a section:
In this guide, we'll cover all things marketing project management — from what marketing project management entails to an in-depth guide to the five phases of running a successful marketing project.
Let's get into it!
What is marketing project management?
Marketing project management is the process of planning, coordinating, and delivering marketing projects. Much like other types of project management, it follows a structured methodology to help the entire team stay on track and deliver the best customer outcomes.
What does a marketing project manager do?
Central to the success of a marketing team is the role of a marketing project manager. Their job has many layers, from overall planning and oversight to getting stuck into day-to-day tasks. Ultimately, they're responsible for delivering the project, so they'll do whatever it takes to succeed!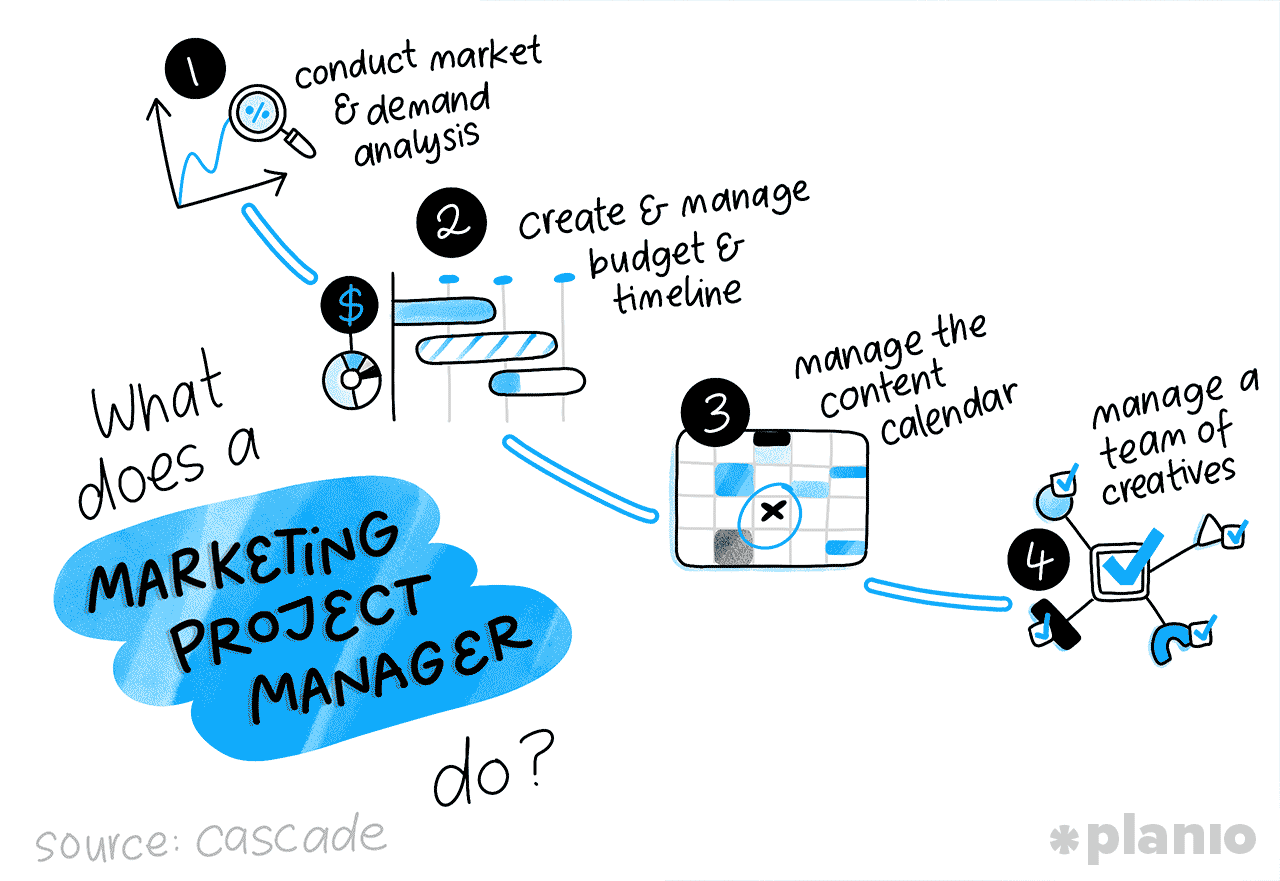 Let's look in a big more detail at what a marketing project manager does:
Defining the project scope. A project's scope details the work that will be done and the outcomes it will deliver. For a marketing project manager, this scope will define the campaign's type, medium, distribution channels, and objectives.
Organizing resources. All projects need resources to make them happen. In marketing, this will include the people, equipment, and raw materials to design, create, and launch a campaign.
Managing the budget. Like all projects, marketing projects have a set budget to work to. The project manager will oversee the project budget, ensuring money is spent at the right time on the right things.
Planning timelines. Timing is everything in marketing and marketing project managers must keep their projects to schedule. This includes planning, overseeing, and prioritizing tasks to keep the timelines in order.
Monitoring results. In marketing project management, the work doesn't stop when the campaign goes live. The project manager also monitors the campaign performance, feeding results back to stakeholders to inform them of the next steps.
Putting out fires. Because marketing projects are fast and high-pressure, a marketing project manager must be on point to solve problems, fix bottlenecks, and resolve conflict. This helps keep everything on track to avoid project failure.

Getting their hands dirty. Marketing project managers often come from marketing backgrounds, so they're not afraid to get involved in the day-to-day tasks. This includes campaign research, data analysis, proofreading, and testing.
Why every marketing team needs a project manager
Because marketing project management is more specialist, many marketing project managers start life as marketing executives or managers rather than external hires.
This is a good thing.
When you combine marketing expertise with project management skills, such as planning, budgeting, and risk management, your team will benefit for a number of reasons, such as:
A higher probability of achieving your marketing objectives
Increased coordination between marketing stakeholders
Greater campaign efficiency in terms of budget and resources
A decreased number of risks and issues during your campaign launch
Greater certainty over timelines and campaign quality
Consistent communication between employees, suppliers, and customers
The 5 phases of a marketing project's lifecycle
Like all types of project management, marketing projects follow a lifecycle to help them stay organized and optimize their efficiency.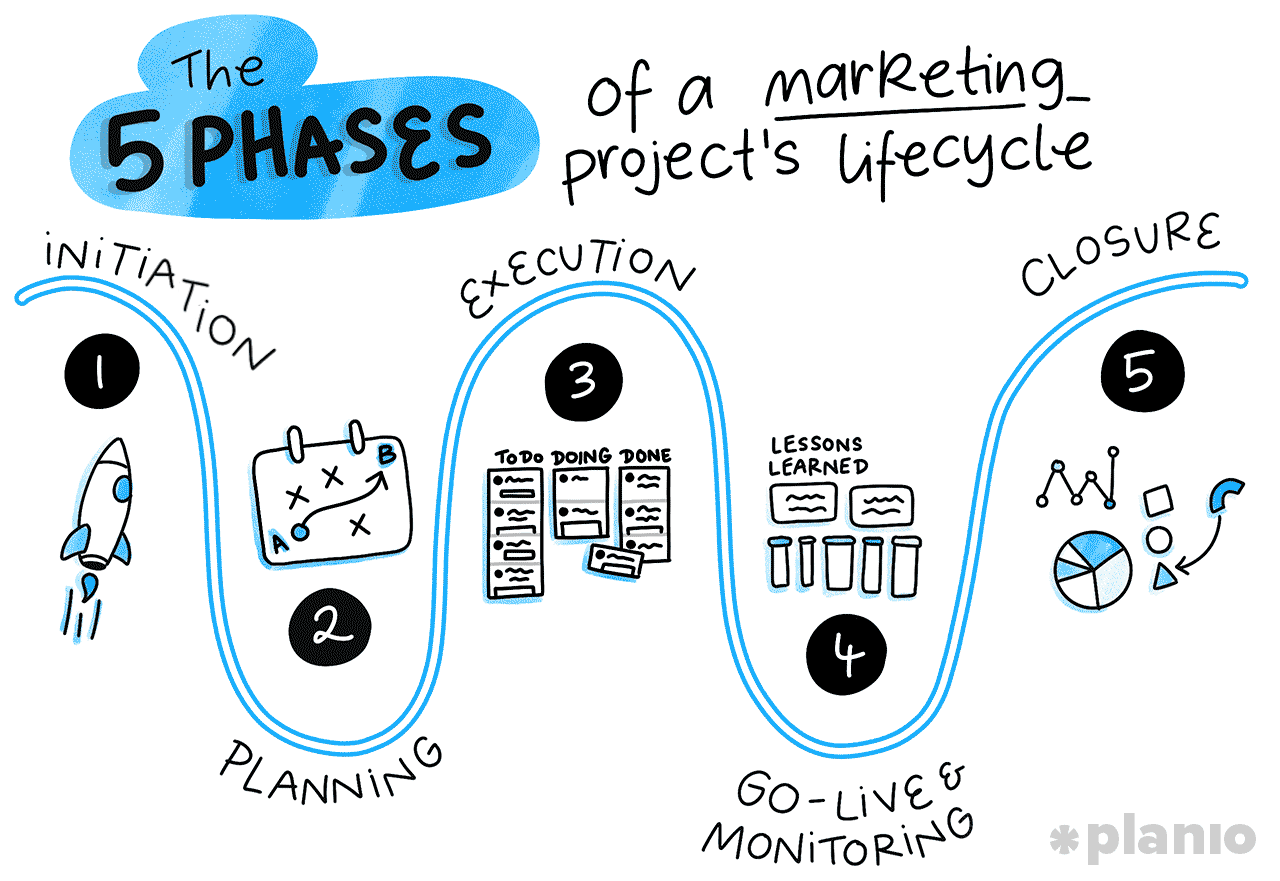 While each organization may differ slightly, let's look at a typical marketing project management lifecycle.
Phase 1: Initiation
The initiation phase is all about setting up the project for success. For marketing projects, this includes agreeing on the campaign's objectives and deliverables, identifying the high-level scope, risks, and constraints, and getting sign-off to proceed from the sponsor (e.g., the Marketing Director).
Phase 2: Planning
In the planning phase, you get into detail on how to deliver your campaign. This includes breaking down and estimating the tasks, mapping the schedule, and securing resources. By the end of this phase, you should have a detailed project plan in place.
Phase 3: Execution
Now the fun starts as you outline project deliverables. For marketing projects, the execution phase includes tasks such as conducting market research, designing campaign visuals, and completing A/B testing. The project manager will ensure everything stays to plan by completing status updates, monitoring risks, and tracking the budget.
Phase 4: Go-live & monitoring
Whether it's a social media, TV, or print project, the go-live & monitoring phase starts when you put your campaign live. From here, you'll monitor its performance by regularly capturing customer feedback, sharing it with stakeholders, and making improvements. This phase will run until the campaign is completed.
Phase 5: Closure
Once the campaign is finished, the closure phase ensures the project is shut down in a controlled way. Here you'll capture lessons learned, disband team members, and gain final approval from the sponsor.
The marketing project management lifecycle helps to structure a campaign from start to finish. While all projects have a chance of failing, following a structured lifecycle increases your chances of success by keeping everyone aligned.
How to successfully run a marketing project in just 8 steps
Now that we know about marketing project management, it's time to implement it in practice. To help you do that, here are 8 detailed steps to run a successful marketing project.
1. Define the goals, objectives, and scope of your campaign
All marketing projects start by defining their goals and objectives, such as brand awareness or sales conversion. Below that, the project scope provides you with the boundaries to work within.
Special tips for success:
Be SMART with your goals to ensure they're challenging but achievable.
Agree on what you won't do. When setting project scope, it's equally important to agree on what isn't included to avoid scope creep down the line.

Give your team a single source of truth to avoid miscommunication. For example, Planio allows teams to create centralized knowledge bases to share insightful information, collaborate on exciting ideas, and align the entire team.
2. Identify success metrics and how you'll track them
While goals and objectives are important, you can't forget to create and agree on success metrics during the initiation phase. These underpin the momentum of your project and help you course-correct your way toward your objectives.
Special tips for success:
Make sure your project's success criteria aligns with your product or organization's North Star Metrics. This ensures your project aligns with the overarching company strategy.
Ensure you've defined your Definition of Done as it creates a shared understanding of when a campaign is complete.
Manage stakeholders from the start. The key to a successful initiation phase is stakeholder alignment. Finish by formally agreeing on your goals, objectives, scope, and success criteria with your project sponsor by creating a Business Case.
3. Research and define your ideal audience and messaging
A unique aspect of a marketing project is the need to be laser-focused on the target audience. During the planning phase, always plan dedicated time to complete market research.
Special tips for success:
Make sure your messaging is in alignment with other campaigns. If this campaign forms part of a go-to-market strategy, make sure your campaign aligns with the product roadmap and sales strategy.
Learn from your early users. Again, if you're working in a product-based organization, a great way to understand the customer is by running user interviews. Check out our step-by-step user interview guide for expert insight, top tips, and a free template.
4. Assign tasks to your team and build your project plan
The main objective of the planning phase is to create a detailed project plan, showing everyone how you will deliver the objectives. You'll need to break down the tasks, estimate them, and assign them to the right team members.
Special tips for success:
Break down larger projects and tasks into manageable "chunks." There are loads of great planning techniques to help you chunk up your project and estimate how long each task will take. We'd recommend the Critical Path Method or PERT as two of the best.
Use a marketing project management tool to stay organized. A project plan is useless unless the team can easily understand it. As you start defining and planning your tasks, use Planio's Task Management module to get everything organized into comprehensive Agile boards or easy-to-read Gantt Charts.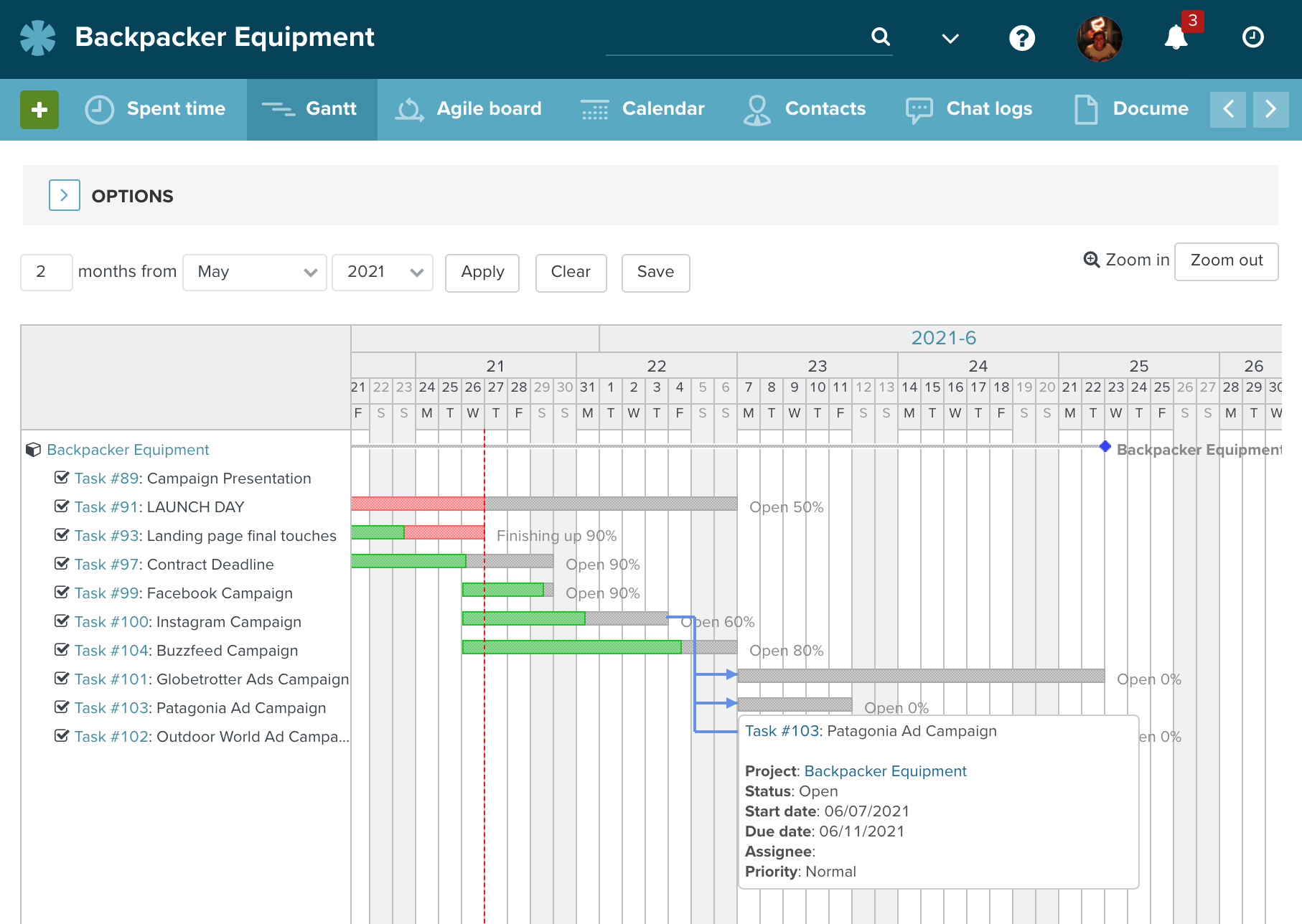 5. Create project deliverables
As the execution phase begins, it's time for you and the team to start making your deliverables. Within marketing projects, this covers a campaign's design, build, and testing sub-phases.
Special tips for success:
Take on a supporting role. As the project manager, you're unlikely to be 'doing' work at this stage. Instead, focus your energy on being a servant leader, ensuring everyone on the team has what they need to progress.
Prioritize communication. Communication is critical to the success of your execution phase. To enable excellent communication, vary your communication styles and incorporate techniques such as asynchronous communication.
Use an Agile board to stay organized. During the execution phase, you'll continuously monitor and update your project plan as things change. Planio's Agile project boards help you stay flexible while keeping your finger on the pulse.
6. Keep an eye on your key project controls
The execution phase isn't all about task tracking, though. As a project manager, you need to keep across all of your project controls, including your budget, scope, risks, and issues. Let any of these slip, and things can go wrong.
Special tips for success:
Understand the constraints you're dealing with. Multiple design iterations, creative differences, and variable supplier costs make marketing budgets hard to manage. Check out our guide on managing the project management triple constraint for handy tips and techniques.
Know what to do when deliverables change. There's a big difference between scope creep and scope change in project management. As your campaign evolves, ensure you have a structured scope change process to deliver flexibility without losing control.
Get reporting set up to spot issues early. No project runs 100% to plan. Use Planio's Issues feature to identify, manage, and resolve issues in a way that breeds confidence rather than chaos.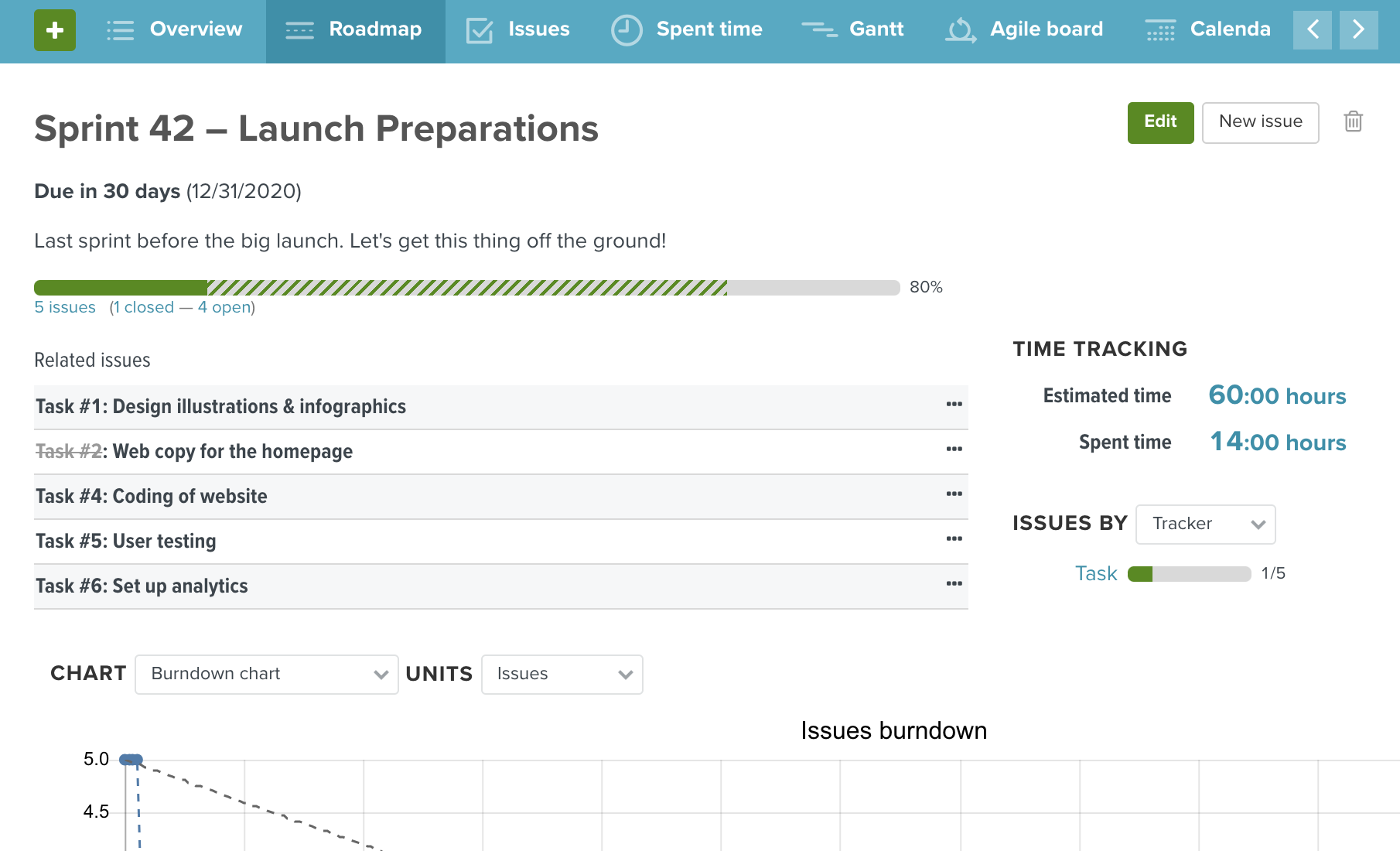 7. Launch and monitor the campaign
Once everything has been built and tested, it's time to launch your campaign to the world. But the job doesn't end there, as you must monitor the campaign performance and ensure it meets your goals and success criteria.
Special tips for success:
Don't rely strictly on data. While many campaigns use quantitative data to measure their success, it's also important to gain customer feedback. Look for the following characteristics in your feedback to make it the most effective it can be: tangible, timely, actionable, and candid.
Keep executives informed of your progress — good or bad. Keeping stakeholders on side is important during the launch and monitoring phases, especially if the campaign is underperforming. To help, here's our complete guide to project stakeholder management.
Create a communication plan. Planio's Communication module is a great way to get feedback from stakeholders in and out of your organization. It's simple to use and pulls all project feedback into one place using forums, blogs, and comments.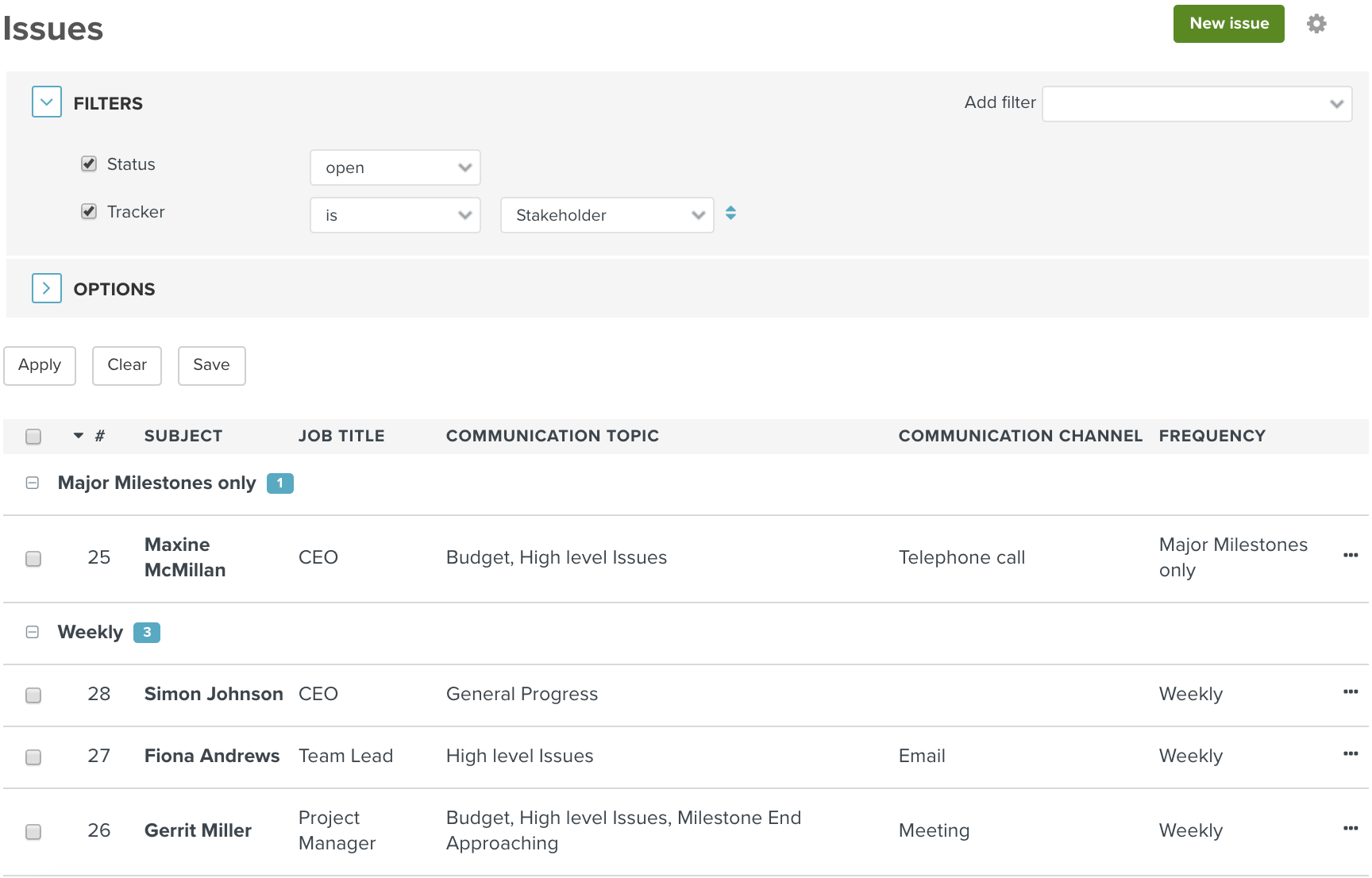 8. Capture lessons learned, shut down, and start over
Congratulations! Your project is complete and you've delivered all the goals and objectives. Before you run off to the celebration party, it's essential to formally close the project down and capture lessons learned for the future.
Special tips for success:
Measure your success against the initial project plan. While it doesn't need to be too prescriptive, we'd recommend including your performance versus the project's objectives, budget, time, and scope in your closure document.
Talk through what worked (and what didn't). Lessons learned are a crucial part of project management as they help you improve for the future. Remember not to focus only on what went wrong but also call out what made the project successful. Here's a lessons learned template to help.
Real-world marketing project management examples
To bring marketing project management to life, here are two examples of real-life campaigns delivered through the 5-phase lifecycle.
Social Media Ad Campaign
New Website Landing Page
Context
Sally works for BrandWOW, a social media marketing company. She's helping a client launch their new brand.
Jack works for ProteinBods, a newly formed fitness brand. Jack's leading a project to create a landing page for a new product launch.
Phase 1: Initiation
Sally uses the kick-off meeting to establish the objective and scope of the project:



Objective: Get the brand seen by 100,000 people.
Scope: One campaign across Facebook and Instagram (50,000 impressions each).


Sally summarizes this into a Statement of Work that the client signs off.
Jack sits down with the Marketing Director to agree on the objectives and scope of the project:



Objective: Create one landing page for a new product launch.
Scope: The page is for information only. It will not be used as an e-commerce store to buy the product.


Jack summarizes the objectives, scope, and budget in a business case for the project sponsor to approve.
Phase 2: Planning
Sally breaks down the project into three key parts:



Design and content
Testing
Launch and monitoring


She estimates design to take 1 week, testing to take 2 weeks, and the campaign to run for 3 weeks. This creates a 6-week total schedule.

Sally will need the support of BrandWOW's graphic designer and social media executive to complete the project.
Jack breaks the execution down into three parts:



Page design
Page build
Page testing


Jack is a former designer, so he will complete the design himself in one day, but he asks for the help of a developer for 4 days to build and test the page.

He shares the Project Plan with the sponsor for approval.
Phase 3: Execution
Sally monitors the project's progress, regularly checking in with the team.

Unfortunately, the graphic designer has to take time off sick, so Sally completes some of the design work herself. This delays the project by two days, which she communicates to the client.

Once all the design, social media setup, and testing are complete, Sally gets sign-off from the client to launch the campaign.
Jack completes the design work, keeping track of the time he's spent on the project. He actually needs three days to complete the full design rather than one.

He then passes it to the developer to build and test, which they complete in the planned four days.

The sponsor completes user testing on the page and approves the launch.
Phase 4:
Go-live & monitoring
The ad campaign is launched, and the initial performance is strong.

Over time, Sally notices the ad is performing better on Facebook due to a bigger population of users.

Sally aligns this with the client, and they agree to update the impression target to 65,000 for Facebook and 35,000 for Instagram.

By the end of the 3 weeks, the ad achieves 106,000 impressions.
The page's go-live aligns with the broader roadmap and strategy for the new product.

Jack monitors the page traffic while also keeping an eye on social media for any customer feedback.

All goes well, and after 2 weeks, Jack proposes closing the project.
Phase 5: Closure
Once the campaign is complete, Sally and the client agree to close the project formally.

Sally runs a lessons-learned session with the team and records the difference in audiences between Facebook and Instagram as a point to be aware of for similar campaigns in the future.
Jack completes a closure document detailing the performance vs. the objectives and scope agreed upon during the Initiation phase.

In the document, Jack details the overrun on the design sub-phase as a lesson learned for the future.
Structure your campaigns with marketing project management
Data shows that many marketing projects are inefficient due to a lack of structure, organization, and alignment. Following a marketing project management process can help with this, thanks to a structured 5-phase lifecycle guiding the whole team from start to finish.
Like all types of project management, the way to make delivery even more efficient is to use a project management tool, such as Planio. With features for task management, project planning, a knowledge wiki, and team communication, if you're running a marketing campaign, Planio might just be the best friend you never knew you needed!
Try Planio with your team – free for 30 days (no credit card needed!)