The number of calendars we see in our day-to-day lives can be quite ubiquitous; they're just everywhere! Although it's important for all of us to (at least) have a general idea of what day it is, Project Managers in particular need to keep a constant eye on their calendar... juggling the myriad number of tasks and assignments requires a level of dedication quite difficult for most of us to master.
This week we'd like to bring to your attention the Planio Calendar. No, we're not needlessly trying to introduce yet another calendar into your busy life; rather, the Planio Calendar provides a useful option to help facilitate the management of multiple project issues. It's a great standalone web-based project calendar (especially when you rely on Planio for all of your project management needs) and it's also a great exportable iCalendar (.ics) that can be integrated into your preferred client (e.g., Google Calendar, Apple Calendar, Yahoo, IBM Lotus Notes, and Microsoft Outlook, to name a few).
So, let's check out some of the spiffier features in the Planio Calendar...

Interface
The calendar's appearance looks as you may expect--a monthly view organized into daily segments. At the top of the calendar, an Add Filter drop down menu enables you to add new filters to the calendar; the Filter Selection area displays all current filters. The Filter Selection area also includes a month & year selection drop down menu which allows you to jump to a desired month and year combination.
The day cubes are comprised of issues that satisfy your filtered criteria. Text within a cube can be clicked (to navigate to the issue's Details screen) or you can hover your mouse over text for a brief rundown of the issue.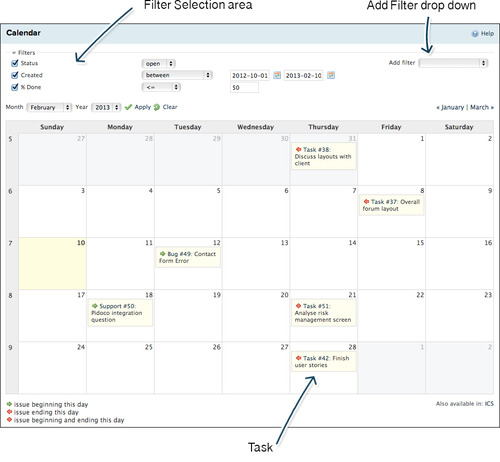 Let's have a closer look...

Add Filter Drop Down Menu
The Add Filter drop down menu is used to add a new filter to the Planio Calendar. Simply click the drop down arrow and select a filter--that's it! After selection, its name will appear in the Filter Selection area along with an operator field; more on that below.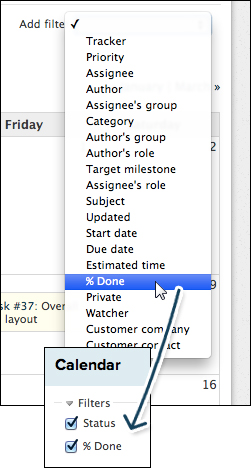 Filter Selection Area
The Filter Selection area is comprised of all current filters. When you select a filter in the Add Filter drop down menu, it will appear here and be automatically selected/active.
To apply a filter:
Select the check box to the left of the filter name.

In the operator field(s), select or enter a desired parameter in order to define the filter.

Click

Apply

to submit your filter(s).
Examples:
Status

: Select open|is|is not|closed|all, as needed. If is or is not is selected, then a second operator field appears enabling you to select a status type (e.g., "Status is Waiting for review", "Status is not Complete", etc.).

% Done

: Select is|>=|<=|between|none|all, as needed. If is, >=, <=, or between is selected, then additional operator fields appear enabling you to define the percentage done (e.g., "% Done >= 50", "% Done all" [includes all values], "% Done between 50 100" [includes values between 50 and 100 percent], etc.).


Calendar Task Entries
Tasks that begin

, end

, or begin & end

 on a given day will appear in the Planio Calendar. To view a summary of the task, simply hover your mouse cursor over the yellow-shaded task entry. In addition, you can also navigate to the task's Details interface by clicking on the "Task #" text, as shown below: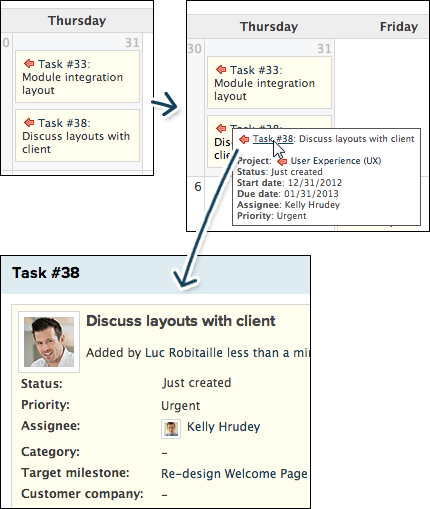 Exporting the Calendar
The Planio Calendar can be exported as an iCalendar (.ics) file, which is a widely-accepted calendar format that can be used in multiple applications, such as Microsoft Outlook, Google Calendar, and Apple Calendar.
To export the calendar as a feed (so that it updates automatically)

: On the bottom-right corner of the Calendar interface, right-click on ICS, copy the link to your clipboard, and then paste it as a feed source to your favorite calendar application.

To save a static view of the calendar

: Click ICS, save the file to a local or network location, and then apply/import the calendar file to your favorite calendar application (shown in graphic below).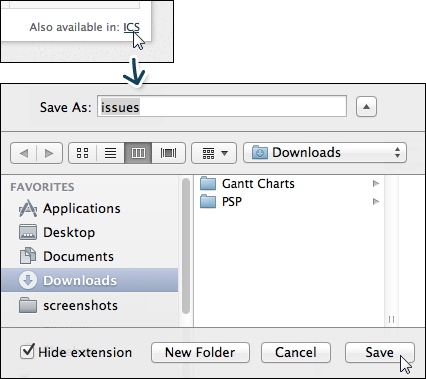 Was this article helpful? Do you rely on the Planio Calendar for your project management needs? Tell us about what you like (or don't like) in a comment below! If you liked this article, please feel free to share a Like and Tweet as well!
Brian is currently reading Himalaya, by Michael Palin, a great travel author and quite a funny guy (many of you may remember him from Monty Python). He's also growing tomatoes... Brian, not Michael.