Working Remotely: 11 Project Management Experts Weigh In on the Pros and Cons
Imagine waking up, grabbing a coffee, and sitting down to your laptop with a view overlooking the beach.

Work for a few hours, and then head to beach for a swim.
That's the dream of remote work. But how does it work in pratice, and what's the impact on how teams work together?
I asked 11 experts from the project management and agile/scrum world, "How do you feel remote work changes how teams work together?".
There were interesting differences in opinions.
Some agile and scrum experts were more skeptical of working remotely. Project management experts focused on the need to generate high levels of trust to make it work. You'll find their thoughts below (you can click on any to jump straight to their contribution).
Marissa Mayer famously banned remote work at Yahoo, claiming that it was being abused by some. She wrote that "speed and quality are often sacrificed when we work from home" in an internal memo shutting down remote work.
Reddit forced their entire staff to relocate to San Francisco, as they claimed they couldn't coordinate between the teams as well as they wanted.
Here at Planio about half the team works remotely, and half of us work out the Berlin office, so we have quite a bit of experience with remote work.  I recently shared what we've learned from it over at ProjectManagement.com.

Dan North Argues Distributed Teams Can Collaborate & Iterate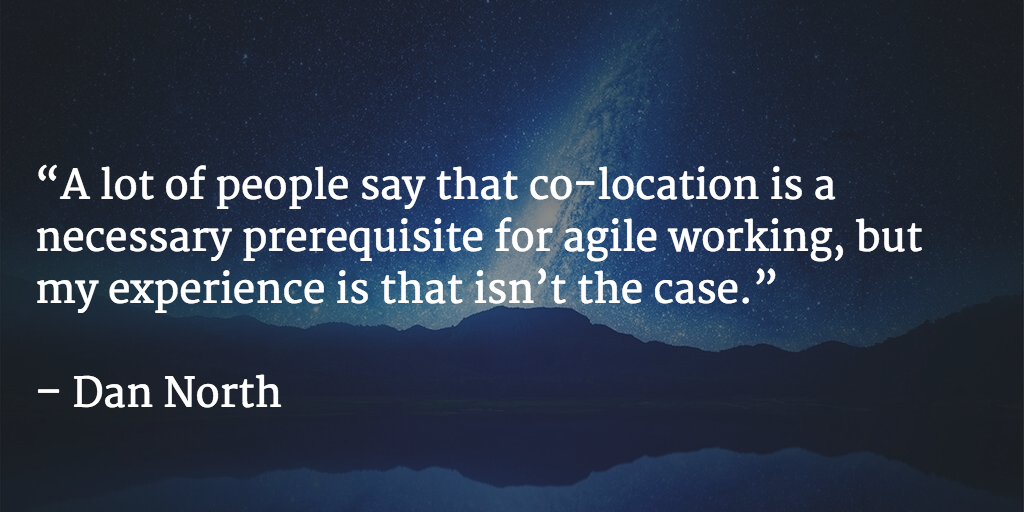 "It's not only physical distance that impacts team dynamics. Timezone and cultural differences can also be significant factors. But that doesn't mean distributed teams can't work together in a collaborative and iterative way. A lot of people say that co-location is a necessary prerequisite for agile working, but my experience is that isn't the case. Being sensitive to the needs of non-local team members isn't that hard, and once it becomes a habit the team becomes more resilient. For instance, one team I know has a rule that if anyone is dialing in, everyone dials in, even if they are all sitting near each other! That way everyone has the same "experience" during the call, and no-one is at a communication disadvantage.
Don't believe anyone who tells you distributed teams can't collaborate!
Technology, particularly in the areas of face-to-face video calls (Skype, Google Hangouts, etc.) and bespoke solutions like Telepresence screens, mean it is easier than ever for distributed teams to collaborate well. Prioritizing communication within the team helps too, with team blogs or chat tools like Slack or HipChat as a way of staying connected. Github distributed teams have a shared jukebox so they are all listening to the same music, which creates a sense of being in the same office.
Don't believe anyone who tells you distributed teams can't collaborate!"
Dan North is a technology and organizational consultant who helps business leaders, managers and software teams deliver quickly, successfully and sustainably. You can read his website here or follow him on Twitter.

Elizabeth Harrin Emphasizes That Remote Work is a Mindset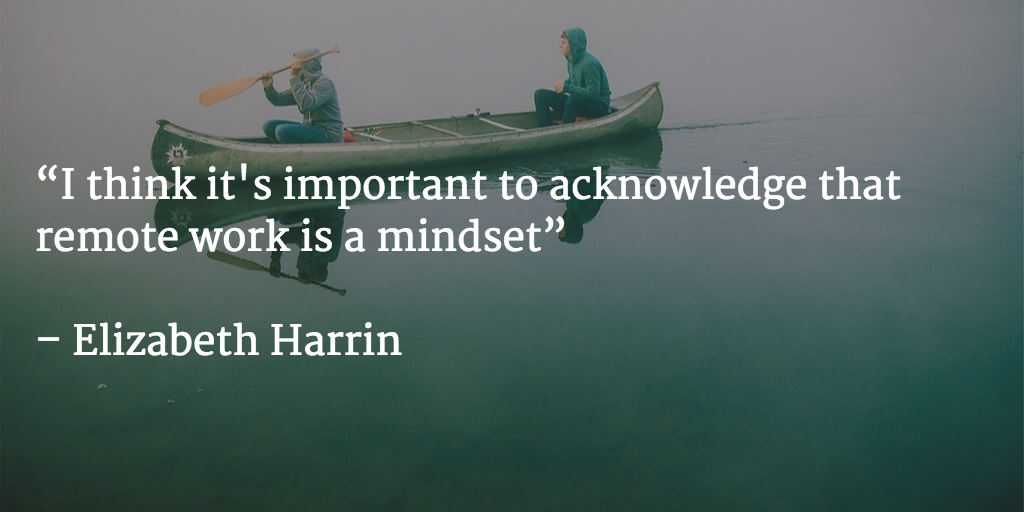 "Remote work changes how teams build trust and how they communicate. Trust happens more slowly but, I think, at a deeper level because you have to have faith in colleagues that you can't actively see doing any work. You are also all in the same boat, so that gives you a shared experience to draw on.
Communication changes because you have to rely on methods other than face to face. Email, instant messaging, collaboration tools, Skype: they all play a part. I think virtual teams use a greater number of communication channels and probably are better at tailoring them to get the right result, but they also probably have a higher number of communication fails. No statistics to back that up, it's just my feeling.
I think it's important to acknowledge that remote work is a mindset, and that you can work virtually or remotely even with people in the same office. If you primarily use electronically-mediated communication and skip the face to face discussions, then you are predominantly a virtual worker."
Elizabeth is the award-winning blogger behind A Rebel's Guide to Project Management, a blog aimed at helping teams get work done and improving project communication. She is widely published on project management topics and has contributed to numerous websites and magazines.
Chris Sims Highlights the Extra Communication Costs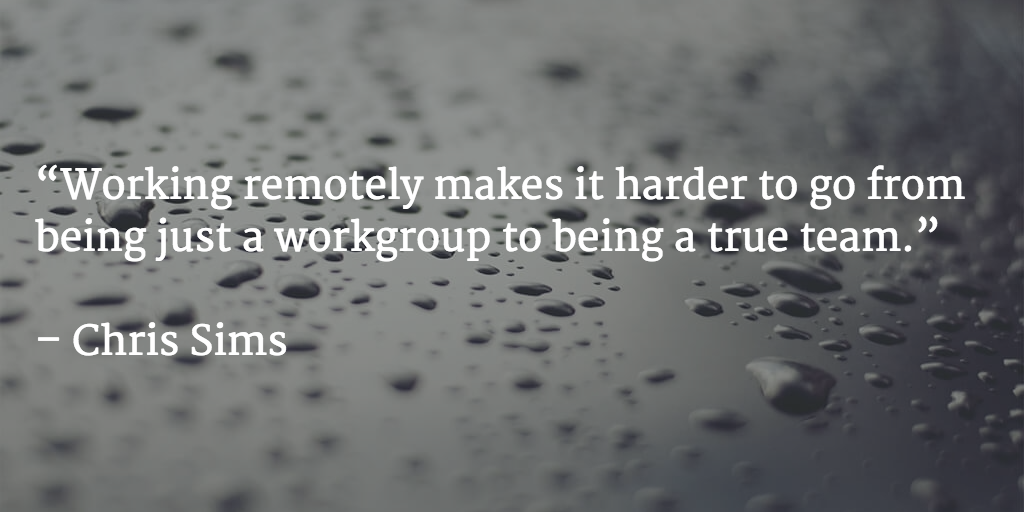 "Working remotely makes it harder to go from being just a workgroup to being a true team. This is due to the increased cost of communication between team members. I've seen it done well, but it required extra attention be paid to create frequent real-time connections between team members."
Chris Sims is a Certified Scrum Trainer, agile coach, and recovering C++ developer who helps organizations improve their productivity and happiness. You can follow him on Twitter or see his profile.


Bruce Harpham Remarks that Remote Work is Great for Introverts
"Remote work is a great arrangement for introverts and others who need space and quiet to focus on their work. Remote working arrangements does make relationship building more challenging. To overcome these difficulties, I suggest using the Observation Strategy."
Remote work is a great arrangement for introverts and others who need space and quiet to focus on their work.
Bruce Harpham is the author of ProjectManagementHacks.com, a career advancement resource for growing project managers. He will be hosting a webinar on Making The Most of Virtual Work to members of the Project Management Institute in September.
Ron Jeffries Argues that Remote Work Rarely Pays off for the Business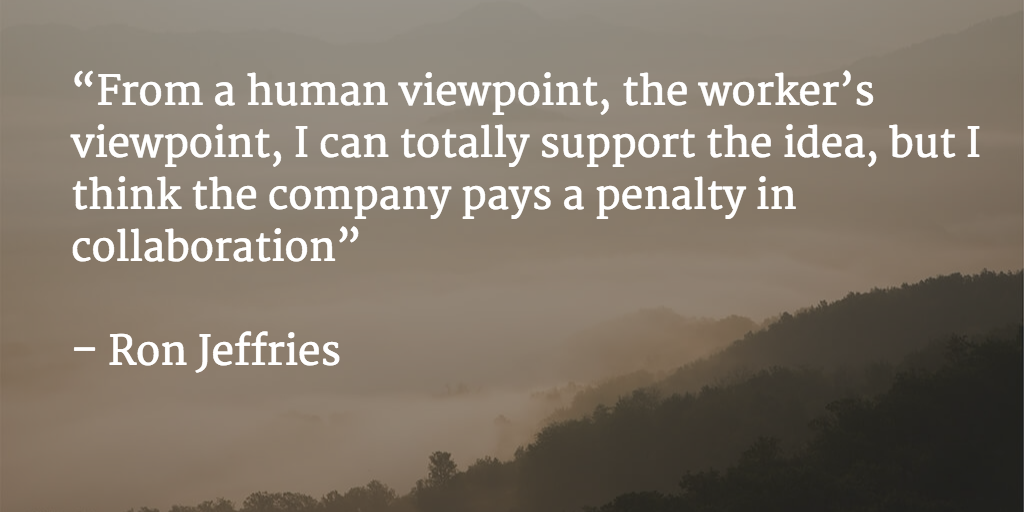 "If we're talking about a team who are in several separate locations, it can only reduce collaboration. There might be weird exceptions, but not many that are credible to me.
Remote work addresses some interesting concerns, such as "I'd like to live in Pinckney but work on your project in Manhattan", and "we can't find any good people in Manhattan, so we have to hire people from Pinckney".  I think the former is a good reason for me to want remote work, and I think the latter is probably not a good reason for a company to want it.
To get someone truly marvelous (like me), it might pay off, but for day to day work, I have my doubts. From a human viewpoint, the worker's viewpoint, I can totally support the idea, but I think the company pays a penalty in collaboration, which will impact growth of knowledge and so on.
If we're talking about "off-shoring", with the requirements people far away from the developers, I know of one company that thinks it works well, and many who think it is terrible. I know of one Product Owner who had two teams, one co-located with him in Seattle, one in India. Despite horrific efforts to provide high-bandwidth communication and common meeting times, he calculated productivity with his remote team as 1/4 the productivity of his local team, and he believed the teams were equally competent.
So I can see why individuals might want to work from their home location. As a person, I can see why I might want to accommodate that need to get someone I knew and wanted badly. I believe that to the business, it pays off rarely if ever."
Ron Jeffries is one of the founders of the Extreme Programming  software development methodologies. You can follow him on Twitter or read his website here.
Ken Schwaber Focuses on Regularly Working on Location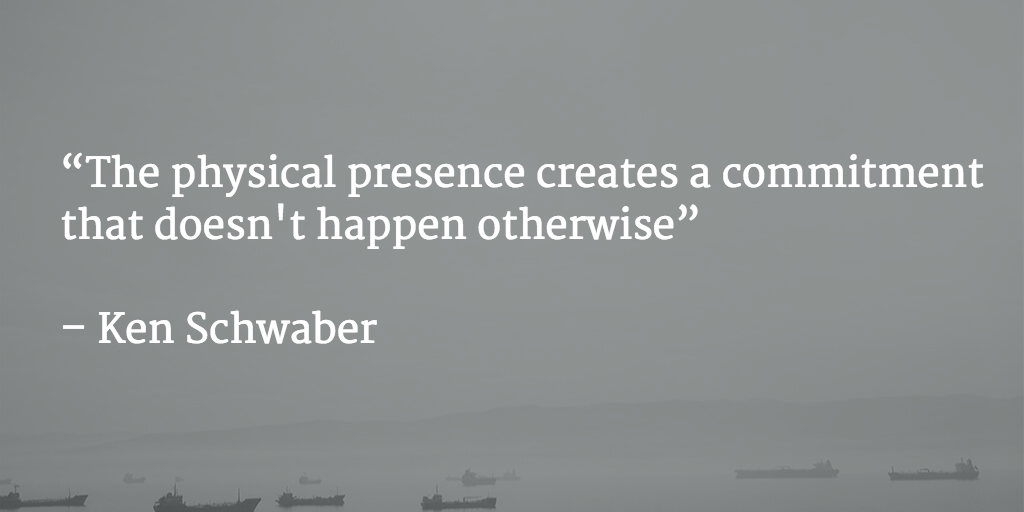 "My company, Scrum.org, has ten or so developers, four remote. We video with the remote people daily, and have them in at least three week every two months. Otherwise, we diverge without knowing so. Also, the physical presence creates a commitment that doesn't happen otherwise."

Ken Schwaber is the co-founder of Scrum and founder of Scrum.org. You can follow him on Twitter.
Kane Mar Argues that Remote Work Introduces Barriers to Communication
"To be honest, I feel that remote working has introduced more problems to teamwork than it has solutions. There are definite benefits to remote working such as a more flexible schedule, a more comfortable working environment and more time with family.
If work needs to be done as a team rather than individually, then working remotely introduces barriers between individuals. These may be barriers of time, location, culture or language. All of these barriers are difficult problems to solve and current tools and solutions have not proven to be very effective. The only consistently reliable solution is direct face to face communication between individuals.
I feel that remote working has introduced more problems to teamwork than it has solutions.
So, let me answer the question more directly; how does remote work change how teams work together? And it think it impacts teams in a negative way by introduce barriers for communication. Rather than try to find ways to have the team work together (i.e. direct face to face communication), the current crop of tools address a small part of a broken paradigm."
Kane Mar is the co-founder of Scrumology, a unique consultancy focused on developing high-performance agile software development teams. You can follow him on Twitter.
Margaret Meloni Points out the Need for Trust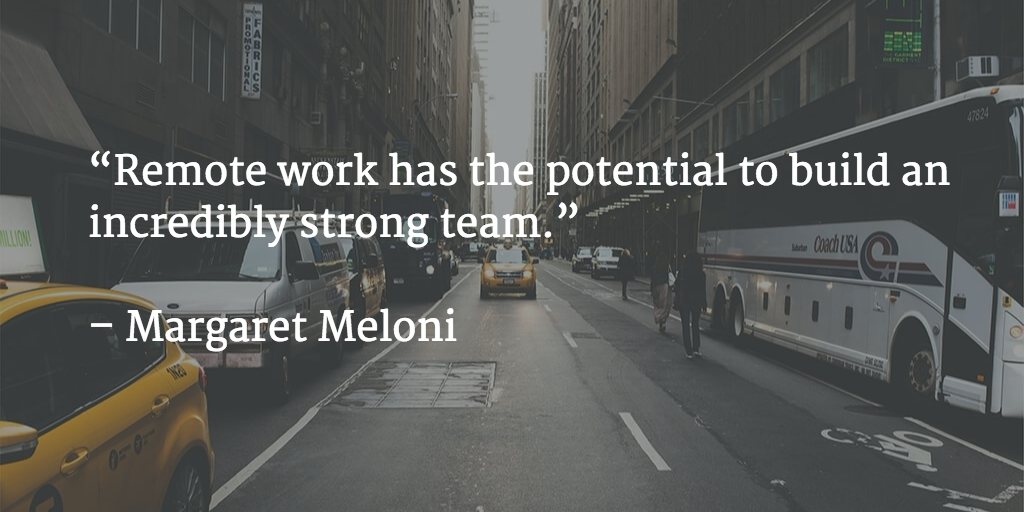 "Remote work has the potential to build an incredibly strong team. Successful remote work requires strong levels of trust.  Of course this is a hallmark of a high performing team, whether or not they are remote.
But working remotely makes the need for trust more obvious much more quickly.  The first time that you cannot walk down the hall to talk to your team member or the first time that you realize you are 13 hours apart, these are the times when you begin to understand that will achieve progress through trust.
Trust that is extended and trust that is earned. You extend trust by giving your team members the opportunity to make good on their commitments. You earn trust by making good on your commitments."
Margaret Meloni writes at PMstudent.com about building better project managers through online and in-person education. You can follow her on Twitter.
Ashfaque Ahmed Reflects on the Various Factors Raised by Remote Work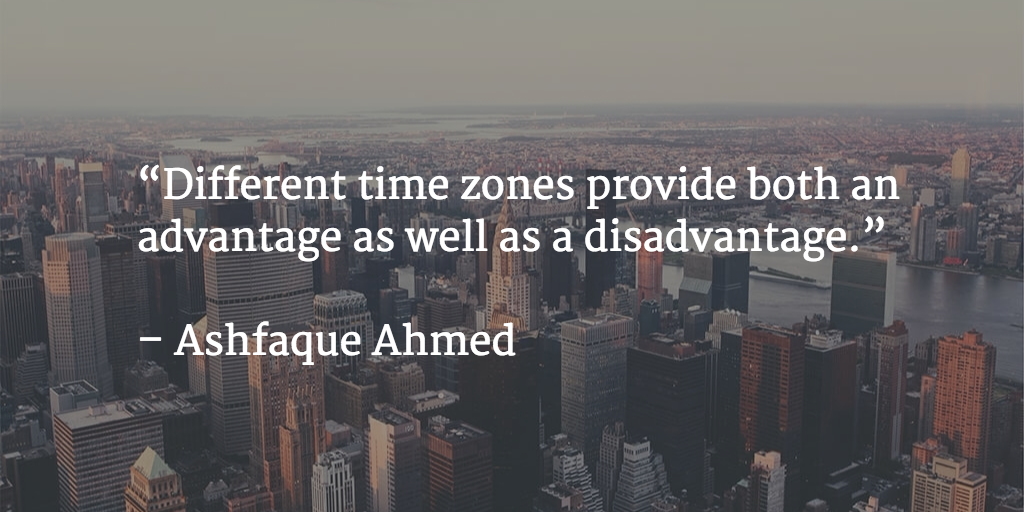 "Nowadays a lot of project work is being done by project team members remotely. When a project team member works from a remote location then following challenges can be faced by a project team:

Different native language spoken and used

Different time zones

Different work culture

Different legal obligations specific to a country / region

Contractor agreements

Communication

If a person is residing in the same country / region where the project work is being done then out of all the points given above; only the communication aspect can be a problem; when the person is working remotely. The person may be working from home or he may be visiting a customer site which is different from the office location. In this case the person may be able to communicate with the project team via a telephone/mobile or some internet based communication system (Skype/any chat program). A web based corporate virtual meeting program facility can also be availed. Even though these means of communications have become sophisticated; still they are not the same as face to face communications. Internet based video conferencing facilities have overcome this constraint to some extent.
If a person is located in a country where his/her native language is not the same as being used for the project then it can create communication problems. It is a real challenge. If part of a project work is being outsourced to a country/region where the native language is different then people at this location will have difficulty. So before a project work is being outsourced to a company located in a different country/region where native language is different then it should be ensured that people hired for the project can communicate effectively in the language used on the project.
Different time zones provide both an advantage as well as a disadvantage. For example if the project work involves people working at a USA location as well as at an India location then it turns out to be an advantage. The time difference between USA and India roughly comes out to be 12 hours. This means that project work can go on for 24 hours per day. Some initial work can be done at the USA location and then rest of the work can be delegated to the India location. This way project work can continue for 24 hours per day. Thus project delivery can be fast. But in this setting one drawback is that meeting of people located at the USA and India location will be difficult; if it has to be done in real time. This constraint can be overcome by keeping the meeting times at mornings or evenings. If it is morning hours in the USA then it will be evening in India. The project team may have to work some extra hours (the meeting could be beyond office hours) but still it will work.
If the project work involves people having different work culture then there could be chances of clashes of work ethics. For example Japanese people expect a lifelong career with their employers. You just cannot hire and fire a Japanese employee as against the normal practice in USA. Similarly Indian employers expect their employees to work long hours and even expect to work on weekends when required. A European employee may thus find it difficult to cope to work with an Indian employer as they are not exposed to work in such an environment.
Country specific legal rules may influence working environments to a great extent. For example in India; women employees are not allowed to work after 9 PM. So if a project work involves working of a women employee from a remote office from India then the work cannot be carried after 9 PM.
For example in India; women employees are not allowed to work after 9 PM.
If a project work is outsourced to a contractor through a legal agreement then the contractor will work on the project as per the agreement. If the customer wants a deliverable on the project which is not part of the agreement then the contractor may not oblige. The contractor will deliver only as per the agreement. If the contract was not made properly then the customer may be in trouble.
The factors mentioned above is changing the way project work is done. All of these factors are related to projects when the project work is being done remotely."
Ashfaque Ahmed is an expert in software project management. You can read his blog here or follow him on Twitter.
Peter Taylor Outlines the Five Stages of Remote Teams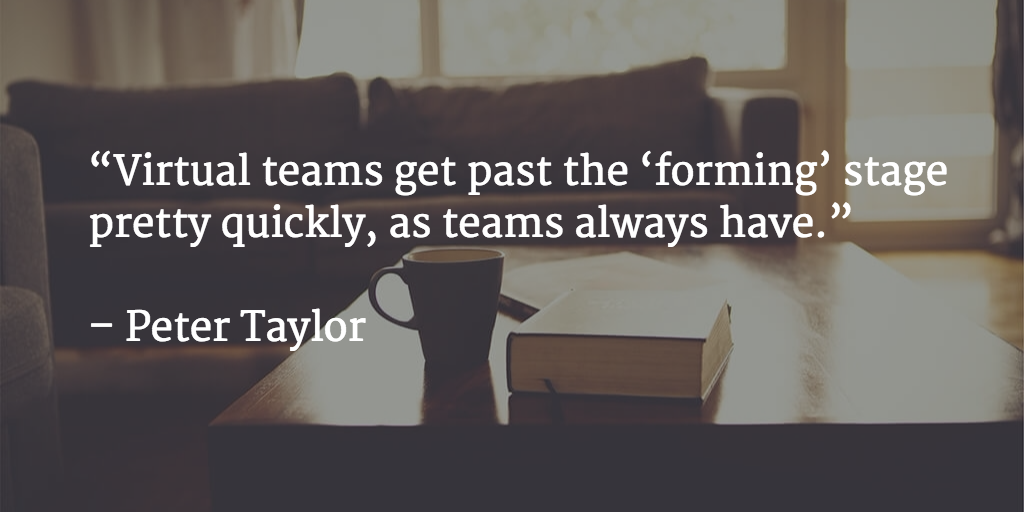 "Long ago, Bruce Tuckman defined the stages of teams as 'forming, storming, norming and performing'.
Virtual teams get past the 'forming' stage pretty quickly, as teams always have.
The 'storming' phase is important in preparing the team for working together, resolving character imbalances, sorting out territorial issues and generally getting everyone to know everyone else. Now without a face-to- face session (or two … or three) this will be very challenging, and so the global project manager has to compensate somehow.
During this time decisions don't come easily within the group, and team members will no doubt vie for position as they attempt to establish themselves in relation to other team members.
In a virtual situation a lot of these issues can be hidden, so as the leader a project manager almost has to force the matter. It's also very easy to jump to a wrong conclusion about a fellow team member, apply stereotypical attributes, and miss tensions hidden by a reduced communication process and lack of physical visibility as to how people are behaving.
Once you hit 'norming' the challenges decrease to a degree, but you have to be able to maintain the team spirit. At this time there should be agreement and consensus amongst the team members.
And then on to 'performing' when the team is more strategically aware and knows clearly what it is doing through a shared vision. It is able to stand on its own feet with no interference or participation from the project leader. There is a focus on over-achieving goals, and the team makes most of the decisions against criteria agreed with the leader.
Make it to this stage and the challenges of working with teams spread across the globe will have pretty much disappeared or the team will resolve the issues themselves and you will wonder what all the fuss was at the beginning."
Peter Taylor is the author of two best-selling books on 'Productive Laziness' – 'The Lazy Winner' and 'The Lazy Project Manager'. You can follow him on Twitter or find his website here.
Michael Kaplan Gives Recommendations for Reducing the Risks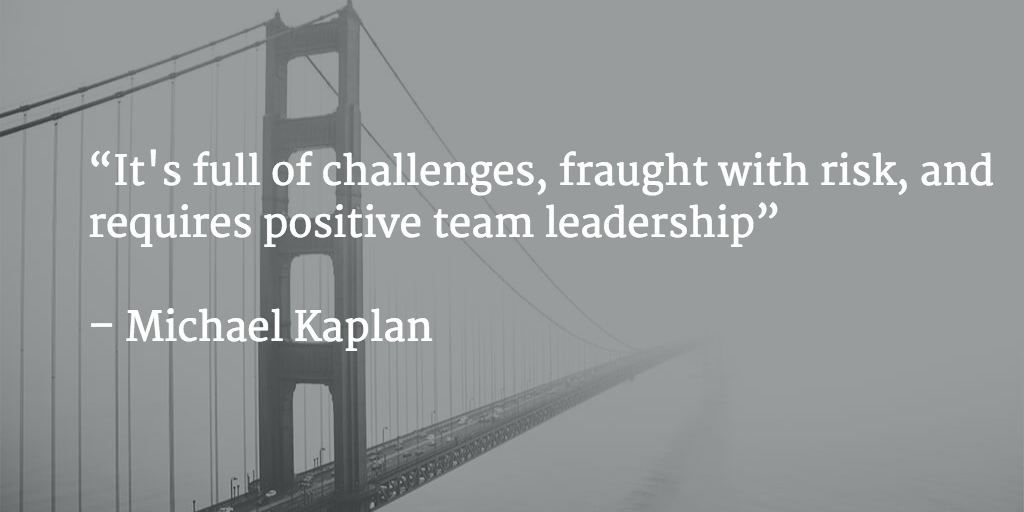 "Managing projects remotely and across geographic boundaries may seem like a practical and easy job, but it's not. It's full of challenges, fraught with risk, and requires positive team leadership.
As more projects are run remotely, project managers of traditional co-located project teams have to lead geographically distributed teams. When project managers get moved into this unfamiliar territory they struggle. It's even more challenging for people who manage with a command-and-control style across locations, functions, cultures, and time zones.
There are several ways in which a project team is geographically dispersed. One team may include any variety of situations. Some people might work in groups of two or more in the same place, while others may work individually in different offices or at home. You may see some people every day, but you may hardly see others – or maybe you've never even met them!
A team that is geographically separated adds increased challenges to management of the project.
These are a few recommendations for how a project team can mitigate the negative effects of geographic dispersion:
Implement Structure and Standards

Develop Roles and Responsibilities

Increase Project Team Visibility

Create a Virtual Work Space

Hold Frequent Team Meetings

Enforce Quality and Communications

Keep Deliverables Autonomous

Allow Extra Team Time"

Michael Kaplan is a Transformation Leader, who helps organizations apply project management and PMO practices to improve business performance. You can follow him on Twitter or read his LinkedIn articles here.
So, as you can read, the big challenges raised by remote work seem to be effectively communicating and collaborating. On the other hand, other contributors have pointed out that building trust, being sensitive to the needs of remote team members and more structure in organization can help overcome these barriers.

What's your take on remote work? Let us know in the comments.