Redmine Plugins: The Top 8 Planio-Approved Plugins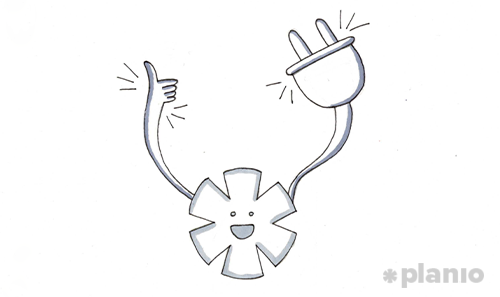 Redmine plugins build on core functionality of Redmine for special use cases or time-saving additions.
You'll find that plugins range from large functions such as managing customer support requests or resource allocation to very small features such as attaching screenshots to issues.
You'll find a full list of plugins over at Redmine.org. It's a long list, and it can be difficult to find the best plugin for your situation. We have a list of Redmine plugins that we feel are ready for professional use. We hope it will help you find the plugin for your specific situation.
Not All Plugins are Created Equally
It's important to know that Redmine plugins are usually an open-sourced side project. As a result, the person writing the plugin will usually be doing it in their spare time or for a specific problem they faced. Apart from exceptions such as RedmineCRM, they aren't doing it as a commercial business.
That means that some plugins haven't been updated for some time, or they aren't fit for being used in mission-critical production scenarios. On the other hand, others are regularly maintained and updated.
At Planio we're constantly installing new plugins for customers on our Enterprise plans. As part of the process, our engineers review each plugin for security issues, code quality, and their production-readiness.
Redmine Plugins at Planio
Planio runs a tenanted version of Redmine. That means all Planio accounts have the same codebase. The advantages of a tenanted approach mean that whenever there's a security update or improvement we can roll it out to everyone immediately. In fact, we deploy to production several times a day. Economies of scale also help us keep Planio good value for money.
A consequence of this is that we can't install plugins for users on our normal plans. If we installed a plugin, it will appear for all users, not just you! Not cool.
So, our solution is to offer individual code bases for our Enterprise plans. You'll have your own separate Planio installation so we can install plugins for you at a small monthly extra charge.
We will then maintain the plugins, keeping them secure and bug-free, even if the original developers no longer maintain the plugins. That reduces your technical risk compared to a situation where you host Redmine yourself. We also release the updates back to the open source community.
Planio-Maintained Plugins
You can find the updated versions of the Planio-maintained Redmine plugins on our Planio GitHub account.
If you're a Redmine administrator, and you're lost in the sea of different plugins listed on the Redmine website, wondering which ones are safe to install, we hope this list will help you find secure, maintained plugins.
Below you'll find a link for each plugin to the Planio-maintained version.
Redmine People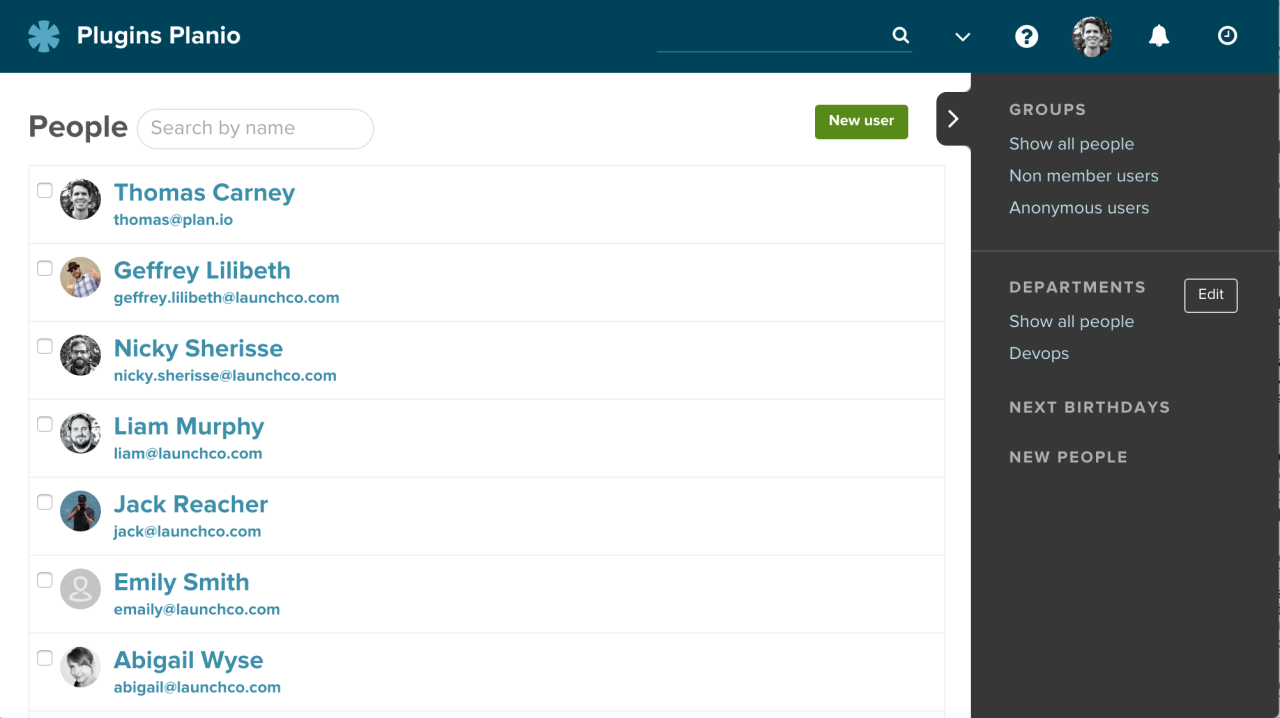 This plugin lets you organize and manage Redmine users by departments, roles and more. You can use it as a central place to store phone numbers, job titles and even birthdays. You can quickly see who's new in an organization.
It will help HR departments integrate with project management in Redmine.
The Planio-maintained version of the People plugin is available here.
Redmine Tagging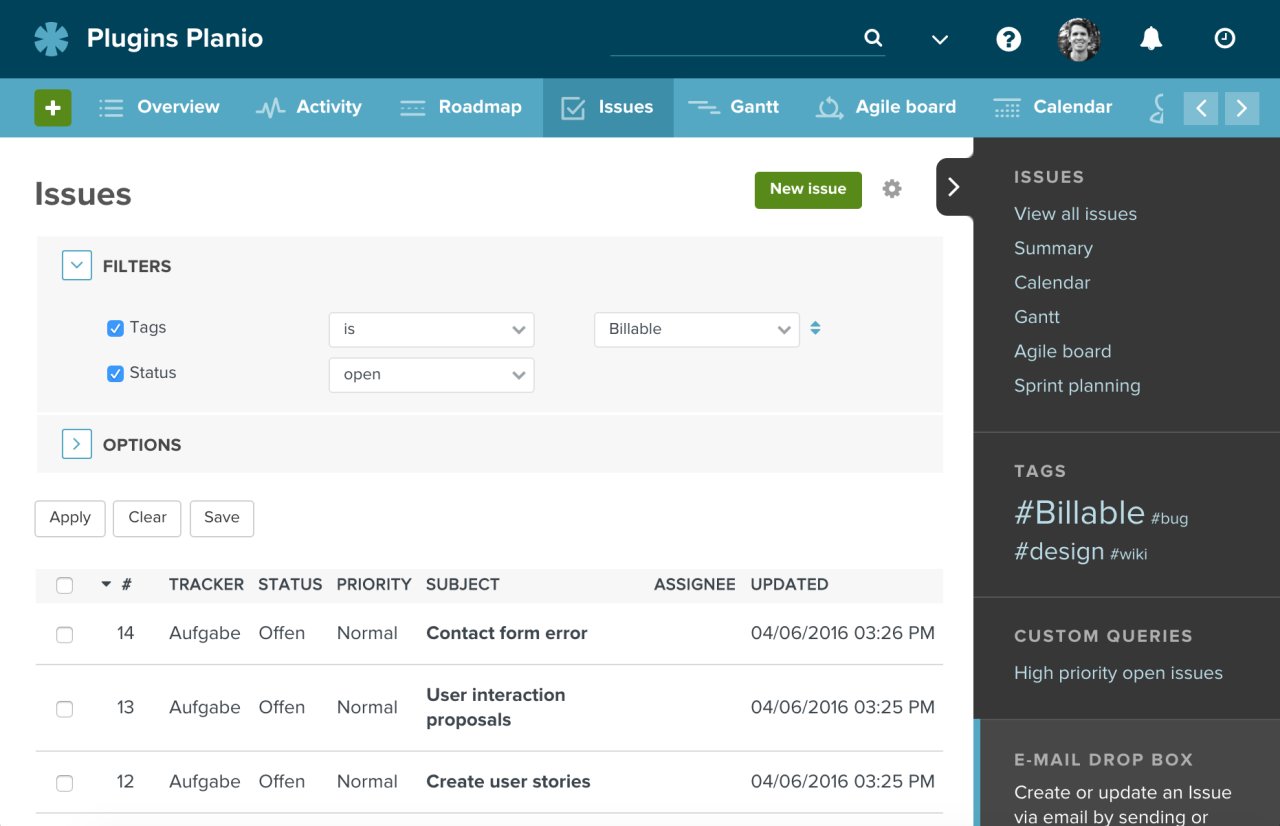 This plugin add tags for issues and wiki entries. You'll be able to see tags in a tag cloud. You'll also be able to see tags in the search results thanks to search integration.
The Planio-maintained version of the Redmine Tagging Plugin is available here.
Redmine Slack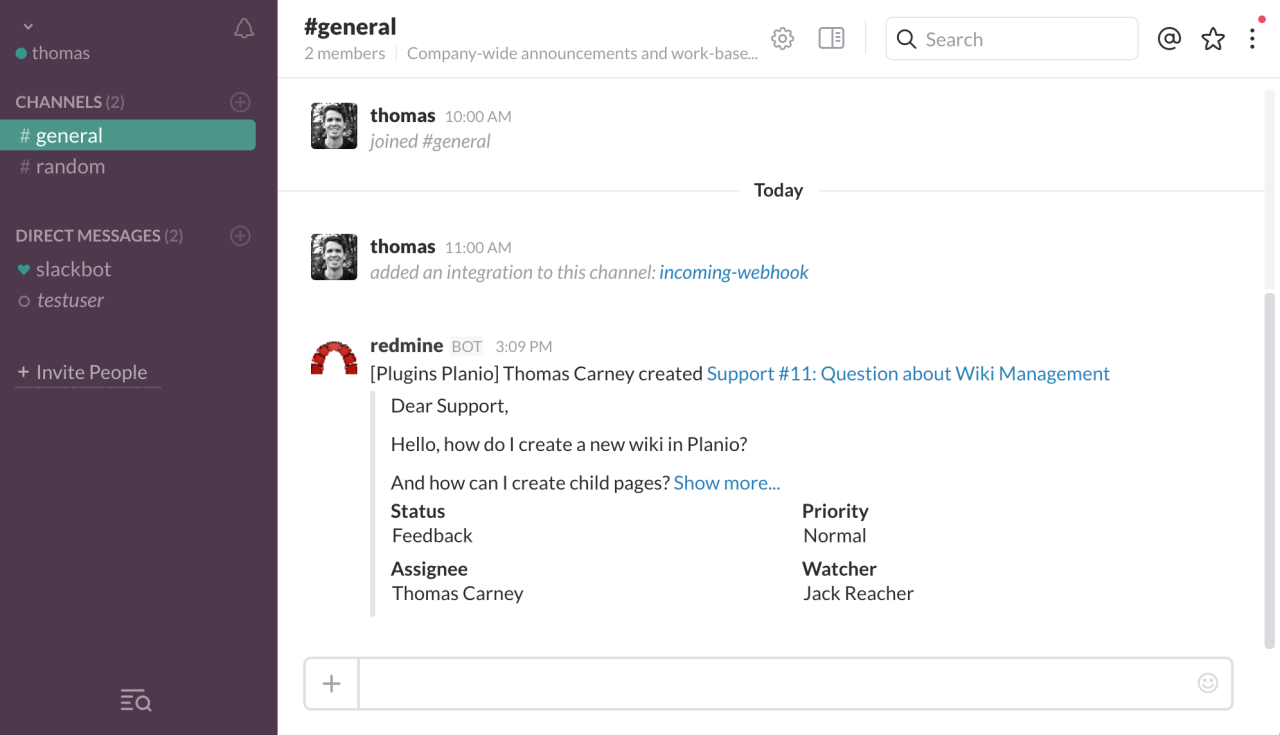 This plugin posts updates to issues in your Redmine installation to a Slack channel.
The Planio-maintained version of the Redmine Slack Plugin is available here.
Redmine Mentions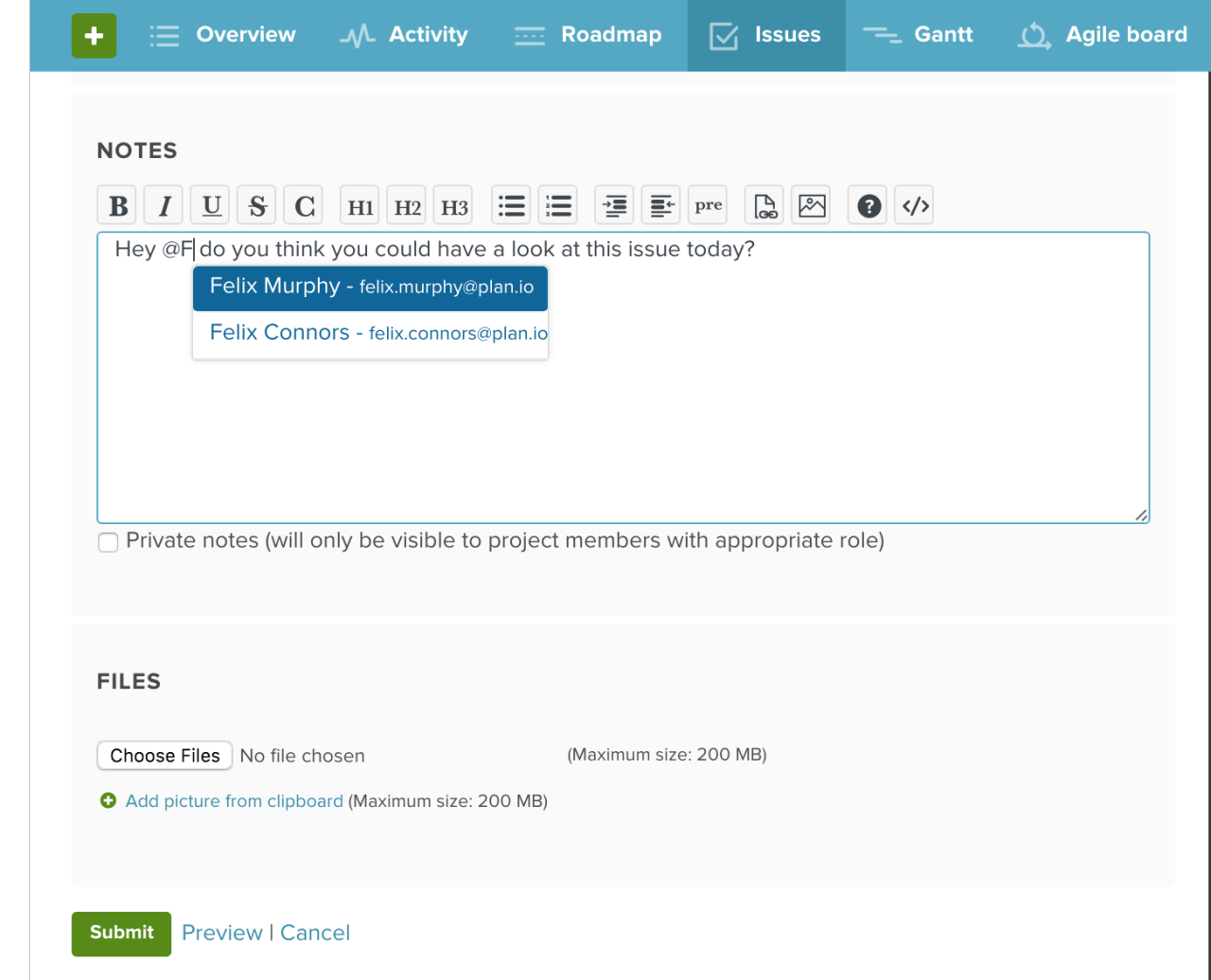 Ever wanted to be able to grab someone's attention in an issue? With this plugin, instead of assigning the issue to them, you can just mention their name, and they'll get an email notifying them with the rest of the content.
Things to Consider
The Redmine Mentions plugin only works in issues, but not other areas such as the forums, the blog or the wiki.
The Planio-maintained version of the Redmine Mentions Plugin is available here.
Redmine Default Custom Query
This is another very simple Redmine plugin. It lets you set a default custom query for each project. It's quite handy if you want to show by default certain issues based on complex filters.
The Planio-maintained version of the Default Custom Query plugin is available here.
Redmine DMSF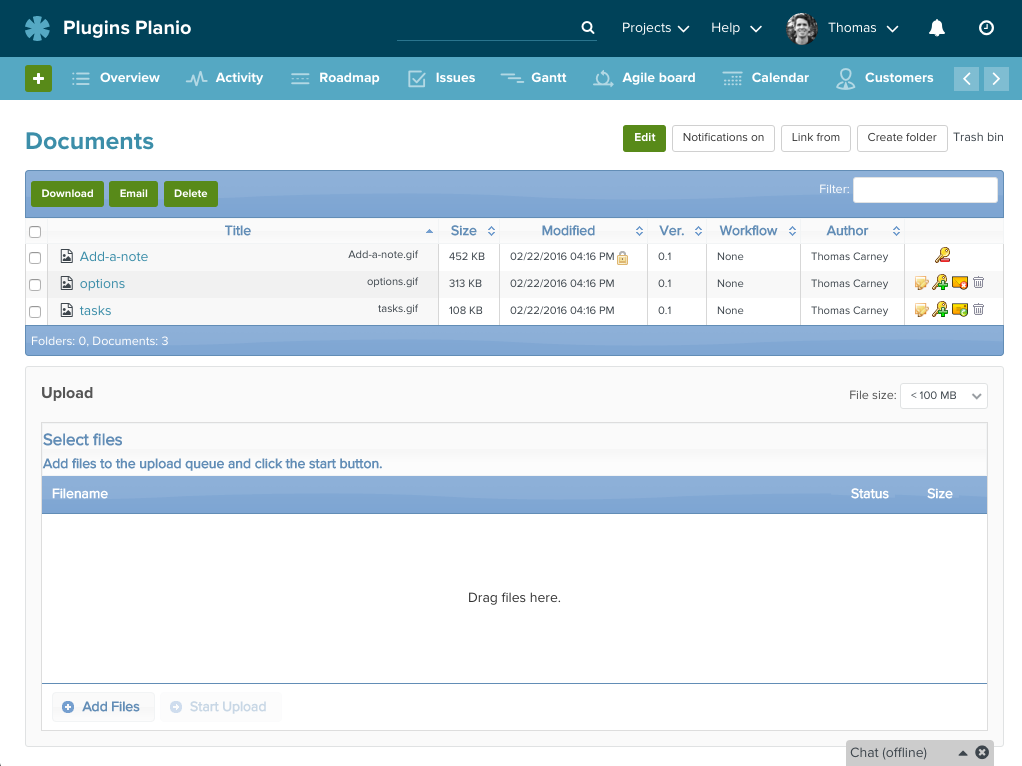 The Redmine DMSF brings enterprise-level document management to Redmine. It's designed to replace the document module.
You'll add features such as document versioning, configurable document approval workflows, and document access auditing, amongst others.
Things to Consider
Redmine DMSF doesn't follow Redmine's user interface standards so it can be confusing for users.
Update: At Planio, we've now built our own Cloud Storage engine as we were never really happy with DMSF due to the way it breaks with Redmine UI and code standards. As such, DMSF is no longer available on Planio. Instead, you can simply activate Planio Storage and enjoy a much better looking and much better integrated cloud storage engine. Planio Storage is still actively developed by our team and comes with more features than DMSF such as mobile apps and offline sync.
"Attach image from clipboard" Plugin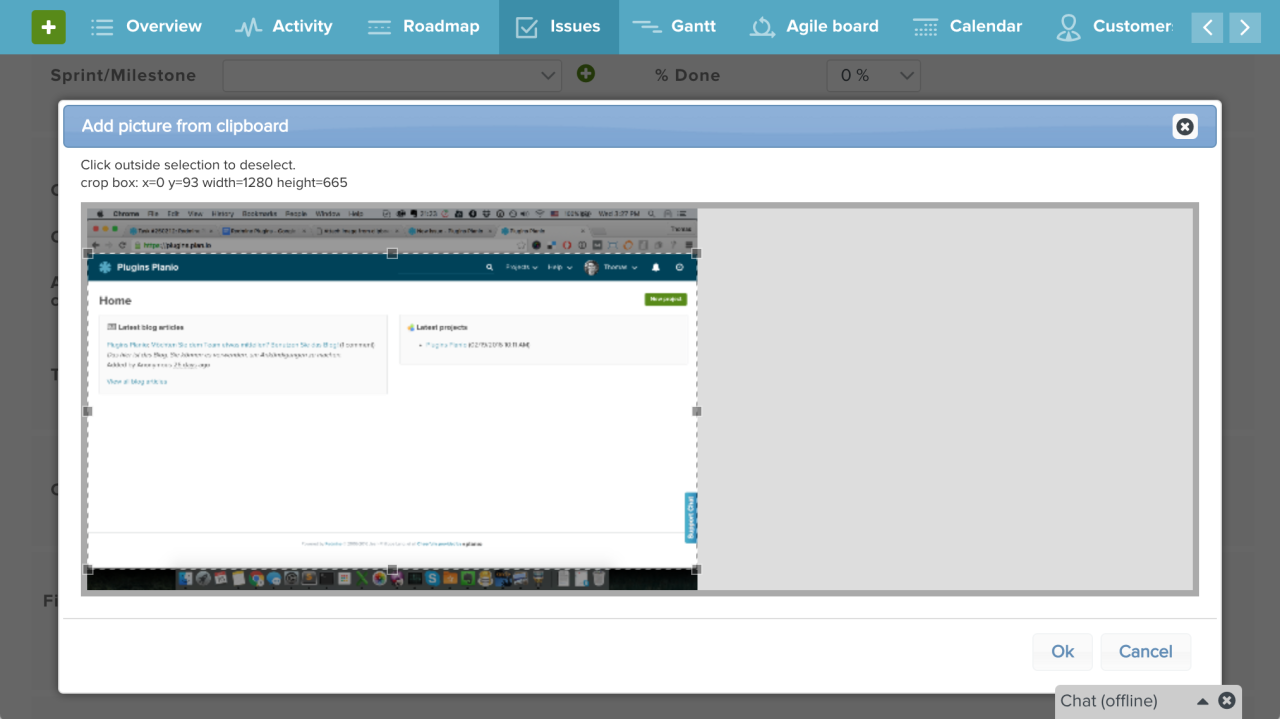 This descriptively named plugin lets you quickly attach screenshots to issues. You're also able to crop them using a crop tool. It's particularly useful for filing bug reports with attached screenshots showing the problem.
Things to Consider
This plugin doesn't follow Redmine's user interface standards so it can be confusing for users.
Update: Planio now includes this functionality in all Planio accounts as standard. As of Redmine 4.1, this plugin becomes obsolete because image pasting is now a core feature.
Redmine Default Assign
This plugin lets you define a person who'll be assigned new issues by default. You can set the person on a global level or on a per-project level.
You'll find the plugin on GitHub here.
Update: Planio now includes this functionality in all Planio accounts as standard. This plugin is also no longer necessary as of Redmine 3.4.0, because we contributed the improvement back to Redmine, including migrating settings from this plugin if present.
Interested in Plugins for Your Planio Enterprise account?
If you're interested in having one of the Redmine plugins above in your enterprise Planio account, just get in contact with us to discuss getting you set up.