How to Choose and Use the Best Marketing Project Management Software (Buyer's Guide with Concrete Examples)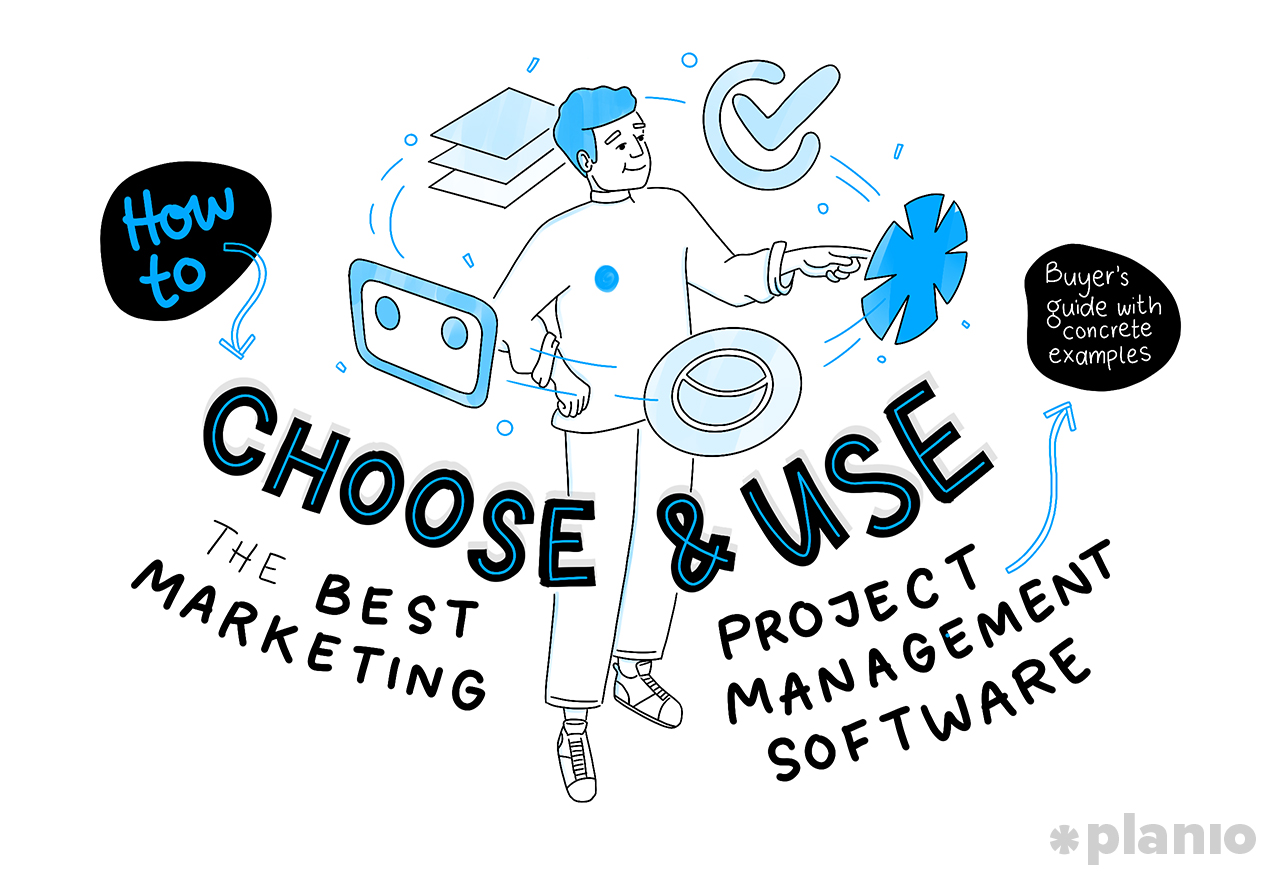 According to a recent G2 study, the three biggest challenges marketing teams face are engaging with customers, creating a cohesive customer journey across platforms, and innovating–challenges that can be solved with the right marketing project management software.
Just like your development team needs a tool to stay organized, on track, and motivated, your marketing team can massively benefit from adopting some basic marketing project management processes and workflows.
But as a marketer, do you really need another process, tool, and workflow to clutter up your already busy days? You've got campaigns to launch and targets to hit. Plus, wouldn't you rather spend your time on the creative work that gets results?
Jump to a section:
The good news is that with a little bit of upfront investment of time and energy, the right marketing project management software actually frees you up to do more of the things you love, like coming up with and launching exciting new campaigns.
In fact, (and I promise this is our last statistic), marketers who proactively plan projects and campaigns are 356% more likely to report success!
Even if you're coming into this post with only a vague idea of what a marketing project manager does and what software is available to you, you can still benefit from getting organized.
What is marketing project management (and why is it so important)?
Marketing project management is the art and science of helping your team do more in less time.
Because as a marketer, you're used to keeping more than a few balls in the air at once.
You've got ongoing social and ad campaigns to manage, new content initiatives to approve, and growth projects to come up with. At the same time, if you're an in-house team you're working with sales to hit revenue goals and customer service to build resources for existing customers.
And while you know the best growth hack is a great product, it's up to you to make sure that whatever your development team has built has the best shot at hitting the moon.
That's a lot to do and keep track of. Especially without the right tools and processes in place to help you.
For marketing teams, project management means strategically planning, launching, and modifying campaigns.
More specifically, marketing project management follows the same five steps as your agile development team. (If you want to go deeper on each step, we've included in-depth resources to help you learn the best way to run a marketing project):
A marketing project management process (and the right software) takes the headache out of managing 100+ campaigns at once. It gives you a central place to store ideas, a clear process for initiating campaigns, and a way to make sure everyone on your team is working towards the right goals.
And the benefits are huge. With the right tools, a marketing project manager helps:
Increase overall productivity: Project management saves time and wastes less energy. That's a fact. The more strategic and systematic your marketing team operates, the more they'll be able to do each day.
Collect and organize ideas, files, and designs. The right tool keeps all of your files, ideas, and designs in one place. A tool like Planio includes integrated cloud storage with cross-device sync so that everyone on your team has access to the right versions of files.
Track metrics and tweak campaigns for optimal results. Project management tools keep you organized and help you see what campaigns are working, which need to change, and track results and lessons learned.
Manage resources and pinpoint potential bottlenecks. Marketing teams are used to working on multiple projects at once. But without a tool and process in place, you can overload your team. A good marketing project management tool brings the power of task management and oversight to your team.
Properly (and effectively) collaborate with other teams and stakeholders. Marketing project management software works across your team so everyone from sales, CS, and even development can collaborate effectively.
Get a '10,000-foot view' of your marketing team. See your projects on a calendar, view your marketing roadmap, or filter issues to find the highest priority work. Keeping all your projects in one place helps you build a unified customer journey.
A perfect project management tool will calm the otherwise chaotic nature of your growing company.
How to pick the best marketing project management software
Marketing project management software is the glue that holds this entire process together. But unlike development teams who are often after a PM tool that does everything, marketing teams have unique needs.
Because after all, the best marketing project management tool is the one that works best for your team.
As you go through the tools available to you, be clear about what you really need and why you're using this tool in the first place. Here are a few questions to help guide your decision:
Is it flexible enough? Marketing project managers need to track content creation, ad campaigns, growth experiments, and more. Does the tool you're considering allow for different applications? Is it easy to customize for your needs?
Is it user-friendly? Marketers (or your agency clients) don't want to wade through clunky UX to get things done. Does your tool balance powerful features with a clear and easy user experience?
What features really matter? What features do you really need to be successful? What is a 'must-have' vs. a 'nice-to-have'?
How will clients use the tool? If you're an agency, is it easy for your clients to collaborate and leave feedback?
What's the goal of using a marketing project management tool? What do you want to happen once you start using it? Increased productivity? A clearer user journey? Better time tracking?
Is the cost/feature ratio something you can afford? Are you paying for more than you need? Many project management tools are designed specifically for development teams meaning you might be paying for features or functionality you really don't need.
Will it scale with your team or agency? If your marketing team or agency is growing quickly, will your marketing project management software scale with you? Look for tools that are flexible and feature-rich without being overbearing or complicated.
Marketing project management software buyer's guide: 5 tools to make your marketing team more efficient
There are hundreds of options when it comes to project management tools you could use for your marketing team.
But the truth is that you're busy. And there's a good chance you don't want to spend all day wading through a list of 20+ all-too-similar marketing project management software options.
At Planio, we've spent the last decade building project management tools for agencies and companies of all sizes, as well as supporting the world's largest open-source project management project–Redmine.
In that time, we've seen what tools marketers really need to stay organized. Here are our favorites:
1. Planio - The one project management tool to hold your team together
Planio was built to be the perfect balance between features and functionality. And while it's heavily favored by technical teams for its flexibility and power, Planio's easy-to-use UX has made it a go-to for everyone from marketing to customer support.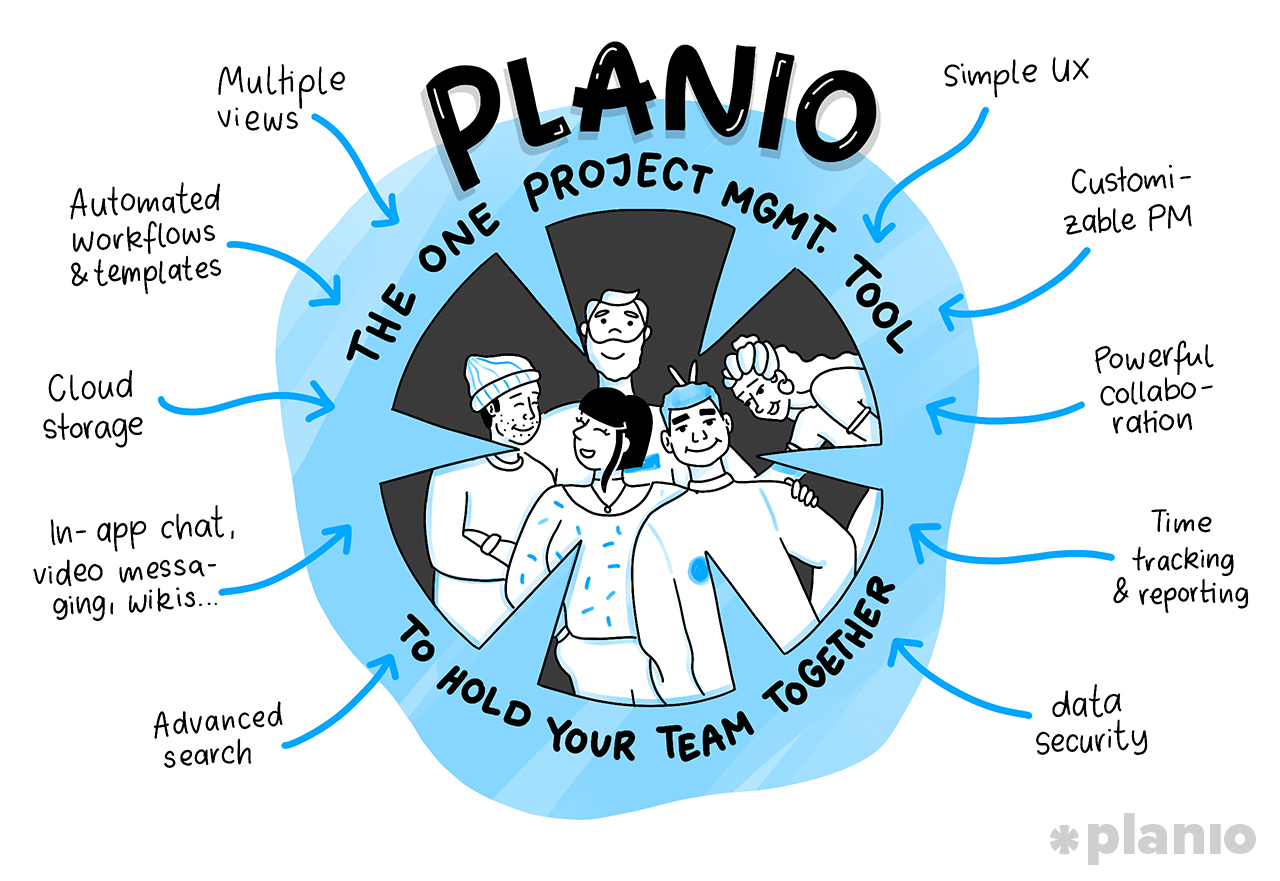 At the core of Planio is its task management system, which allows you to create customizable issues, track their progress, and see how they connect to your larger projects. Issues could be blog posts, ad campaigns, launch materials, case studies, or anything else. (We've provided a ton of free examples below to show you how it works).
However, unlike other all-in-one project management tools, Planio doesn't drown you in unnecessary (and costly) features.
Here's a rundown of some of the best reasons why you should choose Planio as your marketing project management software solution:
Simple UX your team will instantly feel comfortable with. Planio is built with all users in mind. Quickly jump between projects or filter issues to find exactly what you're looking for. There are no convoluted menus to navigate or awkward workflows to manage.
Customizable project management for your unique needs. Set up ongoing projects using the Agile board (aka Kanban) or use the Traditional (aka waterfall) method for large one-offs. Everything from your project management methodology to issue fields and statuses is customizable to how you work.
Powerful collaboration tools whether you're working with other teams or outside clients. Planio's roles and permissions make it easy to share your project with others without worry. You can even make projects 'public' or invite outside clients to collaborate with you.
Built-in time tracking and reporting to help with resource management. See exactly how long a task took to complete and compare it to your estimate. Planio reporting is actually useful and not just an add-on most marketing teams won't use.
Multiple views to go from individual task management to high-level planning in a second. See your project on a Kanban board, calendar, as a chronological list by latest updates, or even as a larger roadmap to see how everything fits together.
Automated workflows and templates to save you time on tasks you regularly repeat. Create predefined steps for common projects (like creating a blog post or running an ad campaign).
Integrated cloud storage for files, media, and even code repositories. Everything you need is stored in the cloud, always accessible (even across devices), and up-to-date.
In-app chat, video conferencing, wikis, and more to help you communicate and collaborate however you want to. Get in touch with your team with one click or create best practices, policies, and knowledge bases in the same place your team works.
Advanced search to find what you need when you need it. Zoom in on specific details or search all your projects. Search results are shown in context so you can find what you need quickly.
Industry-leading data security. Planio takes data security seriously by using the top-rated storage and back-up facilities in all of Europe.
Features are great, but if you want to see some of the specific ways your marketing team can save time with Planio, jump to the next section.
And if you want to get started with Planio right away, click here to sign up for a free 30-day trial. We'll even help you migrate your data over from another project management tool or excel file.
2. CoSchedule - A dedicated content calendar for publishing-heavy teams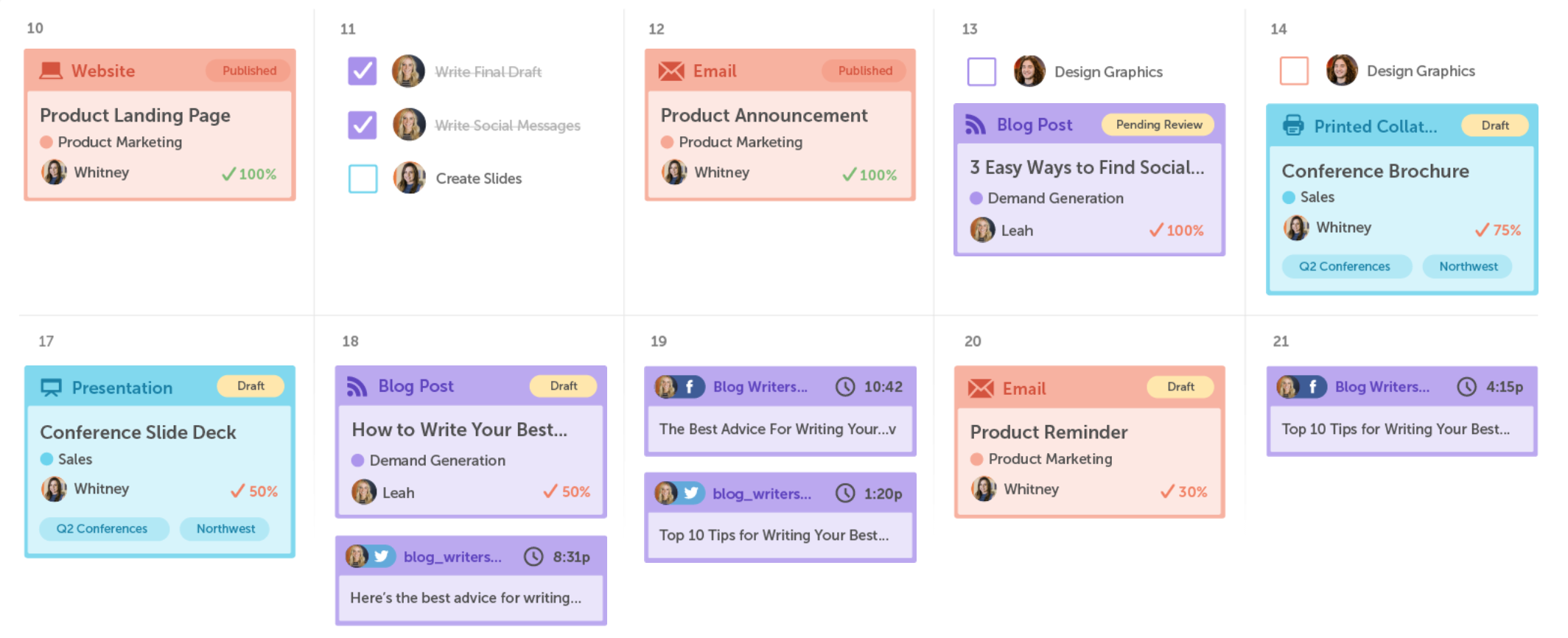 If your marketing team relies heavily on publishing content, CoSchedule is another great marketing project management software option.
CoSchedule is built around a single shared marketing calendar for all of your projects. You can color-code projects to easily discern between blog posts, website redesigns, product launches, and more. And checklists help you track progress and show the rest of your team (or stakeholders) what's been done.
CoSchedule is a great project management option for marketing teams with multiple projects but can get overloaded or tedious to keep updated if you're not careful. Some users have complained about the user interface, high cost, and lack of deeper features.
3. Buffer - Social media scheduling and metrics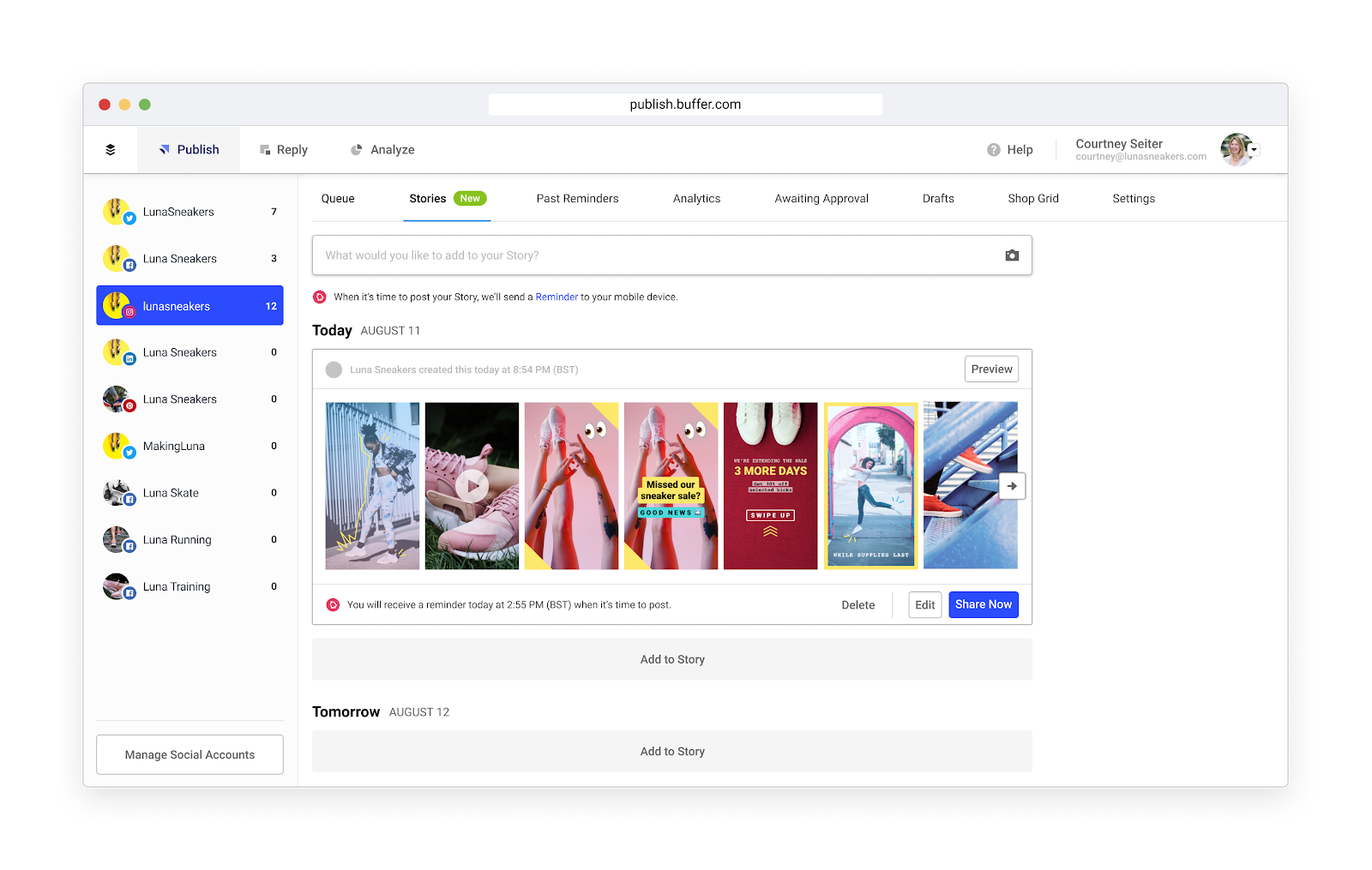 While not a full-on marketing project management tool, Buffer is a powerful tool for social media teams wanting to keep track of their posts across platforms, see their impact, and respond to followers.
Buffer's suite of tools include:
Publish: An easy way to create, schedule, and publish content across Facebook, Twitter, Instagram, Pinterest, and LinkedIn.
Analytics: Get in-depth insights on the results of your social media marketing in easy-to-read reports (which are great for sharing with outside clients).
Engagement: Reply to messages, add comments, and quickly prioritize your most important conversations.
As for other projects like publishing content, launching websites and products, or running ad campaigns, Buffer doesn't tackle those. But for purely social media-focused teams, it's a good option for staying organized and tracking your results.
4. Workamajig - Project management built specifically for agencies

If you're a large agency in need of more features like a CRM, billing, and endless reports, then Workamajig might be a good marketing project management software option for you.
Workamajig is a full suite of tools for agencies or in-house marketing teams. You'll be able to go from qualifying leads to setting team KPIs, tracking billable hours, and, of course, working through projects.
However, what Workamajig offers in its quantity of features it often lacks in quality. Their UX is outdated and can sometimes feel clunky with many users at non-enterprise companies complaining about the design, lack of mobile functionality, and steep learning curve.
Yet for those at larger companies with lots of moving parts (and executives to keep happy), Workamajig is a popular option!
5. Toggl Plan - a free (yet basic) project management tool
If you're a team of fewer than 5 people who just wants to see if you need a marketing project management tool, then starting with a basic and free option like Toggl Plan might be a good idea.
(Note: Planio offers a free 30-day trial as well as a limited free plan for single projects with minimal users.)
Toggl Plan is based around a drag-and-drop timeline to help you plan and manage campaigns. Create tasks, drop them into your timeline, and prioritize the work that matters most to you.
Some nice features also include task checklists, recurring tasks, and team timelines to visualize your team's capacity. All-in-all, it's pretty basic but a good option if you just want to try something out to help you stay organized.
The right marketing project management software will give you time to do more of the things you love.
Getting the most out of your marketing project management software: 7 concrete examples
As we said earlier, choosing the right marketing project management software comes down to finding the tool that works best for you.
If you exclusively do social media marketing, you probably don't need a more powerful tool like Planio. If you're a small agency, you don't want to get bogged down in Workamajig's clunky features. Etc…
Instead, think about what your goal is for using this software in the first place. To help inspire you, here are a number of ways that top marketing teams use project management software to stay organized and inspired:
1. Product Launches
Few things require as much organization as a product launch. When you've got tons of moving pieces–like a new landing page, press releases, blog content, ads, influencer outreach, sales support, and more–you want a place to keep it all together.
In Planio, you can keep launch tasks organized in an Agile (aka Kanban) board and track them from idea to launch day. You can also view the entire list as a calendar to make sure you're not overloading your marketing team in the days before launch.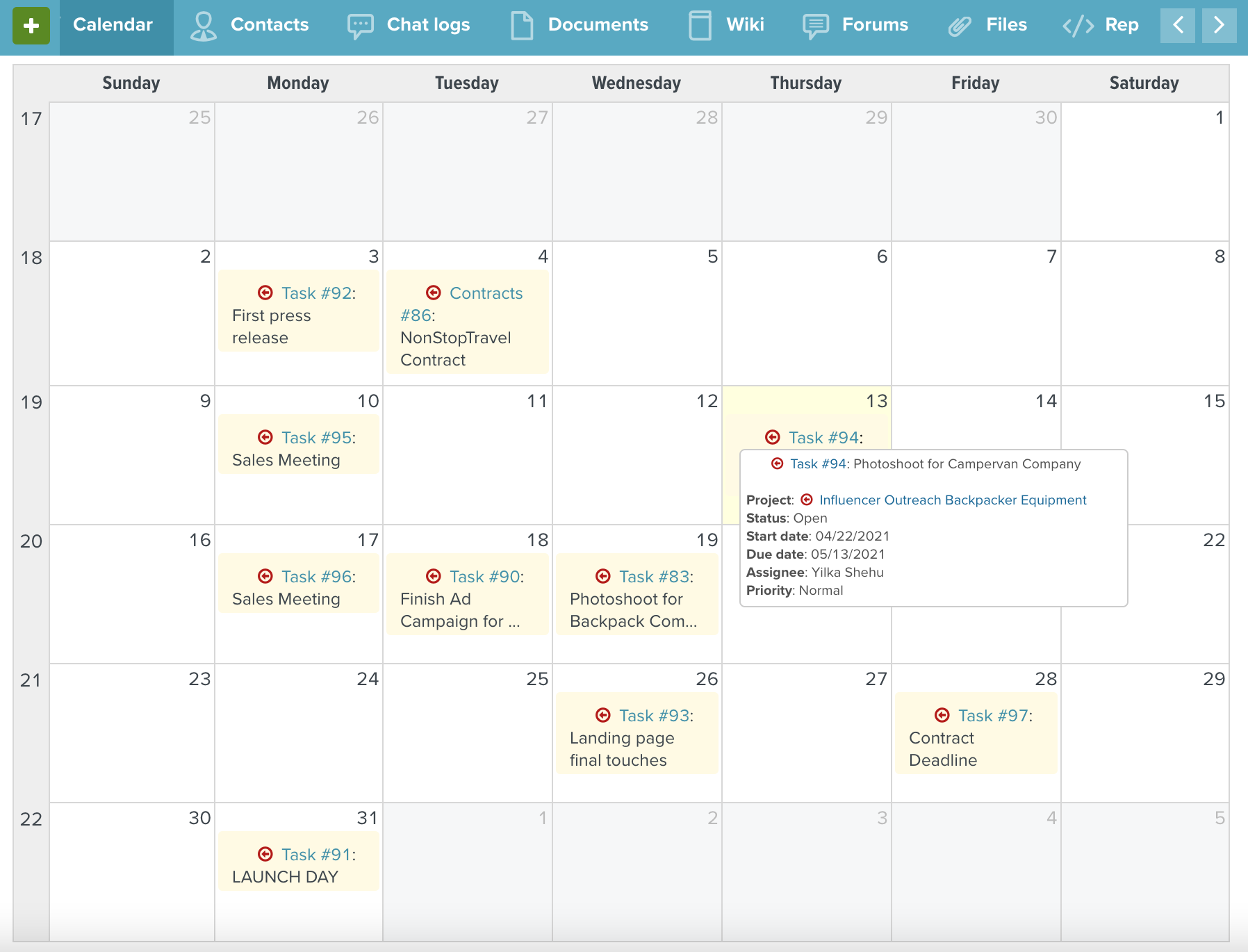 Planio's integrated cloud storage also means you can keep all necessary files in one place where they're accessible to your team. This way no one hits a bottleneck looking for the latest mock-ups or logo designs.
You can also use the Wikis feature to document the most important parts of your go-to-market strategy, such as your business case, ideal customer profile, messaging and tone, competitors, and market information.
This way, anyone working on the launch has access to everything they need from high-level purpose and messaging to day-to-day tasks.
2. Content Calendar
A content calendar for your blog is another common use for marketing project management software. Using Planio's Agile board, you can store ideas, assign them to teammates, and then visualize them as they move from idea to writing to editing, designing, publishing, and promoting.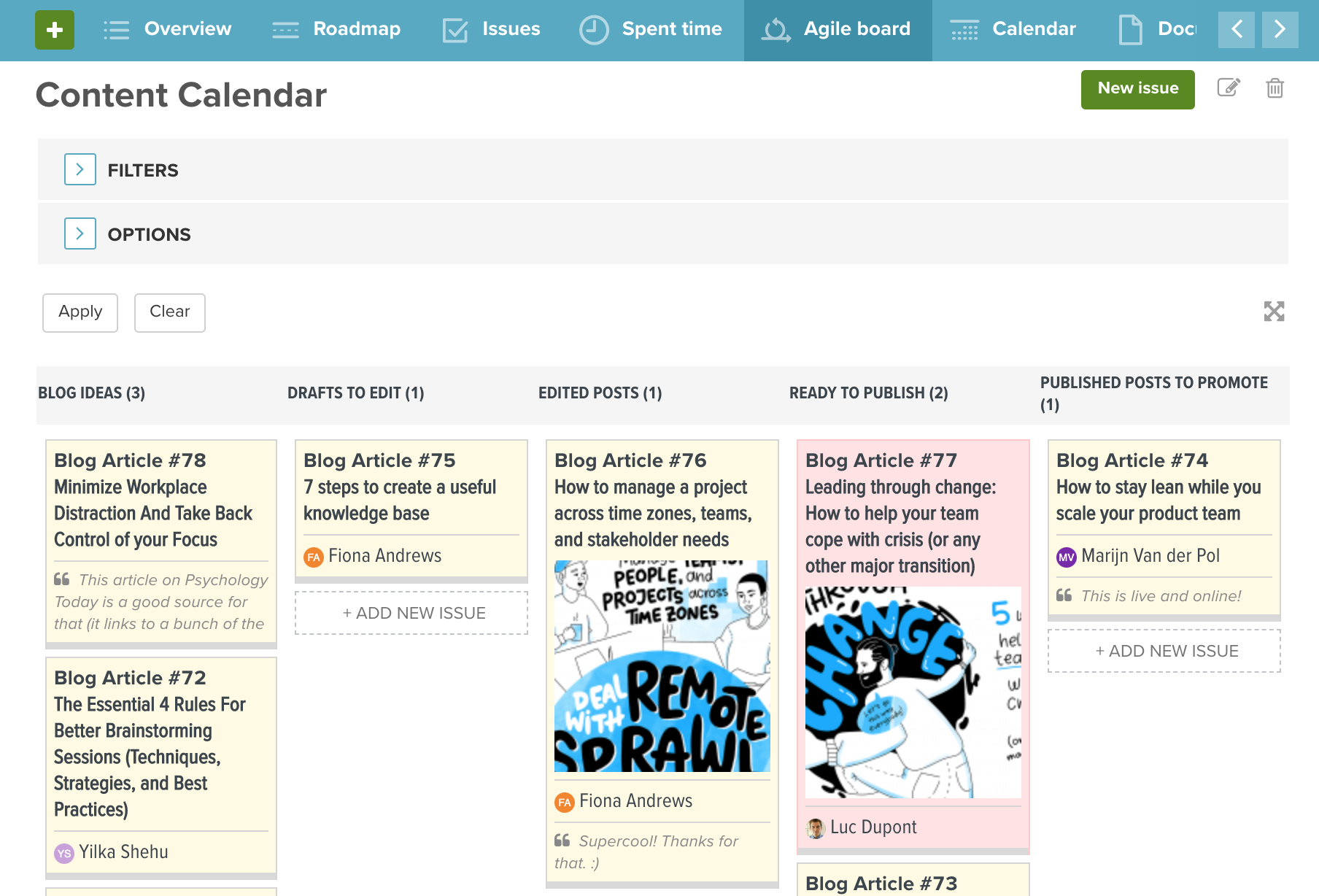 Not only will Planio help you stay organized with your publishing schedule, but you can create recurring task items to ensure your content actually gets results. For example, you can include custom fields to track the keywords you're targeting, backlinks you earned, and priority.
As well, you might add a templated checklist for common steps like adding internal links, design work, tweets, and newsletter content.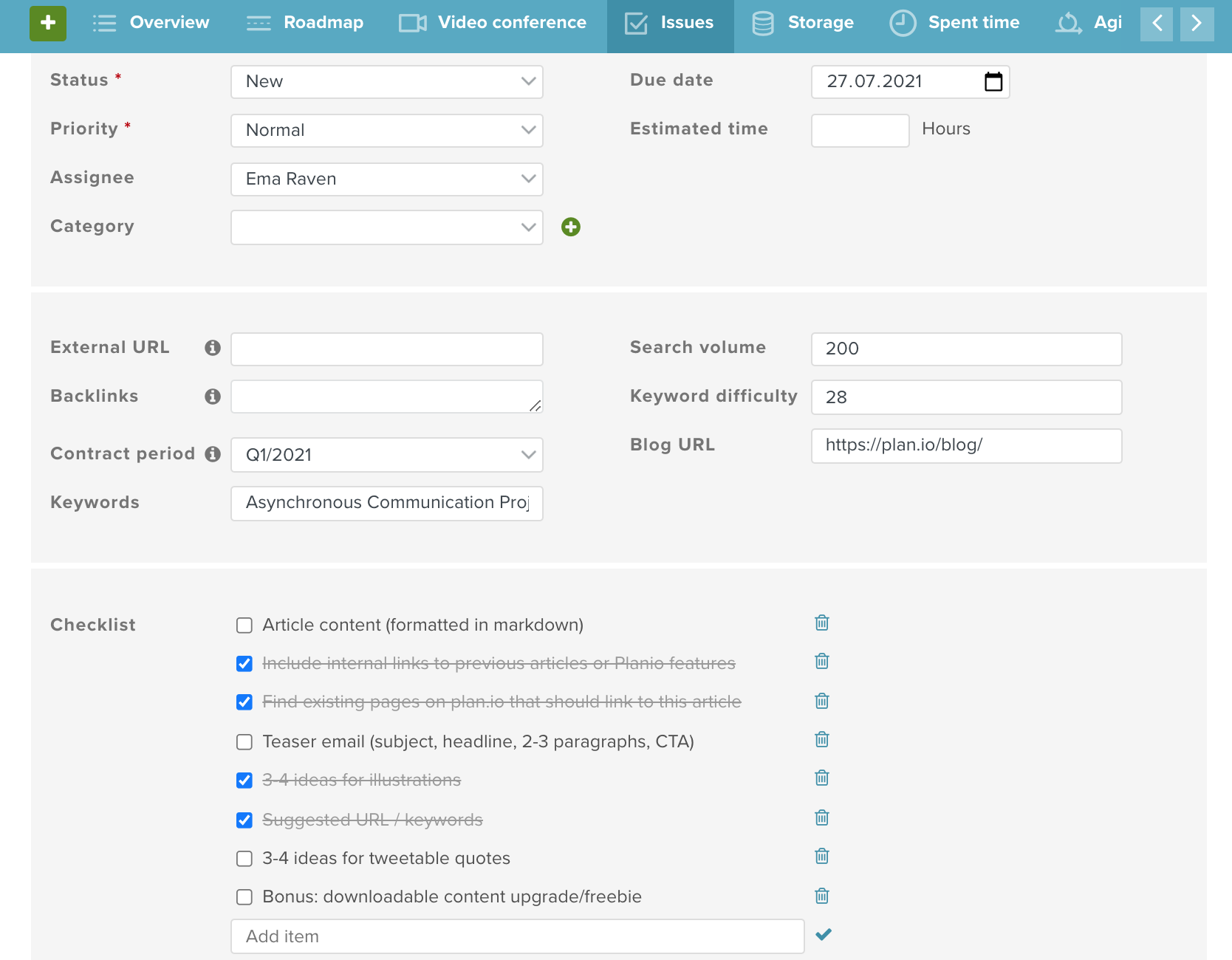 3. Growth Experiments Pipeline
Every great marketing team lives and dies by its ability to innovate and experiment. But keeping all your growth experiments organized as well as documenting their results can be a huge headache.
In Planio, you can create a simple board based on the method used by scientists to come up with, run, and track the results of their experiments. It'll look similar to the agile board example above.
This helps you frame your experiments not as just features (i.e. build a new landing page) but as solutions for users (i.e. 'What if we made it easier for new customers to sign up for a free trial?')
On each issue, you can also create custom fields to help guide the experiment pitches towards being actionable and testable. For example:
Who is being targeted?
What is going to be created?
When and where will this be displayed to the customer?
Description & reasoning
Metrics that matter
Hypothesis (i.e. what exactly do you think will happen when you try this?
Here's what that might look like: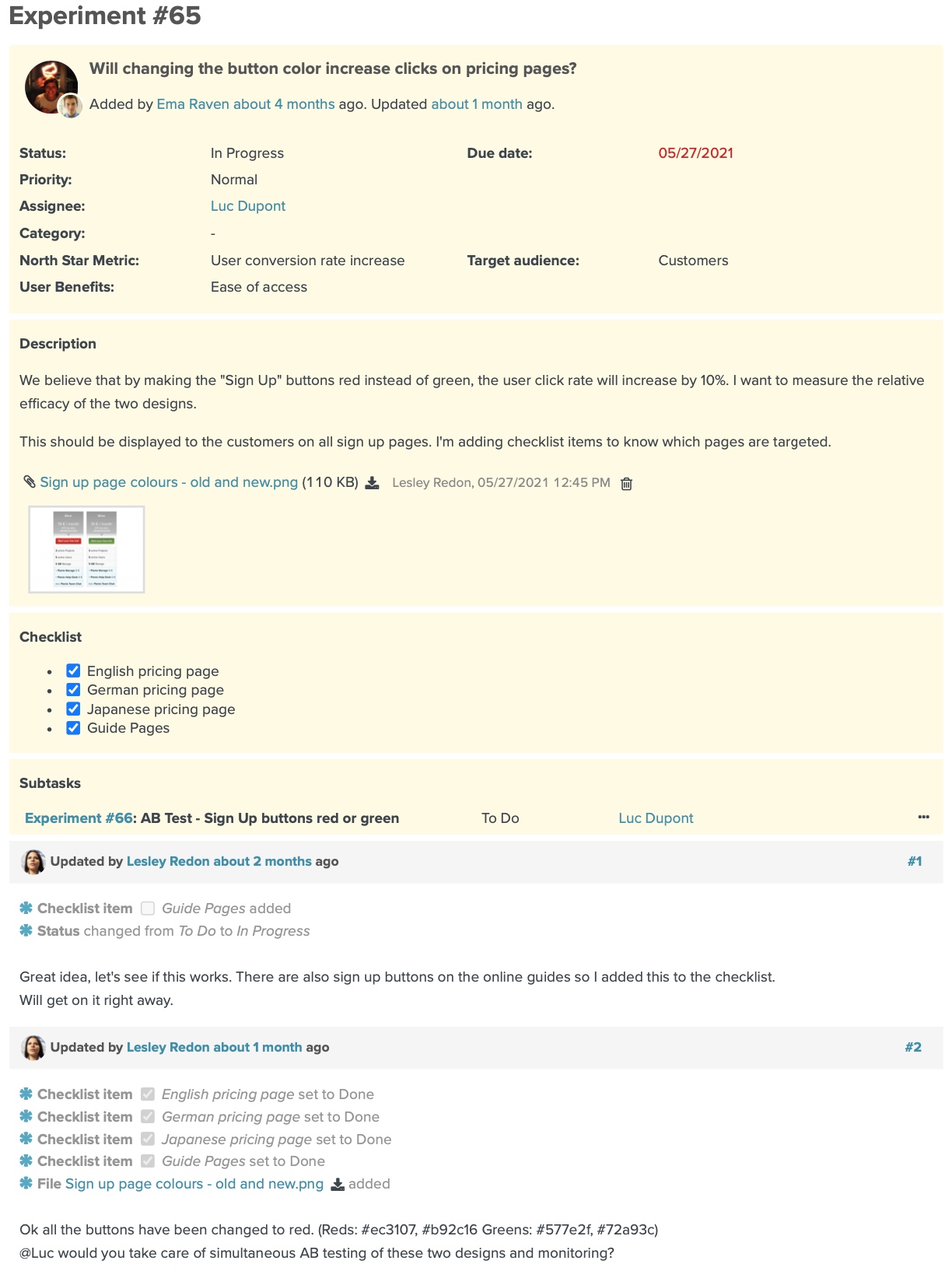 Depending on the results you can then move the issue to lessons learned, where you can collect other experiments and results to look back on later.
4. Influencer Campaigns
Today, pretty much every industry has its own group of influencers that can help promote your brand. But keeping track of what influencers to target, who you've engaged with, and the status/specifics of the campaign can be a nightmare if you leave it to an Excel sheet or other tool.
Instead, you can create a Planio workflow specifically for Influencer Outreach that includes statuses for:
To contact
Replied
Contract
Planning
Campaign Live
Results
Rejected
This gives you a 10,000-foot view of your entire influencer campaign while also giving you a space to keep information about who you're working with. In the future, if you slow down your influencer campaigns or want to re-engage with someone, you'll have everything you need in one place.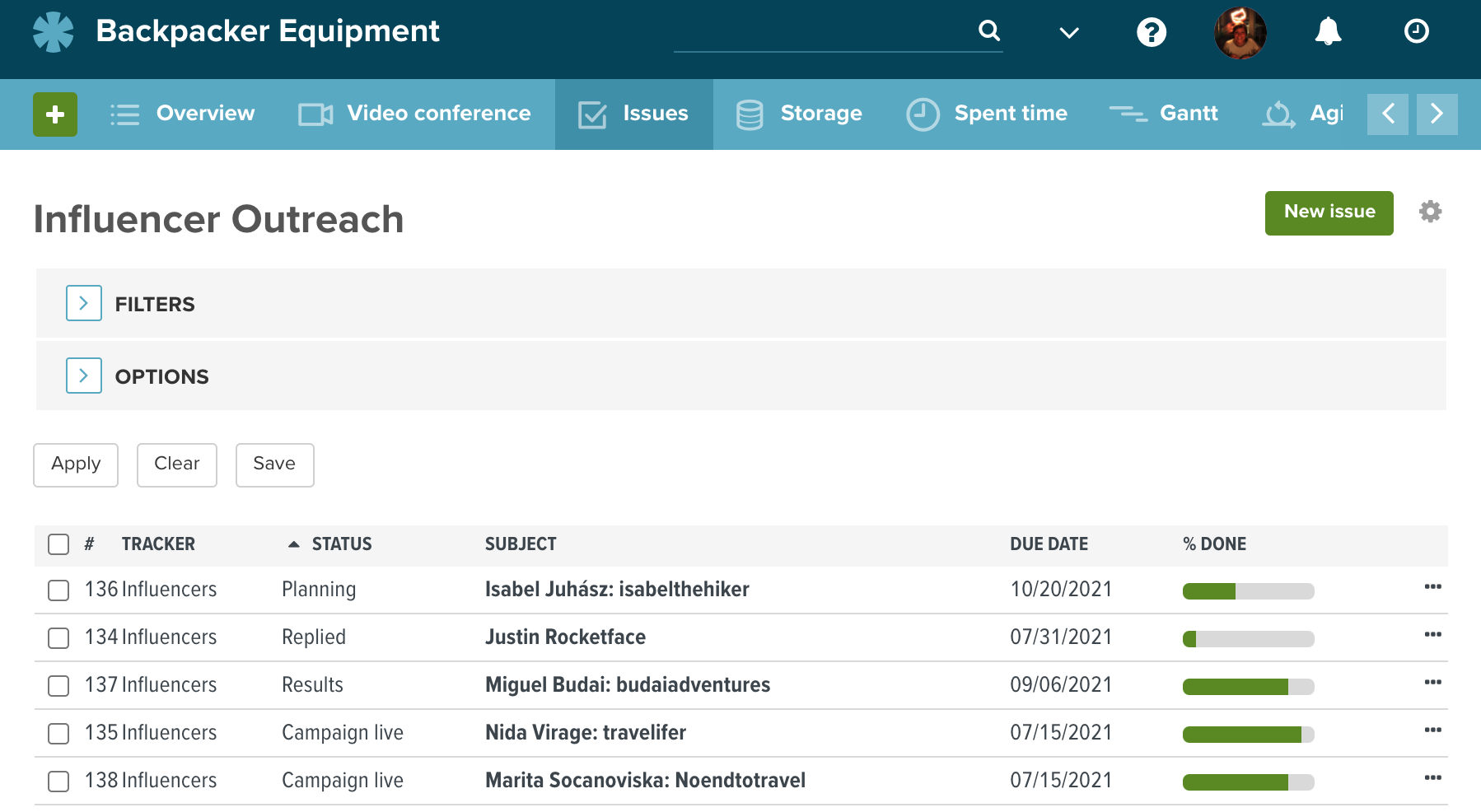 5. Ad and Social Campaigns
While the specifics of scheduling and publishing social content is better suited to a tool like Buffer, you can use a marketing project management tool to define your overall objectives, store ideas, track one-off campaigns, and set up recurring tasks.
For example, while Planio's Agile board can help you plan and track social media campaigns, the calendar and Gantt views let you visualize upcoming projects, manage resources, and make sure your campaigns aren't overlapping.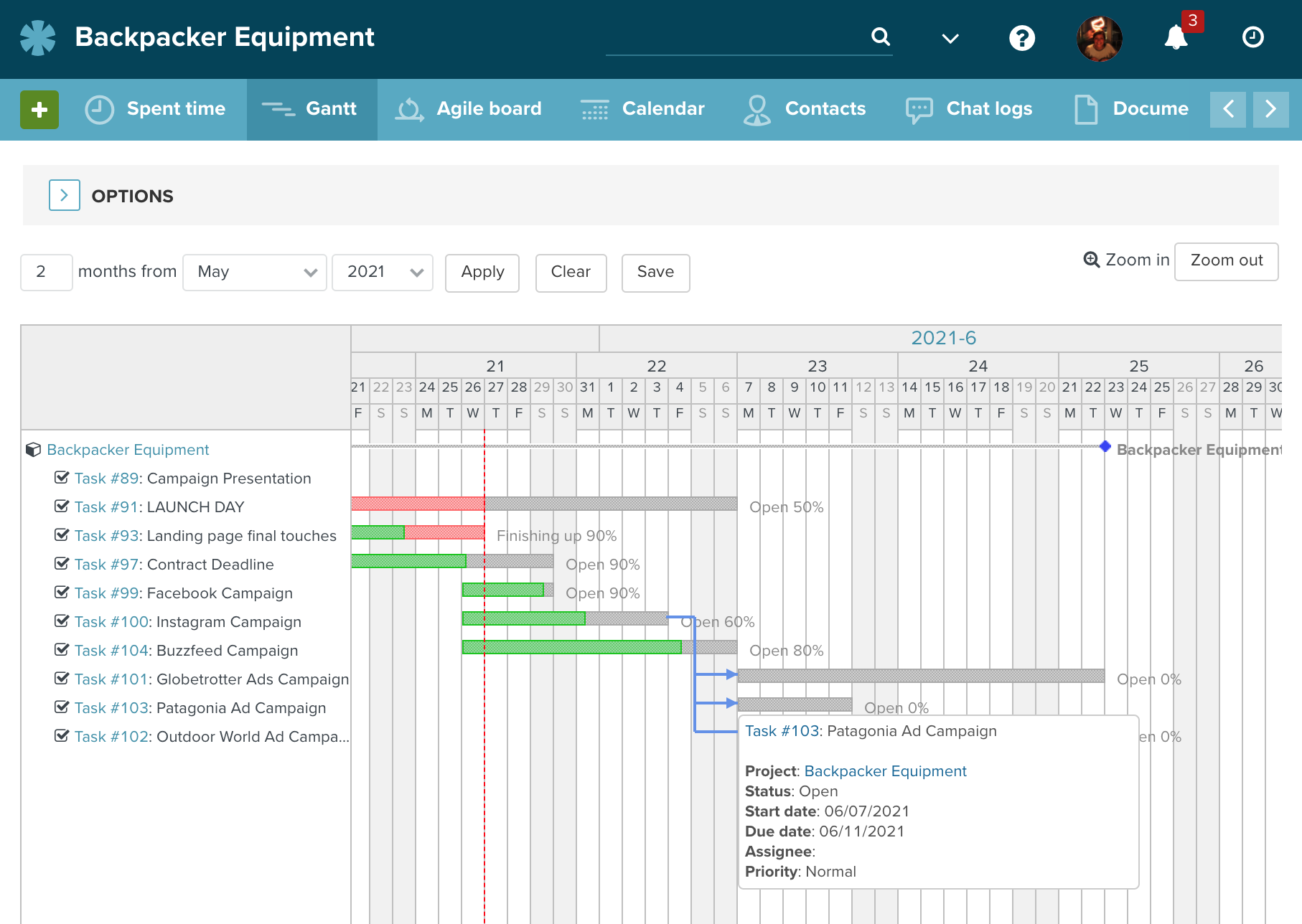 6. SEO and Backlink Building
If your team does inbound marketing or you rely on organic growth then you know how hard it can be to track SEO and link-building campaigns. One great solution is to use your SEO tools and add new links in your marketing project management software with a tracker especially for 'backlinks'. Then save your favourite overview so you always have all the information you need one click away.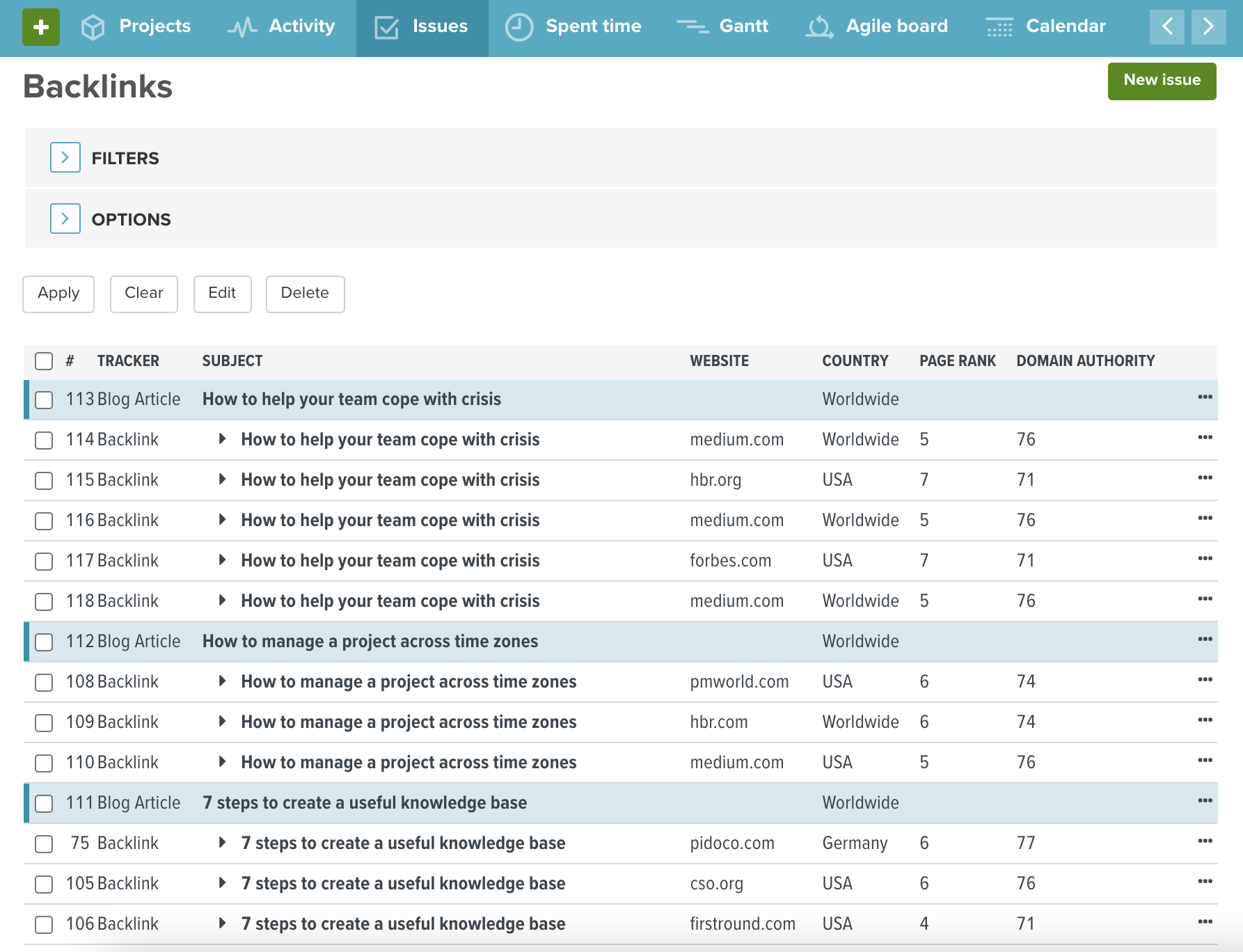 However, if you're running a more systematic campaign or trying to build links to a few specific pages, you could create a separate project.
Create issue statuses for backlinks that are On hold (haven't been started), Active, and Finished. Then, copy the issues from your content calendar over to this new project to keep all relevant context attached to them.

Now, you have an easy way to see the status of each link-building campaign as well as store information on each one such as links acquired, link swaps, and anything else.
7. Customer Stories
Finally, one of the best things in-house marketing teams can do is interview users for customer stories, testimonials, and sales materials. The good news is that you can essentially copy your content calendar to stay organized with customer stories.
(It's a good idea to create a separate project for customer stories as they can clog up your content calendar if you keep everything in one place).
Using Planio, you can store all relevant content on the issue itself. Save your interviews, client logos and design assets, and anything else so that whenever you put a story together, you've got everything ready to go.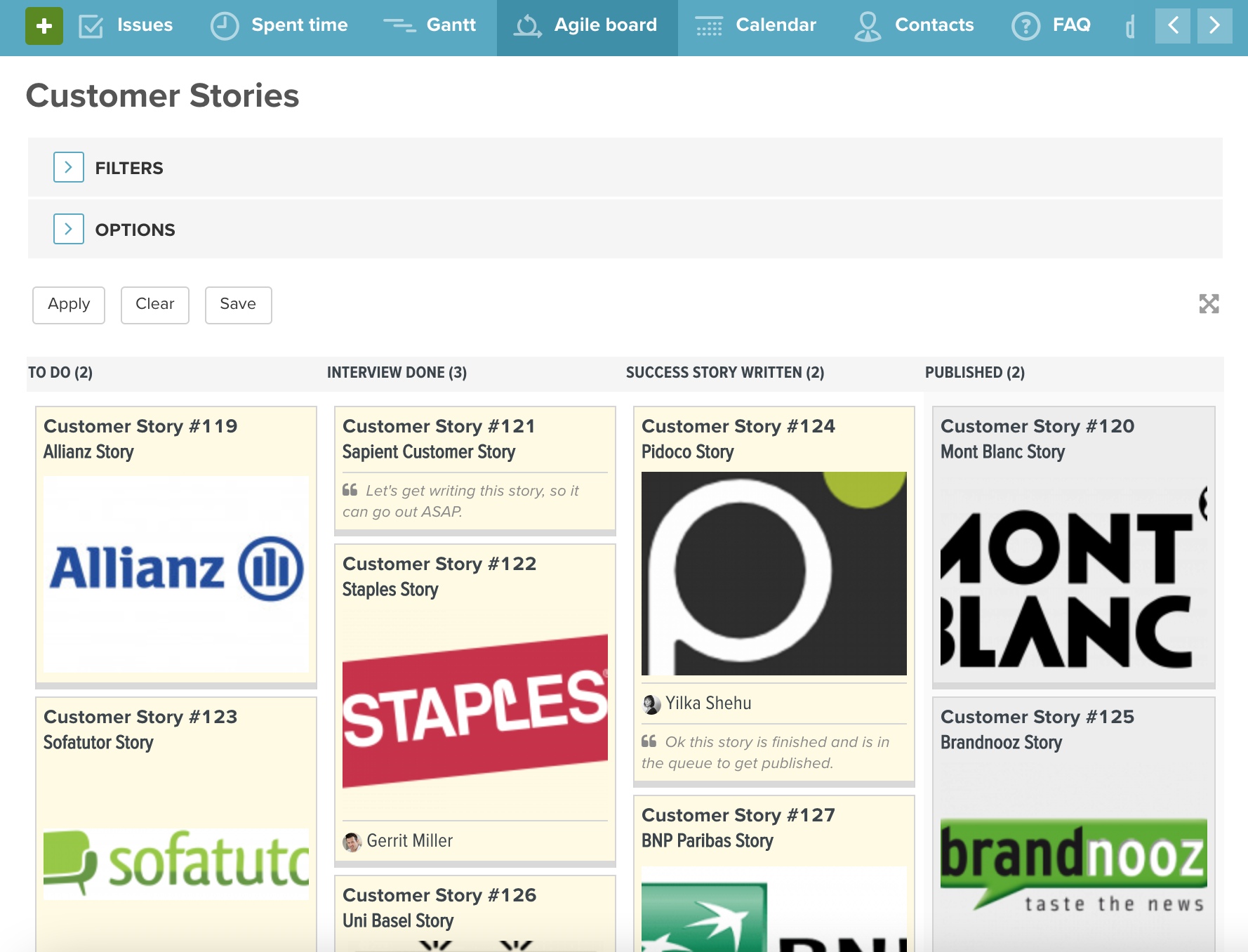 Project management isn't just for development teams
There's a reason that Agile project management took over the development world. When your projects are organized and optimized for reacting quickly to real-world feedback you can build the best products possible. The same goes for your marketing efforts.
By using a marketing project management tool, you can calm the otherwise chaotic nature of growing your company. Instead of tons of disorganized spreadsheets, you have a central place to plan, run, and learn from everything your team does.
Ready to take your marketing team to the next level? Sign up for a free 30-day trial of Planio.