How to inspire your team like the best leaders do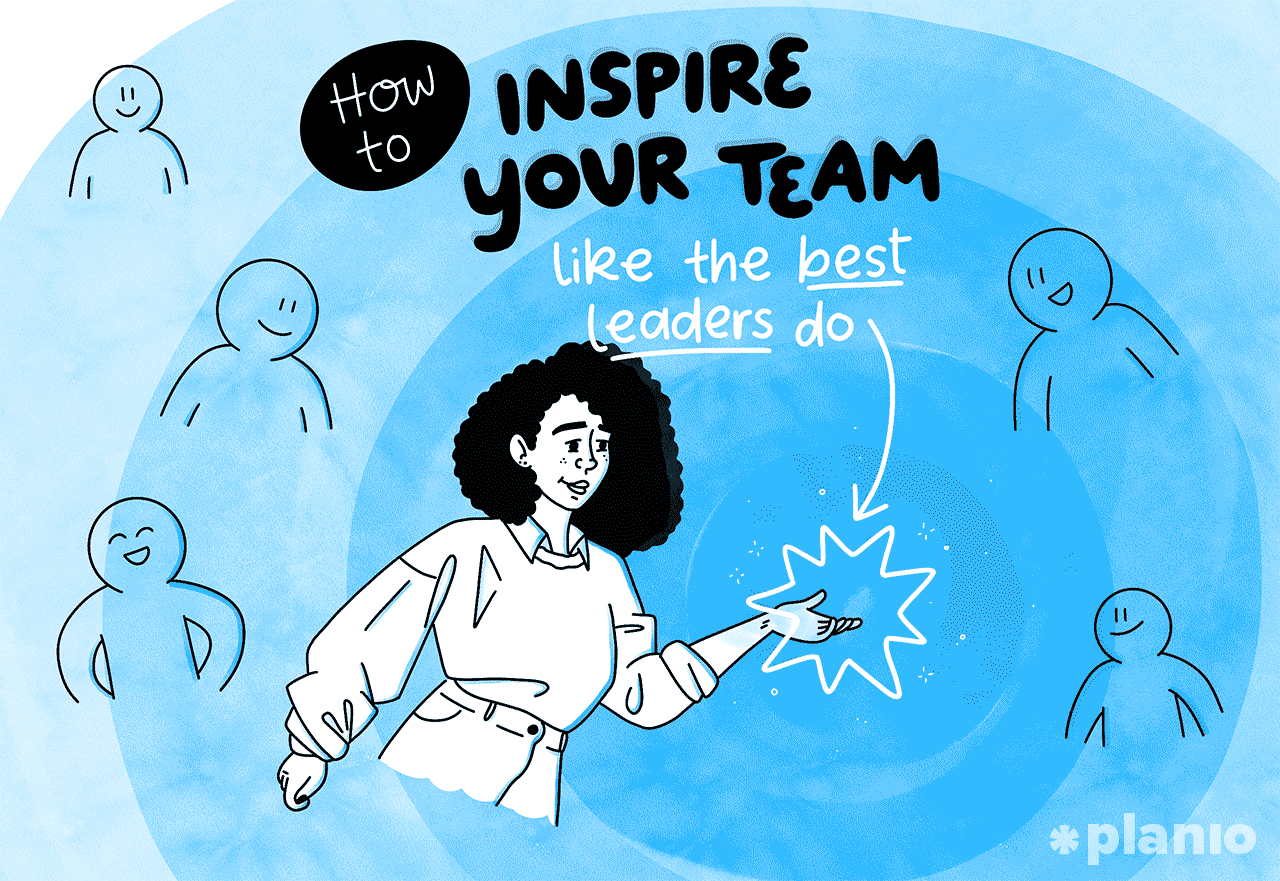 The best leaders do more than just plan projects and assign tasks - they inspire their team to do great work by taking the time to build trust and show respect. Unfortunately, being "inspirational" isn't as clear cut as other project management skills.
It's all too easy to come across as insincere, or worse, like you're trying to manipulate or persuade your team into doing things they don't want to (such as working long hours and hitting burnout).
But being inspirational doesn't need to be solely the domain of world leaders and TV football coaches. With a few simple changes to your leadership style, you can gain the trust of your team and inspire them towards greatness.
Jump to a section:
In this guide, we'll explain what it takes to inspire your team the right way - by building a foundation of mutual trust, respect, and hard work - with examples and tips you can start using today.
The 4 foundations of being an inspirational leader
When it comes to team motivation, there are two schools of thought. Either you need to influence and persuade your team through questionable tactics like rewards and workplace culture or politics. Or, you need to inspire them through words alone.
But while this can sound like influence and inspiration are significantly different, they're really just two sides of the same coin.
At its very core, influence is simply the capacity to have an effect on the character, development, or behavior of someone or something.
Or, as author Rory Vaden puts it:
Influence is the ability to inspire action.
If a leader or manager has great influence, those around them actually want to follow them, not just follow because they're told to.
Where most leaders go wrong, however, is in not doing the groundwork to be influential or inspirational. They assume that because their words don't work or their team doesn't instantly follow their commands, that they need to resort to toxic persuasion tactics or worse - fear and anger.
But before you can be an inspiration to your team, you need to prove to them that you're worth following.
Here are the four foundations of being an inspirational team leader:
Mutual trust. Your team needs to know that you respect them and have been in their shoes. If your words don't come from a place of understanding and experience, they'll fall on deaf ears. This means taking time to listen, show empathy, and get your hands dirty before pushing your team to greatness.
Strong relationships. Inspirational leaders rarely get to where they are on their own. Instead, they seek out help and build relationships both with those above and below them. Rather than being put on a pedestal, they collaborate, seek out strong connections, and forge bonds with key stakeholders.
Hard work. Inspiration leaders don't just rely on their words; they let their actions speak for them. If you want your team to look up to you, you need to show that you're worth following by putting in the work yourself. In other words, to be inspirational, you need to be someone your teammates aspire to be like.
Influence. Finally, inspirational leaders have influence. Not in the negative sense of using their position to persuade or goad their direct reports to do work - but by showing the people above them that they're worth investing in. When you're inspirational, it becomes much easier to ask for resources, take on interesting projects, and give your team new and better opportunities.
These foundations don't just apply to leaders, either. Anyone can grow their career by becoming an inspiration to their team, company, and peers.
Do's and don'ts of inspiring your team the right way
Unfortunately, many people get the influence/inspiration-building process wrong. And when they do, it's not just them that suffers, but their entire team.
Bad leaders often lean too heavily on one of the four foundations of inspiration. The most common scenarios are either focusing too much on building influence and relationships with people above them (and leaving their teams overworked and stranded without support), or glossing over the trust-building process without really listening to their team.
Instead, to be an inspirational leader, it takes an almost perfect balance of all four foundations. This means having an exceptional level of empathy, leadership skills, and time management.
As you go down your own path towards becoming a great leader, here are a few critical do's and don'ts you should try to follow:
| 👍 Do | 👎 Don't |
| --- | --- |
| Build authentic relationships with the people you work with. | Create one-way or manipulative relationships that only benefit you. |
| Show that you listen and care about what your teammates say. | Use "I" too much when talking to your team or about ideas. |
| Be open to hearing constructive criticism and improving on your weaknesses. | Close yourself off to criticism or outrightly dismiss constructive feedback. |
| Stay consistent in your approach and support those around you to build trust. | Be flaky. If you're unreliable, people won't trust you or follow you. |
| Invest in building your own expertise. The best way to inspire is to be inspirational. | Get lazy and think you know everything. Those who inspire are lifelong learners. |
| Bring others with you on the journey. The best leaders are those who build others up. | Push people aside or use them solely to progress your own career. |
| Work on your body language to convey a confident and approachable demeanor. | Close yourself off from others, either in your approach or your attitude. |
While many of the do's may sound like common sense, it really isn't hard to accidentally overdo it and turn yourself into a tyrant.
Most importantly, remember that becoming inspirational takes time. If you try and speed it up, you're more likely to get it wrong and come across as insincere.
9 ways to inspire your team (with examples)
While building influence takes time, the good news is there are some tried and tested tactics to help you position yourself well with those around you.
Before you can be an inspiration to your team, you need to prove to them that you're worth following.
Here are 9 ways to build your influence in the workplace, which, if you execute well, will help you stand out from the crowd.
1. Share your vision and goals
While "being inspirational" may conjure up images of generals firing up their soldiers before sending them marching into the unknown, this couldn't be further from reality.
In the workplace, inspiration requires transparency and openness. If your team doesn' know where they're going, they're not going to feel confident - or inspired - by anything you say.
The unfortunate truth is that only 47% of employees can make a connection between their daily duties and company performance.
Instead, you need to share not only your company's larger goals and visions, but your own as well.
How to share your company and personal vision the right way:
Know and regularly share your company's long-term vision. Give your team something to rally behind. For example, many vision statements follow a similar pattern: "In [time frame], [company/product] will be [long-term goal]." This gives everyone both a clear goal to work towards as well as a time frame to follow.
Use OKRs to connect short-term goals to your long-term vision. Objectives and Key Results (OKRs) connect your team's daily work (the "key results" they're working on) to the larger company vision (the "objective"). Make sure your team always knows what their OKRs are.

Set clear and measurable goals (and celebrate your wins). Goals should always be measurable and easy to understand. If your team doesn't know how to track their success, they'll never feel inspired to work. And when they hit their goals, tell them!
Give everyone access to your product roadmap. Let your team see the big picture by showing them where the company and product are headed. For example, in Planio you can easily create a Gantt chart using current tasks to show how you're progressing from today to your shipped product.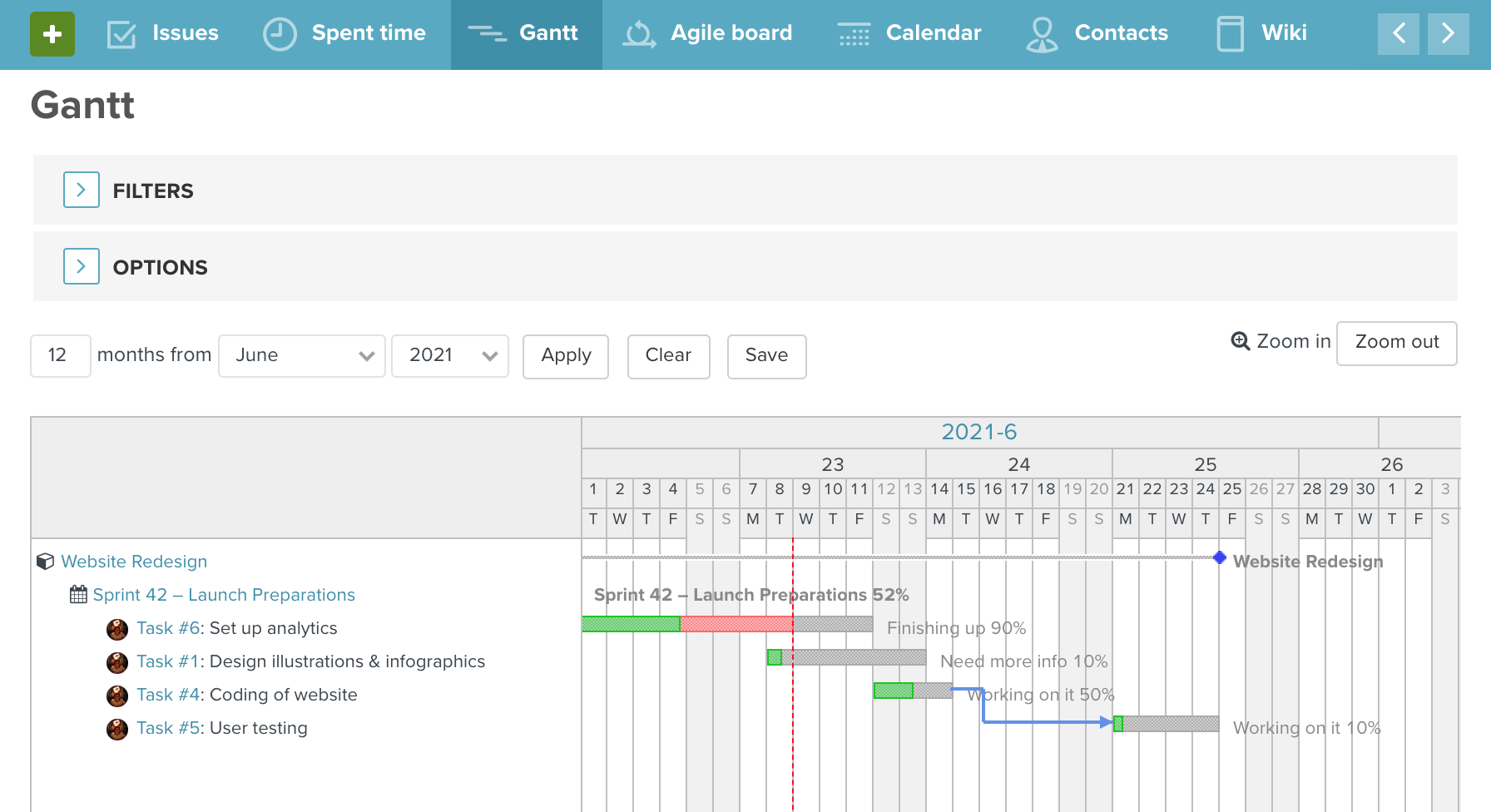 2. Practice active listening
Active listening is the practice of blocking out the millions of other things going on in your mind and environment to focus on the person that's right in front of you.
People are more likely to trust and follow you if you respect their opinions. Rather than imposing your ideas on them, show that you actively consider what they're saying and put their feedback into action. In the future, they'll be more likely to do the same for you.
Here are a few tips that can help you become a better active listener:
Don't prejudge the person you're speaking with. Suspend your biases and instead focus on the value of their suggestions, thoughts, or feedback.
Stop thinking about your response while they are talking. Allow someone to finish their thought before you respond to show that you're truly listening.
Ask open-ended questions to encourage deeper insights. Open-ended questions start with "how" or "why" and allow the speaker to dive deeper into their thoughts.
Show you're listening through physical cues (nodding) and short responses. For example, ask for clarity or repeat back what they're saying to make sure you got it right.
3. Become a logical problem solver
Teams will feel inspired when you show your own skills and value to the organization. One of the best ways to do this is to get good at solving problems.
People who can understand challenges, overcome obstacles, and help drive the team forward find it easier to build trust and authority within others. In turn, this helps you become an inspiration as you become the go-to problem solver in the team.
Your team will feel inspired when you show your own skills and value to the organization.
Here are some practical ways to become a strong problem solver:
When faced with a tough situation, exercise patience and a level head. Those who panic or stress only compound problems rather than solve them.
Next, take time to clearly define the problem you're facing and identify the root cause. This helps set a strong foundation to move forward from.
Don't be afraid to bring people together and brainstorm ideas. Leaders don't always have to come up with the answer if they can lead the team to find a better one. Take the time to listen to others too.
Once you've got a solution, lead the implementation with the team. Showing you can take the initiative to fix the problem will position you well.
4. Use emotional intelligence to make friends, not colleagues
To really create meaningful influence, you need to build relationships that go beyond the workplace.
Inspiration and influence are underpinned by trust. To build it, you need to connect with those around you on a deeper level.
This takes time as you understand others, their ambitions, and what makes them tick. This doesn't mean you need to go for dinner and drinks every night. Instead, it means leveraging your emotional intelligence and learning what really makes the people around you tick.
Here are a few ways to build better relationships through emotional intelligence:
Take the time to connect with those around you, focusing initially on what each person does in your team/organization and how they contribute.
From there, take an interest in people beyond the workplace. This can be as simple as asking about their weekends or holiday plans.
Allow radical candor in the workplace. This means bringing your full self to work and being open to critical feedback.
As relationships build, it's all about consistency. Regularly check in with people to understand their feelings, offer them support, and understand what's important to them.
5. Let your actions speak louder than your words
People trust those with a track record of delivering. If you want to be an inspiration, it pays to get a reputation as someone who gets the job done simply and effectively. Show that you're more than just a task manager and can get your hands dirty when needed.
Here are a few tips to help you get things done:
Get a grip on your tasks by creating to-do lists or using project management software that keeps you organized. Planio was built to be the simplest way to keep track of all your projects, products, and tasks in one place.



Help others stay organized and ahead of their work by identifying bottlenecks and potential roadblocks. Again, Planio is great for visualizing your entire project from start to finish so you can clear the path for your team.
If you can deliver your own work, and help others deliver too, you'll get a great reputation for getting things done, helping to build trust and respect that leads to greater influence.
6. Be reliable and trustworthy
Those that build respect and trust do so by turning up and being consistent each and every day.
If you want to build influence within the team, it pays to become known as Mr. or Mrs. Reliable. If people know they can count on you, they'll trust you for support, leadership, and guidance, helping you work your way into a position of influence.
Here's how to show that you're reliable and trustworthy in the workplace:
First, take a moment to understand what motivates you and what you want to achieve in your career. This gives you a purpose and grounding that helps you remain consistent in tough times.
If you want to build a strong, reliable bond across the team, try creating some team rituals that bring everyone together. This helps build consistency and shows those around you that you can be trusted.
7. Swap aggression for assertiveness
While being inspirational requires collaboration and working well with others, it also relies on showing leadership and taking control of your team.
Those who want to get ahead often need to take the initiative and show that they have what it takes to lead the team forwards. Working on your assertiveness and confidence is the best way to do this, so long as you don't tip into coming across as aggressive.
Here are some practical ways to become more assertive:
The key to growing your assertiveness is to take it a step at a time. Building confidence takes time and practice, so remember to be kind to yourself.
Second, work on how you communicate with others in the workplace. Assertiveness is a lot about body language and confidence. Be aware of how you position yourself when talking to others. Crossing your arms, tapping your foot constantly, or not making eye contact can all make people feel that you're not trustworthy or listening to them.
Lastly, don't be afraid to share your goals and objectives with others. If you do this in a way that isn't aggressive, it will help you build respect and trust with others as they'll see your direction and want to be a part of it.
8. Create a healthy work environment
You may not want to believe it, but in most cases, your workplace environment has more impact on your team's motivation and productivity than you do. Creating a culture that is open and transparent, based on trust, and truly cares about the well-being of your teammates can give you a solid foundation on which to inspire them every single day.
Here are a few ways to create a better, more inspirational work environment:
Create an environment and culture of trust. Show your team that you trust them to do their work by not micromanaging or being overly critical early on in a project. Set regular intervals to check in and then stick to your schedule.
Encourage healthy habits. This could be as simple as providing healthy snacks or giving people the freedom to go for a walk or get outside when they need space and time to think and decompress. Natural light and fresh air are some of the biggest productivity boosters out there.
Learn to defuse tense situations. Team leaders rarely think of themselves as conflict resolution specialists. But being an inspirational leader means being able to help your team work through difficult moments.
9. Promote the team, then yourself
If you want to build the most influence with your colleagues while gaining their respect and trust, learn to promote others and bring them on the journey with you.
The world's best leaders don't just focus on themselves, but on those around them as well. When presented with an opportunity to showcase your success, use that platform to also highlight the work of those around you.
No one likes the person willing to step on others to get ahead, so instead, be the purpose who takes others with them.
If you want to build influence by helping those around you, try:
Praise and compliment your team members, teammates, and peers whenever you get the opportunity. Even the smallest compliment can make someone's day.
As your influence grows, use your platform to promote the great work of those around you. There's nothing wrong with promoting your own work too, just make sure to strike a balance to maximize your influence growth.
How to inspire your team when you work remotely
There's no denying that inspiration comes much easier when you're in person and can see and feel the people around you. But in today's world, with many teams going fully remote or using a hybrid work model, it can be harder to build that connection.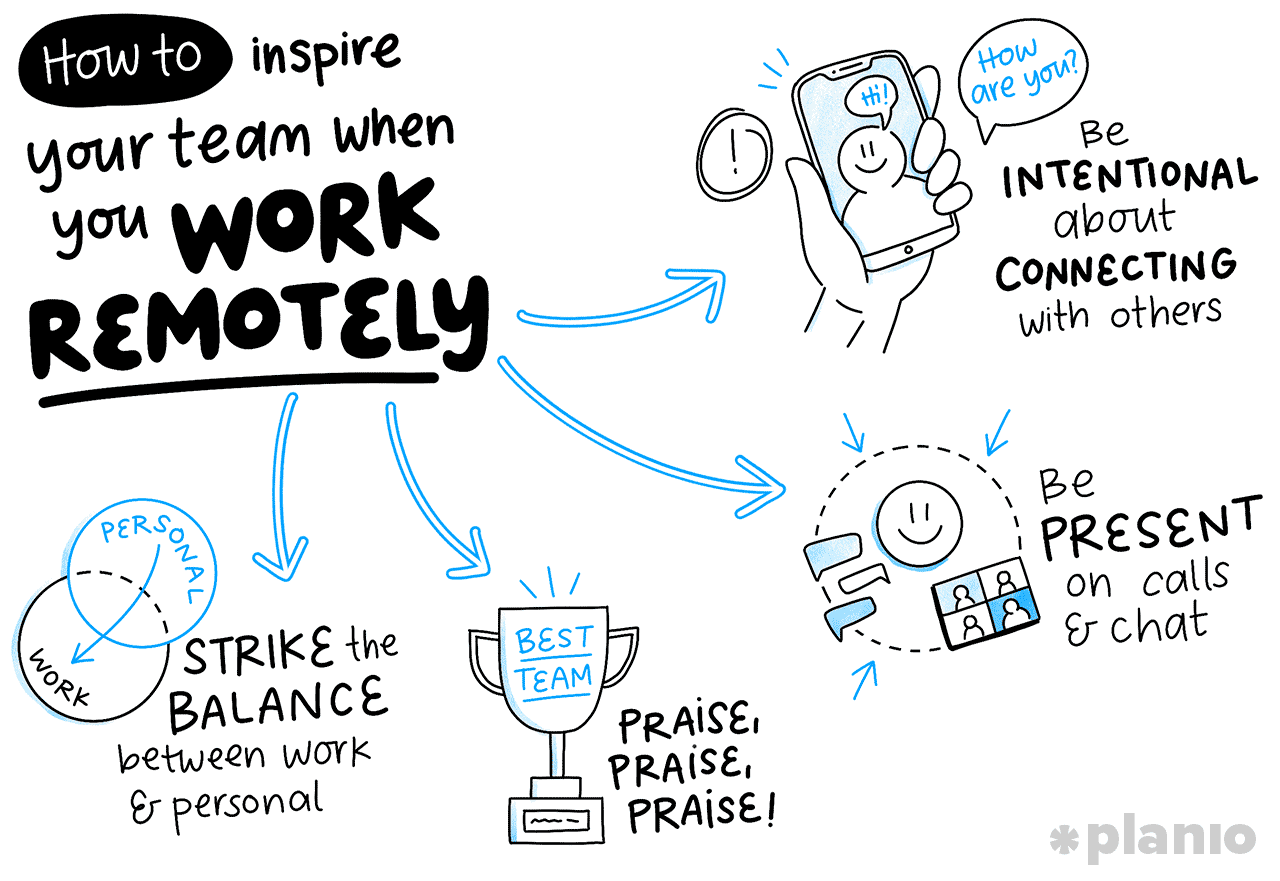 Whether you're managing remote teams or simply working within one, here are some quick tips to help you build influence remotely:
Be intentional about connecting with others. In remote teams, it's not as easy to have spontaneous connections with colleagues. To overcome this, be intentional with your interactions and block out dedicated time to build relationships with those around you.
Be present on calls and chat. It's easy to get distracted in a remote setting. Especially when you're on remote calls, focus on being present and giving your teammates your full attention.
Praise, praise, praise. When managing remote projects, it's easy for achievements to go under the radar as teams plow on to the next thing on the list. Inspirational leaders, managers, and colleagues make time to celebrate success and promote the achievements of those around them.
Strike the balance between work and personal. Without the daily commute and office events, it can become easy for remote work to completely take over. To help build deeper connections, make space to bring your personal self to work. Not only will you perform better, but you'll create a persona others can warm to.
Influence and inspiration come down to trust - not persuasion
As a leader, one of the best ways to deliver great results, get ahead, and reach your goals is to become an inspiration to those around you. But this only happens if you build it the right way - through mutual respect, trust, and hard work.
Take the time to set a solid foundation, and then take time to connect with your team. The more they get to know you, the company, and your goals, the more inspired they'll feel as you lead them towards greatness.
And for added help, use Planio to make sure everyone knows what's expected of them and where you're going. Planio combines smart task management with powerful project management and communications tools to keep your team inspired, motivated, and informed.
Try Planio free for 30 days - no credit card required.